An Heirloom Canoe
An Old Town family boat finds its way home
By Benson Gray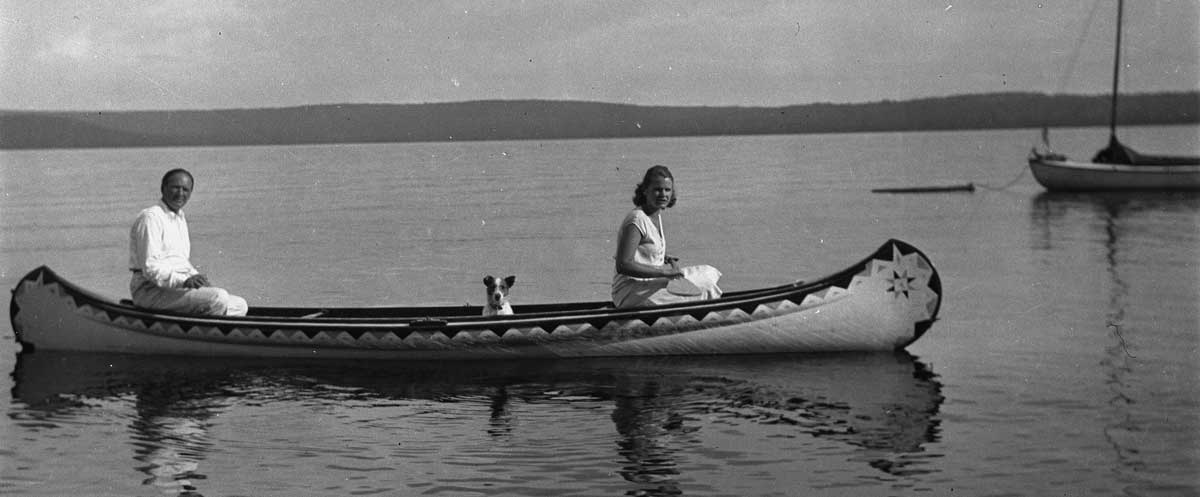 The author's grandfather, Samuel B. Gray, with his daughter Eleanor and the family dog in a photo from the late 1930s in Enfield, Maine. The author now owns this canoe, after tracking it down and purchasing it. Photo courtesy Benson Gray
Okay, I'll admit it, I was jealous. When I began receiving the Wooden Canoe journal, every issue seemed to contain yet another article about the restoration of a wonderful old canoe with a long family history.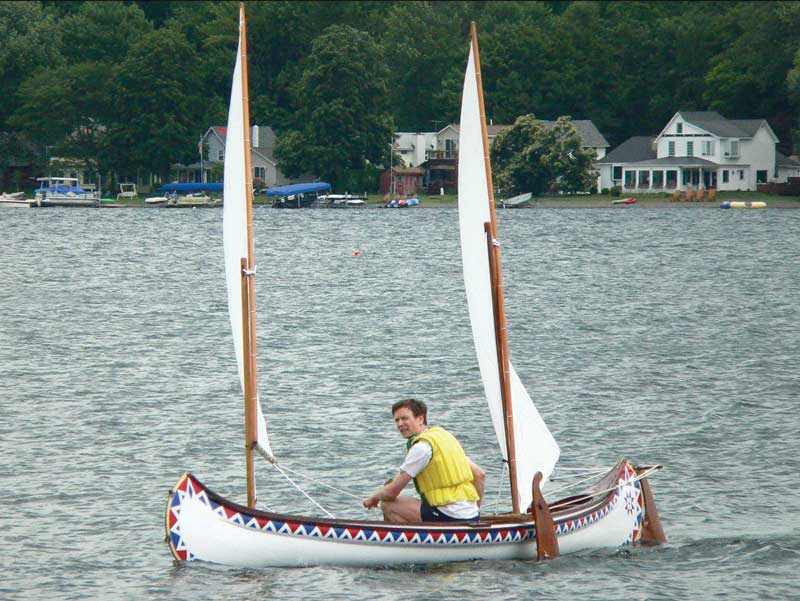 Benson Gray with the restored canoe at the Wooden Canoe Heritage Association's Assembly in Keuka, New York in 2009. Photo courtesy Benson Gray My great-grandfather was one of the founders of the Old Town Canoe Company and I grew up in a large family where nearly everyone had worked in the canoe business at some point. We could always find a canoe to use, but not to keep—they would be taken back to the factory and sold when we were done with them.
The rumors that my family has a barn full of pristine and classic old canoes are not true. I have searched every known storage area and haven't found any yet. 
Our canoes were not carefully stored away as cherished family heirlooms for future generations because they were sold; they were what put food on the table. It's similar to that old line about the cobbler's children going barefoot. The grandson of Kennebec Boat & Canoe Company's founder once commented that his family didn't have any old wooden canoes, either.
So I was especially excited when a friend mentioned that he had purchased the sailing rig from an old canoe that he thought might have a connection to my family. The original build records for Old Town Canoes are still available, so I looked up the serial number for this one. I learned that it had belonged to an Otca sailing canoe that had been shipped to my grandfather at the family's summer cottage in 1936 shortly after it was built.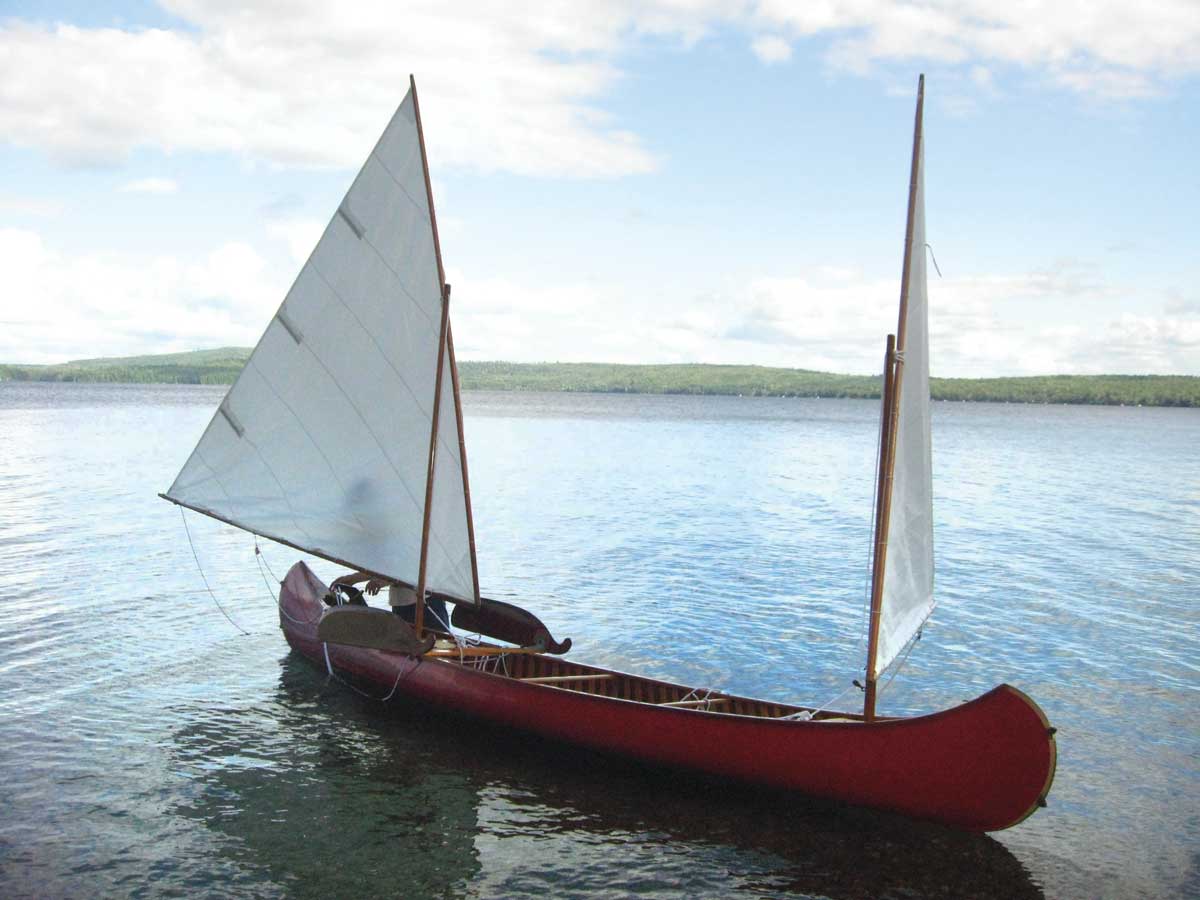 Benson Gray with the "photographer's canoe" paint scheme showing red on one side and yellow on the other in Enfield, Maine. Photo courtesy Benson Gray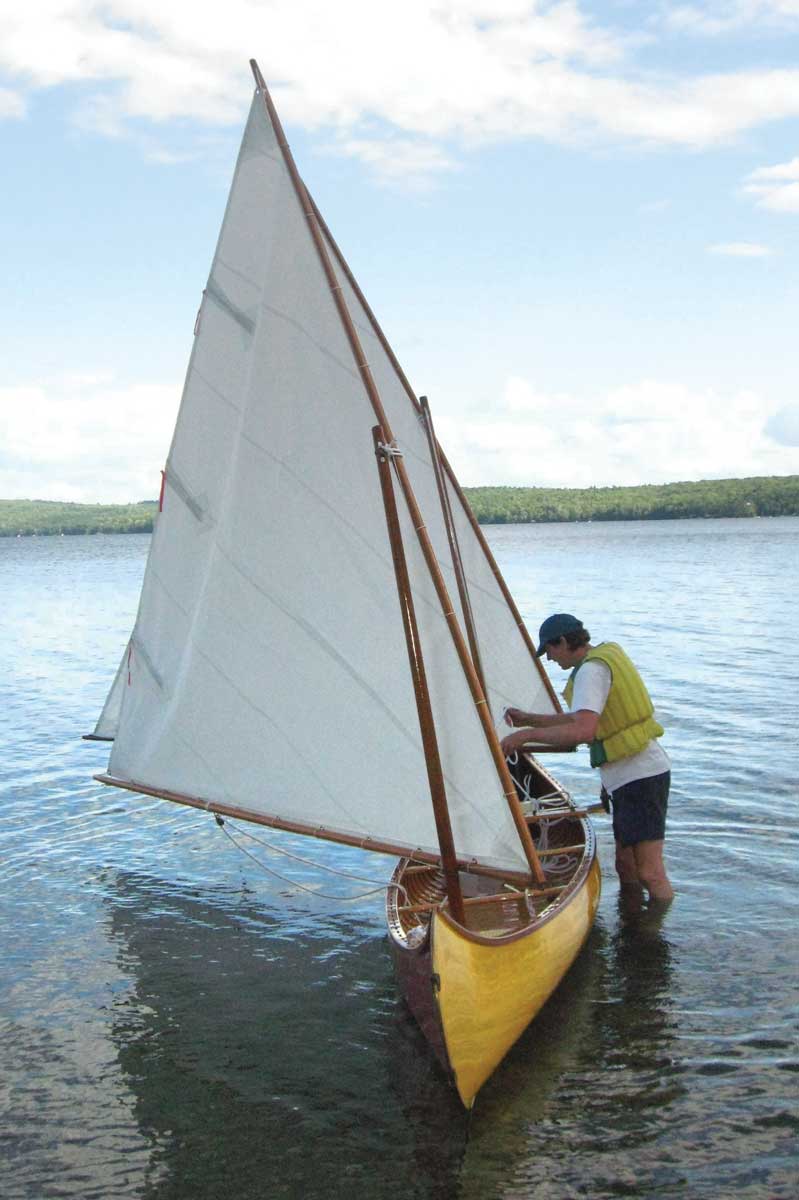 Photo courtesy Benson Gray It was a wonderful 18-foot canoe with nice mahogany trim, air chambers along the sides for extra buoyancy (known as sponsons), and two sail rigs. There had been at least two other owners who made some sloppy repairs, but it was restorable. I contacted the owner who didn't want to sell, so I politely asked that he let me know if he ever changed his mind. He contacted me a few years later, and after many months of negotiation we agreed on a price and the restoration began.
The original canoe had two sails, so I purchased several other old sailing canoes to assemble a complete sailing rig for this one. My friend was willing to trade the sailing parts that he had bought when he first found the canoe, so most of the rig is now original. The rest of the restoration took many years, with several expensive surprises along the way. The final task was to re-create the original paint design. A deceptively simple pattern of red and blue triangles along the stems and rail, the design was devilishly difficult to lay out, especially with all of the compound curves around the sponsons on this canoe. 
Fortunately, my aunt had some original photos. They were a great help because they showed how the design transitioned around the ends of the sponson rails and other details. It still took many pencil lines, a big eraser, and a lot of patience before the basic outline started to look good enough even to think about painting it. Eventually, the canoe looked just as good as it did when it left the factory.
When I took it to the Maine Canoe Symposium, where I teach the sailing program, I happened to meet the grandson of its first owner (after my grandfather). We had a wonderful conversation about paddling, families, life, and this canoe, which had belonged to both of our grandfathers.
Finally, I owned a family heirloom canoe. That should have been enough. But I found another 18' Otca with a family connection a few years later.
This turned out to be the family's replacement for the older one I had just restored.
I really didn't need another canoe just like the one I already had. I changed my mind, however, after realizing that this canoe had been featured on the cover of the 1960 and 1964 Old Town catalogs. The boat was also unusual because it was built with the thinner ribs and planking of the company's special lightweight models. The seller hoped to make a bundle on the sale and we never actually agreed on a price in dollars. Fortunately, we both collected Old Town Canoe Company catalogs and I owned a few duplicates that he liked. We eventually settled on a trade of my catalogs for his canoe, and the restoration cycle started all over again.
I didn't want two canoes with the same paint design, so I was happy to find out that this canoe had eventually been repainted at the factory as a "photographer's canoe" with red on one side and yellow on the other. This strange combination enabled a photographer to easily change the color of the canoe by turning it around to better suit the picture being taken. 
There is a story about a photographer who had a canoe like this on the top of his car when he was rushing to get to the New York Boat Show. He was lost, driving too fast, running yellow lights, and violating other traffic laws when a policeman pulled him over. His long explanation and apology were interrupted by the policeman who said, "I'm not going to give you a ticket, but I would like to know why you have such a strangely painted canoe."
Now I have two nice family heirloom canoes of my own and I don't get as jealous when reading about other people's treasures. 
I'm not expecting to find any more, but you never know what might turn up.    
---
Benson Gray grew up in Old Town and has always loved old canoes. His work with computers, and an interest in the history of canoe builders, has led to scanning Old Town Canoe Company catalogs. His largest project with the Wooden Canoe Heritage Association was to compile the Old Town, Carleton, and Kennebec build records, along with building an archive of the Wooden Canoe Journals. His great grandfather was one of the founders of the Old Town Canoe Company.
---
This year's Maine Canoe Symposium will be held in Bridgton, Maine, June 9-11, 2017.
Share this article:
Digital Edition Available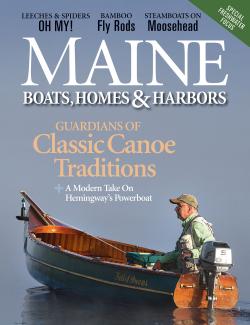 Can't get to the store to buy your magazine? We deliver the stories of Maine's coast right to your inbox. Sign up here for a digital edition.