Front Street Shipyard: Stoneface
An ambitious megayacht refit sets the pace for a fast-growing yard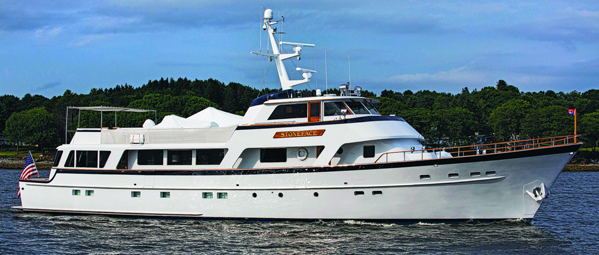 During a year-long, comprehensive refit, the crew at Front Street replaced almost all of superyacht
Stoneface
's systems, including the main engines. Built in 1978 by the Burger Boat Co.,
Stoneface
looked like a new boat when it left Belfast. Photographs by Billy Black courtesy Front Street Shipyard
By Steven Weiss It can take a generation for a new commercial enterprise to become established in the traditionally conservative marine industry. Yet in just a few years, Belfast's Front Street Shipyard has rocketed to the top tier of American yards that cater to some of the largest and most expensive yachts. Front Street, which transformed a once-dilapidated section of Belfast's waterfront, has become a destination for many superyacht captains and owners who seek the kind of work that was previously available only at long-established yards in Florida, Connecticut, or Rhode Island. One of the yard's earliest large projects—and the most extensive, and expensive, to date—was the refit of a classic 106-foot aluminum Burger motoryacht named
Stoneface
.
The success of the project was a boost to the young yard's reputation.
Originally launched in 1978, this traditional displacement motoryacht had been well traveled, and well loved over the years, receiving routine maintenance and upgrades as needed. In the fall of 2011, her current owners decided the old girl deserved a thorough refit, and charged her captain, Tim Roi, with finding a suitable yard. In a previous job, Roi had formed a good working relationship with Mike King, who was then project manager at the Hinckley Company service yard in Southwest Harbor. Since then, King had joined Front Street as senior project manager. That put Front Street high on Roi's list of choices. After discussing the extent of the project and how it jived with the yard's capabilities, it didn't take much convincing for Roi to deliver
Stoneface
to Belfast in November 2011. Getting this job wasn't the result of winning a competitive bid; it was done the old fashioned way, with the offer of a fair rate and a confident handshake. The original list of work needed on the boat was considerable:
Replace the two original GM propulsion engines with new Caterpillar 750-hp C-18s
Replace the two original Gensets with new Caterpillar C4.4 Gensets (46KW and 76KW)
Replace the majority of the teak decking with new decks from Teak Decking Systems
Remove the original electric dinghy davits and replace with hydraulic Marquipt cranes
Replace the entire pilothouse bridge console, complete with new electronics and steering gear
Rebuild the galley with new appliances, countertops, and wall surfaces
Remove, redesign, and replace the entire forward crew quarters
Revarnish and repaint the interior and replace carpeting throughout
Repaint hull and deck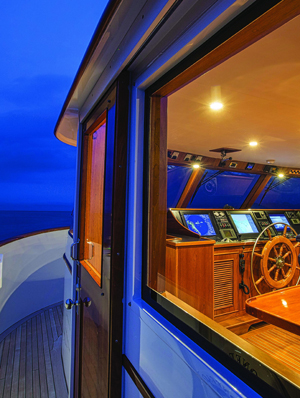 As challenging as this list seems, it was only the beginning. Once the interior work began, workers discovered serious flaws with the electrical wiring and fittings, including evidence of some minor scorching—clearly problems that had to be addressed. The decision to re-wire the entire vessel and bring it up to current code was a daunting one, but one that seemed entirely in keeping with a refit this complete. It also provided an opportunity to upgrade a number of additional elements, including adding new pumps, new LED lighting, an alarm system, and new audio/visual equipment. The
Stoneface
refit came just months after Front Street opened for business. The success of the project was a boost to the young yard's reputation, said Front Street president J.B. Turner. "She is a very well-known yacht all up and down the East Coast so having her as our first major refit quickly spread the word of what we were capable of doing in Maine, as an option to the southern East Coast yards," he said.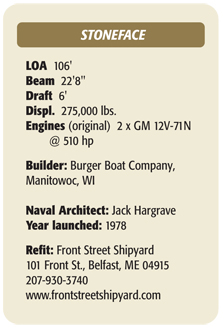 Having such a large project enabled the yard to attract a host of skilled tradespeople at a time when other boatbuilders and service yards were operating at a reduced pace. This talented crew and infrastructure led to contracts for more refits following
Stoneface
, including a 92' Palmer Johnson sloop and a 90' Lyman-Morse motoryacht. After nearly a year in the yard, the snow was lying deep on deck when
Stoneface
was re-launched and headed south in December 2012. If repeat business is the truest proof of a satisfied customer, the success of this project will be reinforced when
Stoneface
returns to the yard in summer 2014 for routine annual maintenance. Steven Weiss worked as a design engineer for more than 25 years for the Hinckley Company, Oyster Marine, and Morris Yachts. He now operates his own yacht design office in Trenton, Maine. Credit: Video by Billy Black
Slide show
: The 106-foot superyacht
Stoneface
underwent a massive refit and replacement of most systems at Front Street Shipyard. Photos by Billy Black