Billings Diesel
"Get it done—get 'em going"
By Brian Robbins
It sounds like a scene from a movie… perhaps an old classic with, say, Paul Newman.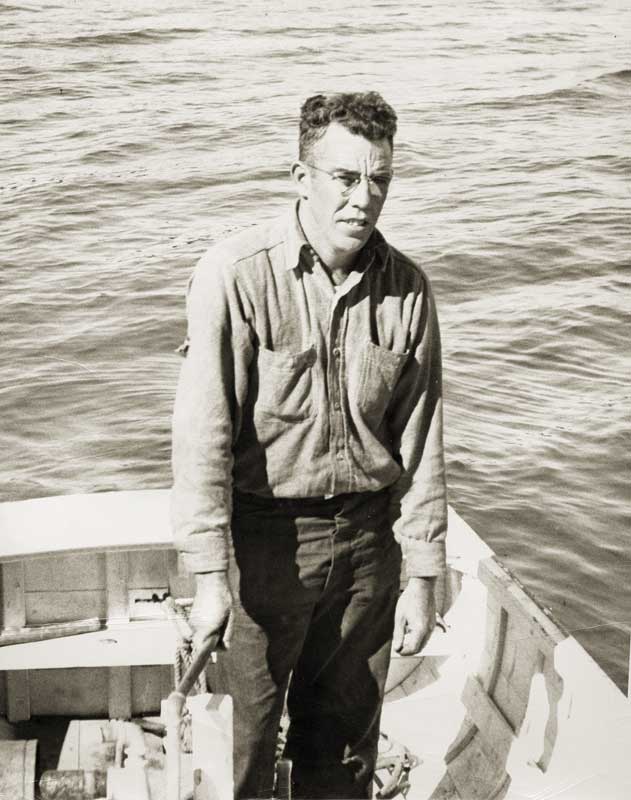 Dick Billings at the helm of a seine skiff. Photo from the Penosbcot Marine Museum/Atlantic Fisherman Collection The year was 1966, and the Stonington, Maine, boatyard started by brothers Cecil, Sheridan, Edward, and George Billings back in 1928 was floundering. The shipbuilding work generated by WWII was long over and a post-war run of new wooden draggers had tapered off; the situation looked grim.
Here's how Harlan Billings described the scene. A banker sat behind his desk facing two men: Nelson Rockefeller, with a check for $125,000, ready to take over the 9-acre facility on Moose Island, and Cecil Billings's son Dick, who had "scratched and scraped together maybe $25,000," said Harlan, who is Dick's son.
"When the banker asked Nelson Rockefeller what he intended to do with the yard if he purchased it, Mr. Rockefeller said he wanted it for his own personal use," said Harlan. Rockefeller actually had a couple of his yachts in one of the storage buildings there at the time.
"The banker turned to my father and asked him what he would do with the property. Dad told him he was going to run it as a commercial boatyard… and he was going to make it work.
"The banker sold it to Dad."
Harlan Billings laughs when he tells that story—it's a laugh loaded with admiration for his father, who made good on his promise. Today, Billings Diesel & Marine is as busy as they've ever been, serving both pleasure boaters and commercial fishermen. Their customer base extends from Massachusetts to the Canadian border.
The four original Billings brothers initially founded their business in 1928 up on Little Deer Isle, building vessels in the 60' to 70' range to lug freight along the coast.
With work coming in and no room to expand, the brothers purchased a former granite quarry property on Moose Island in 1933.   
"WWII changed everything," said Harlan. The government basically commandeered the Billings business, as it did with many boatyards with shipbuilding capabilities. It moved its own personnel in, built some new buildings, and commenced construction on PT boats, sub chasers, and minesweepers.
"There were over 300 on the crew here at one point," said Harlan. "And many of them were talented shipwrights."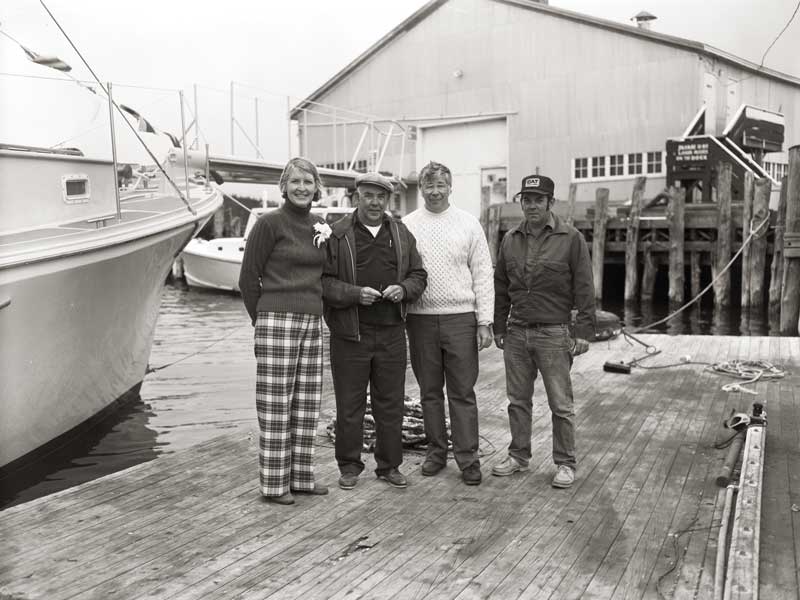 Dick Billings, second from the left, and Harlan, far right, posed with the owners of a 50' Duffy & Duffy hull that the yard finished off for swordfishing. Photo from the Penobscot Marine Museum/Red Boutilier Collection
For a while after the war, the yard kept busy with new construction, most notably the draggers Poseidon and Commonwealth for Massachusetts customers. There was yacht work to be done: boats would come up from down south during the summer months for refit and repairs, then head back for winter, often manned by area crews.
Overall, however, the business lost ground, and eventually went into receivership and then bankruptcy. That was when Dick Billings stepped in to see if he could resurrect the family business. He came up $100,000 short of Mr. Rockefeller's offer, but left the meeting room owning a boatyard.
"My father was a risk-taker," said Harlan. One of the changes Dick made early on was the acquisition of what Harlan calls "pretty much an antique Travelift … maybe a 20-ton one. It was a big deal at the time; prior to that we only had the railways to haul boats on."
Dick's "antique" was upgraded in the years that followed. These days, Billings Diesel & Marine has a pair of Travelifts; the larger of the two is capable of handling up to 75-metric-tons and vessels with up to a 24' beam.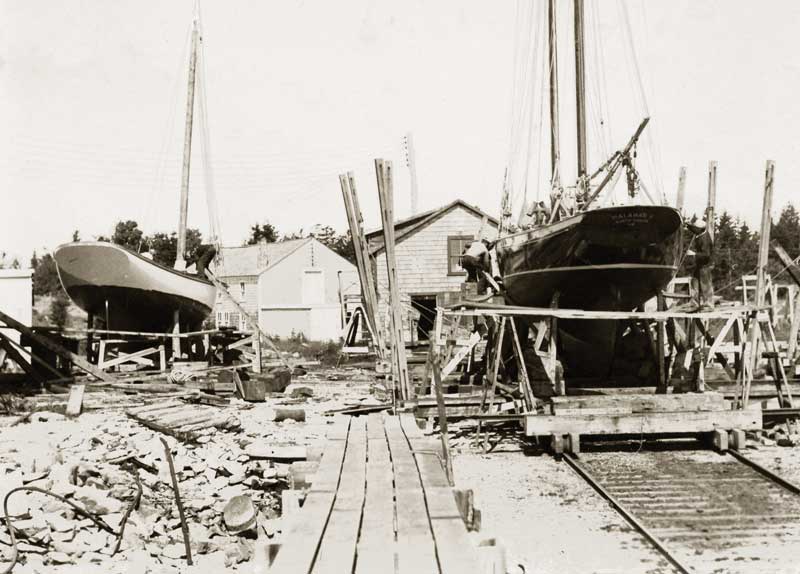 Malabar V hauled out in 1935 at what was then called Stonington Yacht Basin Corp. Photo from the Penobscot Marine Museum/Atlantic Fisherman Collection
Harlan's early working years were split between the family's herring seining operation and plenty of on-the-job training at Billings Diesel. "I got to work alongside some really talented guys," he recalled, "doing everything from welding to rebuilding engines. About the time I really got into it was when the fishermen were making the big leap from gas engines to diesel… and for a while there, those old 2-cycle GMs were the popular thing."
One thing in particular that Dick Billings made clear to his son—and Harlan still tells his crew today—is that you always need to take care of your working boats first.
"We'll never say 'No' to a commercial guy," said Harlan.  "And we don't want to turn away our pleasure boat customers, either. It's a hard thing to balance at times, but most people get where you're coming from. We have a good customer base that keeps coming back … and we're proud of that."
Another thing that Harlan is proud of is the "full service" moniker that gets applied to the Billings name. "If you're going to call yourself that, you want to be able to prove it," he said. "And we can. Woodworking, fiberglass, metal fabrication, we can do it. We have some really skilled people."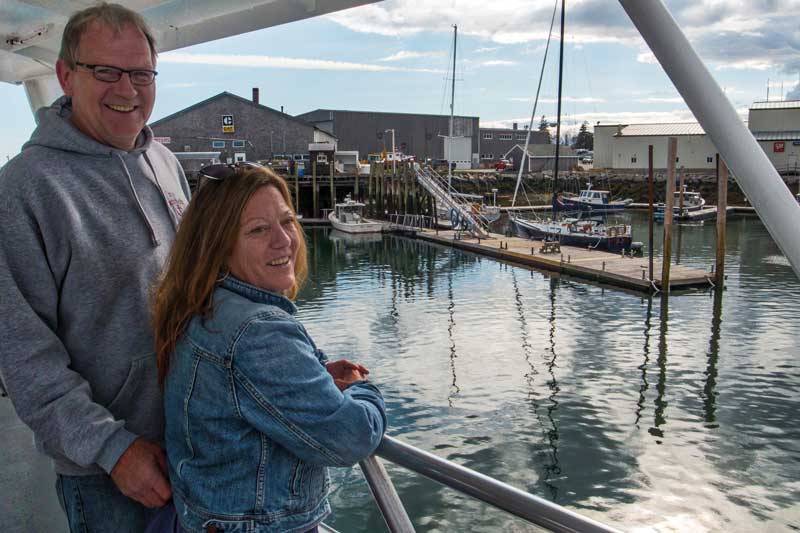 Harlan Billings's daughter Suzette and her husband Peter Grindle represent the next generation in the wheelhouse at Billings Diesel & Marine. Photo by Jeff Dworsky
At 74, Harlan is "trying to slowly phase out." His daughter Suzette is officially the company president (Harlan's her VP) and her husband Peter Grindle holds down the corporate secretary position. 
"They're taking on more and more responsibility," said Harlan. He also credits Greg Sanborn, whom he describes as "service manager, general manager… simply an important part of the operation. Hiring Greg years ago was one of the best things I ever did."
He may be "phasing out," but Harlan is still interested in keeping Billings Diesel current with new technology and improving how they do things.  
"I get to feeling real old when I think about going down the ladder with a toolbox in one hand to work on one of those old GMs," he says. "Now I see these younger guys going aboard with a laptop to diagnose a problem."
Techniques may have changed, but the attitude remains the same. 
"We're still doing what my father always said to do: 'Get it done and get 'em going.' We're just doing it differently."    
---
A former offshore lobsterman, Brian Robbins is senior contributing editor for Commercial Fisheries News when he's not writing about music or riffing on various things with strings in the Horseshoe Crabs.
Billings Diesel & Marine
Moose Island Road, Stonington, ME
www.billingsmarine.com; 207-367-2328
Share this article:
Digital Edition Available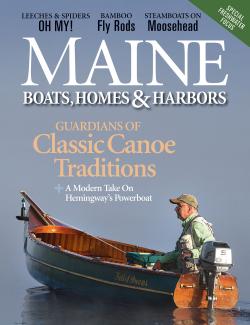 Can't get to the store to buy your magazine? We deliver the stories of Maine's coast right to your inbox. Sign up here for a digital edition.