Eel smuggling, Tesla, new boats
By Polly Saltonstall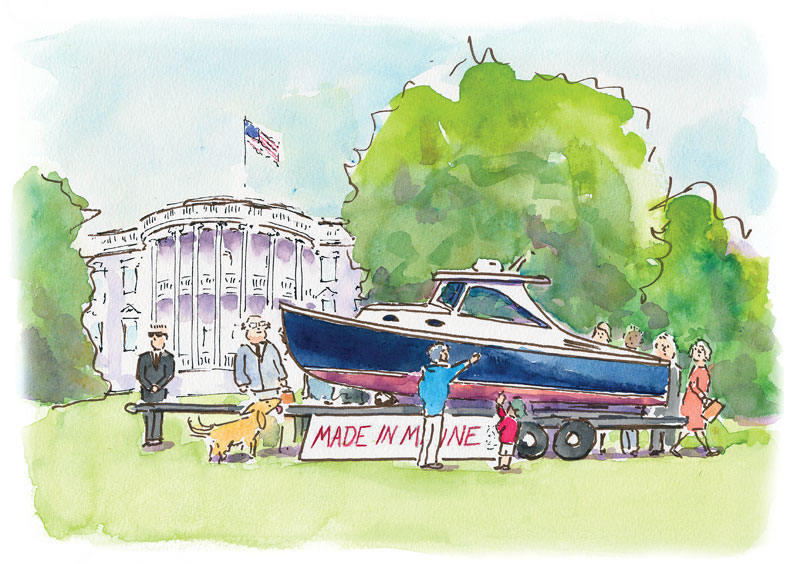 Illustration by Ted Walsh
Feds bust eel smuggling ring
Really? An international eel smuggling ring based in Maine? You'd better believe it. We've written often in this column about the astonishingly high prices of $2,000 or more per pound paid for baby eels, commonly called elvers or glass eels because of their translucent appearance. Back in the 1990s, the then-unregulated fishery was considered a sort of gold rush as hairdressers, house painters, and others quit their jobs to set up elver nets. I remember once seeing people using window screens to scoop up elvers swimming up the Medomak River. 
As often happens, high profits can lead to shenanigans. A multi-year, multi-state federal undercover investigation dubbed Operation Broken Glass resulted in over a dozen arrests of fishermen and dealers involving $4 million in illegally netted elvers (2011 through 2014) along the East Coast, including South Carolina and Maine, the only two states with legal elver fisheries. The baby eels are sold in Asia where they are raised to maturity and sold for sushi.
Fishermen were accused of catching elvers in states where the harvest is banned, bringing them to Maine and selling them as Maine-caught, according to the U.S. Fish and Wildlife Service. So far, a total of 12 men have pled guilty to federal charges in three states: Maine, South Carolina, and Virginia. The value of the poached elvers each man knowingly trafficked ranges from $110,000 to $1.26 million, according to the feds.
Two of the men who were indicted in Maine have pled not guilty, including Woolwich resident Bill Sheldon, 71, who has been dubbed Maine's "elver-dealing kingpin." In 2012, when the total value of the statewide harvest was $40 million, Sheldon bought and sold $12 million worth of elvers, according to reports. 
Since then, controls implemented in 2014 requiring quotas, electronic catch records, and financial transactions ended much of the illegal activity.
---
Island love for island pilots
Penobscot Island Air, based at the Knox County Regional Airport, has provided a lifeline for island communities, bringing supplies and people back and forth. So when a PIA plane crashed last spring in Vinalhaven (the pilot was okay), islanders rallied around to help owner Kevin Waters. They held fundraisers that netted close to $4,000, and put together a book of heartfelt comments thanking Waters for all he does. Close to 60 residents and businesses kicked in. We should note that photographer Peter Ralston has donated a master print of this issue's cover photo to Waters. 
"It's not about the money," Vinalhaven resident Jeannie Conway told the web-based PenBayPilot news service. "It was about showing him (Waters) how much he means to us, and how the islands are behind him 100 percent."
One of PIA's planes went down on Vinalhaven in June, during a routine morning mail run. While the plane was demolished, pilot Ted Westlake miraculously was uninjured. The Federal Aviation Administration and insurance companies are investigating the crash.
---
Hinckley goes to Washington
A Hinckley yacht "cruised" all the way to the White House during the summer, representing products made in Maine as part of an initiative to showcase goods that are made in America.
A Hinckley Picnic Boat 34 named Freedom III arrived by trailer July 17, and was on display for a few hours before being returned to its Chesapeake Bay homeport. The boat belongs to Jack and Susan Stoltz of St. Michaels, Maryland.
"It was one of those things where someone called and we were able to put something together," said Hinckley VP of Sales and Marketing Phil Bennett. "They wanted a manufactured product, something tangible."
The Hinckley Company, which builds about 50 boats a year in Maine, employs more than 350 people in its boatbuilding facility in Trenton and in its two boatyards in Southwest and Northeast Harbors. The company runs another five boatyards along the East Coast, and a yard in Portsmouth, Rhode Island, where it builds Hunt Yachts.
The company, which employs a total of 695 people in the U.S., has focused its efforts in recent years on powerboats, of which the Picnic Boat is its most popular. More than 1,050 Hinckley powerboats have been built since Hinckley launched its first waterjet-propelled boat in 1994. Accompanying the boat at the D.C. event were Hinckley President Peter O'Connell and Regional Sales Director Jack Erbes, a Maine native who started out as an electrician with the company 20 years ago.
Bennett said he did not expect to sell a boat to President Trump, but was pleased with the high-level exposure for the company's product.
---
North Haven wants more students
Students living on the mainland who want a taste of island life have been able to attend school on Islesboro for quite a few years. Now the island of North Haven is offering a similar program. 
North Haven Community School, Maine's smallest K-12 public school with an average of 60 students, announced last spring that it was seeking mainland students to participate in the pilot year of its new magnet program.
Magnet schools are permitted by Maine law and allow publicly funded schools to accept students from outside their service area. Some have themed curricula, like the math and science school in Limestone. North Haven hopes to focus on invigorating its smaller-than-average high school population while also offering mainland students access to the school's place-based academics and arts and athletic programs.
Islesboro's successful program served as a model for North Haven, which has the added challenge of a longer, less-frequent ferry ride. To that end, magnet students would be housed on-island Monday through Thursday nights.
---
Cross-Atlantic lobster concerns
Scandinavian biologists say American and European lobsters are crossbreeding and their offspring can survive in European waters, but it's too early to tell if the hybrids can reproduce.
Susanne Eriksson of the University of Gothenberg in Sweden and Ann-Lisbeth Agnalt of the Institute of Marine Research in Norway presented their findings at a Portland-based conference on lobster management, according to the Portland Press Herald. They said they have proof that American lobsters are not only surviving, but also are competing with the European lobsters for food, shelter and mates. "They are crossbreeding, the hybrid eggs are hatching, and the larvae are surviving in our tanks, and in our oceans," Eriksson said in the article. "We don't know if they can reproduce yet, that's a year or two away, but we know the males can produce sperm."
Last year, Sweden's request to the European Union to list the American lobster as an invasive species was denied. But European researchers continue to look at how American-European hybrids will fare in the northeast Atlantic, especially once they hit sexual maturity. Depending on those findings, Sweden may bring its request back to the EU.
Over the past decade, about 100 American lobsters have been captured in northern Europe. Of those, six female American lobsters have been found carrying hybrid eggs. These hybrid offspring are the ones that Agnalt and Erikkson have been working with in their labs.
---
More on those pesky green crabs
While Sweden worries about American lobsters making themselves at home in European waters, clammers and others in Maine have been battling green crabs, which came over from Europe in the late 1800s, and have become a major scourge. One green crab can consume 40 half-inch clams a day and it will dig up to 6 inches to find clams to eat. In 2016, clam landings fell 21 percent, from 9.3 million to 7.3 million pounds, the lowest total reported since 1991, according to the Maine Dept. of Marine Resources.
Some of the decline in landings was caused by a toxic algae bloom that led to a shellfishing ban along about a third of Maine's coastline last fall. But clam landings in towns with traditionally high numbers south of the Deer Isle-Stonington closure line found that 19 out of 24 towns, or 79 percent, had harvested fewer clams, according to the Portland Press Herald.
---
Catch the action on the clam cam
Perhaps you can catch sight of those crabs in action on the University of Maine at Orono's Clam Cam. The university had harvesters from Freeport to Roque Bluffs wear microphones and GoPros to capture the sights and sounds of their jobs from their point of view: the rakes, buckets, hods, mesh bags, and gloves they use as they scrape through dense mud.
The idea for Clam Cam hatched when Bridie McGreavy, an assistant professor in the Department of Communication and Journalism at UMaine, in collaboration with PhD student Tyler Quiring and UMaine graduate Carter Hathaway acted on a harvester's suggestion. He felt that the public could learn a lot about his livelihood by vicariously "digging clams" by watching the videos, according to a story in Mainebiz.
The project is supported by a National Science Foundation Award and a grant from the University of Maine Humanities Center. The videos can be accessed at: http://nest.maine.edu/clamcam/index.html.
---
Brooklin Boat splashes two yachts
Brooklin Boat Yard launched the 49' Blackfish in May and followed up in June with the launch of the 70' sloop Toroa.
Blackfish, a cold-molded racer/cruiser designed by Jim Taylor of Marblehead, Massachusetts, is based on the 2014 BBY boat, Dreadnought. In order to weigh this boat more heavily on the racing side of the racer/cruiser spectrum, Taylor removed the stall shower from the head, which allowed the cockpit, aft end of the cabin trunk, and interior arrangement aft of the mast to be moved forward 25 inches. Other differences include a dedicated life raft locker and changes to deck hardware layout.
Built of wood, carbon fiber, foam, and epoxy composites, Toroa features an extended bowsprit, plumb bow, and such a wide beam running well aft that Steve White and his BBY crew, who were worried the vessel might hit the sides of the launching bay on launch day, padded the edges with blankets. Designed for ocean cruising by the Spain-based Botin Partners, Toroa has a T-bulb (lifting) keel and twin rudders. The accommodations include a galley with pewter countertops and a nav station level with the deck, but also open to the living cabin below, which allows the captain to see where the boat is going but still be part of the action inside.
Botin Partners has worked on America's Cup challengers as well as many of today's successful box rule racers.
---
Yards team up for boat sales
Yarmouth Boat Yard has teamed up with Rockport-based Yachting Solutions to expand sales of the new- and used-boat inventory of Yarmouth Boat Yard and Moose Landing Marina.
Steve Arnold, owner of Yarmouth Boat Yard and Moose Landing Marina, said the sales agreement will help his companies better meet growing demand in the midcoast area. Yachting Solutions owner Bill Morong said his company was thrilled to be able to add lines like Pursuit Boats, Ranger Tugs, Regal, and Sweetwater, just to name a few. 
---
Grants for dock expansions
Customers who buy one of those boats and go cruising might have an easier time finding dock space, thanks to $1.8 million in federal grants to two Maine marinas: Yachting Solutions in Rockland and Spring Point Marina in South Portland. Maine will also receive more than $400,000 in Clean Vessel Act funds to improve its system of boat wastewater pumpout stations.
Funded through taxes and fees on motorboat fuel and related equipment, the grants are administered by the National Park Service.
At Spring Point Marina, the Maine DOT will work with Port Harbor Marine to construct 916 linear feet of berthing space dedicated specifically to eligible transient boaters and provide 15 new power pedestals to provide shore power and potable water for up to 30 transient vessels. The $843,405 grant requires a non-federal match of $877,830.
In Rockland, the Maine DOT will work with Yachting Solutions to expand its boat basin, by adding 2,200 linear feet of new dockage that will be dedicated solely to eligible transient vessels. Also included are the installation of 100-amp and 480V 3-phase power, in-slip fueling, and the conversion of an existing upland gazebo structure into a transient boater's lounge. The $1.05 million federal grant calls for a non-federal match of $737,941.
The Maine Department of Environmental Protection will use the coastal grant funds to install or upgrade 10 pumpout stations and provide maintenance stipends to pumpout boats and stationary facilities. 
---
Tesla recruits at MMA
Maine Maritime Academy may be one of the state's best-kept secrets. But it's time to get the word out that this excellent college is not just for students who want to join the merchant marine. Increasingly in recent years, MMA grads have found jobs in engineering, business, and other non-maritime sectors. 
Last spring the high-end electric car producer Tesla made a recruiting call at the college's Castine campus and offered jobs to eight MMA engineering students. Tesla has been ramping up production at its Fremont, California, factory and needed talented engineers to make that possible. A Tesla rep had worked with MMA grads at a nuclear power plant in New Hampshire and knew they had the necessary skills, according to an article in MMA's alumni magazine. 
"MMA grads have the functional skills, knowledge, and diligence that are a perfect fit for Tesla's situation where problems have to be solved on the floor in a practical way quickly," said MMA Director of Career Services Tim Leach. 
We'd like to say we can hear the engines purring, but since they are electric they don't make any noise.
---
Sea training ship in Belfast for work
One of Sea Education's tall ship research vessels, the Corwith Cramer, arrived at Front Street Shipyard in Belfast in June for major work, including maintenance on the rigging, engineering systems, galley and living spaces. The work was to take place from June through August 2017.
The Cramer, a 134-foot brigantine launched in Spain in 1987, is one of two sailing ships owned and operated by SEA, which educates undergraduate students about the world's oceans through its Boston University–accredited program, SEA Semester, based at Woods Hole, Massachusetts. 
---
Hodgdon launches twin luxury tenders
Hodgdon Custom Tenders, a division of the East Boothbay-based Hodgdon Yachts, launched a 10.5 meter limousine tender and a 10.5 meter open tender in early July. The matching pair was designed by Michael Peters Yacht Design of Sarasota, Florida, and will be delivered later this year to a Dutch shipyard.
The limousine tender features accommodations for up to 12 guests, a high-definition entertainment system, refrigerator/bar, climate controlled interior, and leather upholstery. The port and starboard side windows power down for boarding access. The entire salon hardtop rises hydraulically, which allows full-height headroom for ease of boarding and 360-degree visibility. 
Highlights of the open tender include seating for up to 12 guests in a variety of configurations, a custom varnished teak table, aft sun pad, and ample storage under seats and below decks for water toys and beach amenities. Much of the exterior stainless steel hardware, including the Hodgdon signature flush anchor, is custom fabricated. Both tenders are powered by Volvo D6-370 engines and have recorded speeds up to 35 knots during builder's trials.
With tenders like these, who needs a yacht?
---
Coastal Fisheries Center staff
Paul Anderson, director of the University of Maine Sea Grant College Program, has been named the new executive director of Maine Center for Coastal Fisheries, following Robin Alden's departure.   
Share this article:
2023 Maine Boat & Home Show

Join Us for the Maine Boat & Home Show!
Art, Artisans, Food, Fun & Boats, Boats, Boats
August 11 - 13, 2023 | On the waterfront, Rockland, Maine
Click here to pre-order your tickets.
Show is produced by Maine Boats, Homes & Harbors magazine.