Shell Games
Youth rowing takes off in Maine
By Amy Wilton
Photographs by Amy Wilton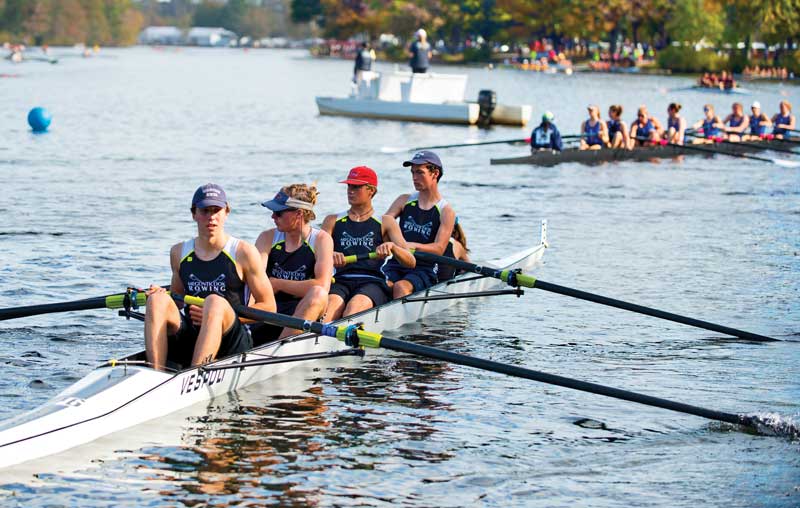 Megunticook Rowing's varsity four wait to start their division in the 2017 Head of the Charles Regatta in Cambridge, Massachusetts. More than 10,000 rowers compete in the two-day event, making it the largest rowing regatta in the world.
When I moved to Camden in 1997, I thought, "This is the perfect place to live except for one thing, there is no rowing." Fast-forward a couple of decades: rowing, in singles and sweeps, for adults and teens, has taken off. There are now at least seven youth rowing teams and four college programs in the state, and dozens more youngsters are taking up the sport every year.
C.C. Stockly, head coach at Waynflete School in Portland, attributes the upsurge in the numbers to "accessibility and word of mouth. As the knowledge of the sport grows, more people join," she said. Boys in the Boat, the 2013 best-seller by Daniel James Brown about the 1936 Olympic rowing team, also introduced a whole new generation to the sport.  
I know what got me started. In my freshman year of high school, a cute senior asked if I was planning on joining the crew team; I've been rowing ever since.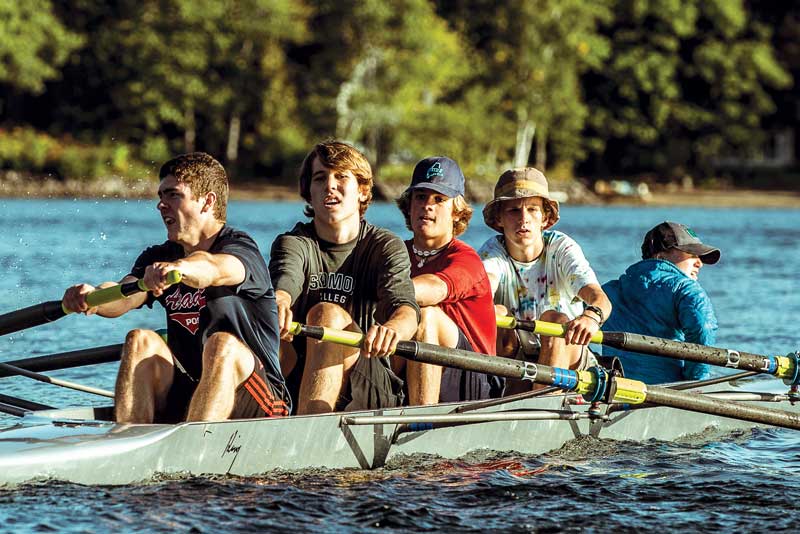 The coxswain, seated in the bow here, guides the boat and calls out commands to the rowers, acting as the coach in the boat.
It's difficult to explain to a non-rower why people can be so passionate about a sport that involves sitting down and going backward. There is a sense of accomplishment and pride that comes from enduring years of the rigorous workouts of high school and college rowing. The connection between you and your teammates is special; together you experience the intensity, physical suffering, and the incredible endorphin rush that happens during workouts and races. You bond. The shared experience makes you part of a sacred group. An experienced rower can go to a rowing club anywhere in the world and instantly be "part of the team" in their adopted rowing home.
After college, my first job was a short stint coaching my university's novice women rowers. Over the next seven years I coached at various universities, clubs, and high schools until I moved to Maine to attend graduate school. Did I mention that there was no rowing in Camden back then? There was, of course, collegiate rowing at Bates, Bowdoin, and Colby colleges, but coaching at those schools wasn't an option because the drive was too far. So instead, I hoisted my single scull on top of my car a few days a week and rowed by myself on Megunticook Lake. For years I never saw another rower and started to lose momentum. 
Don't get me wrong, I love sculling, but I prefer sweep rowing. Sculling is when each rower has two oars, one on each side, and sweep rowing is when each rower controls one oar. When you row sweep, you can't be in a boat by yourself for obvious reasons. While pining for the companionship and motivation of other rowers, I found out about the Megunticook Mini-Marathon, a 10-mile rowing regatta. I also met Bob Perkins, a veteran rower and coxswain (that's the small, feisty, loud person who steers four- and eight-person sweep boats).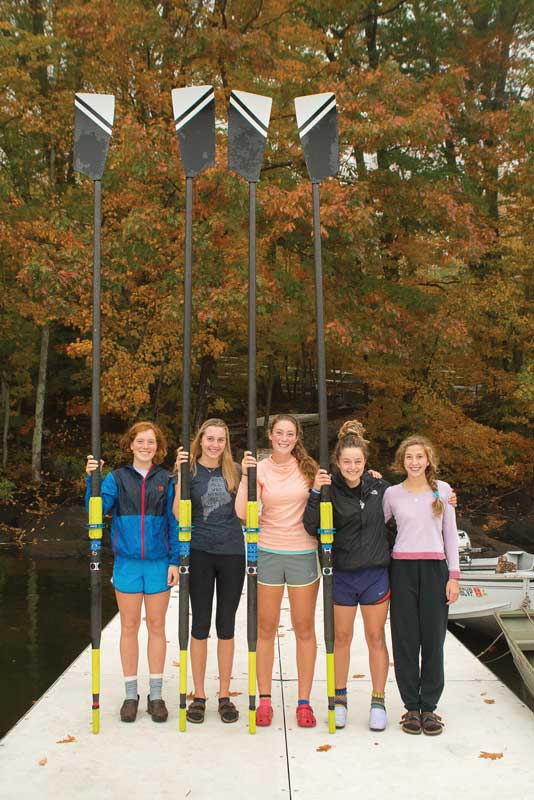 Megunticook Rowing's varsity girls four pose for a shot on their dock before loading boats to compete in the 2016 Head of the Charles Regatta. Perkins, like myself, had developed a love of rowing as a student and then moved to Maine because, as we all know, it's the best place to live. In the early 1990s, he and a group of fellow rowers formed the Maine Rowing Association. It was "a club without a boathouse," Perkins said. "You only see each other a few times a year, but there was a real camaraderie among the rowers." The group held half a dozen races a year, with 20-40 sculling boats participating in each event.
The Maine Rowing Association and aforementioned colleges were the heart of rowing in Maine until around 2010, when sweep rowing groups started popping up around the state, including in Camden. Ry Hills, a former U.S. Rowing National Team member and Dartmouth College crew coach, began to talk about starting a local rowing club in 1999. After nine years of talk, the club officially started organizing in 2008 and got on the water the following year. We rowed off the town beach for a year, and finally, the non-profit club secured a spot on town land that fronts Megunticook Lake and installed the first boat racks and dock in 2010.
The Megunticook Rowing Club started with just a few junior and master rowers and stayed relatively small until a few years ago, when our team, like other teams around the state noticed a dramatic increase in participants.
In addition to the publicity and word of mouth, Waynflete's Stockly also thinks that coaches for winter sports like Nordic skiing and swimming now realize that rowing is a great way to keep their athletes fit the rest of the year. Junior rowers also recruit each other. If athletes are having fun, they talk about it and before you know it your team has tripled in size. Our team has grown from just 15 athletes three years ago to more than 40 last fall. Each of the state's club programs has seen similar growth over the last five years. 
The state's youth teams compete against each other at least once a year in the Maine Youth Rowing Association Championships, which began around 2009. The association has also held an indoor winter competition on rowing machines in the past few years. 
The state's club and high school teams have held their own in regattas elsewhere in New England, and many rowers from these programs have gone on to compete at the college level. Bates College women rowers won the Division III college national championship in 2015 with at least two Maine-trained rowers in the boat—Stockly's daughter Olivia and Emma Conover, who learned to row with Megunticook Rowing. Bates women won the NCAA championship again in 2017.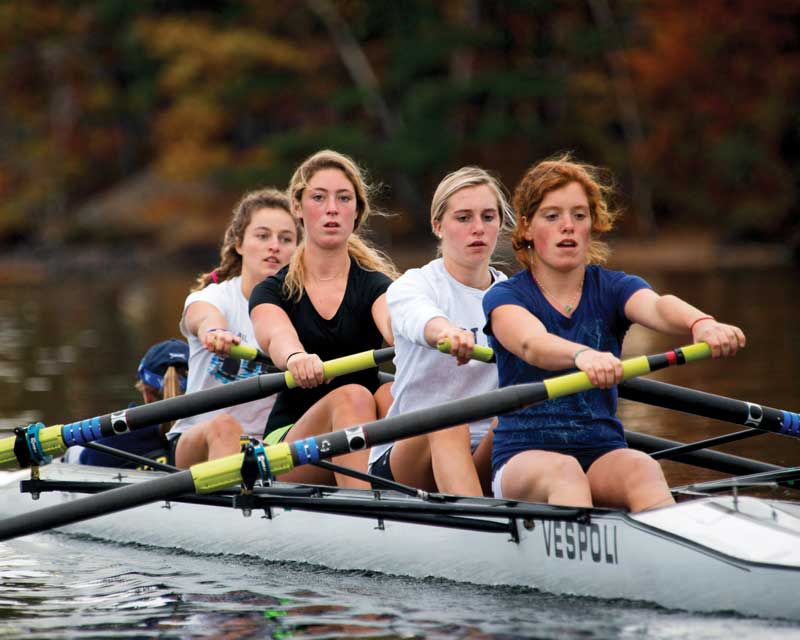 Practice is intense and rowers work to get into "the zone"—that place where your head is clear and you are only focused on how to make the boat go fast.
We even have at least two Olympic rowers from Maine: Camden's Anna Goodale, and Elle Logan from Boothbay Harbor. Anna Goodale rowed in the Women's Eight in 2008 and Elle Logan was the first woman American rower to win a gold medal in three consecutive Olympics—2008, 2012, and 2016—also rowing in the Women's Eight.
Rowing is a lifelong sport.  You can start in middle school and continue into your "wise years"—my oldest Learn to Row athlete last summer was 84. If you want to just cruise around the lake at a duck's pace and look at the scenery, you can hop in a single scull. If, like me, you prefer an intense cardio workout with a group of fit friends, you can get into a sweep boat and let the coach and coxswain push you to your limits. I've done sports my whole life—swimming, Nordic skiing, running, and triathlon—and no other sport has given me such an intense physical experience.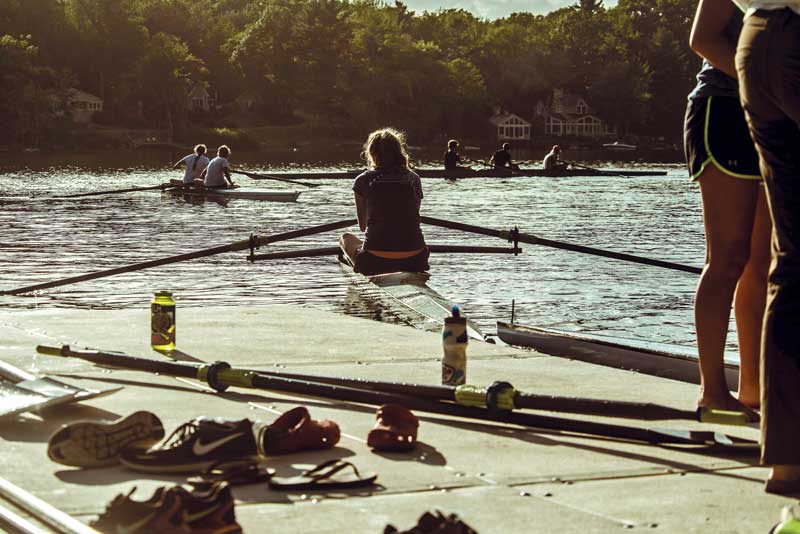 Rowers line up to land at the dock after a late afternoon practice on Megunticook Lake in Camden.
The bottom line with rowing is passion. The passion of coaches and rowers who just can't live (happily) without this sport that has taught them so many life lessons is what fuels the fire. Student rowers, teens, and adults alike all tell me they wished they had tried it sooner. 
Ready to get on the water?  See our resource guide for a club near you. 
---
Amy Wilton is a professional photographer and Head Coach at Megunticook Rowing.
Rowing resources around the state
CLUBS
Berwick Academy: School-based spring competitive juniors program serving Berwick Academy students, on the Salmon Falls River; Head Coach Charlie Wemyss at ccwinbos@gmail.com; www.berwick
academy.org/Page/Athletics/Team-Information
---
Camden Hills Crew: Club serving junior rowers in the Camden area, programs include spring and fall racing, and winter training, on Megunticook Lake in Lincolnville. Contact program director at camdenhillscrew@gmail.com; www.facebook.com/Crewcamdenhills
---
Megunticook Rowing: Club serving juniors and adults in Camden and neighboring towns; Barrett's Cove, Megunticook Lake, Camden; programs include competitive and recreational fall, spring, and summer teams for juniors and adults, learn to row, boat rentals, indoor winter training. Head Coach
Amy Wilton at amy@megunticookrowing.org; www.megunticookrowing.org
---
Merrymeeting Community Rowing Association: Club serving juniors and adults in the greater Brunswick area; programs include competitive and recreational teams, learn to row, and boat rentals;
on the Androscoggin River in Brunswick. programs@rowbrunswick.org; rowbrunswick.org
---
Waynflete School: School based competitive fall and spring junior sweep program, and indoor winter program, serving Waynflete and Portland area high school students; on the Fore River, Portland. Head Coach C.C. Stockly at ccstockly@gmail.com; www.waynflete.org/athletics 
---
Yarmouth Rowing: Club serving Yarmouth High School and juniors and masters rowers from Yarmouth, Freeport, North Yarmouth, Falmouth, and Cumberland; on the Cousins, Royal and Harraseekett Rivers; programs include competitive and recreational teams for juniors and masters, learn to row, boat rentals, and indoor winter training; Program Director Chris Coughlan at chris@yarmouth-rowing.org; yarmouthrowing.com
---
Row Portland: Club serving adults and teens in the Portland area, East End Beach, Portland, programs include recreational junior and masters rowing, learn to row, boat rentals, indoor winter training; contact the program director at row@rowportland.org; www.rowportland.org
COLLEGES
Bates College: Competitive collegiate team, on the Androscoggin River, Greene; Head Coach Peter Steenstra; www.athletics.bates.edu/sports/rowing
---
Bowdoin College: Competitive collegiate team, on the New Meadows River, Brunswick: Coach Doug Welling; www.athletics.bowdoin.edu/sports/rowing
---
UMaine Crew: Competitive club team for undergraduate and graduate students, on the Stillwater River, Orono; Team President Garrett Robinson; www.umaine.edu/campusrecreation/program/sports-clubs/current-clubs/crew
---
Colby College: Competitive collegiate team, on Messalonskee Lake, Waterville; Head Coach Stew Stokes; www.gocolbymules.com/sports/mcrew
ROWING CAMP
Northeast Rowing Center: Six-day high school rowing camp in Raymond during August at Camp Nashoba, North Raymond; Program Director Barbara Grudt, 609-712-2667; www.rowcamp.com
REGATTAS
Kennebec Row 5k, mid-July
---
Skowhegan Maine State Championships, Cow Island Classic, early August, Brunswick 
---
Megunticook Regatta, Second Sunday in September, Camden
---
Head of the 'Scog, Mid September, Greene
FMI: Maine Rowing Association
Share this article:
2023 Maine Boat & Home Show

Join Us for the Maine Boat & Home Show!
Art, Artisans, Food, Fun & Boats, Boats, Boats
August 11 - 13, 2023 | On the waterfront, Rockland, Maine
Click here to pre-order your tickets.
Show is produced by Maine Boats, Homes & Harbors magazine.