Mainely Gourmet - Nebo Lodge, North Haven
North Haven
By Kim Ridley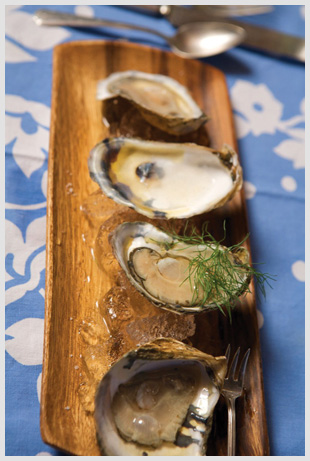 North Haven oysters on the half shell.
Photos courtesy of Nebo Lodge
North Haven Island, in Penobscot Bay, doesn't broadcast its charms. Even the views—immaculately restored farms and shingled cottages tucked among fields and spruce woods—unfurl themselves discreetly, cove by intricate cove, as the ferry chugs along the Fox Islands Thorofare. When you step off the ferry and walk up Mullins Lane, you'll discover a haven open to all: Nebo Lodge, which is owned and run by the Pingree family. On a cool May evening, the aromas of roasted vegetables and shallots sautéing in butter wafted from Nebo's kitchen. Tom and I followed our hostess through the cozy bar to a corner table in the dining room, which emanated an offhanded charm with mismatched vintage tablecloths topped with tea lights winking in jelly jars and small pots of pansies. Everyone appeared to know everyone else in this year-round community of 350, and even we recognized someone at the neighboring table: Maine Congresswoman Chellie Pingree. She owns the lodge; her daughter, Maine State Representative Hannah Pingree, is in charge of operations; and the multi-talented chef, Amanda Hallowell, is also general manager. Hallowell, who was raised on the island, returned with her husband Josh Amato to start a new life and a family shortly after Nebo opened in 2006. Inspired by her mother's cooking, she later honed her skills at Stacey Glassman's Swan's Way Catering in Lincolnville. She started cooking dinners at Nebo "on a whim." Hallowell insists that she's a "cook, not a chef." Whatever she calls herself, she has a gift for improvising with fresh, local ingredients refined by the experience garnered while growing up in a place where the nearest supermarket is an hour-plus boat ride away.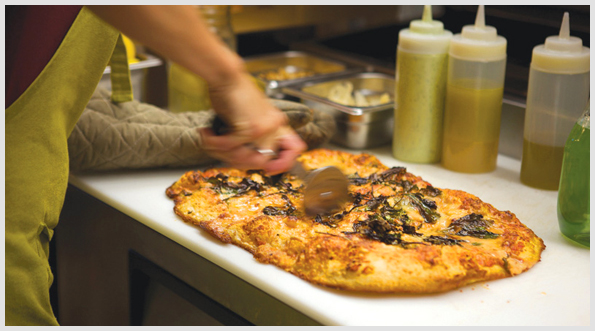 The menu features local ingredients—vegetables from an island farm, seafood from surrounding waters.
Nebo's menu features the seasonal harvests of the island and surrounding waters: North Haven oysters, halibut caught off neighboring Vinalhaven island, and radishes, greens, goat cheese, and eggs from nearby Turner Farm. It is organized for flexibility; diners can sample from the "first tastes" section and proceed to a light supper or main course. We chose a few first tastes, which revealed Hallowell's respect for tradition and her talent for tweaking it. The biggest surprise was her radishes, roasted whole, of all things, until they turned sweet and the greens crisp and mild, and topped with a pat of smoked sea-salt butter in a nod to the French. On the traditional side, a classic champagne mignonette brightened the briny sweetness of North Haven oysters to perfection. And although it sounded a bit heavy for an appetizer, Hallowell's white bean chicken chili with crème fraiche was more like a soup than a stew, with a light and kicky broth. Knowing that the all-too-short Atlantic halibut season had just opened, I couldn't resist. Hallowell's springtime preparation was simple: a thick halibut filet, roasted and served with wilted spring greens, a silky lemon aioli, and Nebo's own pickled cauliflower. The combination of aioli and pickled cauliflower struck my taste buds as a wry elevation of a Maine favorite: tartar sauce.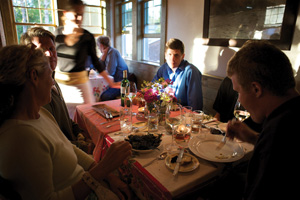 Fine dining in a vintage setting.
Tom ordered the caramel-glazed pork roast with stewed pinto beans and cornbread, which elegantly referenced traditional Maine supper fare on a Saturday night. The glaze struck the right balance between sweet and savory, and melded harmoniously with the organic pork roast and tender beans. Other main courses included a huge pan-seared rib-eye steak with rosemary marinade and truffled French fries, a roasted vegetable enchilada, and a flank steak with a smoky-salty dry rub. The portions were substantial, which made us glad that we had hiked up nearby Ames Knob before dinner. All that exercise, in turn, inspired us to feel entitled to order quatro leches cake for dessert. Yes, that does mean "four milks," including half-and-half and crème fraiche, which made for a moist and dense cake iced with a luscious caramel frosting/glaze. My only regret was not having sampled Nebo's creative cocktails and light supper menu, which includes Hallowell's acclaimed pizza and fried fish "Reuben," but we'll be returning. In July and August, dinner guests can catch a round-trip boat ride on Equinox Island Transit from Rockland to North Haven for $20, reservation required. You can also splurge and stay at the lodge, of course, which offers 8 rooms that are furnished with simple antique and contemporary furniture, rugs, and textiles by designer and North Haven native Angela Adams. North Haven sure felt homey to us. Everyone waved as we wandered "downtown" for tea and the local news at the beautifully restored Waterman's Community Center and drove the island's quiet roads. As the church bells chimed an old-timey hymn, we thought about how people had lived here for generations, deeply rooted in place. Hallowell, whose father is principal of North Haven's tiny K-12 school, is among those sinking deeper roots here and growing something new. "I was walking around the island one day and knew I wanted to be part of it again," she said. "It's a place of originals, people who can't do it any other way." It's lucky for us that she now counts herself among them.
Amanda Hallowell's Fried Green Tomatoes
Ingredients:
1 green tomato 1 egg 1 cup flour 1/4 tsp salt plus more for finishing 1 cup panko bread crumbs oil for frying
Slice tomato into 1/4-inch slices. Place panko and flour in separate shallow containers; add salt to flour and whisk to combine well. Whisk egg and place in another shallow container. Dredge tomato slices in the following order: salted flour, egg, then panko, coating thoroughly with each. Stand slices against each other like dominos (do not lay flat or stack) until ready to fry; refrigerate if necessary. Heat fry oil to 350°, fry till golden brown, sprinkle with salt to taste. Serve hot with chive dressing (below).
---
Chive Dressing
Ingredients:
1 bunch fresh chives (about 1" diameter) 8 oz. crème fraiche 1 Tbsp lemon juice or champagne vinegar 1/4-1/2 tsp salt (to taste)
Roughly chop chives and place in bowl of food processor. Pulse till finely minced. Add crème fraiche and blend. Add vinegar or lemon juice and salt. Pulse to combine. Serve with fried green tomatoes.
Nebo Lodge
11 Mullins Lane North Haven, ME 04853 207-867-2007
www.nebolodge.com
Getting to Nebo Lodge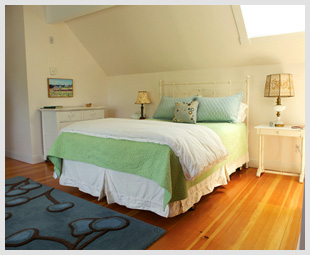 Click on image to expand.
By ferry: the Maine State Ferry runs from Rockland to North Haven three times a day; this option means an overnight (if you stay for dinner). Equinox trips: Tuesday and Thursday roundtrip dinner excursions aboard the privately run Equinox in July and August are an affordable alternative. Information and reservations: 207-236-6890;
www.equinoxislandtransitllc.com
. By your own boat: Contact J.O. Brown and Sons for information on rental moorings in North Haven Town Harbor at 207-867-4621, or consult your favorite cruising guide for other options.

Kim Ridley is a freelance science writer and editor who also writes about food, art, and architecture.
www.kimridley.com
Share this article:
2023 Maine Boat & Home Show

Join Us for the Maine Boat & Home Show!
Art, Artisans, Food, Fun & Boats, Boats, Boats
August 11 - 13, 2023 | On the waterfront, Rockland, Maine
Click here to pre-order your tickets.
Show is produced by Maine Boats, Homes & Harbors magazine.