Scallop Farming: Young, but With Huge Potential
Scallop Farming: Young, but With Huge Potential
The market is there, especially in high-end restaurants. Chefs there would love to have access to fresh scallops, complete with handsome coral roe attached.
By Nancy Harmon Jenkins
This article is part of a series in our Special Report on Aquaculture in Maine. Continue reading the rest of this series at the end of this article.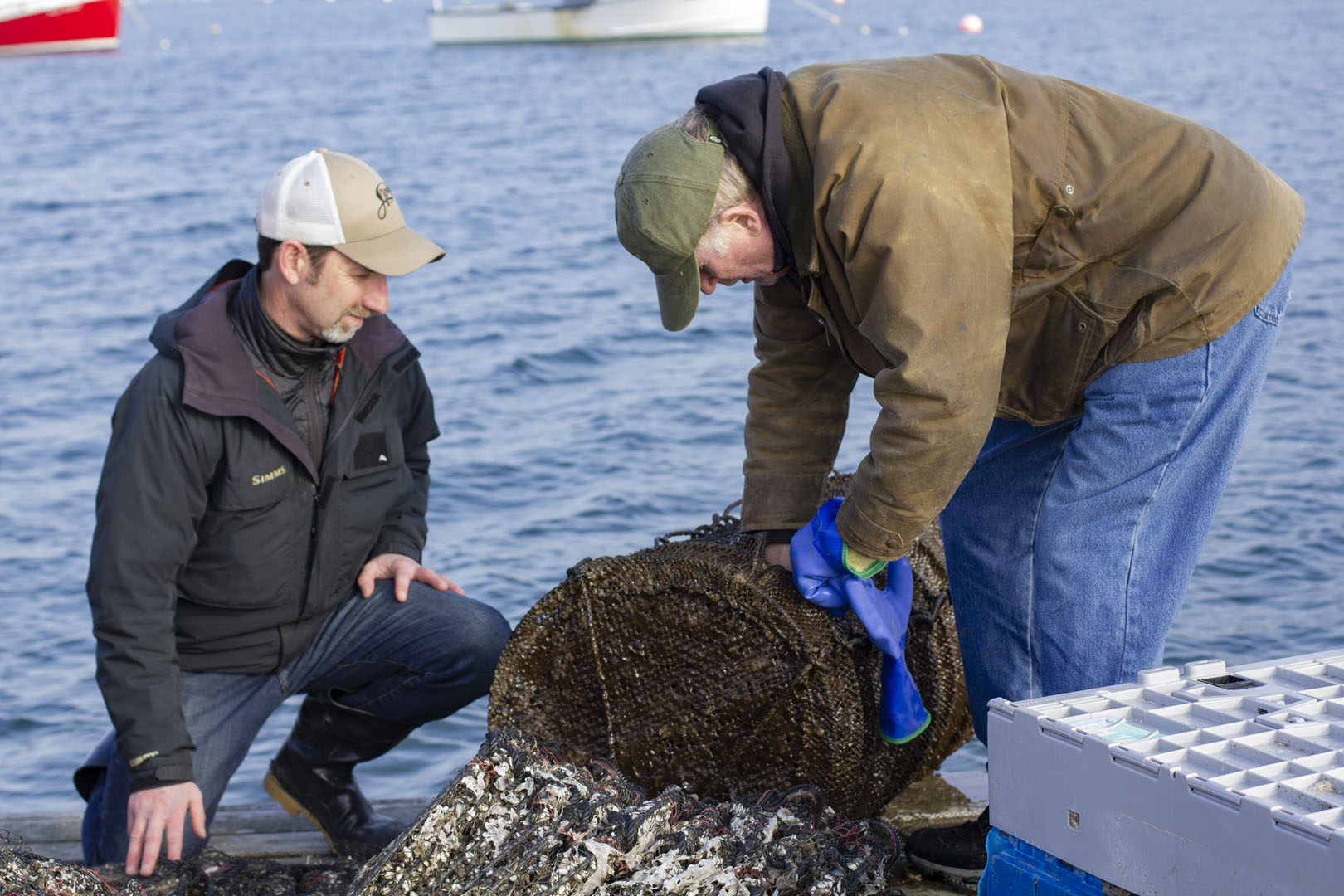 Peter Miller (right) handles a scallop cage at the Tenants Harbor Co-Op. Photo by Meghan Grabill, Island Institute Scallop farming is a little less advanced than other forms of aquaculture in Maine, but it shows a promising future, experts say. That's partly because scallops are a perennial favorite at the seafood counter and partly because the wild scallop harvest, although currently healthy, is tightly monitored in order to prevent the fishery—on which many Maine fishermen rely throughout the winter months—from collapsing. Whether farmed or wild, these are Atlantic scallops, Plactopecten magellanicus. The wild harvest runs from mid-December to early April; each boat is limited to 15 gallons (about 135 pounds) of scallops daily. For that reason, almost all Maine scallops are harvested by day-boats.
Farming scallops calls for a greater investment, in both labor and start-up costs, than oyster or mussel farming, and much more than cultivating seaweed. The grow-out, moreover, from start to maturity, can be as long as four years—a long time to have your money tied up in a scallop farm. Wild juvenile or larval spat are captured in spat bags in late summer or early fall as they drift through the water column, then moved to netted enclosures that protect them from predators such as green crabs and starfish. (Like mussels, oysters, and other bivalves, scallops feed on phytoplankton in the water.) Often that netted enclosure is a lantern net, an idea that Maine fishermen learned about in Japan, where traditionally scallops are grown in long tube-shaped nets, each one enclosing up to 10 platforms on which the scallops rest. The equipment is expensive, however: each lantern net costs $20 and a lot are needed to set up a system, plus all the rest of the equipment. The start-up costs can add up to an amount that can be a stretch, even for a well-funded fisherman.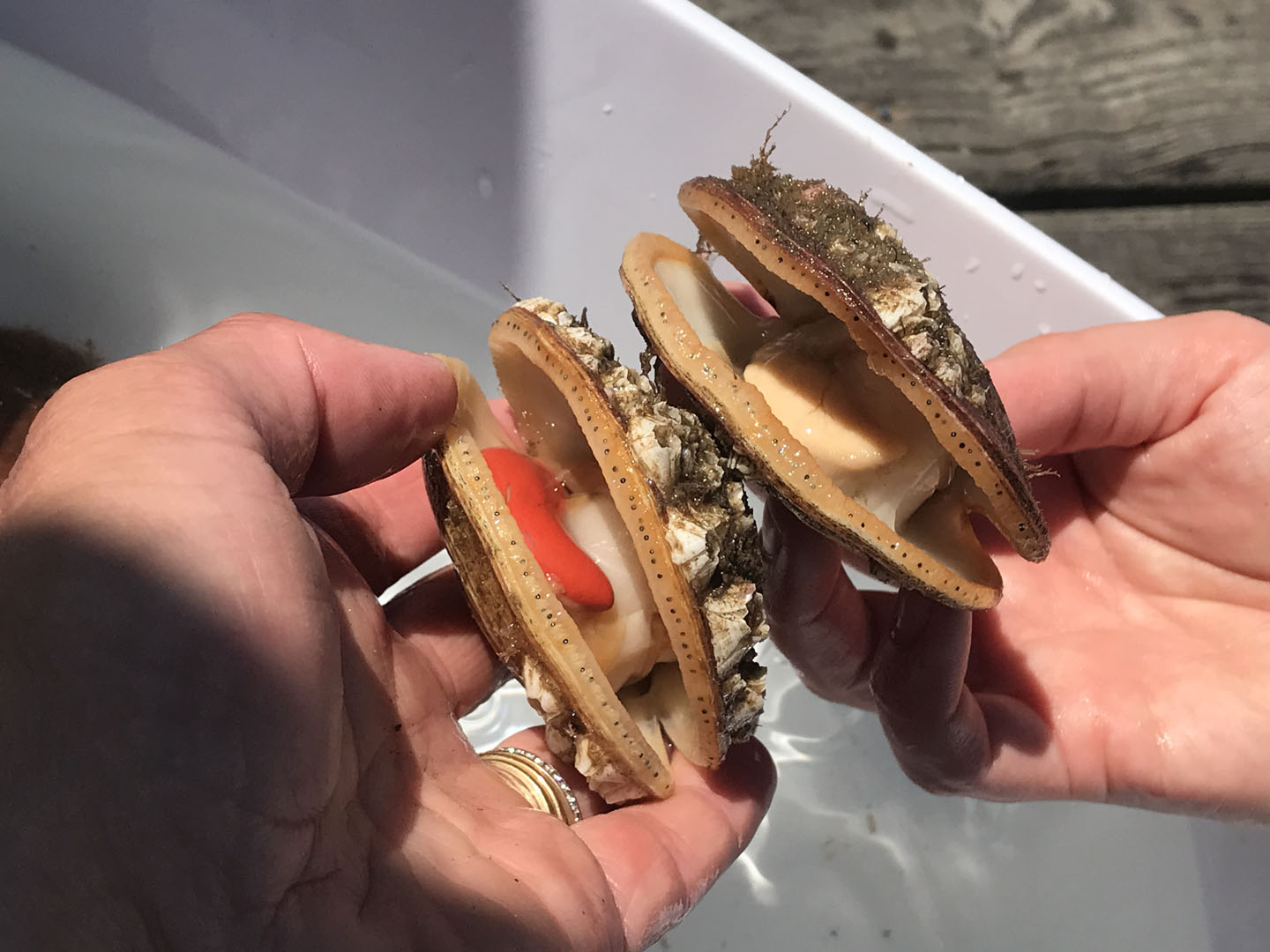 This male and female scallop with their creamy gonads and roe are being raised at the Hurricane Island Center for Science and Leadership, which has partnered with the Island Institute and local fishermen to learn more about how scallops grow best. Photo by Polly Saltonstall
The market is there, especially in high-end restaurants. Chefs would love to have access to fresh scallops, complete with handsome coral gonads attached. This is currently not possible with wild scallops but might well be so with farmed ones, which can be tested more easily for biotoxins.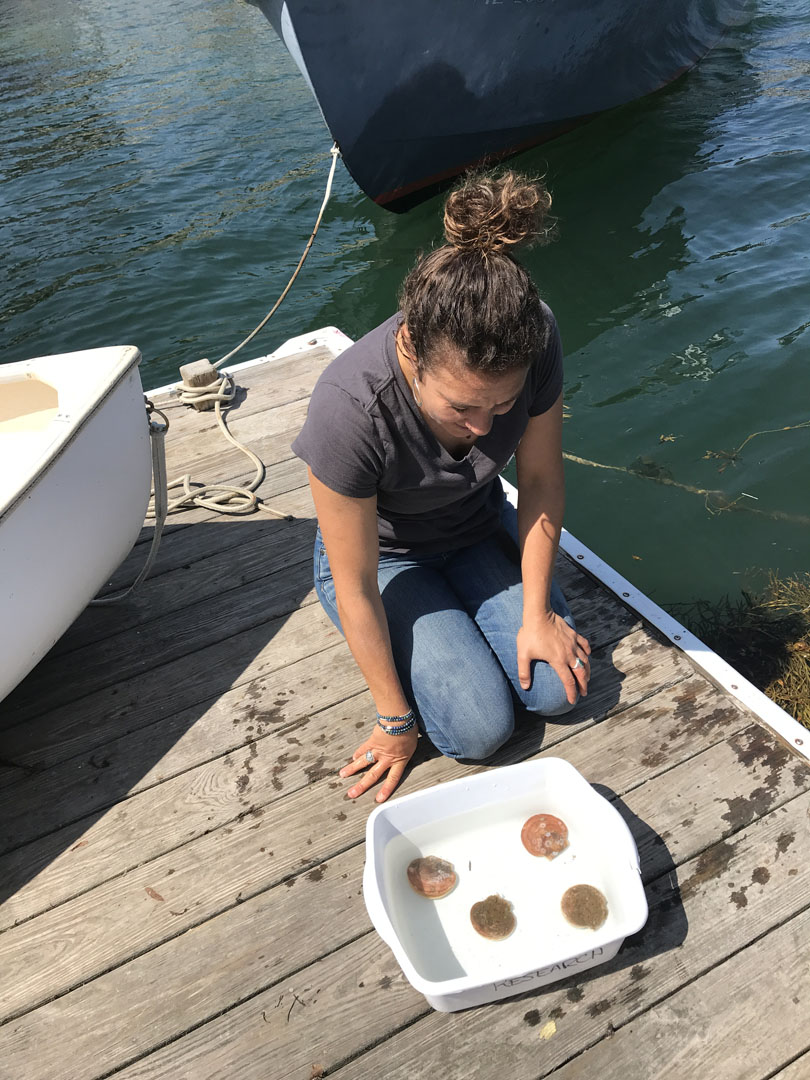 Phoebe Jekielek at Hurricane Island Center for Science and Leadership watches scallops swim in a small tray. Photo by Polly Saltonstall Consequently, several people and organizations are experimenting with scallop aquaculture, including the non-profit Hurricane Island Center for Science and Leadership, which has worked with area students on research projects, raising kelp and scallops together, and studying the interactions with the wild populations. "We're trying to answer the questions that growers are asking," Phoebe Jekielek, the center's director of research, told me, "but without getting in their way. We act as a local resource that feeds into larger projects."
Scallop farming is not yet up to a fully commercial scale. But Dana Morse, Maine Sea Grant's man at the Darling Center in Walpole, thinks it may well be the next big thing. The Maine Aquaculture Coop, Maine's first aquaculture cooperative, headed by third-generation Stonington fisherman Marsden Brewer, has focused single-mindedly on scallops, and includes fishermen-farmers throughout Penobscot Bay, from Stonington to North Haven to Tenants Harbor. Along with Morse, Brewer led a group of prospective Maine scallop farmers on a trek to Japan to research techniques that had long been practiced in Aomori Prefecture (which shares sister stateho0d with Maine), the center of Japan's thriving scallop aquaculture industry. The lantern nets for scallops were a major outcome of that visit.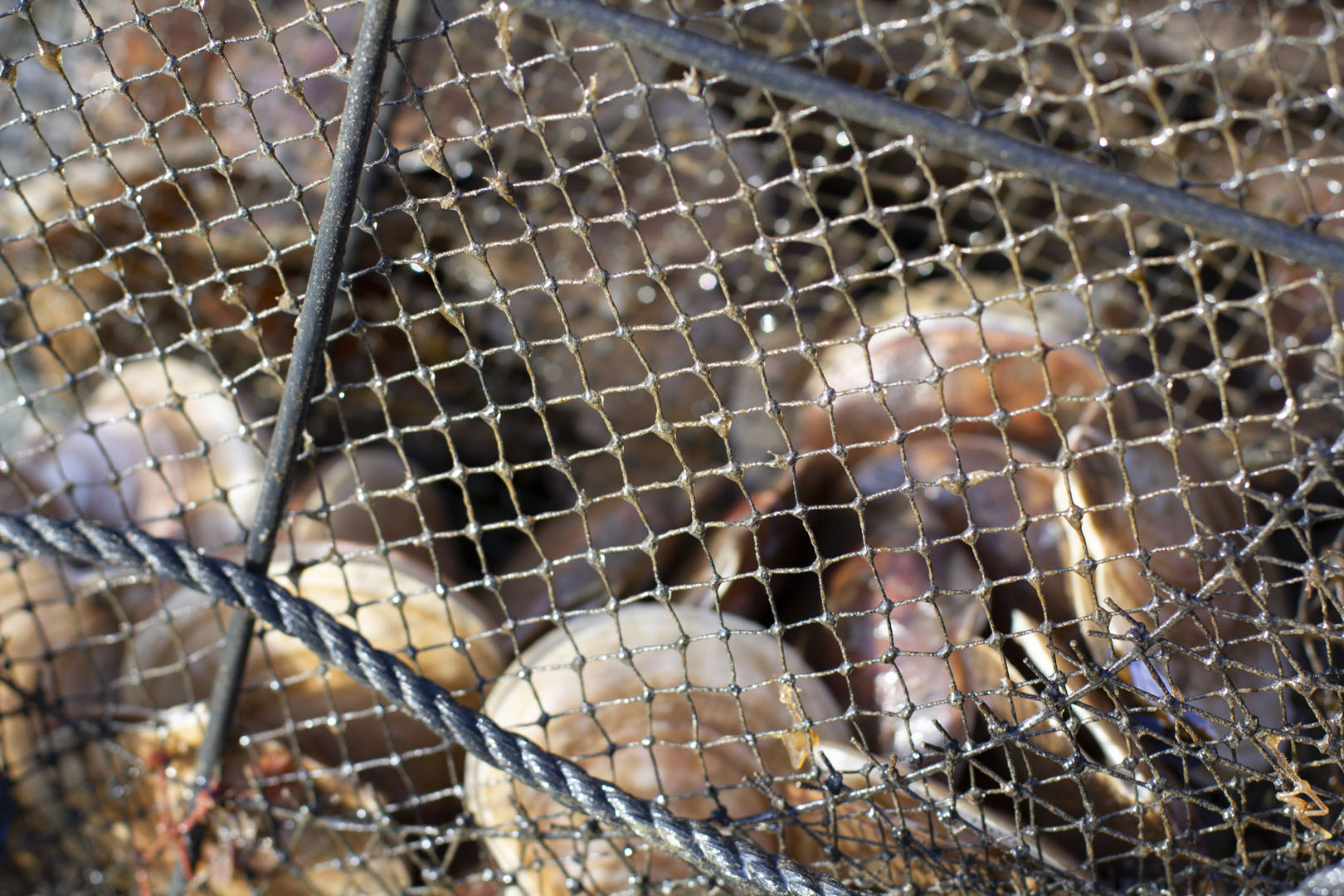 A close-up of farmed scallops in a cage at the Tenants Harbor Aquaculture Coop Exchange. Photo by Meghan Grabill, Island Institute
Peter Miller in Tenants Harbor is another member of the cooperative. "We're still at the whim of Mother Nature," he told me. "The first years we collected spat, we thought 'this is so easy.' We must have set 60 or 70 spat bags, we probably had a hundred thousand scallops. But the last two seasons, for whatever reason, over here in the western part of the bay it's been terrible. This spring you could literally count the scallops, there were so few."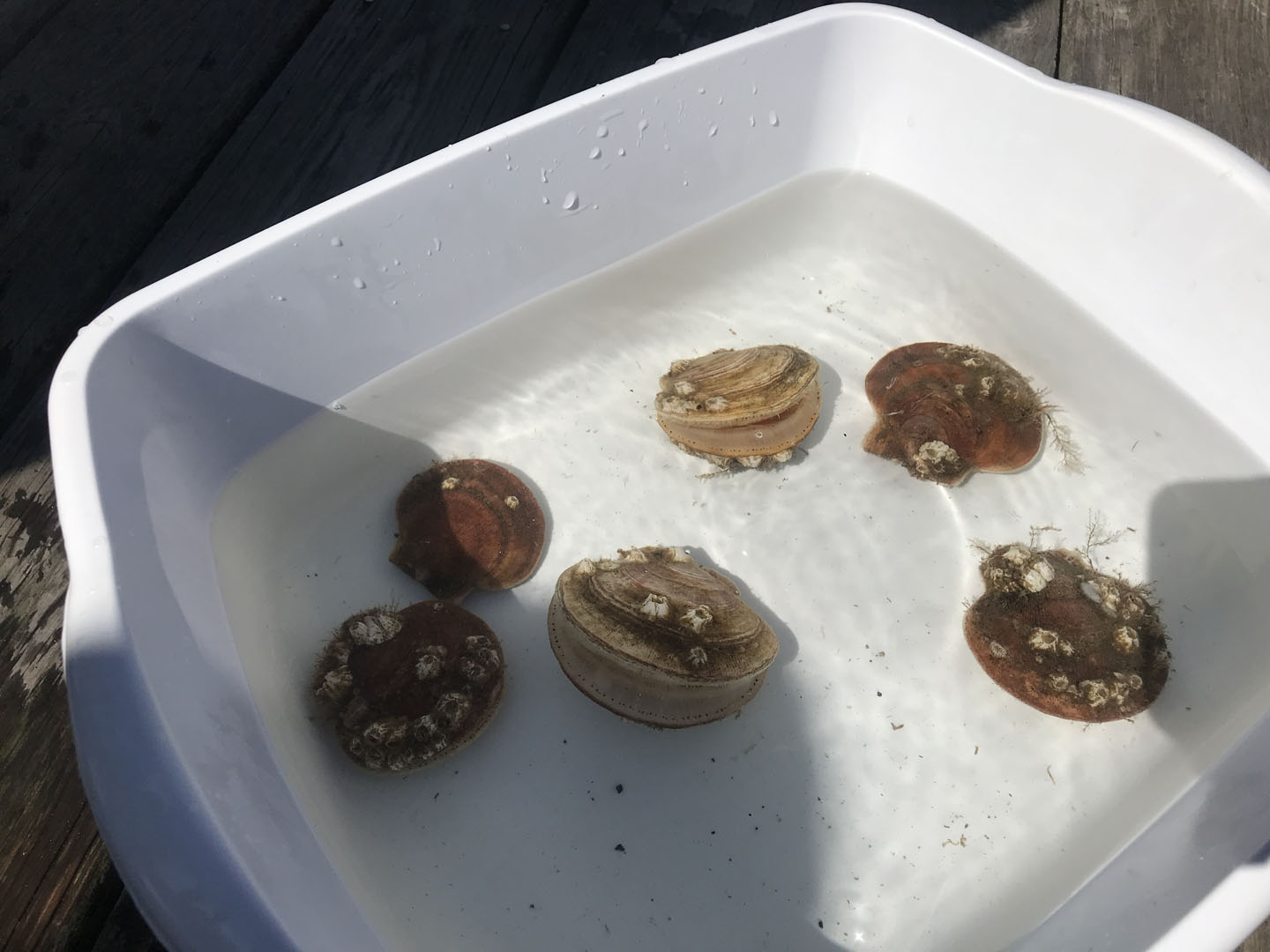 Scallops are actually quite mobile. They move by opening and closing their shells. Photo by Polly Saltonstall Still, if you look at the Maine Aquaculture Coop's website, you come away with a decidedly positive feeling. "We are," it announces proudly, "the first entity in Maine to grow and sell a live Atlantic sea scallop." Hopefully, they will not be the last.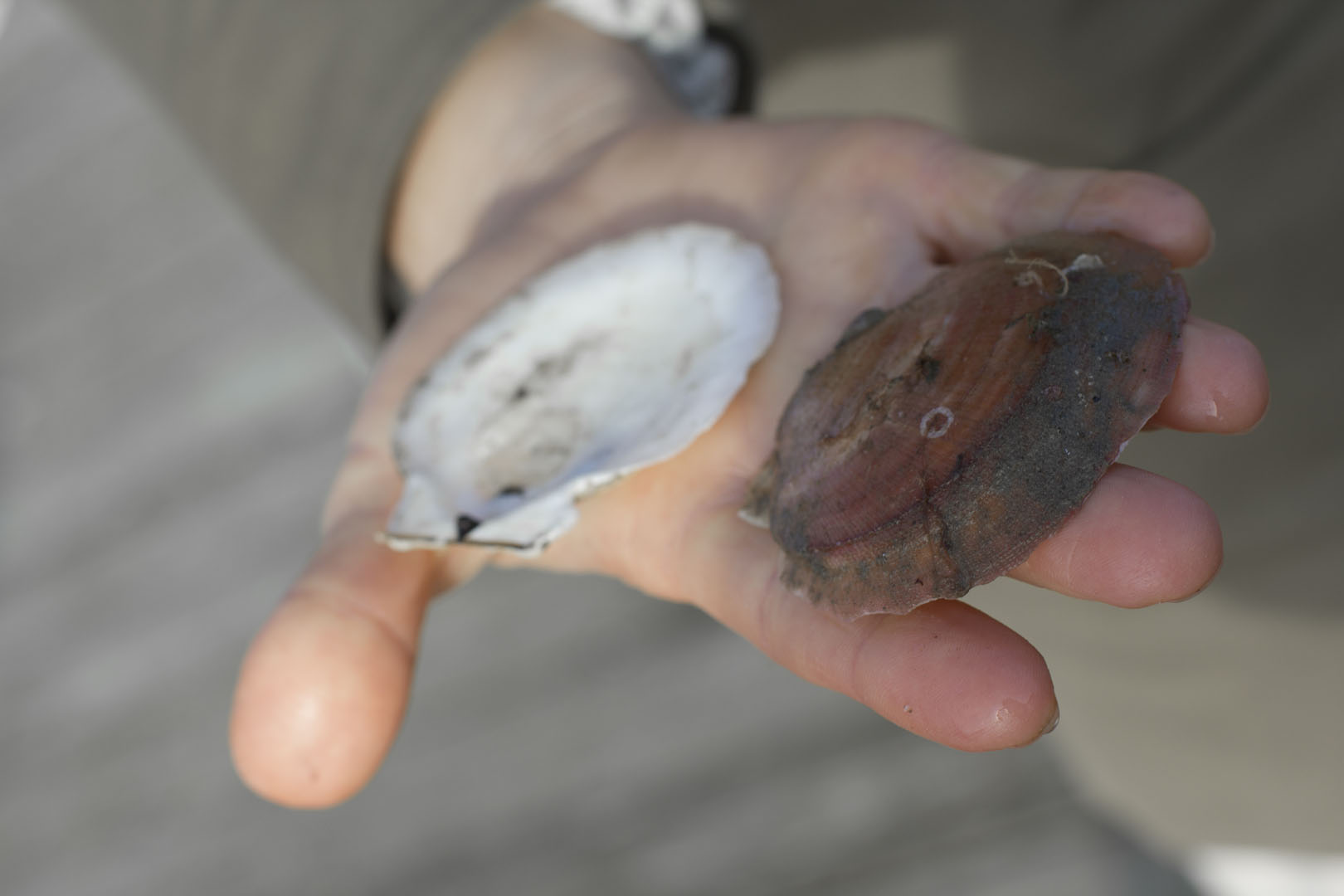 A farmed scallop's shell Photo by Meghan Grabill, Island Institute
Special Report: Aquaculture in Maine
Share this article:
2023 Maine Boat & Home Show

Join Us for the Maine Boat & Home Show!
Art, Artisans, Food, Fun & Boats, Boats, Boats
August 11 - 13, 2023 | On the waterfront, Rockland, Maine
Click here to pre-order your tickets.
Show is produced by Maine Boats, Homes & Harbors magazine.