Land Cruisers
Vans Transformed
By Chrisso Rheault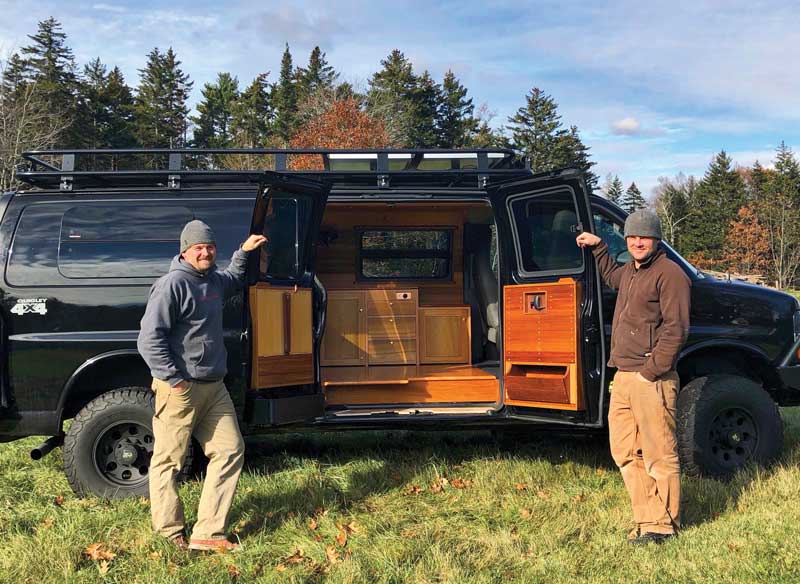 Eli Ellis (on left) displays the Chevy van with his building and business partner Tyler Vroman. Photo by Chrisso Rheault
Maine is full of old farms with old barns, many with vans parked nearby. But on an old family farm in Cushing, two vans parked in the dooryard were not what they seemed, nor was the shop within the barn when I visited recently.
One van was a red Sprinter, the type found making deliveries all over the world, the other was a black GMC panel van, albeit with suspension changes and a window or two extra. Both are the work of Eli Ellis, a young Cushing native who has turned these standard examples of cargo carriers into something more special.
Ellis spent time as a ski bum out west and did carpentry before going to work for boatbuilder Bill Page who was building a trawler yacht. During his down time, Ellis rebuilt the family barn, turning it into a masterful woodworking shop that features a mix of the old and new. A multi-screen computer facilitates design; the meticulously arranged work area includes multiple racks of chisels, scrapers, and blades, and a recently acquired vintage milling machine.
On the day I visited, the black Chevy van was nearing completion for clients who have been sailors for many years and were looking for a winter overland vehicle. The interior resembled a Maine-built custom yacht, from the cedar strips on the ceiling to the clever way every inch of real estate had been used. 
Emphasizing the boat connection, Ellis refers to areas of the van as fore and aft, port and starboard. The aft section has a platform for a queen bed, with storage underneath. Clever multi-directional hinged sections open to allow access as well, turning the bed into a bench or lounge seating. To port, behind the driver's (captain's) chair, is a simple galley with sink and propane burner—both can be hidden when not in use. The attention to detail in woodwork can best be exemplified by the post on the aft doors: a single 6" x 6" piece that was carved to fit multiple curves.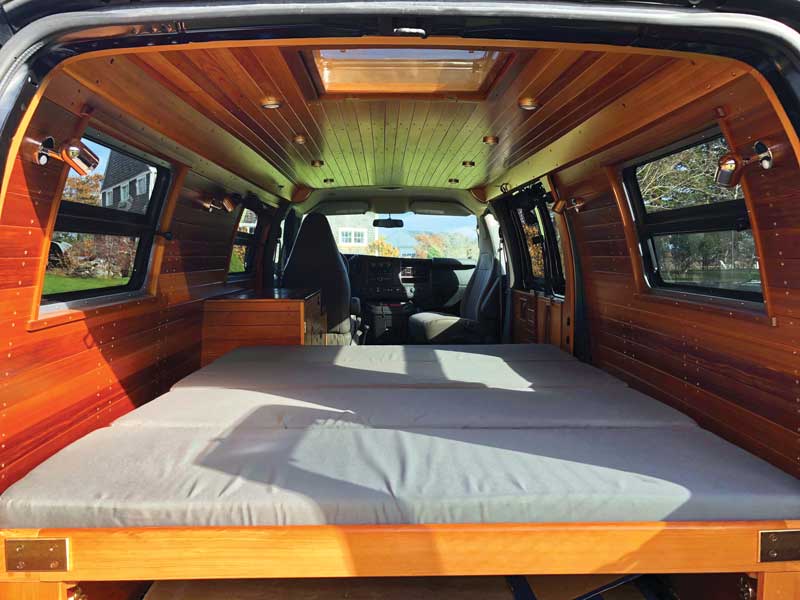 The stern entrance of the Chevy van. The main bunk can be configured multiple ways including forward- and aft-facing bench seat or chaise position. Storage underneath is designed to use milk crates for easily identified and removed items. Photo by Chrisso Rheault
Venturing into what is known on social media as the #vanlife world, Ellis worked with a body shop in Portland to add windows and skylights. Another firm modified the chassis to raise the suspension and add a four-wheel-drive option so the owners can spend the night pretty much anywhere.
Projects like this can lead to additional ones, and so it is with these vans. Parked next to the Chevy is the bright red Sprinter waiting for the Ellis treatment. Being retrofitted for a couple who enjoy outdoor sports, it will feature slide-out racks for bicycles and skis. 
Ellis's enthusiasm and creativity shine through as he discusses the challenges and solutions, little items like elegant push-button cabinet latches, and larger challenges such as how to create an easily winterized water system for a van based in Maine. His solution is clever in its simplicity: an onboard air compressor, initially installed to inflate bicycle tires, is connected to the water line. This provides water pressure to the sink, replacing the need for a foot pump, and allowing the water lines to be cleared at the end of an expedition.
These two vans have connected Ellis with the larger #vanlife community. With his build and business partner, Tyler Vroman, plans are developing for a teardrop camper and other designs under the name AWOL Adventure Rigs. Land yacht has long been a derogatory term for big old Cadillacs with Florida license plates that meander down the interstate. Perhaps it's time for a new definition: bespoke camping vehicles with yacht-standard wood interiors. 
---
Chrisso Rheault is a historian, writer, and teacher based in Cushing, Maine. When not enjoying his own boats and cars he helps other people find and enjoy their own.
---
Awol Adventure Rigs
Cushing, ME
Share this article:
2023 Maine Boat & Home Show

Join Us for the Maine Boat & Home Show!
Art, Artisans, Food, Fun & Boats, Boats, Boats
August 11 - 13, 2023 | On the waterfront, Rockland, Maine
Click here to pre-order your tickets.
Show is produced by Maine Boats, Homes & Harbors magazine.