Mainely Gourmet - Favorite Chowders By the Editors
By The Editors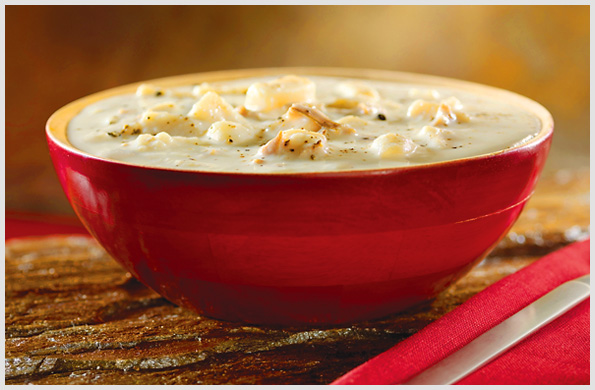 One of our colleagues was recently served a bowl of clam chowder in a restaurant that had the word "chowder" central to its name. He claimed that it wasn't up to snuff—too much thickener, not enough clams—which precipitated a debate around the office: What constitutes a good New England clam or fish chowder?
1.
First, we listed the ingredients it shouldn't have: thickeners (usually flour) and anything red (tomato). And the place from which it shouldn't originate: a can. Then we assembled a few of our favorite recipes, beginning with Herman Melville's description in his classic Moby-Dick of a mid-19th-century chowder: Mrs. Hussey hurried towards an open door leading to the kitchen, and bawling out "clam for two," disappeared. "Queequeg," said I, "do you think that we can make out a supper for us both on one clam?" However, a warm savory steam from the kitchen served to belie the apparently cheerless prospect before us. But when that smoking chowder came in, the mystery was delightfully explained. Oh, sweet friends! hearken to me. It was made of small juicy clams, scarcely bigger than hazel nuts, mixed with pounded ship biscuit, and salted pork cut up into little flakes; the whole enriched with butter, and plentifully seasoned with pepper and salt.
2.
A more complete clam chowder recipe comes from Peter Hunt, a 20th-century artist, designer, folklorist, and cook:
Peter Hunt's Clam Chowder
1 quart soft-shell clams, ground in meat chopper 3 ounces salt pork, diced 1 onion, sliced 4 potatoes, sliced 1 pint milk salt and pepper butter Try out the pork. Add the onion and fry until golden brown. Add the potatoes and the juice from the clams; cover with boiling water and let simmer until the potatoes are done. Add the clams and cook for 10 minutes. Just before serving add the milk, heated, seasoning and a good-sized lump of butter. Serves 6. "My father could never cook anything except clam chowder. He always made it in our house and he won a little fame for it. His secret, I believe, was the addition of a few bay leaves, which I wonder if other people use in their chowder."
3.
If the need is for chowder to feed the whole crew—that of a destroyer, perhaps, or a light cruiser—consider this recipe from the U.S. Navy's General Mess Manual and Cookbook, 1902:
Clam Chowder
Cut up 10 pounds of salt pork in l-inch cakes and render out in frying pan until brown. Cut 50 pounds of potatoes and 25 pounds of onions in small pieces and place them with the pork in 12 1/2 gallons of water, and allow them to boil three-quarters of an hour. Cut 2 1/2 gallons of clams in small pieces and add them to the above with their juice. Season with pepper, salt, and mace, and let the whole boil for fifteen minutes, then add 15 pounds of broken biscuits.
4.
Now we come to fish chowder. Here is Maine novelist Kenneth Roberts's analysis of the type: "Mystery has risen like a fog around Maine fish chowder. Some cooks argue that it can't be made properly without soiling eight or ten stew-pans, dishes and cauldrons. A few pontifically announce that salt pork should never be used; but many contend that pork not only should be used, but should be tried out separately, the liquid fat thrown away, and only the pork scraps added to the stew. There is also a large school of thought which insists that the head and backbone must be boiled separately, and the juice from them used as a basis for the chowder."
5.
For specifics, consider this traditional recipe from Capt. Phil Schwind of Cape Cod:
Fish Chowder
1 lb. haddock or cod 4 cups raw diced white potatoes 1 sliced onion 1 qt. milk 1/2 pt. cream 1 1/2-inch cube salt pork, diced 1/4 lb. butter 1 tsp. salt 1/2 tsp. coarse-ground back pepper Wash fish in cold water; simmer in two cups cold water for 20 minutes. Strain, and save water. Break fish into small chunks. In a kettle, brown the pork, then remove and save the scraps. Sauté the onion in the pork fat. Boil the potatoes for five minutes; add with its water to pork fat and onions in the kettle. Add the fish and the water it was simmered in and simmer for 10 minutes. Add the pork scraps, butter, salt, and pepper. Scald the milk and add it to the chowder. Stir in the cream. Heat the chowder, below the boiling point, for a few minutes. Allow to cool, then refrigerate overnight. Serve piping hot—never allow chowder to boil!—in heated bowls, topped with hard soda crackers.
6.
And finally, our friend Eileen's fantastically good chowder; thick, fishy, and hot:
Fish Chowder
2 Tbsp. butter 1/2 cup diced onion 1/2 cup diced celery salt and pepper to taste 2 cups diced potato 2 chicken bouillon cubes 1 lb. fresh haddock fillets 2 cups whole milk or less 1 cup cream Melt butter in large saucepan. Add onion and celery; stir and cook until vegetables are soft and onions translucent. Do not let vegetables brown. Season with salt and pepper. Add 1 cup of chicken broth. Add potatoes. If necessary, add enough additional water to just cover potatoes. Simmer covered 10 minutes or until potato cubes are slightly cooked. Lay pieces of fish over the vegetables, cover and simmer 10 minutes. Fish should flake easily. Add milk; first add 1 1/2 cups and then cream. If you want your chowder thinner, add additional milk. Add a little bit of butter. This chowder is best made early in the day or the day prior to serving. Note: "This recipe," Eileen wrote, "is based on one from Yorkie's cookbook. Yorkie's was a small restaurant on Chestnut Street in Camden, next to the 'old' YMCA; it was very popular in the 1970s. I have adapted the chowder recipe after making it for many years. I confess that I do not measure the onion and celery, or the milk and cream, which I just pour in until it looks right. Fish chowder is a Maine favorite, and I prefer it to clam chowder." One more thing. Chowder demands crackers. We know, you've always used broken-up saltines and they aren't half bad, but they lack substance and go to mush too quickly. With any of the chowders above you want a cracker with guts, and that is the Westminster, which you'll find in some of the finest restaurants in New England. You might even find it in your grocery store, but if you don't, tell the manager to lay in a supply from the Westminster Cracker Company ("Established 1828"), 1 Scale Avenue, Suite 81, Building 14, Rutland, VT 05701. 802-773-8888.

Share this article:
2023 Maine Boat & Home Show

Join Us for the Maine Boat & Home Show!
Art, Artisans, Food, Fun & Boats, Boats, Boats
August 11 - 13, 2023 | On the waterfront, Rockland, Maine
Click here to pre-order your tickets.
Show is produced by Maine Boats, Homes & Harbors magazine.