Monhegan
Artful Island
By Mimi Bigelow Steadman
Photos by Mimi B. Steadman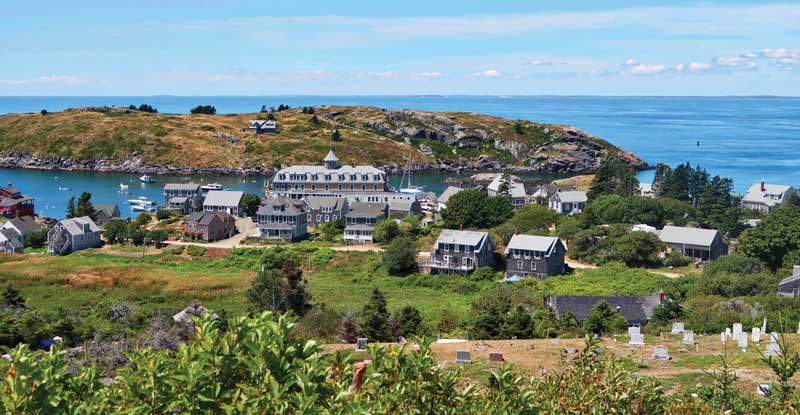 The view from atop Lighthouse Hill encompasses the village, the Monhegan Inn, and Manana Island beyond.
It's a bit of a huff and a puff up the steep track to Monhegan's lighthouse, which commands the highest point on the island. But what really takes my breath away every time I visit is the view from the summit, 140 feet above sea level. Returning to the crest of Lighthouse Hill last summer, I paused to take in the panorama. The village of simple shingled structures clustered around the turreted old Island Inn called to mind a bunch of weathered Monopoly houses. Just across the narrow harbor and its lobsterboats, wind-scoured Manana Island rose in a cornflower-blue ocean. Few Maine vistas could be more enchanting.
Earlier in the day, I'd boarded the Elizabeth Ann in Port Clyde for the pleasant, hour-long trip of about 12 miles down Muscongus Bay to this rugged, 4.5-square-mile outpost. The seas were smooth, and when porpoises arced and a big, lazy sunfish lolled on the water's surface, the captain circled slowly to allow everyone a good look.
As soon as we disembarked, I headed straight up the hill. After soaking up the vista, I turned to the lighthouse behind me. I've always been intrigued by a wooden dory resting there, its gray, gracefully curved topsides set against the keeper's house's sun-bright white clapboards. It turns out it once belonged to James Fitzgerald, one of many notable artists who have been enthralled by Monhegan. While living here from the 1940s until his death in 1971, he'd sometimes row around to the island's wild eastern side to capture snapshots in his mind's eye—never with a camera—to paint later in his studio. Many of Fitzgerald's boldly brushed watercolors and oils depict those massive cliffs; others feature fishermen at their daily work and frenzied swirls of wide-winged seagulls.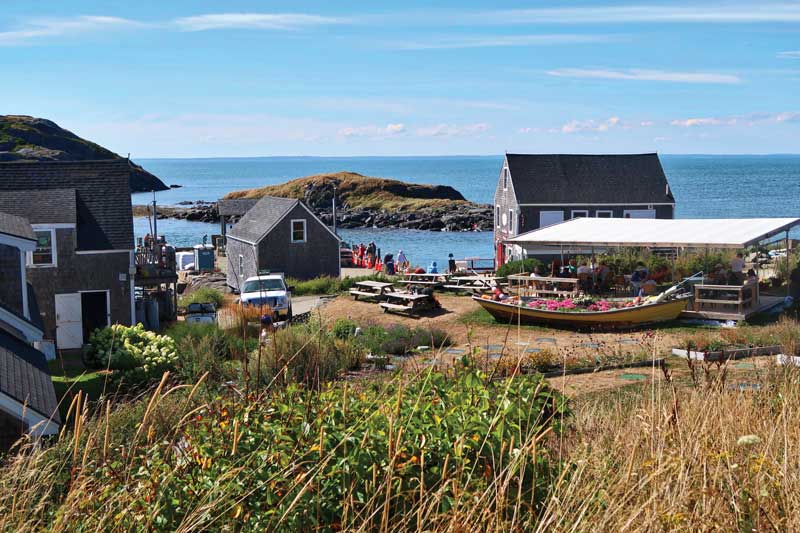 A jumble of weather-beaten buildings surrounds the island's wharf.
Several buildings surrounding the lighthouse are now home to the Monhegan Museum of Art & History. In a replica of the assistant keeper's house, a special summer 2022 exhibition showcased a wonderful selection of Fitzgerald's work. Having been struck by a few of his paintings in mainland galleries, I was delighted to see so many in one place. An especially powerful piece, painted in 1960, riveted my attention. Titled Saltin' Mackerel, it shows men on Fish Beach working around barrels filled with fish guts and blood-red water.
Across the way, there's a history museum in the keeper's house. Amid a trove of artifacts, vintage photos, and ephemera, I attempted to grasp some of the challenges—and pleasures—of island life in those days past.
Back down in the village, I made tracks for Fish Beach, where the scene presented a stunning contrast to the image Fitzgerald painted more than 60 years ago. On this hot afternoon, swimmers splashed in the water and sunners relaxed on the rocks surrounding the small patch of sand. I'd been looking forward to ordering a crab roll at the Fish House take-out beside the beach. The crabmeat was perfectly fresh and sweet, just as it was the last time I'd savored it here.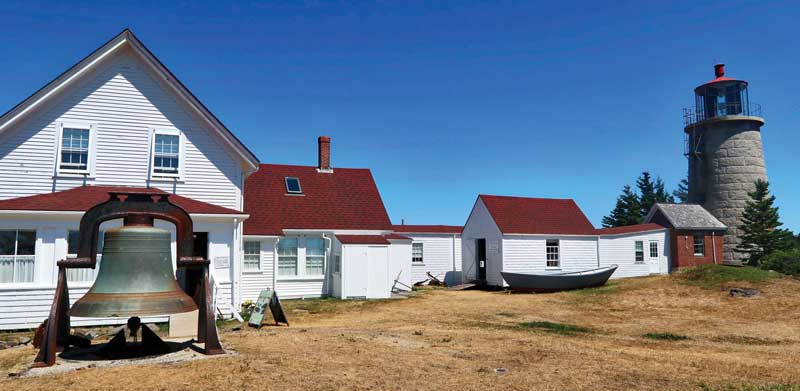 The light keeper's house and outbuildings provide a backdrop for artist James Fitzgerald's old dory. The large bell once functioned as a fog signal on Manana Island. It also stars in one of Jamie Wyeth's earliest Monhegan paintings, Bronze Age.
After an ice cream at the Novelty, a casual eatery behind the Monhegan House, I'd thought I'd take a walk on the Cathedral Woods Trail to look for fairy houses. But the sea was so calm, I headed instead to the wharf to board the Balmy Days II. She's the tour boat out of Boothbay Harbor, but every afternoon before she departs for the mainland, she offers a round-island cruise.
Steaming to the far side and past Burnt Head, White Head, and Black Head—the tallest headlands on the Maine coast—I thought of James Fitzgerald out here in his dory, memorizing the views to paint later. I tried to tuck them away in my memory, too, just to tide me over until I return. Because when it comes to visiting Monhegan, there'll always be a next time. 
---
Contributing Editor Mimi Bigelow Steadman lives on the Damariscotta River in Edgecomb.
---
If You Go to Monhegan
Getting Here
Daily ferries travel in season to Monhegan from Port Clyde (Monhegan Boat Line), New Harbor (Hardy Boat Cruises), and Boothbay Harbor (Balmy Days Cruises). Monhegan Boat Line also provides year-round service to the island. If you are arriving on your own boat, there is good holding ground for anchoring in sand and mud. Choose the northeastern side of the harbor to avoid the southwesterly wind that usually kicks up in the afternoon. A few mooring rentals are available from Mathew Thomson (207-776-2856). There is no dinghy dock; small craft, such as skiffs, kayaks, and inflatables, may be pulled up on Swim Beach.
Getting Around
This is a walker's island. There are only a few narrow, unpaved, gravelly roads in the village, and you may not bring a car. If you require transport, Monhegan Cab Company offers one multi-seat golf cart (207-975-6190). The company also provides scenic tours. The island has been an artists' colony for more than a century, and it continues to be home to many studios. If you'd like to visit some, go to artmonhegan.com to download a Monhegan Artists Studio Map, which also lists open hours, or pick one up on the island.
Shop
Lupine Gallery, just up from the town wharf, offers a fine selection of original art by Monhegan artists, plus giclée prints, cards, and books about Monhegan and its artists. If this gorgeous island has inspired the artist in you, pick up your art supplies here. Stop at the Black Duck Emporium for an appealing selection of Maine-made gifts and home accents. The shop also serves delicious espresso drinks, tea, and baked treats.
Dine
The rambling Island Inn, an iconic landmark overlooking the harbor, serves dinner by reservation to the public as well as to hotel guests. The inn also operates The Barnacle, a casual take-out next to the wharf. Another take-out choice is the Fish House on Fish Beach, where you'll find fresh seafood served in sandwiches, tacos, and of course lobster rolls. Not far away, the Monhegan House serves dinner by reservation to the public as well as to its lodging guests. Follow the road toward Lobster Cove and you'll come to Monhegan Brewing Company, owned by a lobstering family. Order lunch from the Bait Bag food trailer to go with one of the excellent brews. All of these businesses close for the winter.
Do
It's well worth the trek up to the lighthouse to visit the Monhegan Museum of History and Art in the buildings surrounding the beacon. The history museum reveals stories of the island's rich past, while the gallery hosts annual exhibitions of fine work by deceased artists associated with Monhegan. The summer 2023 show is slated to feature art by couples who painted on the island. The Balmy Days II does a 30-minute, narrated circumnavigation of the island every afternoon at 2 p.m., sea conditions permitting. It's first come, first served, so arrive at the wharf a little early. Fare is $5 cash, paid on board.
Hike and Paddle
Miles of hiking trails lead through the forest to the tops of dramatic eastern headlands and along the shore. Most of the trails are moderate to more challenging. Maps showing all of them are available for a small fee at numerous places on the island. If you'd like to go for a paddle, head to Monhegan Kayak Rentals, Inc., on Fish Beach, to rent a kayak for a few hours, a day, or longer. Reservations are not taken far in advance, but it's possible to book the day before by calling 207-701-7736. It's a good idea to stay within the harbor unless you are an experienced sea kayaker.
Share this article:
2023 Maine Boat & Home Show

Join Us for the Maine Boat & Home Show!
Art, Artisans, Food, Fun & Boats, Boats, Boats
August 11 - 13, 2023 | On the waterfront, Rockland, Maine
Click here to pre-order your tickets.
Show is produced by Maine Boats, Homes & Harbors magazine.