Boat Launches Back in the Day
Way Back When | Photographs From Maine's Past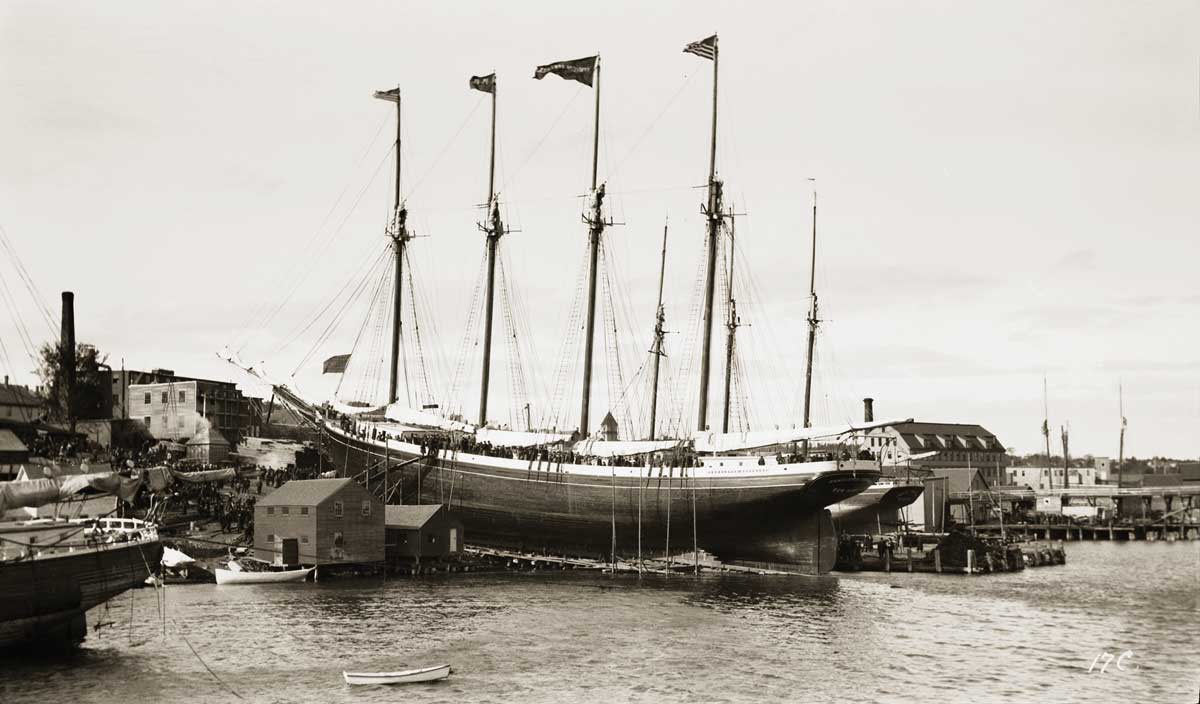 Image courtesy Penobscot Marine Museum
With guests packed on board and onlookers gathered ashore, the handsome four-masted schooner Pendleton Brothers was launched from the Pendleton shipyard in Belfast, Maine, on October 22, 1903. Below her black waist she was painted a "bronze green" with a coppered bottom. 
The three-masted schooner beyond is on the port's 1,000-ton marine railway. Installed in 1885, it was horse-powered until converted to steam in 1900. In order to move the carriage 160 feet, the one or two horses on the sweep had to walk 26 miles.
The Pendleton brothers were New York shipbrokers, managing owners, chandlers, and insurance agents who hailed from (and summered on) Islesboro, and who owned outright, or shares in, about 100 vessels. The Pendleton Brothers was built and owned by their father, Capt. Fields C. Pendleton.
Wooden ships back then were "modeled," or designed by carving a model. This schooner shared a strong resemblance with four Belfast-built four-masted, barkentine-rigged "coffee clippers" modeled by William Brown, who died in 1899. Stockton native John Wardwell, a former master builder in a Belfast yard and likely influenced by Brown, modeled vessels of similar grace. One of his finest creations, the four-master Robert H. McCurdy, was launched at Rockland the same day as the Pendleton Brothers.
In the 1870s and 1880s, Belfast was home to a fleet of handsome, home-built centerboard three-masted schooners of shoal draft (to squeeze over the St. Johns River bar), carrying Waldo County ice and hay to Jacksonville, Florida. They returned with hard pine shipbuilding timber. Belfastians formed businesses, built a marine railway, and wintered in Jacksonville.
An earlier Pendleton Brothers built in 1899, also a four-master, foundered in 1902. The second Pendleton Brothers went ashore in the Florida Straits in 1913.        
---
Excerpted and reprinted with permission from Maine on Glass: The Early Twentieth Century in Glass Plate Photography, by W.H. Bunting, Kevin Johnson, and Earle Shettleworth, Jr., Tilbury House Publishers, with the Penobscot Marine Museum, 2016.