Letters to the Editor - Issue 161
More maritime book recommendations
Andrew Grainger, Boston, MA:
Gray Seas Under, by Farley Mowat
A thrilling account of rescue tugs in the North Atlantic during WW II. In a less complimentary vein, possibly the worst movie ever made about sailing is Robert Redford's All Is Lost. So bad it stands in a class of its own. Perhaps not to be missed for that reason.
Lois Johnson, via email:
A Theme for Reason, by Elizabeth Ogilvie
Pamela Harwood, Southwest Harbor:
Since moving aboard Katie Mack in 2017, my husband and I have spent a great deal of time reading about the sea. Here are some of our favorites:
Wanderer, by Sterling Hayden, recommended to us by his son, Dana, who we met in Sausalito. He lives aboard Tautira at Pelican Harbor. I have only just started Hayden's Voyage. 
Grey Seas Under, by Farley Mowat
In Peril, by Skip Strong, which is referred to with Grey Seas Under often enough to pique my interest.
The Voyage, by Philip Caputo
Fifty South to Fifty South, by Warwick M. Tompkins
Sea Struck, by WH Bunting
I can come up with more once I have access to the internet. We are currently on an island in Maine with poor cell service and virtually no internet. Paradise!
E.D. Aronson, South Gouldsboro, ME:
I love your high-quality publication. I was stunned to find, in the excellent topic in the Sept/Oct 2019 issue, the absence of the marvelous 20-plus book Aubrey-Maturin series by Patrick O'Brien on the Royal Navy in the Napoleonic (and War of 1812 v. USA) Wars of the early 19th Century.
They can be read on numerous dimensions (romance, history, geopolitical, natural sciences, geography) and are so full that, unusual in my experience, they bear rereading. I'm always finding something that I missed while tucked up in my berth off watch on a night passage to the Maritimes from Bass Harbor. They were so well received that five amateur authors were triggered to contribute on their own initiatives: a nautical dictionary, a gazetteer, and a cookbook Lobscouse and Spotted Dog, to help the beginning reader along. Please continue the march. You're "Full and Bye."
---
Boat misidentification
Over the many years that I have enjoyed your magazine, I have never had occasion to offer a correction. However, after having built a shellback over 25 years ago at WoodenBoat, it appears that the boat on page 37 of your Sept/Oct 2019 issue is in fact a shellback and not a peapod. 
Also, the Maritime Book Selections in Letters to the Editor does not include Sterling Hayden's other book, Voyage, which is the finest martime book I have read. Don't miss it.
Chip Bohlinger 
Washington, DC
---
Another sharp-eyed reader
Perhaps these old eyes deceive me but in the September/October issue on page 37 there is a picture depicting Courtney and Madison Koos sailing their "peapod." I've always thought of a peapod as being a double ender. The boat in the picture looks to be a shellback dinghy. Designed by Joel White, whose son Steve is on the cover.
Otherwise, as always, a great magazine. Keep up the great work.
Mike Friel
Via email
Red-faced with embarrassment to have made such a foolish mistake, we are grateful for sharp-eyed readers who know better. Thank you! —The Editor
---
A happy reader
I just want to say that your piece about the island boatyard (Dark Harbor Boatyard, July/August 2019) was wonderful—another example of why even I (a non-boater) eagerly read each issue.
And Eva Murray! I've long enjoyed her writing for The Free Press. Now if you can get Tom Sadowski on board (no pun)…
Mary Ellen Macklin
Rockport, ME
---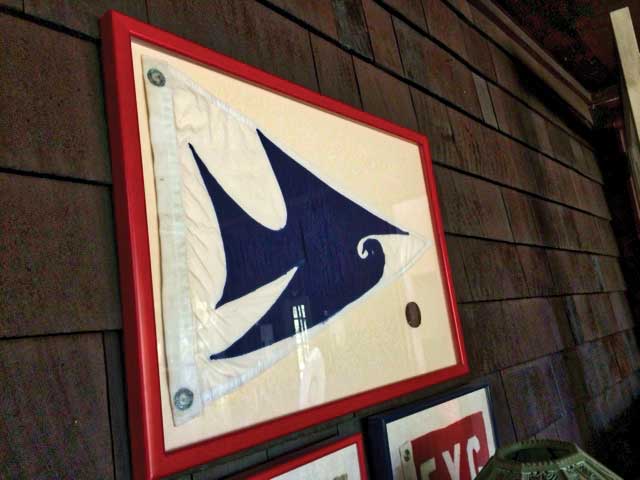 Flag for The Hawk
I thought the new owners of The Hawk would be interested in seeing the identifying owner's flag that was used in the 1960s and 1970s when she was racing. The medal was from a regatta in Heligoland, Germany.
I hope the new owners do well. The Hawk is a sturdy and lovely boat.
Patricia Comstock Wilson
Via email
---
Ken Textor fan
I wanted to mention how much I enjoyed Ken Textor's essay "Autumn Endings and Beginnings" (MBHH #148, Sept/Oct 2017). He definitely has a way with words that lets the idea he is trying to convey become crystal clear. As for myself, I love the season of autumn and have never left the state at the beginning of it except for business when I had no choice. Last year I rowed and had my restored Corson out on the water well into October. The colors and crisp air to me are payback for the long winters here.
Also please pass on to Joe Devenney that his picture with the essay of the lapstrake runabout at dockside with the fall foliage is a beautiful shot. Got into some pretty rough water with the Corson on Swan Lake. She handled it fine after throttling back to a semi plane as per a suggestion from Lincoln Davis in Waldoboro.
Steve Blake
Via email
---
A pod of Whalers
Rodney Lane's article "An Early Call to the Sea" in the July/August issue really brought back memories. For almost 40 years, I lived on Washington Street in Duxbury, Mass. and local lore was that Dick Fisher and his partner, Bob Pierce, built the first Whaler in the garage of the house across the street from me around 1956. Local boat designer, the now famous C. Ray Hunt, collaborated on the hull design. Production began in nearby Rockland, Mass. in 1958 and one of the earlier dealers was Bayside Marine founder Jack Kent Sr. (his son and grandson now operate the business). My uncle and wife lived in Duxbury. In the spring of 1959 my aunt and I snuck up to Bayside Marine and purchased a center-console 16' Whaler (I think it was Hull No. 17 or some very low number) as a birthday present for my uncle. My uncle and I spent many happy hours fishing. In 1972, I was married and immediately upon returning from my honeymoon I took my bride to Bayside and purchased a used 16' Nauset Whaler; we hadn't even purchased a home yet! When my son was 11 or 12, I bought him a used 11' Whaler, which he once took from Duxbury to Cuttyhunk and back. A couple of years later I purchased another 16' Whaler with inboard fuel tank and—importantly—a self-bailing feature. Our last Whaler was named Whaler3. My son and I have now graduated to larger boats, but my daughter and her husband in Key Largo now own—you guessed it—two Whalers.
Bill Rice
Duxbury, MA
---
Cultivating wonder
I just finished Catherine Schmitt's article, "Cultivating Wonder." Thank you for this thoughtful and reflective story about Rachel Carson and the sea. I really enjoyed this piece about Carson and the message you conveyed. As someone who has spent time on the coast of Maine in New Harbor, I have always been mesmerized by the sea and its rejuvenating experience. Schmitt's story reminded me of this and made me wonder.
Peter Benekos
Erie, PA
---
New life for old designs
My grandfather, Walter McInnis. was the designer of the William Underwood (Town Dock, MBHH Sept/Oct). Over the years, his firm Eldredge-McInnis designed thousands of workboats, navy ships, Coast Guard patrol boats, sailboats and motor yachts. His hull design provided a stable platform for a myriad of crafts. It's good to see that his work stands the test of time and that people recognize their value and rebuild them.
My grandfather, Walter, and my father, Alan, are both gone now but their work lives on.
Craig McInnis
Kennebunkport, ME
---
Story idea
I am a long-time subscriber. I subscribe to four New England regional magazines and four boating magazines. If I had to drop all but one, I would keep Maine Boats, Homes & Harbors. Your journal has interesting, well-written stories, and outstanding photography. At a time when print journalism may be waning, you have expanded.
I met Publisher John K. Hanson Jr. at the 2008 Maine Boatbuilders Show in Portland and I was immediately taken by his infectious enthusiasm. No wonder that MBH&H is a beacon of excellence in the regional and boating print profession. In one of your articles, MBH&H introduced me to Doug and Linda Lee of the Schooner Heritage who kindly manage to take me sailing each summer notwithstanding my substantial disability. MBH&H has enriched my life in several respects.
But enough praise. I want to tell you how you "missed the boat" with the May/June 2019 issue, which had a special focus on freshwater adventures. West of Maine's extraordinary coast are equally extraordinary lakes and rivers. Henry David Thoreau wrote about canoeing on the West Branch of the Penobscot River in The Maine Woods and of course the Allagash River is legendary.
I know, because I have paddled them both under the guiding hands of Alexandra Conover Bennett and Garrett Conover, master registered Maine guides of North Woods Ways. I went on several five-day canoe trips with them, always in exquisite wood and canvas canoes built by Jerry Stelmock of Island Falls Canoe Company and Rollin Thurlow of Northwoods Canoe Company, both of whom are located in Atkinson, Maine. Stelmock and Thurlow "wrote the book" on the wood and canvas canoe: The Wood and Canvas Canoe: A Complete Guide to its History, Construction, Restoration and Maintenance (1987). Jerry also wrote Building the Maine Guide Canoe. They both have taught at the WoodenBoat School. Their canoes are beautiful but also functional as wilderness tripping canoes. They are Maine boatbuilders crafting beautiful boats just like their colleagues on the coast. I fell in love with their canoes when I paddled them on the Allagash and West Branch of the Penobscot. I had Jerry and Rollin each build one for me for me and ship them to my home in San Diego. When I paddled them on San Diego lakes with a handmade Northwoods paddle crafted by Alexandra Conover Bennett, I was transported back to Maine. There is a story up in Atkinson about extraordinary Maine boatbuilders and Maine Guides that needs to be told. I hope to see it in the magazine. Keep up the good work.
Barry Moskowitz
San Diego, CA
---
Fat, glorious fat
Sandy Oliver's toothsome pieces always offer up plenty to chew on. Her feature on "fat," in the Sept/Oct issue brought back to mind a favorite line from Steinbeck's "Grapes of Wrath" when Ma Joad stated: "Man cain't live without fat!"
Lynette L. Walther
Camden, ME
---
Happy headmaster
It was a delight to come back to the office after vacation and find Maine Boats, Homes & Harbors on our front counter!
Thanks so much for including our new boat in the 11 Intriguing Boat Building Projects and in your blog. I forwarded the information to our Marine Boat Builders, who I am sure will be delighted.
Thanks so much for showcasing our Pump Out boat. We are proud of our new headmaster!
Mary Cerullo
Friends of Casco Bay