Windrush: A Boat of Memories
A classic wooden Herreshoff 12½ carries family and tradition
By Holly Campbell Ambler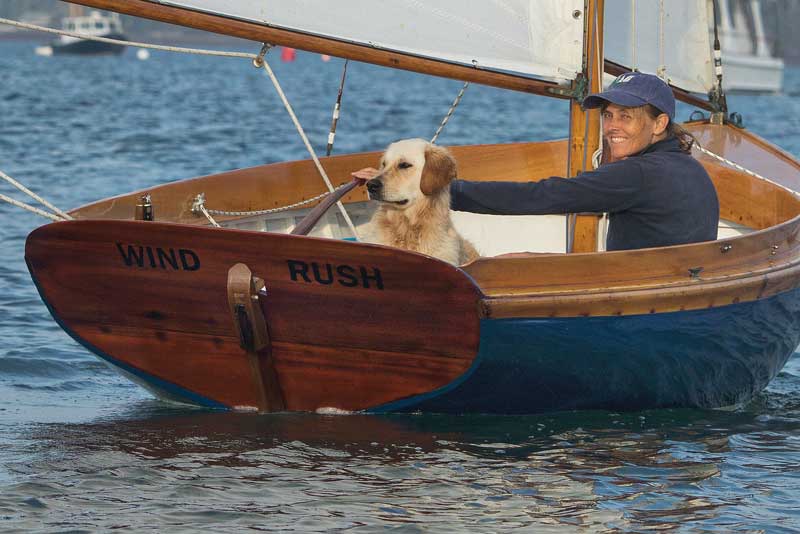 The author's golden retriever, Ash, convinced her to take her racing one day by jumping off the dock and swimming circles around the boat until Ambler picked her up. Ash did a good job as crew by distracting the other skippers. Photo by Missy Janes/Stone Barn Photography
"Do you think maybe it's time to sell the boat and get a new fiberglass one? I might do better in the races," I muse yearly.
"Mom!!!!" is the typical reply from my grown-up daughters. "How could you say that? You and Granny sailed that boat. Why would you sell it? It's not all about racing."
After an exchange like this, I always smile to myself because I know they are right. Our 82-year-old wooden Herreshoff 12½, Windrush, is full of memories of our family, and, I imagine, memories of her former family, as well. Windrush (named by her past owner) has been part of relaxed family sails around the Fox Island Thorofare. She has been part of the North Haven racing fleet. She has carried our small children learning to sail. She has carried our teenagers and friends to picnics. She has carried, and been crewed by, our golden retriever Ash, who does not like being left behind.
This wooden Herreshoff has played a role in family bonding for several generations. My relationship with her began with my mother.
Sailing was one of my mother's great loves. She spent many summer afternoons on the water exploring nooks and crannies of the Fox Island Thorofare. She also had a competitive streak. Although she claimed to enjoy sailboat races just because they "got her out on the water," she really liked them best when she did well.
Although Windrush (Herreshoff plate No. 1436) was originally towed to North Haven in 1938, along with several other newly built sisterships from the Herreshoff workshop in Rhode Island,  she came into my family's life around 1985. Prior to that, I sailed and raced with my mother in a North Haven dinghy, a gaff-rigged, low-sided, local catboat that is considered one of the world's oldest one-designs. Mom taught me to sail and race in this boat. However, when she reached her mid 50s, she became concerned that she wouldn't be able to handle the dinghy alone when the wind came up. She decided to look into getting a Herreshoff 12½ because she wanted another boat she could race in North Haven.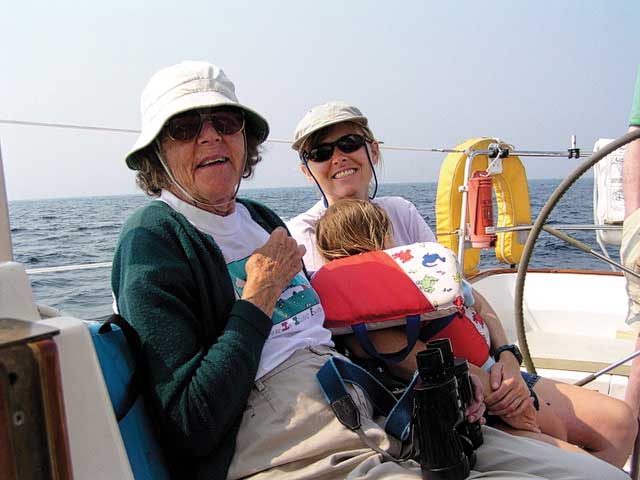 The author, right, sailing with her mother, Eleanor Campbell, on the family's Morris 40 Concert back when her daughters were still young. Photo courtesy the author
Windrush was not just any Herreshoff 12½. Despite my mother's mild manner, she knew what she wanted and was determined (politely) to get it. She knew that wooden boats, even one-designs, each have their own character, and, being hand-built, they perform differently. So Mom went looking for a boat that had a winning history. She had her eye on Windrush, which was owned by an elderly couple at that time. In years past, the husband and his son had frequently sailed her to victory in summer races, but by the early 1980s, my mother had noted that the boat spent most of the time sitting on a mooring.
I don't recall whether Windrush was for sale or not when Mom made her interest in buying her known to the couple. My memory is that she brought the subject up when we were invited over for a cup of tea. Whether it happened exactly as I remember is less important than the fact that soon after this tea party, Mom bought the boat. In 1985, she purchased new sails for Windrush and had work completed to make the boat tight again.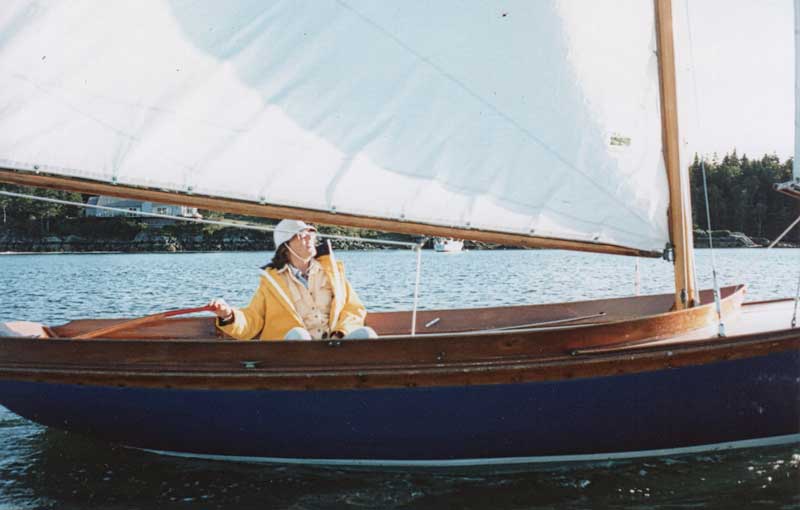 The author's mother sailing Windrush in the Fox Island Thorofare, one of her favorite pastimes. Photo courtesy the author
By the late 1980s, Mom and I were racing in Windrush. I was just out of college and sailed as my mother's crew whenever I was in Maine for the summer. Those were good times; there was laughter, intensity (perhaps a few moments of disagreement), lessons from Mom about the wind and tides, moments of anxiety as we learned to hoist the spinnaker without tangling it in knots, and lots of wonderful mother-daughter conversations about shared interests and life. We also sailed when there weren't races, sometimes up narrow coves with shifty wind, exploring as far as we dared.
Years later, Windrush remains at the center of our family's summer life. She and I race regularly throughout July and August as part of the North Haven fleet. My crews include my daughters, my husband, and, once, my dog Ash (who swam circles around the boat until I picked her up). This sturdy little boat competes in an annual yacht club race down Hurricane Sound, on the west side of Vinalhaven, through tricky tides, changeable winds, and beautiful islands. She has been known to carry my daughters and their friends to picnics.
I relish these moments and memories, old and new, and Windrush's old planks keep them alive. Even as the rest of the local Herreshoff 12½ fleet has been taken over by newer, smoother, fiberglass boats, I know I really don't want to turn away from my 82-year-old wooden classic. Although my mother has not been able to sail with me for over 15 years, Windrush continues to make memories, bonding generations, together. She is a part of our family.   
---
Holly Campbell Ambler has been a summer resident of Vinalhaven, Maine, since birth. In the winter she lives in Cambridge, MA, and is a social worker in the Boston Public Schools.
Share this article:
2023 Maine Boat & Home Show

Join Us for the Maine Boat & Home Show!
Art, Artisans, Food, Fun & Boats, Boats, Boats
August 11 - 13, 2023 | On the waterfront, Rockland, Maine
Click here to pre-order your tickets.
Show is produced by Maine Boats, Homes & Harbors magazine.