The Birds of Seal Island
By Byron Swift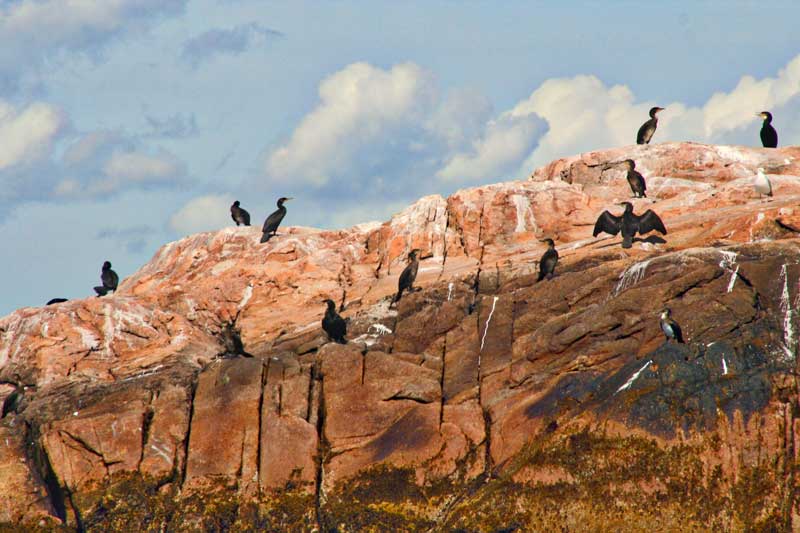 One of the special places to go in Penobscot Bay is Seal Island, lying offshore just north of Matinicus. Seal Island is known for its colonies of seabirds, in particular the Atlantic Puffin, which was reestablished here in 1992 to reclaim its presence on the Atlantic coast. But there are many others, including breeding Common and Arctic Terns, Razorbill Auks, and Great Cormorants. To make matters interesting, a lone Red-billed Tropicbird has decided to take up residence here for the past 10 summers, the only individual of the species residing north of the tropics.
The island is far enough offshore to require a seaworthy boat, so we called John Drury, who regularly takes visitors to the island on board Skua, a 35-foot Jarvis Newman. Our group of seven met John at the Vinalhaven pier at 9 o'clock and motored out of the scenic harbor.
We began to see birds right away, including a local Black Guillemot working hard to swallow a large fish, and we could see the bright salmon color of its gape contrasting with its smart black and white plumage. Then our attention was caught by some hulking Bald Eagles sitting on rocks atop the smaller coastal islands, with a mix of both adults and immatures that indicated a good breeding year.
The day was clear and the sun bright for our 10-mile trip across the sound to the island, affording us great views of the scenic coast from Vinalhaven to Isle au Haut. As soon as we were out of the harbor, we started to see Wilson Storm-Petrels, or "sea swallows," skimming low over the water with their butterfly-like flight. Possibly the most abundant bird species on earth, the Wilsons Storm-Petrel nests on southern hemisphere islands and spends its "winter" off our shores. We were disappointed not to see any sunfish on the ride, but did see a Parasitic Jaeger, a member of the skua family for which the boat was named, a predatory seabird that makes its living forcing terns to give up their prey. You often find them near large tern colonies, such as the one established on Seal Island now.
John was a fount of information about the seabird restoration projects on Seal Island. Formerly abundant, most of the nesting seabirds along the Maine coast had been extirpated by the late 1800s or early 1900s through a combination of egg collecting, hunting for meat, and displacement by expanding gull populations. Puffins had last nested on the island in the 1880s, and terns in 1936. However, the island became a national wildlife refuge in 1972, and in 1984 the National Audubon Society began an effort to restore the seabird colonies. For the puffins, it meant establishing decoys and mirror boxes to attract birds, and translocating young puffins from healthy populations in Canada. This worked, and puffins began to return to the island in 1992; the population has now grown to 500 pair.
Puffins tend to breed in June and July, and most have left the island by mid-August, so we feared we might be too late to see any. But as we rounded the island, we were rewarded with close-up views of comical adult puffins, their bright bills holding small fish intended for their young in their burrows on the island. As an adult approached us flying toward the island with a load of fish, John mentioned it would probably circle the island once or twice to make sure there were no predatory gulls or other dangers, before landing in its burrow. Sure enough, the bird flew in, flew back out, flew in, flew back out, and finally flew in under a rock where it had its nest. We all noticed that this rock, and many others, were numbered so that the wardens who live on the island during summer months know where the nests are and can record nesting success.
As we continued around the island we encountered 80 Great Cormorants, about a third of them young, indicating a successful breeding season. However, the tale of this species is not nearly so positive. Once common, they were wiped out in New England in the 1800s but held on in remote parts of Canada, allowing them to begin to recolonize Maine in the 1980s, growing to 260 pair by 1992. However, the U.S. population has since declined to about 50 nesting pairs, all in Maine and a third of them on Seal Island. John emphasized how important it was to maintain watch on Seal Island so that gulls and eagles would not harass the cormorants, and so optimize their chances for surviving the harsh winters.
Seal Island is also known for its tern colony, with 1,400 Common Terns and 800 Arctic Terns. We did see a few terns, but we were late in the year, and the great majority had already left the island, dispersing to begin their extraordinary migrations. The Arctic Terns make the longest known migration of any bird, a circuitous route that takes them to Antarctica and back, and covering more than 40,000 miles!
Another resurgent breeding species in Maine is the Razorbill, a large auk that is the close relative of the extinct Great Auk. We were lucky to see three of these, as after breeding the chicks leave to the open ocean, where they are tended to by the adult male. The first razorbills to recolonize this area were about nine pair nesting in Matinicus Rock in 1966, and the population there has swelled to 1,200 pair. There are now about 20 pair on Seal.
One of the advantages of Seal Island is it size, about a mile long, so that there is a lot of habitat to accommodate expansion of these colonial seabird species. Many of the other remote island sites where these birds nest are small rocky outcrops. Therefore, hopefully other species also, such as the Common Murre and Northern Gannet, may establish colonies here at some time in the near future.
We had a wonderful day and learned a lot about Maine's nesting seabirds, many of which have a hopeful story of resurgence since they were wiped out in New England by human activities in the 1800s. As with many other wildlife species, the lesson seems to be that a little protection can go a long way.
---
Byron Swift is an environmental lawyer who has dedicated most of his career to saving rainforests and other critical habitats in Latin America by supporting local conservation groups and creating protected areas. He has spent summers in Maine since childhood.
Share this article:
2023 Maine Boat & Home Show

Join Us for the Maine Boat & Home Show!
Art, Artisans, Food, Fun & Boats, Boats, Boats
August 11 - 13, 2023 | On the waterfront, Rockland, Maine
Click here to pre-order your tickets.
Show is produced by Maine Boats, Homes & Harbors magazine.