Boats, lobsters, and a message
By Polly Saltonstall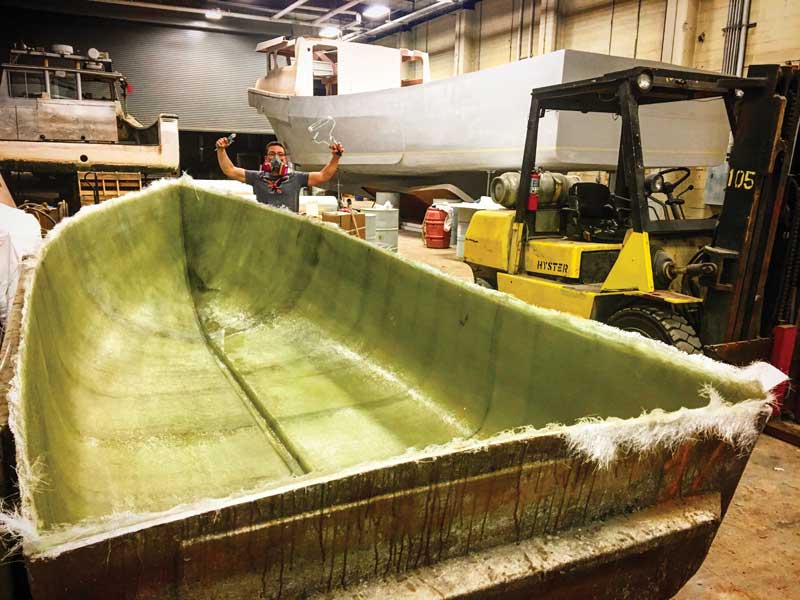 Elijah Brice working on a hull in his boatshop.
Young boatbuilder sets up shop
Elijah Brice and his family moved to Eastport from New Jersey in 2012 because his parents wanted him to grow up where he could have a childhood full of freedom, doing what boys should do. He's been doing that, and more.
The Shead High School senior started his own boat company, and might just be one of the state's youngest boat company CEOs. He also has been lobstering since 2017, during his summer breaks from school. And if that is not enough, he also has a small aquaculture operation, growing sugar kelp and blue mussels.
Brice, who is 18, started Brice Boatworks two years ago. The young boatbuilder took some marine trades classes in school and has been mentored by several alumni of The Boat School in Eastport. He apprenticed with Butch Harris, whose father was the founder of the Passamaquoddy Yacht Company, known for a series of Eastporter skiffs ranging from 17 to 24 feet. The company went through several owners before it stopped building boats in the late 1990s, Brice said.
Eventually Brice acquired the molds for the Eastporters and set up shop in space rented from the city of Eastport. He started out building Eastporter 17s and 24s, but and has since expanded to boat repair. His first boat was an Eastporter that he restored with his father and grandfather.
Brice comes by his boatbuilding proclivities naturally. His great-grandfather built wooden boats in Lavallette, New Jersey, and worked with Charles Hankins, whose classic Sea Bright Skiffs are legendary. Elijah Brice was born in Los Angeles and moved with his parents, Manuela and Coleman Brice, to Lavallette when he was two years old. The family moved to Eastport when Brice was 10. Both his parents have jobs that allow them to telecommute.
"I enjoy boatbuilding because it contrasts to an energetic and intense lobster season. It can be pretty rough and lasts into the fall. By the time it's over I'm pretty glad to get into the warm shop," Brice said.
---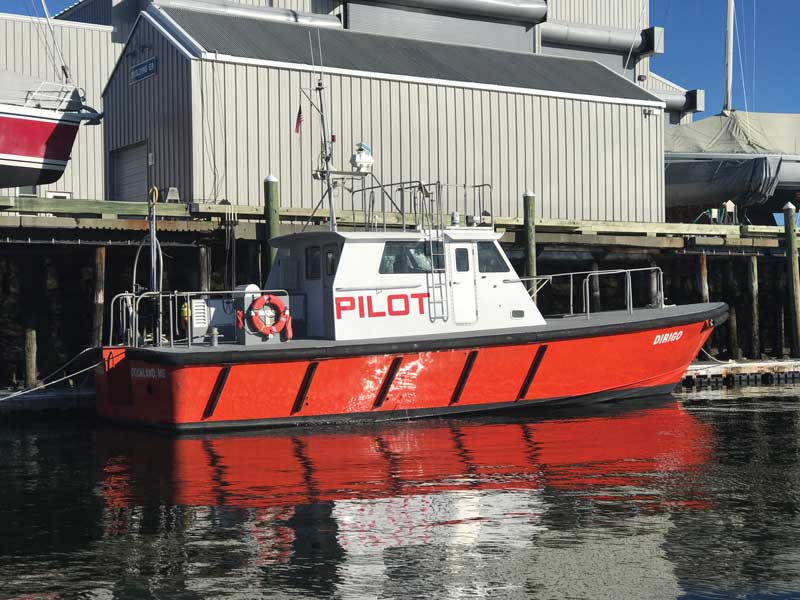 Penobscot Bay and River Pilot Association's new boat, Dirigo, tied up at a dock in Rockland.
New ride for Penobscot Bay Pilots
The Penobscot Bay and River Pilots Assoc. has acquired a new pilot boat and David Gelinas couldn't be happier.
"The new boat will allow us to go out in a wider range of adverse weather conditions and, more importantly, it allows us to do our job from a safer, more stable platform," said Gelinas, who is one of four full-time pilots with the PenBay Association.
Appropriately named Dirigo (Latin for "I lead"), the new boat was acquired from the Virginia Pilots Association. Built in 1996 by Gladding Hearn, Dirigo is 52 feet long with a beam of 17 feet and is powered by two 350-hp Detroit Diesel Electronic Control 6V92 engines, Gelinas said. While only about 5 feet longer than the pilots' current boat, Penobscot, Dirigo weighs about twice as much (37-47 gross tons), Gelinas said. The new boat is all-aluminum construction with heated decks to keep them ice-free in the winter months.
"It's just physically all-around bigger— higher freeboard, wider sides to walk down, bigger cabin—everything about this boat is much, much larger and heavier duty," Gelinas said.
All large, foreign-flagged vessels as well as other big American ships are required to have a local pilot on board to guide them into Maine's harbors and bays, no matter what time of day or night, or what the weather is like. The Penobscot Bay and River Pilots Association serves vessels transiting the Penobscot River to and from Bangor and Brewer, as well as to and from Bar Harbor, Bucksport, Rockland, and Searsport.
The PenBay Pilot's older fiberglass launch, the Penobscot, will be moved to Bar Harbor to serve cruise ship traffic in Frenchman Bay, Gelinas said. The new boat will be berthed in Rockland.
About 125 vessels a year in Penobscot Bay require pilots, Gelinas said. The most common cargoes unloaded in the port of Searsport are fuel oil and road salt.
---
Camden Class knockabout
Artisan Boatworks in Rockport, Maine, is building a new wooden Camden Class knockabout for a customer in western Massachusetts. The customer had built the cold-molded hull himself, but it sat unfinished in his backyard for more than a decade. Eventually, he asked Artisan to finish the job for him.
It's a project dear to the heart of Alec Brainerd, owner of Artisan Boatworks. "Over 25 years ago, as a teenager crewing aboard the schooner Roseway, I purchased my first set of boat plans from the WoodenBoat Store. Those plans were for the Crowninshield-designed 28' Camden Class Knockabout, and I was determined that someday I would build one" he said.
Soon after introducing his classic design for the gaff-rigged knockabout that is now known as the Dark Harbor 171⁄2, naval architect B.B. Crowninshield was commissioned to design a race boat for Camden. The result, the Camden Class, is modified from the DH17 lines. It is six inches shorter on the water with longer overhangs at the bow and stern—28'3" LOA compared to the DH17's LOA of 25'10". Only five or so of the boats were built before the Camden sailors moved on to acquire the fleet of Finnish Haj boats that were raced there for many years.
Brainerd plans to launch the new boat in time to join the festivities at the Camden Classic Cup (July 23-25, 2020).
---
That's a lot of seafood
At $674 million, the value of Maine's commercially harvested marine resources in 2019 was the second highest of all time; an increase of more than $26 million over 2018.
The most valuable harvest remained lobster. Although the lobster harvest of 100.7 million pounds was down 17 percent from the previous year, the overall value of $485 million was the fourth most lucrative ever for the fishery as a result of a 20-percent rise in per-pound value.
Maine Dept. of Marine Resources Commissioner Patrick Keliher attributed the landings' decline in part to a slow start to last year's season due to a cold spring.
According to data published by NOAA, American lobster was the most valuable single species harvested in the U.S. in 2015, 2016, 2017, and 2018, with Maine landings accounting for approximately 80 percent of that value each year.
Elvers again topped $2,000 per pound which resulted in an overall value of $20 million, ranking it as the second most valuable species harvested in Maine in 2019 and once again by far the most valuable on a per pound basis. Keliher noted that despite these strong numbers, Maine faces challenges associated with climate change, federal whale regulations, and working waterfront access.
---
Houtz celebrates three decades
For many, the name Jamie Houtz is synonymous with The Landing School, the Arundel, Maine-based boatbuilding program. And with good reason, he celebrated his 30th year of work at the school this winter, according to a newsletter from the school. The following account was taken from that newsletter.
Houtz was hired in 1990 by John Burgess, one of the original founders of the school, who needed someone to help build boats, but also to help manage budgets, timelines, and construction schedules. Houtz worked previously at Rumery's, Arundel Boatyard, and Salt Magazine, as well as for Whitaker and Merrill Stevens in Florida before he moved to Maine.
The Landing School is an accredited, degree-granting institution. A student who successfully completes two technical programs and the required general education course credits is eligible to receive an Associate's degree.
When asked about his most treasured experiences during his time at The Landing School, Houtz mentioned building relationships with people, notably Rod and Olin Stevens and Peter Van Lancker, among many others. He'll also tell you that he's learned the value of patience. "Teach the student, not the material," he says. "It's about them, not the curriculum." He also mentioned the mantra "cut to the line," which speaks to trusting yourself and your preparation.
---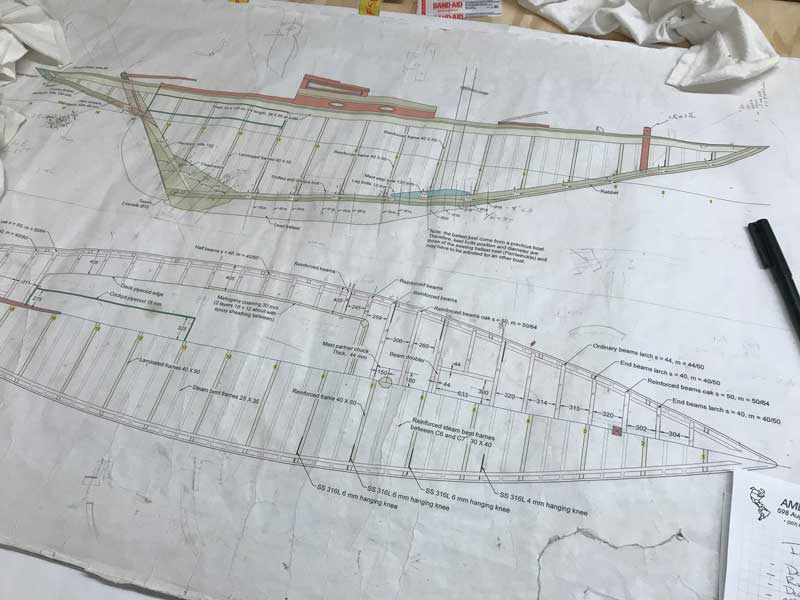 Plans for the Dublin Bay 24 being built at the Apprenticeshop in Rockland.
Boats with an Irish lilt
Projects these days at the Apprenticeshop have taken on an international tinge.
Two boats under construction at the Rockland, Maine-based boatbuilding school are classic Irish one-designs. One is a Dublin Bay 24 sailing sloop, and the other a Dublin Bay Water Wag, considered by some to be the world's oldest one-design sailboat.
Designed by Scottish naval architect Alfred Mylne, the Dublin Bay 24 is a lean sloop with long overhangs. It measures 37.9 feet LOA, 24 feet LWL, with a beam of just 8 feet, and a draft of 5.3 feet. The design was commissioned by the Royal Alfred Yacht Club in 1938, and, according to the Mylne archives, 10 were built, mostly at Mylne's Bute Slip Dock Co. on the Firth of Clyde.
The sloops were raced in Dublin Bay until 2004 when the remaining eight boats were bought as a group and shipped to France for restoration. That initial effort faltered until recently when an organization called Maritime Arts and Crafts and a dedicated Irish sailor named David Espy came up with a plan to have each one restored by a different boatbuilding school, according to Isabella Feracci, the Apprenticeshop's executive director. One of the first rebuilds took place at Skol ar Mor, a boatbuilding school in southern Brittany run by Mike Newmeyer. A former director at the Apprenticeshop, Newmeyer was influential in having the Rockland school chosen as the rebuilding site for this Dublin Bay 24, Feracci said.
Work began on the boat in 2018. The  hope is for a summer 2021 launching.
As for the Water Wag, that is a far smaller dinghy—just 13 feet long, with a plumb bow, a beam of just under 5 feet 3 inches, and a draft of 1.67 feet with the centerboard down. The hope is to have that launched and sailing by this summer. This boat is also being built for Espy and his Maritime Arts and Crafts group.
Water Wags have been raced in Ireland since 1887. Ironically, the other contender for the world's oldest one-design title is the North Haven Dinghy. Sailors in the Fox Island Thorofare, just across Penobscot Bay from Rockland and the Apprenticeshop, have been racing the North Haven catboats also since 1887. Hmmm. Maybe a match race could be staged to decide who gets the title?!
---
Message from the past
Few vessels along the coast of Maine work as hard as the Maine Seacoast Mission's Sunbeam. From its homeport of Northeast Harbor on Mt. Desert Island, the Sunbeam and its crew connect year-round with Maine's offshore islands, come rain or shine, flat calm or big blow. Since its founding in 1905, the Seacoast Mission has always had a vessel to serve the islands. The current boat is Sunbeam V, a stout steel craft 75 feet long with a 21 foot beam and a 7 foot draft. It was built by Washburn and Doughty in 1995 in East Boothbay, and is known by many as "God's tugboat."
Sunbeam V has been on the hard at Front Street Shipyard in Belfast for the past year, getting a refit and overhaul. An inspection found the boat to be in good condition; the work being done is intended to address the normal concerns of a steel vessel of this age. The work crew found an interesting message from the past: a workman's signature, dated 1994, and a question about how the work was holding up. The Sunbeam V is holding up just fine, Capt. Mike Johnson said. And with the work being done by Front Street Shipyard, it should be just fine for many years to come.
---
Summer events
The following events were scheduled before the threat of the COVID-19 virus shut down much of Maine this spring. We encourage readers to check with each organization on whether the event in question remains on schedule.
A group has formed to foster maritime celebrations of Maine's bicentiennial, including a Four Port Loop. The initiative is the brainchild of the Penobscot Maritime Heritage Association, and is part of a larger Sailing Ships Festival planned to mark Maine's Bicentennial. It will kick off on June 26 in Boothbay Harbor, and continue in Rockland, July 2-4, before heading up to the Penobscot River. Rockland's event will include windjammers but not the official Tall Ships. The Tall Ships will, however, sail up the Penobscot River to Bangor and Brewer. The fleet includes Maiden, a 58-foot aluminum racing yacht skippered by Tracy Edwards, who led a 12-woman crew to a second-place finish in the 1989-90 Whitbread Round the World Race. The vessels will then travel down the Maine coast to Belfast and then Portland, where they convene July 16-19.
Penobscot Marine Museum will host an exhibit "Bicentennial on the Bay: Penobscot Bay Artists" through October 18, 2020, curated by MBH&H art writer Carl Little. The show will include works by contempory artists, as well as a selection of historical paintings from the museum's collection.
The Camden Classics Cup kicks off the summer racing season July 23-25. Presented by Lyman-Morse in conjunction with the Camden Yacht Club and with support from the CYOA, the event celebrates both classic yacht racing and boatbuilding. The event benefits Lifeflight of Maine. www.camdenclassicscup.com.
This year the Castine Classic Yacht Celebration, sponsored by the Castine Yacht Club, will honor significant Maine builds and restorations. On July 29 from noon-4 p.m. examples will be on exhibition at the Castine town dock. From 4-6 p.m., a symposium at Delano Auditorium, Maine Maritime Academy, will include representatives of those yachts and builders, as well as a discussion of plans to restore the Presidential yacht Sequoia. On July 30, a fleet of classic yachts will race from Castine to Camden, followed by the Camden to Brooklin race on Friday, July 31, and the Eggemoggin Reach Regatta on Saturday, August 1. 
Share this article:
2023 Maine Boat & Home Show

Join Us for the Maine Boat & Home Show!
Art, Artisans, Food, Fun & Boats, Boats, Boats
August 11 - 13, 2023 | On the waterfront, Rockland, Maine
Click here to pre-order your tickets.
Show is produced by Maine Boats, Homes & Harbors magazine.