Yarmouth
Little Town by the Big City
By Mimi Bigelow Steadman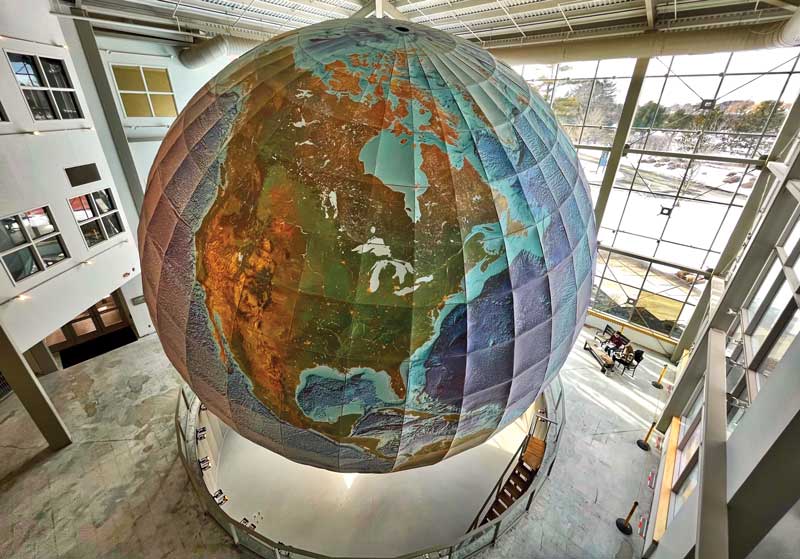 The world's largest rotating and revolving globe, Eartha, can be viewed at Garmin's office building in Yarmouth. Constructed by DeLorme, its creation required one of the largest mapping databases in the world. All photos by Mimi Bigelow Steadman
"She caught a brown trout right there yesterday," Jeff Davis told us as we watched a woman in waders fly-casting into a stretch of roiling whitewater. It could have been an ad for Maine's wilderness waterways—except we were overlooking the Royal River in Yarmouth, less than 15 minutes from downtown Portland. It was quickly becoming clear to us that this historic little suburb of Maine's largest metropolis can feel very far removed from the urban bustle.
As we wandered on that bright winter day, we'd spotted a sign for Maine Fly Company affixed to the side of Yarmouth's landmark Sparhawk Mill, which overlooks the river. On the second floor of the imposing red-brick structure, we found Davis and his small crew hand-crafting beautifully sleek fly rods in their welcoming workshop. From a window, we could see the woman standing on a snow-covered bank next to rapids that gushed from one of the town's four dams.
Earlier in the day, we visited the Yarmouth History Center, set beside a calm stretch of river up beyond the dams. A rack of canoes on the riverbank piqued our curiosity. "They belong to Yarmouth Community Services," museum staff member Maura Goessling explained. "You can rent one for $10 a day. In warmer weather, people are always paddling here."
The Royal River once teemed with industrial activity, too: Between 1674 and 1931, some 60 mills harnessed its power. The history center's exhibits explained that the earliest ones processed grain, lumber, and cotton. A blowup of a vintage photo from the slightly more recent past showed great masses of poplar logs piled next to the water, awaiting conversion to pulp for use in papermaking by the Forest Paper Company. Operating from 1874 to 1923, the mill grew to encompass 10 buildings on 10 acres. By 1911, it was the largest of its kind in the world.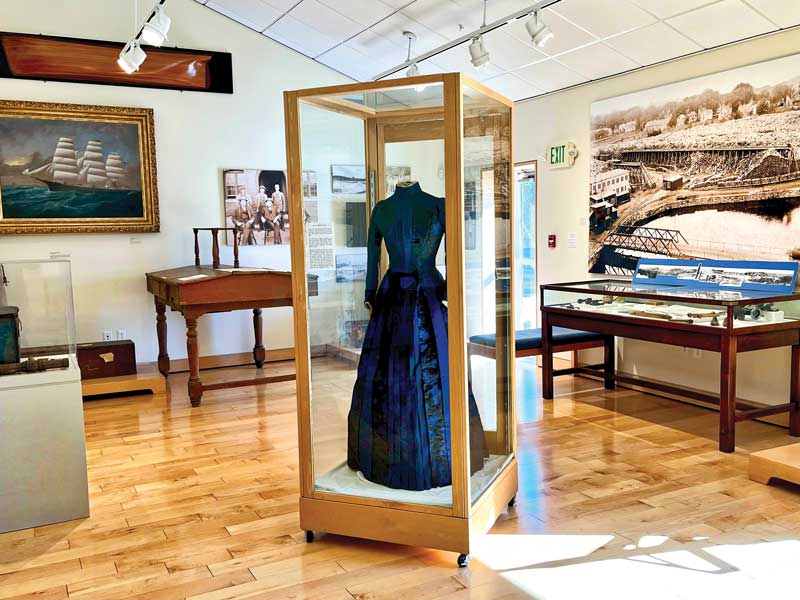 Delve into the past at the Yarmouth History Center.
The museum also highlighted Yarmouth's once-booming shipbuilding industry. Over the course of the 19th century, some 300 vessels were launched here—large ships that circumnavigated the world; brigantines, barkentines, and schooners that sailed to the Caribbean.
I could have traced their routes on Eartha, a giant sphere housed nearby in the three-story, glassed-in lobby of the former DeLorme headquarters (now Garmin). With a 130.9-foot circumference and a diameter of more than 40 feet, it's the world's largest rotating and revolving globe. I studied the continents and oceans from both the ground floor and the third-floor balcony, and was awed anew by the grandeur of our planet.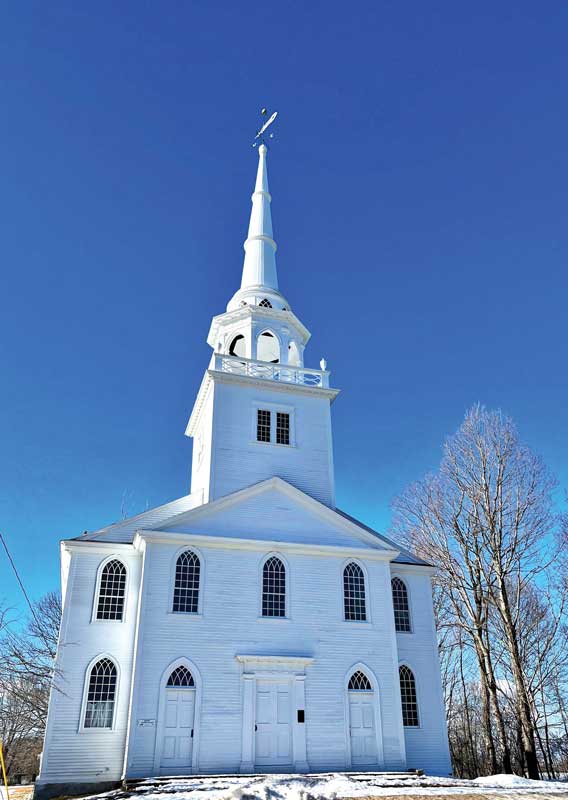 The Old Baptist Meetinghouse, dating from 1796, retains its original 10' weathervane atop the spire. By the 1880s, some 40 ship captains had retired to Yarmouth, and the town is graced by a trove of handsome residences from that era. We roamed through quiet neighborhoods off Main Street to admire some of them, still standing proud in their simple, clapboarded beauty. At the intersection of Hillside and Church streets, we came to the exquisite Old Baptist Meetinghouse, built in 1796. Its imposing white façade, arched small-paned windows, square tower, columned octagonal belfry, and soaring spire seemed to symbolize the steadfastness of this old New England town.
Yarmouth's grand sailing vessels have vanished, replaced by a large fleet of modern pleasure craft homeported here because of the river's exceptional protection, access to Casco Bay, and fine yacht services. On our explorations, we passed boatyards where hundreds of sail and power boats swaddled in white shrink wrap huddled on their jack stands like giant seagulls awaiting warmer days.
After crossing the bridge onto Cousins Island, we pulled over at Sandy Point Beach, Yarmouth's only public sandy beach. It's also an access point on the West Side Trail, a hiking and biking route that meanders through town for more than 10 miles. With numerous such green spaces, a setting steeped in history, a lively river, and proximity to the sea, it's easy to see why, for more than 300 years, this alluring old community has called people home. 
✮
---
Contributing Editor Mimi Bigelow Steadman lives on the Damariscotta River in Edgecomb.
---

If You Go to Yarmouth
On the Water
There are no moorings for visiting yachts here. Harbormaster Will Owen says that while the harbor and river are too crowded for anchoring, boats may drop the hook off Cousins Island, which lies slightly to the south. He notes that people sometimes make waterborne day trips from here to Chebeague Island, Falmouth, and Freeport. If you are planning to stay more than 48 hours, he requests that you call (207-846-3333) to advise him of your intentions. Cousins Island has two public docks, at Wharf Road and Madeleine Point; private dinghies may not tie up, but there are shared dinghies available for ferrying to and from your boat. For those trailering boats here, there's a launching ramp with an attendant at the end of Shipyard Road (fee charged). There are three excellent boatyards offering service, repairs, and storage: Yarmouth Boat Yard, Yankee Marina and Boatyard, and Royal River Boat.
---
Eat
Overlooking the water, the Muddy Rudder is a perennially popular spot for lunch and dinner; seafood is a specialty. In an old sardine factory right beside the river it's named for, Royal River Grill House serves wood-grilled seafood and steaks at lunch and dinner; there's dockage for diners arriving by boat. The menu at Brickyard Hollow Brewpub offers internationally inspired pub food as well as a selection of its own beers. An old-fashioned lobster pound and take-out shack near the Freeport town line, Day's Crabmeat & Lobster has been a beloved destination since the 1920s. For more upscale dining, Yarmouth is home to two restaurants known for exceptional preparations of local ingredients: Gather, in the old Masonic Hall, and The Garrison, in the historic Sparhawk Mill (pictured below).
---
Do
The Yarmouth History Center, part of the Yarmouth Historical Society, has a small but excellent museum on the banks of the Royal River whose well-displayed artifacts reveal the town's multi-chaptered story; it's open year round, Tuesday through Friday; admission is free. Access to Eartha, the world's largest rotating and revolving globe, is also free; it's open Monday through Friday, located just off Interstate 295. On the third weekend in July, the number of folks in Yarmouth grows tenfold when crowds of more than 100,000 throng the Yarmouth Clam Festival (July 21-23, 2023). An annual celebration for more than 50 years, its highlights include a clam-shucking contest, firefighters' muster, carnival, fun run, bike race, live music, kids' activities, food and crafts booths, and fireworks. The town sponsors events and celebrations throughout the year, including a Summer Arts Series with outdoor musical performances and movie nights in Royal River Park. 
Hike and Paddle
Yarmouth is blessed with an abundance of public-access green spaces, including Royal River Park. Just across the road from Yarmouth History Center, it offers a 1.3-mile paved riverside path with historical signage describing the Forest Paper Company complex that once stood here. The 55-acre Spear Farm Estuary Preserve near the harbor has 1.6 miles of gentle trails through oak and pine forest and beside scenic saltmarshes. The Beth Condon Memorial Parkway features a paved walking and biking path as well as a butterfly garden. Pratts Brook Park, Yarmouth's largest park, covers 220 acres threaded by six miles of trails. A favorite of runners, hikers, and bikers, the West Side Trail runs through town for more than 10 miles. To rent canoes or snowshoes, contact the town-administered Yarmouth Community Services, which oversees parks, recreation, and adult education. There are several places to launch a canoe, including beside the Yarmouth Historical Center. Stay on the upriver stretch of flat water, headed away from the dams. You can also launch kayaks from the beach on Cousins Island and do a loop around the island.
Share this article:
2023 Maine Boat & Home Show

Join Us for the Maine Boat & Home Show!
Art, Artisans, Food, Fun & Boats, Boats, Boats
August 11 - 13, 2023 | On the waterfront, Rockland, Maine
Click here to pre-order your tickets.
Show is produced by Maine Boats, Homes & Harbors magazine.