Building boats the way they should be
Boatyard Profile: Eric Dow Boat Shop
By Bill Mayher
All photographs by Benjamin Mendlowitz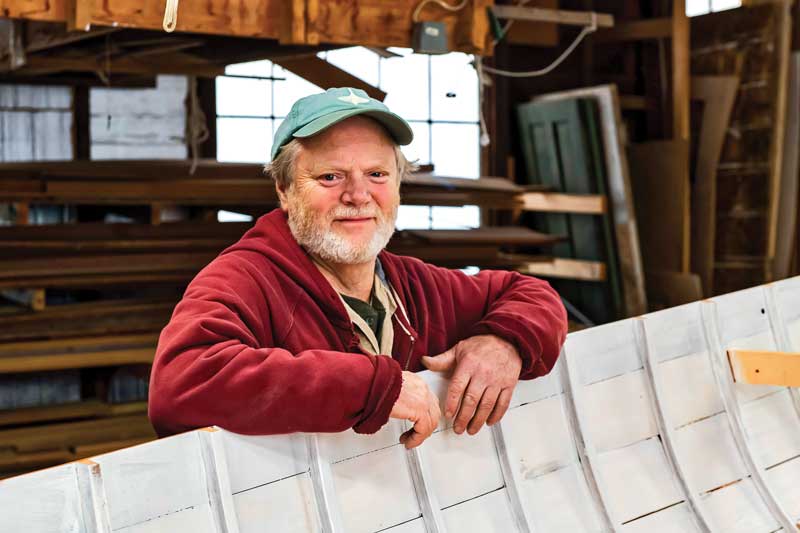 Putting together a three-person boatshop that works as a business is no easy thing, but Eric Dow has the skill, the energy, and the sense of humor to make it happen on most days.
Eric Dow's boatyard is such an understated operation that even using the word "operation" to characterize it seems an exaggeration. Invisible might be more apt, especially when the sign is down, which it often is these days. But the yard's quiet presence can't disguise its basic talents; Eric Dow and his long-term sidekick Luke Carter are about as engaged and skillful a pair of boatbuilders as you're likely to find on the coast.
Like a lot of small enterprises, random circumstances led Dow to put the business together in the early 1970s. Just out of high school, he enrolled in Maine's Vocational Technical Institute boatbuilding school in Lubec. Then, looking for a place to work on vacations and when he finished the program, he began clearing the shoulder-high pile of junk out of a building adjacent to his grandparents' house on Reach Road in Brooklin—the building had been built by his great-grandfather for his grandfather to use as a car repair shop from the 1920s through the 1940s.
Dow's first project in the space was building a 20' outboard boat based on a design by Dougie Dodge, an instructor at the Lubec school. Next, with help from Mitch Ryerson, he built a Kingston lobsterboat from a Howard Chapelle design. Finally he was commissioned to build a 22' Friendship sloop designed by Tony Diaz. These boats were followed by a half-dozen Catspaw dinghies built to a Joel White design, followed by a bunch of peapods based on lines he took off an old model stored in a neighbor's barn.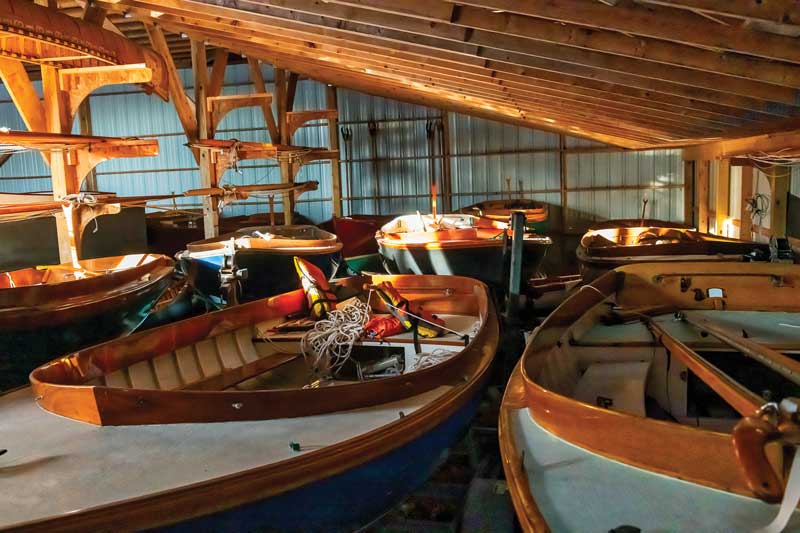 Havens bedded down for the winter. Dow stores many of the boats he originally built.
Year after year, this is how things went. Someone showed up and wanted a boat and Dow built it. Given his low overhead and modest lifestyle, it didn't matter that he never knew what the next project would be. What mattered was that he liked the work, was very good at building boats, and enjoyed his relationships with the customers who happened along.
One of these was a Texan who had come to town for his mother's funeral, and, discovering that Brooklin was a wooden boat building sort of place, searched out someone to build him a wooden boat. It was a Saturday, and the other yards were closed. This left Dow as the sole option. With little further ado, the Texan ordered a Haven Class sloop, put down some money, and got on a plane home.
The Haven model had been drawn by Joel White, owner of the Brooklin Boat Yard, for a customer with two summer places: one in Brooklin and another on Squam Lake in New Hampshire. The customer's first idea for a boat was a Herreshoff 12.5-footer. But a keel boat like the Herreshoff would be impractical to trailer and launch several times a summer, so he asked White to design and build a boat that would be nearly identical to the "Twelve" but with a centerboard for easier trailering.
The Haven sloops that resulted proved to be extremely popular. White had essentially designed and built a modified centerboard version of the Herreshoff original.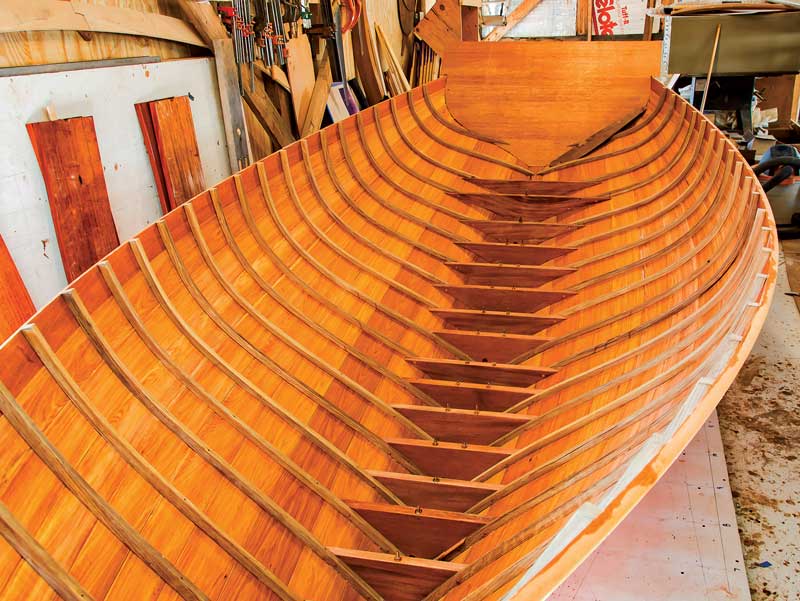 The late Joel White of Brooklin Boat Yard said of Dow that he built boats the way they ought to be built. Witness this plank-on-frame Herreshoff 121⁄2 in all her glory.
For Dow, things might have stayed in the random lane if it weren't for his relationship with White. Thanks to his fine work on the Catspaw dinghies, as well as the lovely Haven sloop he built for the Texan, White admired Dow's abilities. He even paid him the ultimate downeast compliment: that Dow built boats the way they ought to be built.
At the time, the Brooklin Boat Yard didn't have sufficient manpower to fulfill Haven orders. This opened the field for Dow, and between 1995 and 2005, at a pace of four or five a year, he built 52 Havens.
Such robust production of high-quality boats at a small yard might not have been possible if Joe Gott hadn't shown up pretty much out of the blue. At the time, Gott was clamming. The rails of the plywood pram he used to get out to the flats were falling off, thus necessitating a visit to Dow's shop.
After Dow repaired the pram, he mentioned that "I got a couple months of work here if you want to take a break from clamming." Gott thought over the offer for about a minute before allowing that working for Dow might represent a nice change. He then proceeded to stay at the yard for the next 26 years—right up until he died in 2013. Dow remembers that when Gott came aboard he didn't know a thing about carpentry, but that he was smart and a quick learner. Soon, under Dow's tutelage, Gott became an expert boatbuilder, pulling more than his own weight around the shop.
The next random hiring event unfolded slowly when Gott's stepson, Luke Carter, began getting off the school bus in front of the shop so he could catch a ride home with Gott after work. Dow remembers Carter as a little kid trudging up the hill with his book bag. Then, soon enough, he started to work around the place in one of those seamless transitions that seem to be an Eric Dow specialty.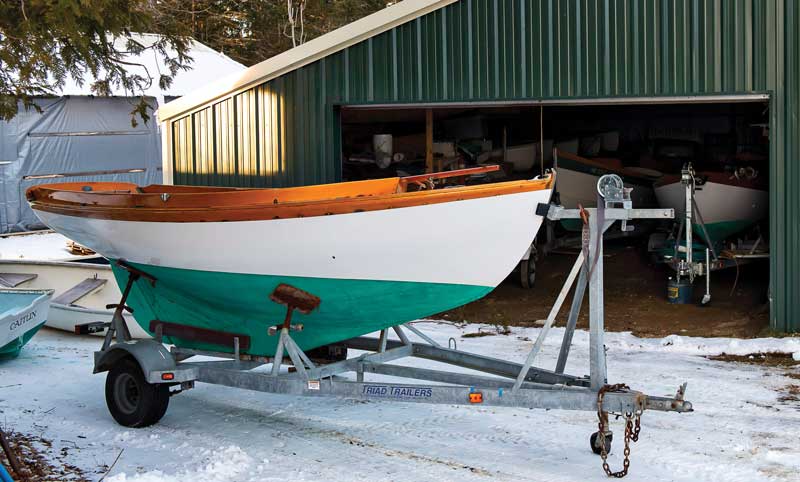 Small boats on trailers make for an efficient operation without the need for expensive hydraulics.
Years later, Luke Carter is Dow's right-hand man, a big guy with a big smile and a vivid interest in doing work at the highest level. The yard's small team also include's Dow's daughter, Shawney Dow, an expert varnisher and painter. Lately the yard does more storage and repair work than new construction. To accommodate this trend, the business added a couple of large buildings out back for more than 40 skiffs, rowboats, and small sailboats owned by summer residents around the Blue Hill peninsula—and now the yard has about 7,000 square feet of covered storage space. Finally, the yard added a dedicated, heated workshop for painting and varnishing.
Dow's shop is not on the water, which means boats are launched and hauled from a nearby public landing, the largest being a 34-footer.
Dow's customers like keeping their boats at his yard, not only because the work is good and the price is reasonable, but because of his sense of humor. There isn't a moment around the shop that some joke or other isn't percolating just below the surface.
Take a few years ago when Joe Gott was still alive. A few of us were standing around when the phone rang and Dow picked up.
The voice on the other end asked if Joe was handy.
"Well I don't know if he's handy, but he's right here anyway," Dow said into the receiver. And then, handing the phone over to Joe, he said, "It's your mother." 
✮
Bill Mayher lives in Brooklin, Maine, and is one of the founders of the maritime web site offcenterharbor.com.
---
Eric Dow Boat Shop
71 Reach Road, Brooklin, ME
207-359-2277
www.dowboats.com
Share this article:
2023 Maine Boat & Home Show

Join Us for the Maine Boat & Home Show!
Art, Artisans, Food, Fun & Boats, Boats, Boats
August 11 - 13, 2023 | On the waterfront, Rockland, Maine
Click here to pre-order your tickets.
Show is produced by Maine Boats, Homes & Harbors magazine.