Marina sale, plastic spill & goat rescue
By Polly Saltonstall
Marina gets new owner
Safe Harbor Marina has bought the Rockland, Maine, marina and boatyard of Yachting Solutions. The sale closed Dec. 31, 2020, according to Yachting Solutions Founder and CEO Bill Morong.
Safe Harbor Chief Investment Officer Jason Hogg said the acquisition made good sense for his company, which has been expanding into Maine.
"Yachting Solutions provided us the opportunity to acquire a well-established yacht service operation with a talented team of marine service professionals, which, along with our recently acquired Great Island location in Harpswell, will allow us to better serve our boating network as they transient Greater New England and the coast of Maine," he said. "Yachting Solutions also provided us a premium waterfront location with a canvas for expansion, allowing us to welcome more boaters to enjoy all that Maine has to offer. Having a premier tenured restaurant operator on site (Archer's On the Pier) will be an invaluable amenity to our boating members."
Yachting Solutions leases its site on the Rockland waterfront. In a separate deal, Safe Harbor also acquired that land, over four acres, including the pier where Archers Restaurant is located,  and a portion of the parking lot from Rockland Harbor Park LLC. The deal with Yachting Solutions also included its site on New County Road and a lot on Pleasant Street in Rockland. Rockland Harbor Park LLC still owns the large office building, originally built by MBNA, the remainder of the boardwalk, and adjacent parking lots. 
Morong and partner Chris Lawton will continue to run the marina and boatyard for Safe Harbor. Yachting Solutions' sales operation was not included in the deal. Morong and Lawton also retained ownership of Yachting Solutions' Rockport Office and a charter operation in Florida and Maine.
"I am now a consultant for Safe Harbor and will stay on for the foreseeable future," Morong said. "Chris will be general manager of the boatyard and I will be in charge of capital projects, expansions, and possible further acquisitions."
Yachting Solutions has been working on a plan to expand the marina's footprint and facilities, including the addition of a longer dock to accommodate superyachts, and the construction of a wave attenuator. Safe Harbor plans to continue with those plans.
"Rockland is an attractive cruising destination for our boaters and we have plans to expand and upgrade our in-water mooring capabilities to accommodate more boats, from 20 feet to 200 feet," confirmed Hogg.
Safe Harbor Marinas is the largest owner and operator of marinas in the world. Based in Dallas, Texas, the company owns more than 100 boating facilities across 22 states. It was acquired last fall by Sun Communities, a real estate investment trust involved in manufactured housing, recreational vehicle communities, and vacation rentals and homes.
Safe Harbor's Hogg said the company would continue to grow. "We have many new targets and ventures on the horizon, not only in Maine, but across the U.S. and globally as well."
---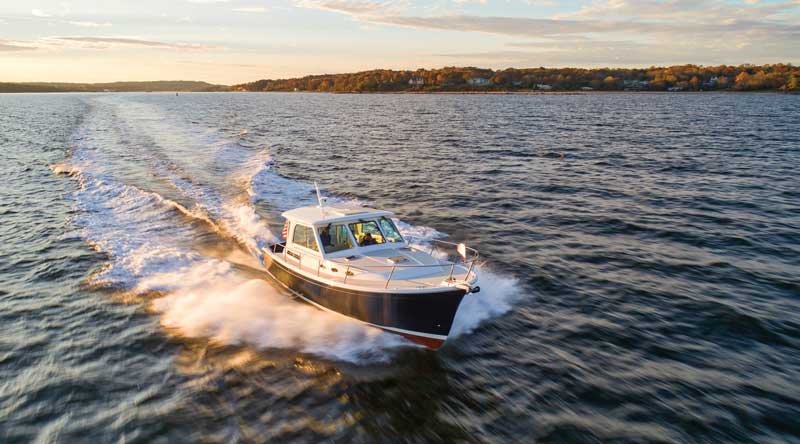 And then there were 200
Back Cove Yachts has built a whole lot of Back Cove 37s; in fact, the Rockland-based company launched its 200th hull in the popular line last fall.
The design was first introduced in 2008 as the company's flagship model. It features a planing hull powered by a single inboard diesel, with operator-friendly features and simple but robust systems. By the next year, all the stock boats were sold, and the Back Cove 37 entered a run that has gone uninterrupted for the last 10 years.
The Back Cove 37 shepherded a new generation of Back Cove yachts and her legacy extends into Back Cove's new outboard models. Her practical and elegant design principles will continue to guide Back Cove Yachts in the years to come, the company said in a news release.
Late in the fall of 2020, the 200th Back Cove 37 was shipped into dealer inventory. Back Cove's production team acknowledged the achievement by signing the underside of a salon drawer as a memento to her future owners.
---
Plastic spill leads to charges
A spill of thousands of pounds of plastic into Penobscot Bay has prompted the Maine Department of Environmental Protection to issue a notice of violation to Sprague Operating Resources, according to an article in the Bangor Daily News. The notice asks the New Hampshire-based company to produce a plan to minimize the potential for cargo, other than petroleum products, from spilling into Maine waters as it is being transferred from vessel to pier, and to develop a procedure for cleaning up any lost cargo.
Sprague operates a bulk fuel and cargo storage and transfer terminal at Mack Point, in Searsport, loading and offloading cargo and fuel for storage and highway transport. In December, two large bales of mostly plastic waste weighing approximately 2,500 pounds each fell into the ocean as they were being unloaded from a vessel. One bale was eventually discovered intact by divers, the other broke apart and waste began washing up on the shores of Sears Island over the next week. Volunteers spent days scouring the beach and cleaning up the trash, along with a company eventually hired by Sprague. The waste was destined for incineration at the Penobscot Energy Recovery Company in Orrington.
---
Bye bye lobster tariff
Maine lobstermen got a break last fall when the European Union agreed to eliminate tariffs on live and frozen American lobster, which will help to substantially boost sales of Maine lobster to European markets. Several years ago, the European Union was a top destination for American lobster, accounting for approximately 15 to 20 percent of annual lobster exports. In 2017, a trade agreement between Canada and the European Union reduced tariffs to zero on live Canadian lobsters and eliminated tariffs over a period of years on frozen and processed Canadian lobsters. This put American lobster exporters at a disadvantage because, unlike Canadians, American exporters were facing tariffs of between 8 and 30 percent to sell into the European Union. The agreement will reduce tariffs on live and frozen U.S. lobsters to zero, retroactive to August, according to a press release from U.S. Sen. Susan Collins.
---
Mainers top the list of boat owners
It's official, Mainers are boaters. According to the U.S. Coast Guard's National Recreational Boating Safety Survey for 2018, Maine led the nation in boat ownership, with 33 percent of households owning a boat. Of those, 10 percent owned at least one open powerboat, 1.3 percent owned a cabin powerboat, and just under 2 percent owned a pontoon boat; 2.3 percent owned a sailboat, 1 percent owned a personal watercraft, 11.5 percent a canoe, 15.3 percent a kayak, 1.4 percent paddleboard, and 5.4 percent a rowboat.
The survey, which was mailed to over a quarter-million Americans, is designed to better understand the characteristics of recreational boaters in an effort to improve boating safety. According to the findings, in 2018, an estimated 84.5 million Americans boated (over 25 percent of the population) and nearly 14.5 million households (11.9 percent) owned boats. Of the 25.4 million boats owned, 13.4 million were unregistered, including 7.3 million kayaks, 2.4 million rowed boats, and 2.2 million canoes. There were 11.9 million registered boats, a number that has declined approximately 4 percent over the last 10 years. Outboard motorboats remain the most popular type of recreational boats. The detailed survey results can be found HERE 
---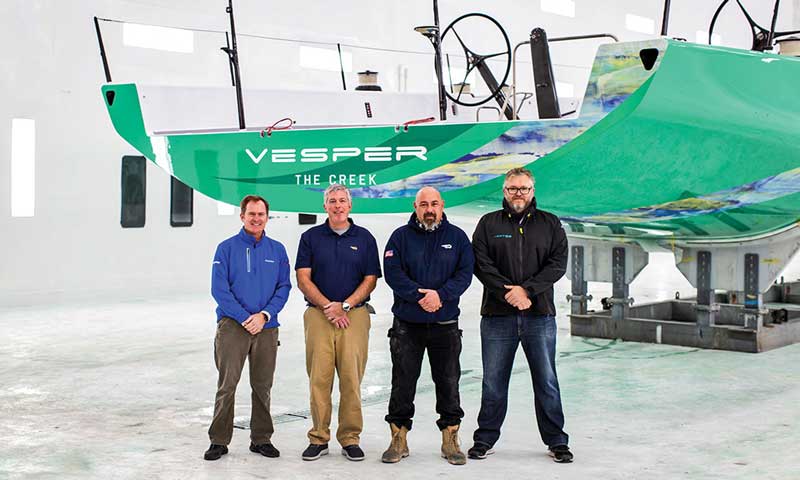 The boat as art canvas
We all know that boats are works of art, so it was especially fitting when a long-time customer and boat owner reached out to Hinckley Yacht Services in Portsmouth, to transfer a real work of art to the hull of a 72' custom ocean racer, named Vesper.
With one of the largest paint booth facilities on the East Coast, stretching 100' wide, 145' long, and 42' high, Hinckley Yacht Services Portsmouth attracts paint refit projects from near and far. The customer in question wanted an extensive paint refit for Vesper that was inspired by a painting by artist Susan Swartz, according to a Hinckley news release.
Swartz's painting, "Summer Bliss," captures elements of nature with striations of green, yellow, and blue. Working collaboratively with Swartz, Mac Design out of Newport, Rhode Island, and the yacht's captain, Hinckley Service Manager Lat Spinney and Paint Foreman Dave Gouveia developed a strategy to bring "Summer Bliss" to life on Vesper's hull. The timing was right. Both of Hinckley's Portsmouth paint booths just completed a full refurbishment and upgrade in October. Not only did Vesper christen the nearly all new paint booth, but the job took advantage of the latest technology from Awlgrip.
From selecting a custom hull paint color to complement the acrylic painting to implementing the applied graphics designed by Mac Design from scans of the original artwork, Spinney and Gouveia worked with Vesper's captain on every detail. In addition to the extensive hull paint job, the refit included all new SeaDek and nonskid application.
---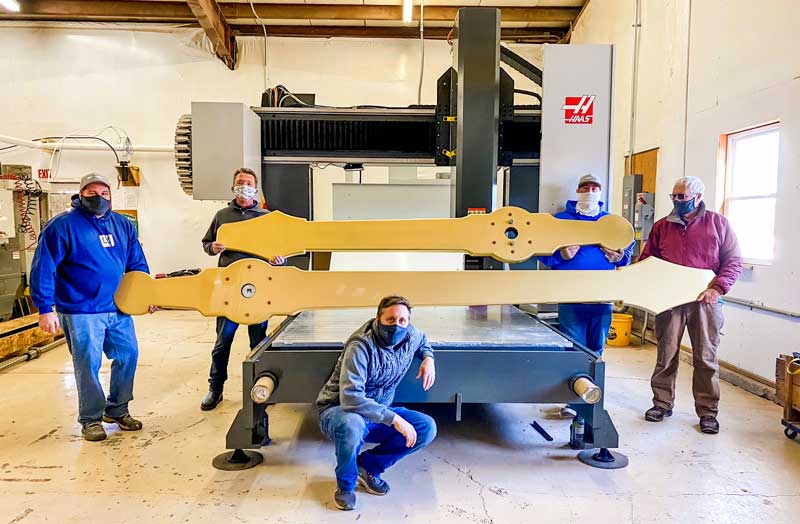 Maine gives Boston clock a "hand"
Time was literally of the essence when Lyman-Morse Technologies was contracted by Knollmeyer Construction Corporation last September to build a set of clock hands for Boston's iconic landmark Custom House Tower. The construction company wanted the hands delivered by the Christmas holiday season. The four-sided clock is part of a 495-foot tower atop the historic building.
Requirements for the project included weight restrictions, stiffness, weather-resistance, and historical accuracy. The project called for five sets of minute and hour hands—a set for each of the clock's four faces, plus a spare set. The hands weigh 25 pounds each and are made of carbon fiber laminates infused with epoxy resin.
Lyman-Morse Technologies has taken on more non-boat projects such as these as the division has expanded the range of Lyman-Morse beyond the marine environment.
When the clock project got underway the original wooden hands were delivered to Lyman-Morse Technologies where an engineer measured them and then used modelling software to create 3D models. Those models were used to create molds, which were produced on the company's computer-controlled cutting machine, explained Andy Smith, Vice President of Lyman-Morse Technologies. The new hands are much lighter than the originals, as well as stiffer and able to withstand the elements.
The Lyman-Morse team added some innovative new features including incorporating the balancing weights into the hands, which were delivered December 10, and installed by steeple jacks.
---
Lifejackets for fishermen
A project to distribute lifejackets to fishermen in the northeast has received glowing reviews.
From 2000-2016, the Centers for Disease Control charted 204 commercial fishing fatalities from falls overboard. None of the fishermen recovered were wearing a lifejacket, and 108 of the fishermen's bodies were never found.
The Northeast Center for Occupational Health and Safety in Agriculture, Forestry and Fishing launched the Lifejacket Project to identify solutions and increase fishermen's interest in wearing lifejackets. A recently published, 20-page summary report, chronicles stories from the project and provides examples of the fishing community's interest and engagement with the project.
During the project, lobster fishermen worked with the Northeast Center to identify good designs and eliminate challenges to use. Project coordinators also reached out to manufacturers, retailers, safety trainers and other researchers, as well as the National Institute for Occupational Safety and Health, the Royal National Lifeboat Institute, and the Old4New campaign in New Zealand, to create "Lifejacket for Lobstermen" vans. The vans went along the coast to bring fishermen-selected devices dockside at a discounted rate, so fishermen could try them on, compare them side by side, and try out new lifejackets/PFDs they may not have been familiar with. 
During the vans' 157 days dockside, fishermen bought 1,087 lifejackets and PFDs. The NEC now plans to transition the project to Fishing Partnership Support Services, which is integrating the lifejacket van into their safety trainings and expanding to all fisheries and ages.
You can read the report HERE.
---
Unusual water rescue
We've read about boaters rescuing swimming deer, but last winter on an especially cold and windy day, a shoreside resident leapt into the waves to rescue a goat. Yes, you read that correctly. Apparently the goat had escaped from a vet in Belfast, according to the account in the Bangor Daily News. Jerri Holmes saw police officers in her yard and realized the teams on the land would not be able to rescue the critter. She grabbed a life vest, neoprene gloves, and warm cloths and launched her kayak, which she uses all year long. There were whitecaps on the bay, but Holmes was not deterred and spent 20 or so minutes rescuing the goat, the newspaper reported.
"I was never afraid for my kayaking abilities," she told the newspaper. "I was a little afraid the goat might want to get in the boat." Eventually Holmes was able to push the wayward animal toward the shoreline to the point it was able to stand on a surface because of a receding tide. 
"All of a sudden, he was standing and I just put my hand on his horn," she said, explaining that "he just stood there and then beyond that I'm not really sure what happened because someone else brought the goat back to shore." 
A few days after the rescue Holmes had a sore shoulder and said she believed the goat was healthy. She says she plans to practice knot tying this winter and put a lifejacket on her back deck just in case she ever has to perform another rescue.
---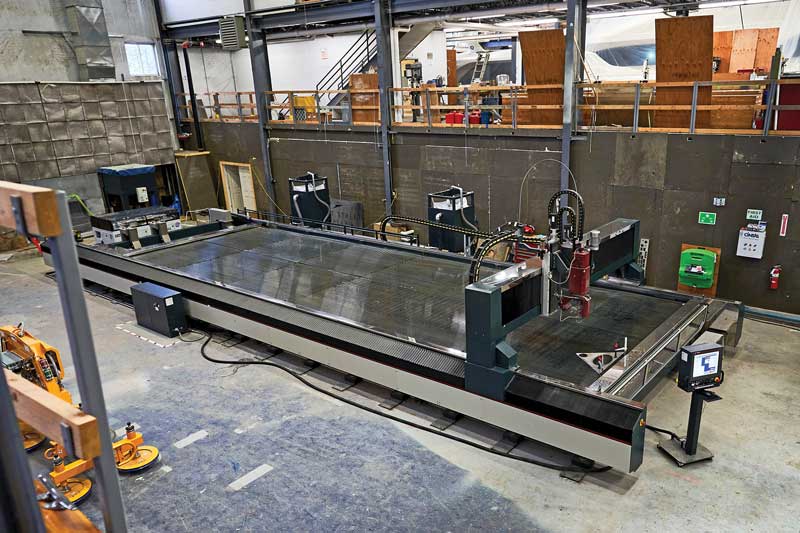 Hi-tech water cutter ups the ante
Front Street Shipyard in Belfast, Maine, is now operating a five-axis 3D waterjet cutting machine that is the largest of its kind in Maine and among the largest in the country. The new machine is cutting large parts for use in Front Street Shipyard's own boat construction and refit projects, and is also providing cutting services to outside businesses. Purchased with the support of a Department of Transportation grant, the waterjet cutting machine expands Front Street Shipyard's capabilities beyond the marine market into the manufacturing sector. The 10-year old company launched its new Manufacturing Division to leverage the waterjet machine's full capabilities in any industry. The Front Street Shipyard Manufacturing Division is now selling waterjet cutting services to manufacturers, OEMs, and custom builders around the country. The size of the machine's cutting bed makes it one of few resources in the country for producing large, complex parts with such accuracy.
The machine uses high-pressure water streams to cut, shape, and ream very large parts such as frames, molds, and panels used in manufacturing and construction. Capable of working with nearly any material including textiles, stainless steel, and titanium, the machine cuts parts directly from engineer-drawn electronic data with a high degree of precision and accuracy within two thousandths of an inch. The parts can be as simple as flat panels and as complex as tubes, bevels, countersinks and wraps.
"For our boat building and repair team, this machine will streamline our work on custom and production boats, reducing costs and improving the quality of the end-products," said JB Turner, president of Front Street Shipyard. "It also gives us the opportunity to diversify the services we offer beyond boat building and repair, which will ensure our company's success through occasional downturns in the industry."
---
A new race for classic yachts
The Boothbay Harbor Yacht Club is expanding its annual regatta this year to include classic yacht divisions. The new divisions are a response to growing participation in classics races in Maine, and to celebrate the town's deep maritime history.
The classics portion of the event, which will take place July 24/25, 2021, will be called Shipyard Cup Classics Challenge. The Shipyard Cup Regatta, which previously featured superyachts, was a mainstay in Boothbay Harbor for over a decade. The new Shipyard Cup Classics Challenge will carry on that spirit, but will feature classic yachts rather than superyachts. Divisions will include Vintage, Classic, Modern Classic, and Spirit of Tradition. The regatta will continue to hold the races for PHRF, One Design (J/80s) and cruising divisions that it has traditionally offered. The Boothbay Harbor One Designs will race as well and this year will be eligible for a new classic perpetual trophy to recognize their local heritage.
The regatta will be part of the Classic Yacht Owner's Association Challenge Series, with includes a number of prestigious regattas throughout the northeast, including the Camden Classics Cup (hosted by Lyman-Morse) July 29-31, the Castine Classic on Aug. 5, the Camden-Brooklin Feeder Race Aug. 6, and the Eggemoggin Reach Regatta Aug. 7.
Boothbay Harbor's longstanding maritime heritage dates back over 200 years. Historic shipyards in the area include, among many others, lead sponsors Hodgdon Yachts (founded 1816) and Bristol Marine's Shipyard at Boothbay Harbor (founded 1869), both of which are still in business. Additional information on the event can be found HERE.        ✮
Share this article:
2023 Maine Boat & Home Show

Join Us for the Maine Boat & Home Show!
Art, Artisans, Food, Fun & Boats, Boats, Boats
August 11 - 13, 2023 | On the waterfront, Rockland, Maine
Click here to pre-order your tickets.
Show is produced by Maine Boats, Homes & Harbors magazine.