George Hathaway
Portland's Prolific Marine Painter
By Earle G. Shettleworth Jr.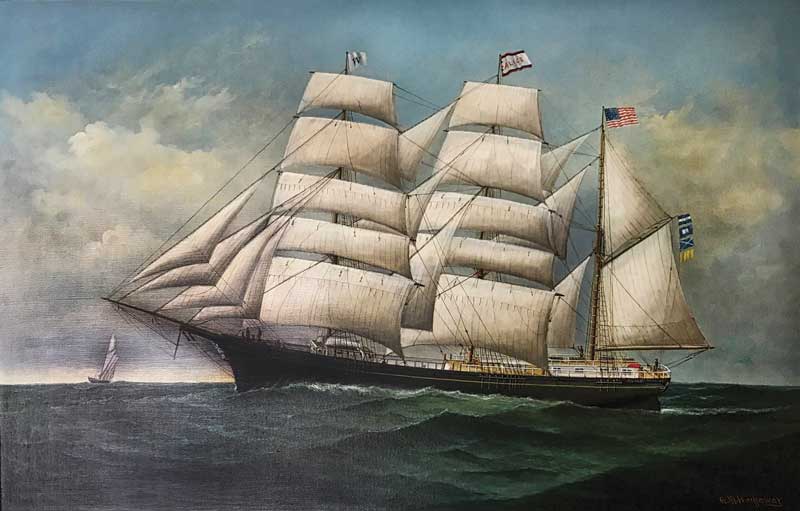 Launched in 1874, the bark Alice is shown in this masterful ship painting by George M. Hathaway, which was recently acquired by the Maine Historical Society. Hathaway, George M. "The Bark Alice," ca. 1890. Oil on canvas. Collections of Maine Historical Society, Capt. William Kair Collection donated by Philip Kair Grime, Elsie M. Grime and Family.
The Maine Historical Society in Portland counts among its extensive collections a distinguished group of 19th-century ship paintings. From the end of the American Revolution to World War I, wooden shipbuilding thrived along the state's coastline and rivers, and Maine vessels traded in ports around the world. Proud builders, owners, and captains commissioned paintings of their ships for display in their homes and offices.
Recently, the society received a masterpiece of this form of marine art, Portland painter George M. Hathaway's picture of the bark Alice. This notable gift was made by the Grime family descendants of Captain William G. Kair, who commanded the vessel from 1886 to 1894. Built in the Russell shipyard in Deering in 1874, the Alice was part of the huge merchant fleet owned by Captain Jacob S. Winslow of Portland.
Born in Alborg, Denmark, in 1850, Kair first went to sea as a cabin boy on Danish vessels. After his immigration to the United States, he worked on American ships, progressing from cook to captain. As master of the Alice, he made 62 voyages, mostly to the Caribbean and South America, covering 100,000 nautical miles. Through Kair's skill as a mariner, the Alice weathered powerful storms off the English and Canadian coasts as well as Cape Hatteras.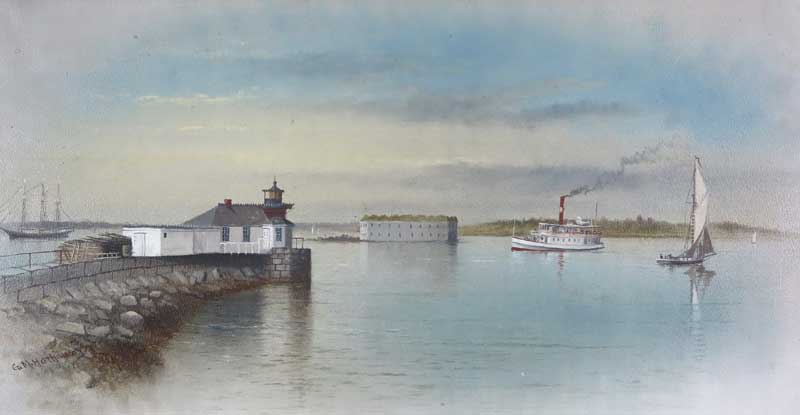 This Portland Harbor scene by George M. Hathaway shows the Portland Breakwater and Breakwater Light at the left, Fort Gorges in the center, and an island steamer. Hathaway, George, oil on board, collection of the Farnsworth Museum
In 1894, Kair left the sea for a life of storekeeping, first in Bethlehem, Connecticut, and later in Mill River, Massachusetts. As he ended his 30-year maritime career, he commissioned Hathaway to paint the Alice as a reminder of the last vessel under his command.
George Milton Hathaway was born in Boston on January 4, 1852, the first of six children of John and Susan Hathaway. The Hathaways were married in 1851, while John was working in Boston as a furniture painter at a time when chairs, tables, bureaus, and beds were ornamented with flowers, fruits, and landscape scenes.
In 1854 John Hathaway moved his family to Providence, Rhode Island, where he was employed as a decorative painter by the furniture makers Anthony, Dennison, and Potter until his retirement in 1898. During his 44 years with the firm, he enjoyed a reputation as a highly skilled furniture painter, as well as a popular landscape painter.
George M. Hathaway learned the arts of furniture decoration and landscape painting from his father. By the age of 18 in 1870, George was working as a furniture painter in Providence. In 1873 he married Mary Verrill of Tremont, Maine, and they resided in Providence until at least 1879. By 1884 the Hathaways were living in Manchester, New Hampshire, where George decorated furniture for Lewis H. Josselyn and Company, chair and furniture manufacturers.
In 1886 he and his wife moved to Portland, Maine, where he was employed as a furniture painter by Thomas P. Beals until 1893. That year, Hathaway embarked on a 10-year career as a marine and landscape painter, first working at 80 India Street and later at 567 ½ Congress Street. He also maintained a summer studio on Peaks Island and displayed his paintings at hotels on the island.
Except for a few large, highly accomplished oils on canvas, such as the bark Alice and a Portland Head Light scene owned by the Portland Museum of Art, most of Hathaway's work consists of small oil-on-board pictures of Portland Harbor and Casco Bay that average six by ten inches in size. Dated examples cover the period from 1893 to 1901. These paintings were created at a time when the Portland area attracted 250,000 tourists annually. As a local newspaper wrote of Hathaway, "his work consisting chiefly of dainty sketches of local scenery has been highly appreciated by the summer visitors." The small scale and meticulous detail of his pictures reflect his years as a furniture decorator.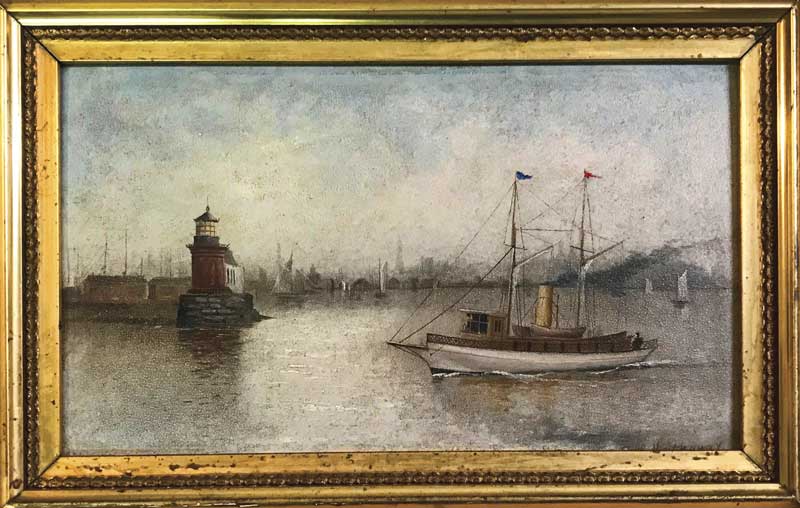 George M. Hathaway's depiction of the entrance to Portland Harbor shows the Breakwater Light to the left and a steam yacht on the right. Hathaway, George M. oil on canvas. Collections of Maine Historical Society
Hathaway's production of these souvenir views of Portland Harbor and Casco Bay was prolific. His voluminous output includes more than 140 paintings auctioned by Barridoff Galleries in Portland between 1978 and 2020. His most popular subjects were Portland Head Light, Breakwater (Bug) Light, Spring Point Light, Whitehead on Cushing's Island, the Orrs Island Bridge, and the home of Pearl of Orrs Island, made famous by Harriet Beecher Stowe's novel of that name. Some of his most engaging works are of Casco Bay island steamboats such as Forest City, Forest Queen, the Emita, and the Madeleine. Illustrations of his paintings are found in such period tourist publications as George W. Morris's 1895 book The Beauties of Casco Bay, and a few of his pictures were made into postcards.
While no records survive as to what Hathaway charged for his paintings, their size indicates modest prices aimed to secure the middle-class tourist market. Since the 1970s, his pictures have grown steadily in appeal and value, appearing frequently in sales conducted by major New England auctioneers and commanding prices from $1,000 to $6,000. In addition to the Maine Historical Society and the Portland Museum of Art, Hathaway is represented in the collections of the Farnsworth Art Museum in Rockland, the Maine Maritime Museum in Bath, the Peabody Essex Museum in Salem, the Kendall Whaling Museum in New Bedford, and the Mariners Museum in Newport News, Virginia.
Hathaway's career ended with his death in 1903. He and his wife traveled to Providence on September 29 to care for his mother. That evening he became ill and died two days later. To those who knew him in Portland, he was remembered as "a man of undoubted talent who exemplified in a high degree the principles of friendship, charity, and benevolence." More than a century after his death, Hathaway's paintings of the maritime life of Portland Harbor and Casco Bay continue to be enjoyed by art collectors and museum visitors.  
---
A native of Portland, Earle G. Shettleworth, Jr. directed the Maine Historic Preservation 
Commission from 1976 to 2015 and has served as Maine State Historian since 2004.
Share this article:
2023 Maine Boat & Home Show

Join Us for the Maine Boat & Home Show!
Art, Artisans, Food, Fun & Boats, Boats, Boats
August 11 - 13, 2023 | On the waterfront, Rockland, Maine
Click here to pre-order your tickets.
Show is produced by Maine Boats, Homes & Harbors magazine.