Grand Lake Stream
Hooked on Tradition
By Mimi Bigelow Steadman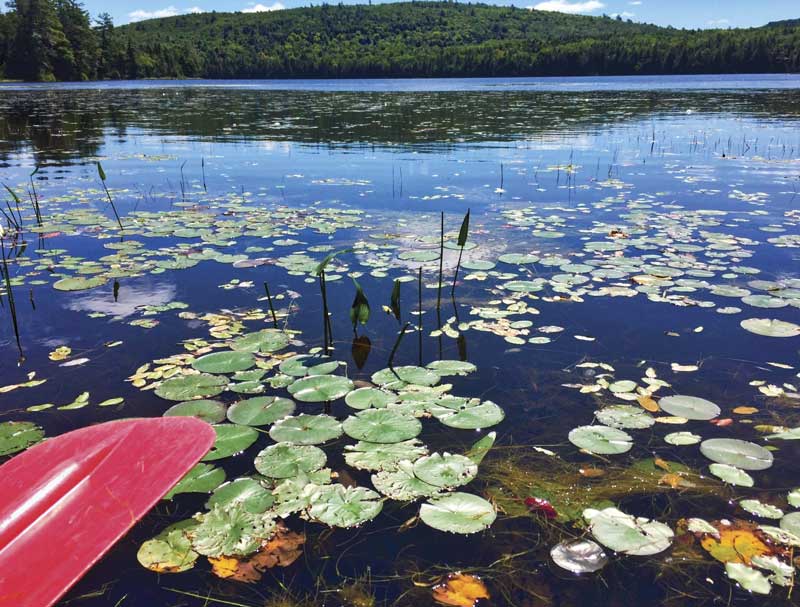 The vast wilderness surrounding Grand Lake Stream offers remarkable serenity and solitude, as on Little River Lake. Photo by Mimi Bigelow Steadman
Our paddles drew fleeting furrows in the water as we crossed Little River Lake beneath a cloud-freckled cobalt sky. Save for a black duck, a few plovers, a reconnaissance of dragonflies, and a bobble-headed muskrat, we were alone in this pristine, tree-ringed hideaway.
The prior afternoon, we'd turned off Route 1 way downeast near Princeton and driven a 10-mile paved road to its end at tiny Grand Lake Stream plantation, whose namesake stream and surrounding lakes, ponds, and woodlands have drawn fishermen and hunters for more than 100 years. After a night in a rustic cabin at century-old Weatherby's Fishing and Hunting Lodge, we borrowed a Kevlar canoe and followed directions to drive down a dirt road until we came to a break in the wayside puckerbrush and a glimpse of a watery ribbon called Little River.
Paddling along skinny straightaways, around bends, and under low-hanging branches, we finally entered Little River Lake, where we ventured to the other side before ducking into a shoreline notch for lunch. From a basket supplied by the lodge, we pulled out sandwiches, a canning jar of pickles, lemonade, and a slightly rusted cake tin topped with a snippet of tape on which "Eat dessert first" was scrawled. Inside were oatmeal-raisin cookies as big as my hand.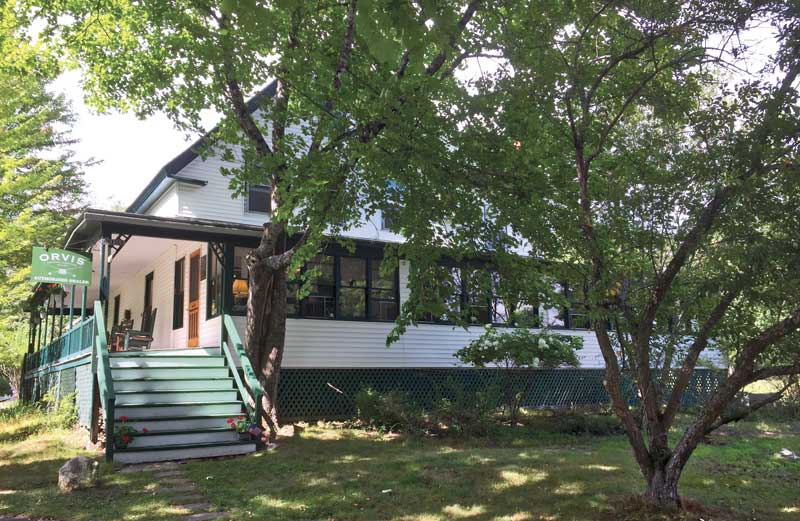 The White House at Weatherby's Lodge has welcomed anglers and hunters for more than 100 years. Photo by Mimi Bigelow Steadman
It was August, a quieter time than spring, early summer, and fall, when avid anglers cast for native landlocked salmon and brook trout in lively, 3-mile-long Grand Lake Stream (only fly rods permitted), and smallmouth bass, lake trout, and togue in West Grand Lake, Big Lake, and dozens of other pristine lakes. After biting like crazy in May and June, the fish move into deeper water in late summer before returning to spawn in late September and October. Both spinning and fly rods are allowed on the lakes, where registered guides carry fishermen to their quarry in Grand Lakers, the sweet, cedar plank-and-rib canoes handcrafted here for generations. Measuring 20 feet long, with square mahogany sterns just right for 9-hp outboards, these storied craft sprint smoothly across the water.
It's said there are more guides in Grand Lake Stream than anywhere else in Maine. They create memorable experiences for their clients, not only finding the big ones, but also demonstrating tried-and-true skills, sharing local history, and grilling up shore-side feasts of steaks or other meats and often a just-caught pickerel or two.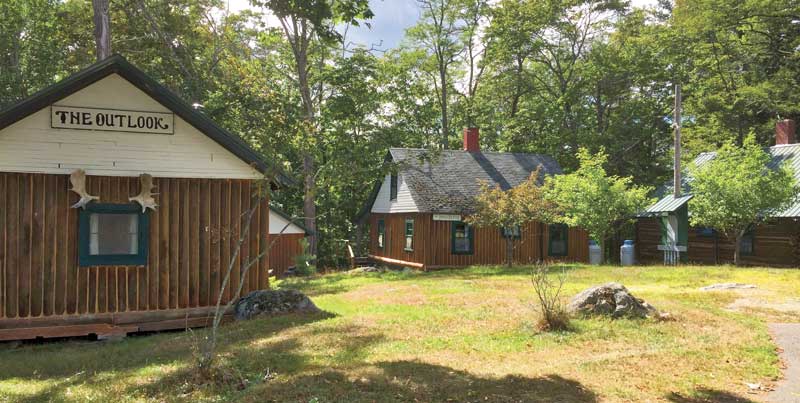 Staying in Weatherby's old-fashioned, no-frills cabins adds to the North Woods experience. Photo by Mimi Bigelow Steadman
Today's guides perpetuate a heritage dating from the late 1800s. In 1870, a large tannery was established here by Boston-based F. Shaw and Brothers, which owned multiple operations in Maine and New England. In the stream-side complex, workers extracted tannic acid from boiled, shredded hemlock bark gathered by local men, many of them Passamaquoddies. Hides arrived for processing via steamship to Calais and lake steamer to the tannery. Over the next few decades, a village of workers' homes sprang up. But the tannery failed around 1890, spurring locals to seek their livelihood from the water and woods by providing guided fishing and hunting trips to well-heeled, citified sports. 
A century later, would-be developers posed a threat to this revered way of life. In 2001, citizens formed the Downeast Lakes Land Trust to preserve the wilderness and the traditional pursuits and businesses it supports. Today, the trust protects 370,000 acres of land, including a community forest that encompasses 90 miles of lake frontage.
The afternoon wind ruffled the water, signaling it was time to point our canoe back across the lake and up Little River. Reaching my paddle into a strong oncoming current, I appreciated Grand Lake Streamers' determination to forge ahead and keep these lands forever wild. 
---
Contributing Editor Mimi Bigelow Steadman lives on the Damariscotta River in Edgecomb.
---
If You Go to Grand Lake Stream
Shopping and Dining
The Pine Tree Store is the one-stop shop for a variety of supplies, including fishing tackle; quick breakfasts, pizzas, burgers, and sandwiches; and local knowledge sprinkled with the latest gossip. Some sporting camps are able to serve dinner to the public by reservation as well as to lodging guests. Call in advance about booking a table.
On the Water
Bringing a canoe or other watercraft with you? There are two public launching ramps: one in the village beside the dam at the western end of West Grand Lake, and one on Big Lake, at the opposite end of the stream. Be sure your vessel is not carrying any traces of milfoil. If you plan to fish and are 16 or older, you must have a current Maine freshwater fishing license. For complete information on seasons, catch limits, and catch-and-release protocols, pick up a copy of the 2021 Maine Inland Fishing Laws (sometimes called "the compendium") at the Pine Tree Store or download it at maine.gov/ifw/fishing-boating/fishing/laws-rules/statewide-laws.html.
Lodging
Offering rustic accommodations and three hearty meals daily (American Plan rates), Grand Lake Stream's traditional sporting camps are a cozy throwback to simpler times. Weatherby's Fishing and Hunting Lodge, the area's second oldest, features 15 vintage cabins surrounding a large "White House." Built in the late 1800s as a residence for the tannery superintendent, it later began welcoming "sports." In addition to housing the dining room and an Orvis shop, this central gathering place has a line of porch rocking chairs just right for sharing fish stories. Rates are about $200 per person, double occupancy, per night. Daily rental of powered watercraft is $85. Set right on West Grand Lake, Leen's Lodge has 10 waterside cabins as well as a central dining lodge. Depending on the season, nightly rates are $185-$205 per person, double occupancy. The cabins are equipped with small kitchens and can be rented minus a meal plan by those preferring to do their own cooking. Motorized boat rentals are $95-$105 per day. Canalside Cabins rents six antique log cabins year-round for $50 per person per night (two-person minimum). All lodging businesses are happy to arrange registered Maine Guide services for fishing as well as autumn upland bird hunting.
Hiking and Paddling
While hunting, fishing, and paddling are the traditional outdoor pursuits in Grand Lake Stream, other activities, such as mountain biking, ATV riding, birding, and hiking have become popular. Thanks to the Downeast Lakes Land Trust, thousands of woodland acres are open for exploration. Twelve miles of maintained hiking trails within the Downeast Lakes Community Forest meander through the trees and alongside the water. One trail is marked with signs explaining local flora and fauna. Several are open in winter.
Special Events
The annual Grand Lake Stream Folk Art Festival celebrates the fishing tradition, the woods, and the cultures that give this area its special identity. Scheduled for July 24-25, 2021, it's an unparalleled opportunity to sample local foods while enjoying live music and shopping for crafts and folk art. In September, the Indian Days Heritage Celebration takes place just up the road at the Passamaquoddy Tribal Lands in Indian Township. This annual Wabanaki gathering includes dancing and drumming performances and shines the light on such traditional skills as basketmaking, beading, and woodcrafts.
Be sure to call ahead to confirm the status of any COVID-19 regulations and closures prior to visiting these businesses.
Share this article:
2023 Maine Boat & Home Show

Join Us for the Maine Boat & Home Show!
Art, Artisans, Food, Fun & Boats, Boats, Boats
August 11 - 13, 2023 | On the waterfront, Rockland, Maine
Click here to pre-order your tickets.
Show is produced by Maine Boats, Homes & Harbors magazine.