Southport
A Trip Around the Island
By Mimi Bigelow Steadman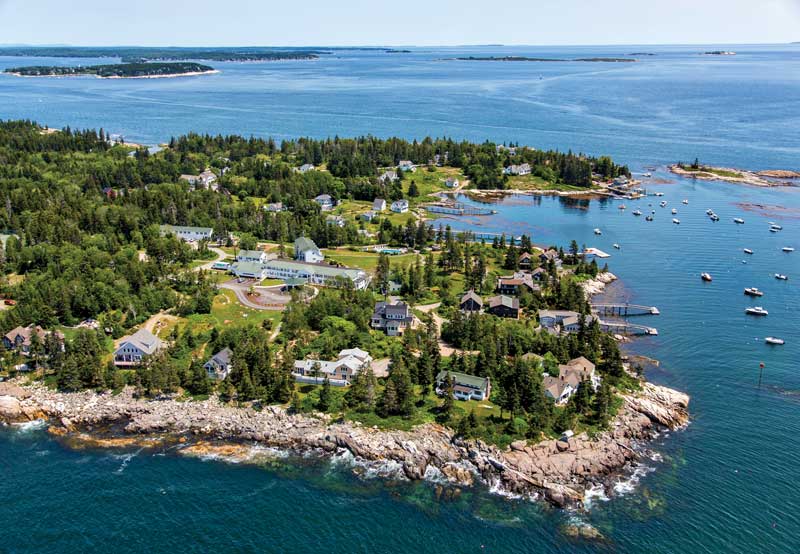 At Southport's southern tip, Cape Newagen and Cape Harbor offer a scenic highlight on an island circumnavigation.
ROCKS TO THE LEFT of us, ledges to the right—here we are, stuck in the middle.... Well, thankfully not stuck, but it could easily happen when threading the tight and shallow outlet at the eastern edge of Cape Harbor, beside Cape Newagen. Located at the pointy tip of Southport Island, it's the kind of place where you throttle back, stand up, peer over the side, and exhale when you reach the other end. Successfully slipping through is just one of the highlights of circumnavigating this five-by-two-mile, arrowhead-shaped island.
Ashore, Boothbay Harbor's low-profile neighbor thrives on a mix of families who have been here for generations, newer arrivals who've put down year-round roots, and summer residents who appreciate the laid-back feeling of the close-knit community—one in which everyone looks out for each other, according to Scott Larson, longtime co-owner of Newagen Seaside Inn.
The main road that rings the island only allows intermittent water views and hints of what lies down wooded driveways, making the sea the best vantage from which to appreciate Southport's considerable beauty. We usually do a counterclockwise loop, beginning with a westward pass through Townsend Gut and the 82-year-old swing bridge that hitches the island to Boothbay Harbor.
Heading into the mouth of the Sheepscot River, we bear to port and seaward. Sometimes we detour into Ebenecook Harbor to admire the handsome boats moored near Hodgdon Yacht Services' docks. From there, it's a scenic southerly run down the western side of the island, with views of Seguin Light rising on the starboard horizon and a portside shoreline graced by impressive summer homes.
Dogfish Head thrusts northward before we come to the square white tower of Hendricks Head Light and its red-roofed keeper's house. It was on this rugged chunk of coast that Rachel Carson found inspiration and serenity. The marine biologist, environmental champion, warrior against DDT, and author of The Sea Around Us and Silent Spring built a simple cottage on a bluff overlooking Sheepscot Bay in 1953, and spent every summer here until her untimely death in 1964.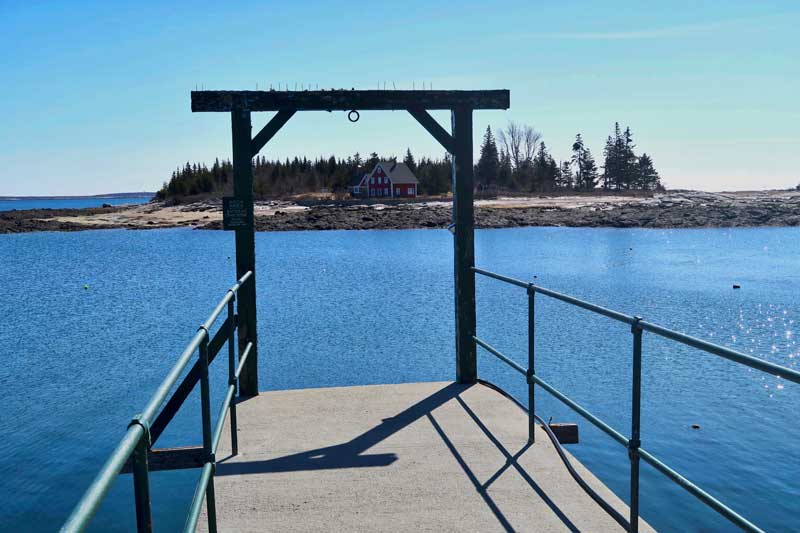 Once owned by actress Margaret Hamilton, Cape Island lies just across the harbor from Newagen Seaside Inn. Photo by Mimi Bigelow Steadman
Once we reach Cape Harbor and Cape Newagen, we dawdle in the stunning waterscape. To starboard lies Cape Island and the antique red farmhouse where actress Margaret Hamilton—a.k.a. The Wizard of Oz's Wicked Witch of the West—summered for years. It would be a quick winged-monkey flight across the harbor from her private isle to the expansive grounds of Newagen Seaside Inn, a classic summer resort where Hamilton enjoyed going for breakfast. 
Rachel Carson often visited the inn as well. It's said that this shore was one of her favorite places, and a simple plaque amid a jumble of sea-washed boulders marks the spot where her ashes were scattered.
We look out beyond Cape Island to Cuckolds Light, standing strong on its bold outcropping, and then squeeze through that skinny passage on the harbor's eastern side. It's a straight shot from there up Southport's eastern edge to picturesque Pig Cove, a hideaway harbor tucked between Southport and Capitol Island. Edged by shingled cottages and a defunct lobster pound, it seems untouched by time.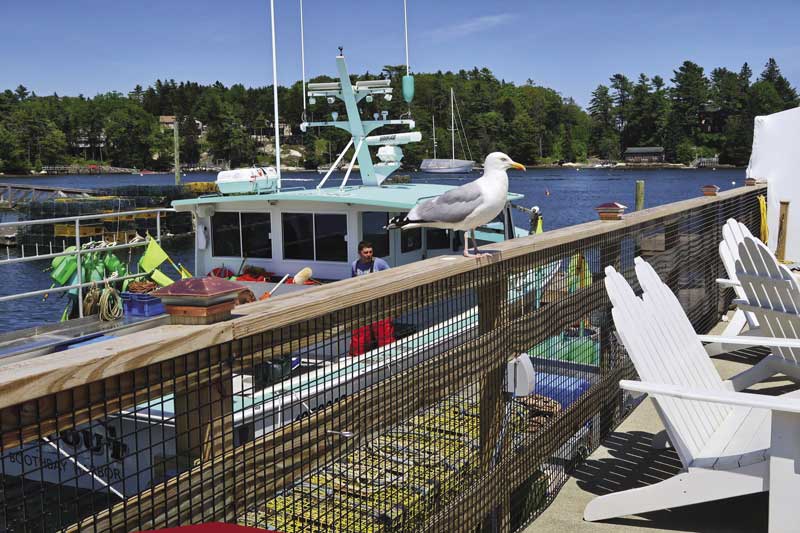 Lobster served at Robinson's Wharf comes straight off the boats that jockey for space at the dock. Photo by Mimi Bigelow Steadman
Finally, we head back into Townsend Gut and tie up for lunch on the dock at Robinson's Wharf. One after another, lobsterboats arrive here to unload their fresh catch right beside the picnic tables, providing an entertaining performance for diners. I'm always impressed with how deftly the lobstermen maneuver their vessels in extremely tight quarters, backing and filling with the greatest of ease. I've no doubt these seasoned boat handlers could wiggle through that little strait down in Cape Harbor without batting an eye.
✮
---
Contributing Editor Mimi Bigelow Steadman lives on the Damariscotta River in Edgecomb
---
If You Go to Southport Island
On the Water
At the head of Ebenecook Harbor, Hodgdon Yacht Services offers a full range of services as well as a chandlery. Boats up to 70 feet in length can be hauled out (larger ones can be accommodated at Hodgdon's other facility in Boothbay Harbor). Nightly dockage is $3.50 per foot; moorings are $35 per night. Southport Island Marine, near Hendricks Head, continues to build the Southport 30 drawn by David Nutt when this was his yard. The company also builds the Southport 21, the Handy Billy 21 (based on a William Hand design), the Celebrity Class centerboard sloop, and the Rodger Martin-designed Hurricane Island 30.
Walking and Paddling
Across the road from the public beach at Hendricks Head, the Hendricks Head Preserve Hiking Trail is an easy, half-mile loop through woodlands. Visitors are also welcome to enjoy the town-owned beach and the view from it of the nearby Hendricks Head Light, built in 1875. The lighthouse property, however, is private. For paddlers who bring their own kayaks, Southport's coves and harbors offer pleasing waters to explore.
Dining
For more than four decades, Robinson's Wharf has been a go-to place for fresh local seafood served outdoors overlooking Townsend Gut and inside Tug's Pub. At the very top of Southport, just over the bridge, its menu offers a combination of traditional dishes and trendier favorites. Arrive by boat and tie up at the docks, but keep in mind that space is at a premium during peak dining hours, especially on summer weekends. A seafood market complements the restaurant. A relaxing and quiet dining experience can be found at The Pub at Newagen Seaside Inn, where thoughtfully prepared cuisine is served with views stretching across the lawn to the harbor. There is also a take-out menu. The inn puts on a lobster bake on Tuesday evenings in July and August. Cozy's Dockside, on Cozy Harbor just south of Hendricks Head, serves up burgers, hot dogs, and sandwiches, plus more substantial entrees in the evening. Parking is limited. Boats are welcome to tie up at the dock; mind the tides, as it's quite shallow at low. The Southport General Store has stood at the intersection near Hendricks Head since 1882. In addition to groceries and a deli, it offers to-go breakfast and lunch choices, pizzas, burgers, and baked goods. Check out the adjacent Gift Barn for jewelry and gifts.
Lodging
Newagen Seaside Inn hearkens back to the days of leisurely stays at fine old summer resort hotels. Originally built in 1816 and rebuilt after a fire in 1943, the property offers a choice of B&B accommodations and cottages. Rachel Carson often dined or enjoyed tea here with her friends, and a collection of her books is on display. To visit the plaque marking the spot where her ashes were scattered, ask for directions at the front desk. Rachel Carson's rustic cottage, near Hendricks Head, is now owned by her grand-nephew, and is available for weekly rental. For details: (rachelcarsoncouncil.org/wpcontent/uploads/2019/10/Southport-Cottage-Brochure.20.pdf).
Be sure to call ahead to confirm the status of any COVID-19 regulations and closures prior to visiting these businesses 
Share this article:
2023 Maine Boat & Home Show

Join Us for the Maine Boat & Home Show!
Art, Artisans, Food, Fun & Boats, Boats, Boats
August 11 - 13, 2023 | On the waterfront, Rockland, Maine
Click here to pre-order your tickets.
Show is produced by Maine Boats, Homes & Harbors magazine.