Endeavor
A new 42' boat for the Maine Marine Patrol
By Brian Robbins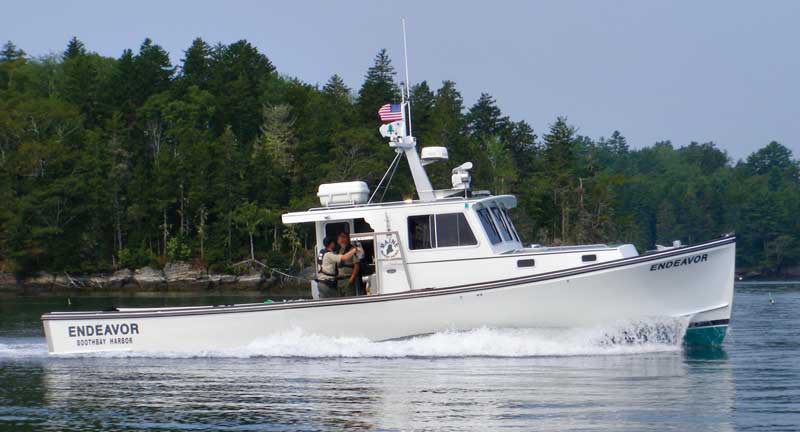 The Maine Marine Patrol's new 42' Endeavor will be stationed in Boothbay Harbor and will regularly patrol Section 2 (Freeport to Bremen). Photo by Brian Robbins
The new Marine Patrol Boat built this past year at Farrin's Boatshop reminds me of the police cars that were around when I was growing up in Stonington, Maine: the Ford Crown Victoria that was the town cop's vehicle and the Plymouth Fury driven by the state trooper who lived on the Deer Isle end of the island.
Both were good-sized automobiles and—apart from their lights, whip antennas, and the logos on their doors—there was nothing to make you think these were anything but official-looking versions of standard passenger vehicles. Beneath those polite exteriors, however, were serious road cars with some big-time muscle: that Crown Vic was powered by a 460 Police Interceptor and the Fury had a tricked-out 440 V8 that any hotrodder with a Roadrunner or Duster would've coveted. They rode on beefed-up suspensions and were built to do what was needed, whether it was on a washboard dirt road or a winding strip of cracked and bumpy blacktop.
No rumbly exhaust systems hinted at the power beneath the hood, nor were there fancy chrome wheels or oversized tires to indicate enhanced handling capabilities. But if the officer behind the wheel had reason to touch one of those beasts off to get somewhere in a hurry, you knew it meant business.
The Maine Marine Patrol's new 42' Endeavor is a lot like those classic law-enforcement vehicles.
From a distance, you might think she is a lobsteryacht; closer inspection reveals the Marine Patrol logo and obvious features such as the rugged 17" hauler that's built to handle lobster trap trawls in deep water offshore. If you're ever on hand when the Patrol officers dig into the 800-horse V8 MAN diesel and head off into some hard weather to respond to a call, you'd have no doubt: this is a serious boat built with both class and attitude.
The impetus for the Endeavor
project was an electrical fire on board the 35' patrol vessel Monitor two years ago. While the Monitor had served the Marine Patrol well, a size-up was in order: standard duties include hauling and inspecting lobster gear offshore as well as inshore, with bigger traps and rope to be handled. In addition, the ability to accommodate a rigid hull inflatable (RHI) on deck for at-sea boardings called for as much deck space as possible, without sacrificing tight-quarters handling ability and cruise efficiency.
The Marine Patrol's choice of hulls was a Calvin Beal 42 from SW Boatworks in Lamoine, Maine; 42' overall with a 15' beam (tapering back gently to 14'2" at the transom), the Calvin 42 hull is a Beals Island-style skeg design with modern-day roominess.
The solid fiberglass hull and molded house/deck unit was trucked to Farrin's Boatshop in Walpole, Maine, where Bruce Farrin Sr., sons Brian and Bruce Jr., and their crew took over the custom finishing of the project. The Farrins were chosen for their "decades of experience building Maine lobsterboats," according to Maine Marine Patrol's Capt. Matt Talbot.
Billings Diesel & Marine supplied Endeavor's previously-mentioned MAN diesel, rated 800 hp at a slow-turning 2100 rpm and backed by a 2.19:1 ratio ZF 500-1A marine gear. A 2-1/2" driveline from R.E. Thomas Marine Hardware channels the MAN's wallop back to a 4-bladed 33" x 39" ZF KCA propeller from Nautilus Marine. The MAN is a quiet beast by design; that, coupled with extensive soundproofing by the Farrin's crew, makes for less ear fatigue during a long patrol.
Endeavor's outside steering station is equipped with a 17" trap hauler for handling lobster gear, while her open transom and spacious deck allows for easy handling of an RHI.
Just as it was with those muscled-up law enforcement cars of my childhood, the Endeavor's performance numbers aren't well-publicized. But it's safe to say that an efficient mid-20-knot cruise is easily attainable.
"The crew members at Farrin's were great to work with," said Capt. Talbot. "They built a stout vessel that will serve the Maine Marine Patrol's mission for years to come."  
---
A former offshore lobsterman, Brian Robbins is senior contributing editor for Commercial Fisheries News.
---
Endeavor
Length:  42'
Beam:  15'
Power: 800-hp V8 MAN Tier 3 diesel
Hull design:
Calvin Beal
Finished by:
Farrin's Boat Shop
Walpole, ME
207-563-5510
Share this article:
2023 Maine Boat & Home Show

Join Us for the Maine Boat & Home Show!
Art, Artisans, Food, Fun & Boats, Boats, Boats
August 11 - 13, 2023 | On the waterfront, Rockland, Maine
Click here to pre-order your tickets.
Show is produced by Maine Boats, Homes & Harbors magazine.