Gleam
A 12-meter built to last
By Gretchen Piston Ogden
The circa 1937 12-meter Gleam competed in Maine's classic boat regattas last summer. She is shown here racing down West Penobscot Bay in the Camden Classics Cup. Photo by Alison Langley
The thought of keeping a big, beautiful 84-year-old wooden yacht in good working order, let alone campaigning it successfully on the classic yacht regatta circuit, might make most sailors quake. However, if the yacht was well and strongly built, and cared for in proper fashion throughout the years, the task is not only achievable, but well worth the time and effort.
That's the basic story behind the enduring success of Gleam, a 12-meter built in 1937 at the Henry B. Nevins Yacht Yard in New York. Gleam's history is long and legendary, and includes serving as trial horse for some of the 12-meter yachts that competed in the America's Cup after World War II. (The original pre-war America's Cup contenders, the famous J-Class yachts, were deemed too expensive in light of the post-war economy.) Then, through a series of dedicated owners, Gleam was meticulously cared for—and that has made all the difference.
That care is ongoing, led these days by part-owner Dennis Gunderson, who is project manager for the work done on Gleam at Bristol Marine/The Shipyard in Boothbay Harbor during the off season. A crew of about 15 in Boothbay—which Gunderson referred to as being "a deep bench of skilled and talented craftsmen"—is involved.
Formerly known as Boothbay Harbor Shipyard, and before that, Samples Shipyard, the facility in Boothbay was purchased in 2018 by Andy Tyska, Gleam's other owner. Tyska is president of Rhode Island-based Bristol Marine; Boothbay is one of three locations for the business, which began in Bristol, Rhode Island.
"Buying the Boothbay yard wasn't a strategic choice in terms of Gleam's restoration," said Tyska. "It was targeted to ensure that the restoration of the schooner Ernestina Morrissey was completed. Going forward, it's about preserving beautiful yachts, including Gleam, but also about continuity for that workplace and the community. And yes, Maine is a great place in terms of the wooden boat building and restoration skillset there."
Gleam, purchased by Tyska and Gunderson in 2020, had long been based in Rhode Island (in Newport, naturally), a jewel among a fleet of gorgeous America's Cup and other classic yachts that races and charters out of Newport.
"We enjoyed being the only 12-meter in Maine last summer," Tyska said. "And sailing in Maine is just fantastic. Of course, we have a commitment to the Newport waterfront as well, and want to continue to support that community."
No matter where it sails, even the most amazing yacht of this size, age, and caliber requires focused attention. Last winter in Boothbay, Gleam received some needed hull repairs and also got a new paint job, which Gunderson said, "brightened her up considerably."
Coming up in the next few years will be a replacement of the decks. But for this winter (2021-2022), it's mostly about the interior. Gleam was designed to race, yes, but also to cruise between races. "She was a gentleman's racing yacht," Gunderson said, "so she has actual accommodations. Her interior is basically original."
"In fact, the whole boat is largely original," Gunderson said. "That's pretty unique in the classic yacht world. She has never been keel-up restored like so many yachts where there's very little left that's original—she hasn't needed that because she's been well maintained throughout her history."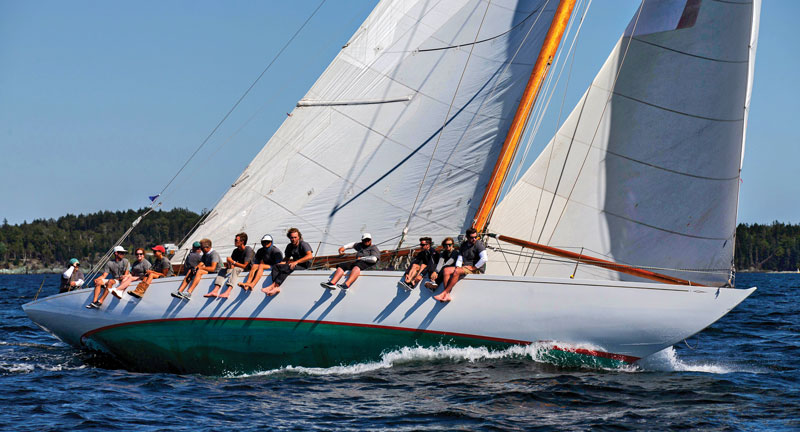 The propulsion system will also get an overhaul this year. The prop and shaft will receive attention, and the 50-hp Westerbeke diesel will get what it needs to keep Gleam purring along when the wind doesn't cooperate.
"We're also doing some systems upgrades, and adding modern electronics," Gunderson said. "And of course, there are always deck layout adjustments to be made. We can always improve small things that will make the sailing easier and faster. Because of course we want to keep her as fast as we can, yet remain true to her remarkable history. It's a fine line how much modern technology is appropriate to use."
When asked if the yacht would permanently return to Newport, Rhode Island, post refit, both Gunderson and Tyska agreed that Newport, and chartering, would continue to be in the yacht's mix. But Gleam will be around Maine waters next summer, again taking part in what has evolved into a well-regarded series of classic yacht races. Perhaps there'll be a repeat of the yacht's performance in the 2021 Camden Classics Cup, where she easily won her class.
Gunderson, whose third cap is as captain of the vessel, said, "We want Gleam to be an ambassador for wooden yacht restoration, and a major goal is for her to be accessible to a large group of people. We want Gleam out and about a lot where many people will see her." 
---
Gretchen Piston Ogden is a freelance editor, writer, and life-long sailor.
---
Gleam
LOA:  67.74'
LWL:  44.42'
Beam:  12'
Draft:  8.6'
Sail Area:  1,948 sq. ft
Construction: double-planked mahogany on cedar, oak frames
Designer: 
Clinton Crane
Builder:
Henry B. Nevins Yacht Yard
City Island, NY
Year built:
1937
Renovation:
Bristol Marine/The Shipyard
Boothbay Harbor, Boothbay, ME
207-633-3171
Share this article:
2023 Maine Boat & Home Show

Join Us for the Maine Boat & Home Show!
Art, Artisans, Food, Fun & Boats, Boats, Boats
August 11 - 13, 2023 | On the waterfront, Rockland, Maine
Click here to pre-order your tickets.
Show is produced by Maine Boats, Homes & Harbors magazine.