Rocky Arrival at Ragged Island
By Steve Brookman
Five miles offshore, the historic village of Salem faded into the haze along with Marblehead and Beverly, a coastline rich in nautical lore. We were heading northeast for a short summer cruise downeast when, 50 yards to port, the sea exploded in a fury of white water and black shapes. Large black shapes. The Atlantic bluefin tuna in a feeding frenzy added to the excitement of the start of our vacation.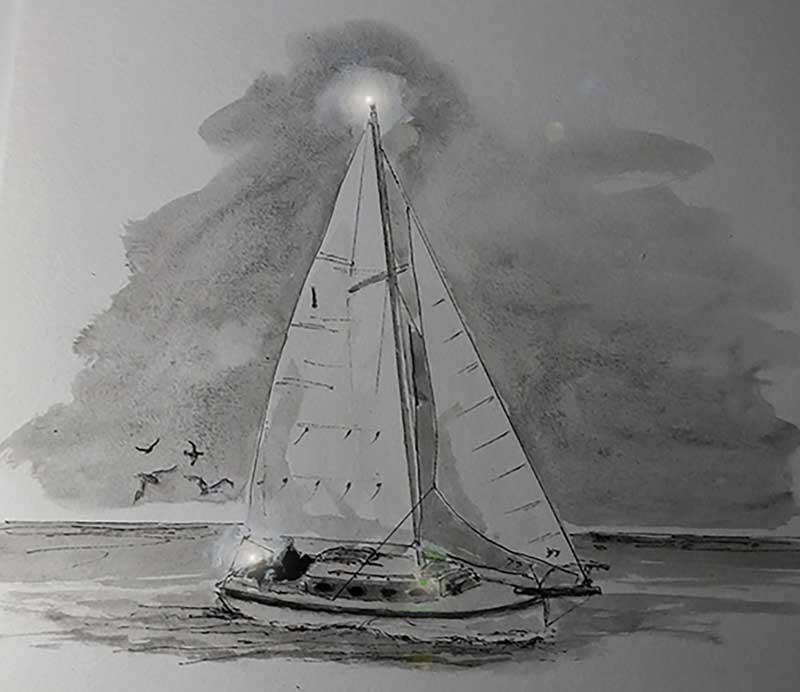 Oriana reaching across the Gulf of Maine on a black night with only skuas for company. Illustration by Steve Brookman
We had departed Hewitt's Cove Marina in Hingham, Massachusetts, earlier that day, just after noon, with a forecast of westerly winds at 15-20 knots, overcast skies, and a light drizzle. My brother Gary and I were taking Oriana, my 26' cutter, on a 150-mile trip across the Gulf of Maine with Ragged Island/Criehaven as our first stop.
The sun set as we doubled Cape Ann. We were enjoying a pleasant run and the steady 20 knot winds were giving us hope of making a quick crossing. But as we moved away from the coast the seas became lumpy and confused. While Gary is an experienced boater (he routinely kayaked from his home on Peaks Island to his work in downtown Portland) he is prone to mal de mer in any type of seaway. So by 10 p.m. I was singlehanding as he went below to deal with his misery in the four- to five-foot seas. I considered abandoning the cruise and heading for a port, but he managed to moan something about wanting to press on, so we did.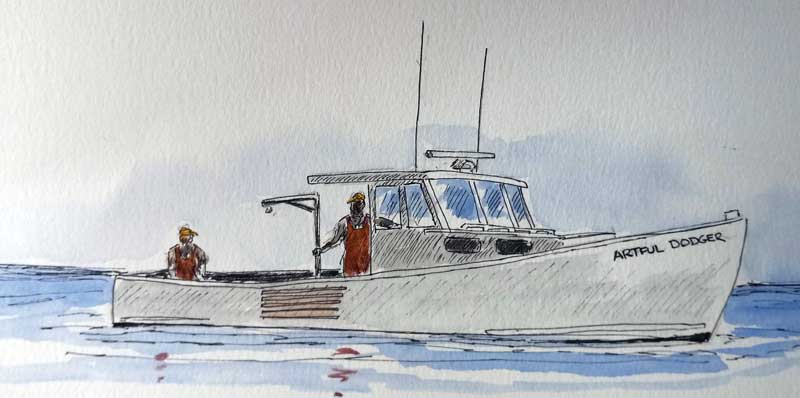 The Artful Dodger's crew asking why we were anchored in the rocks and not in the harbor, and then coming to the rescue. Illustrations by Steve Brookman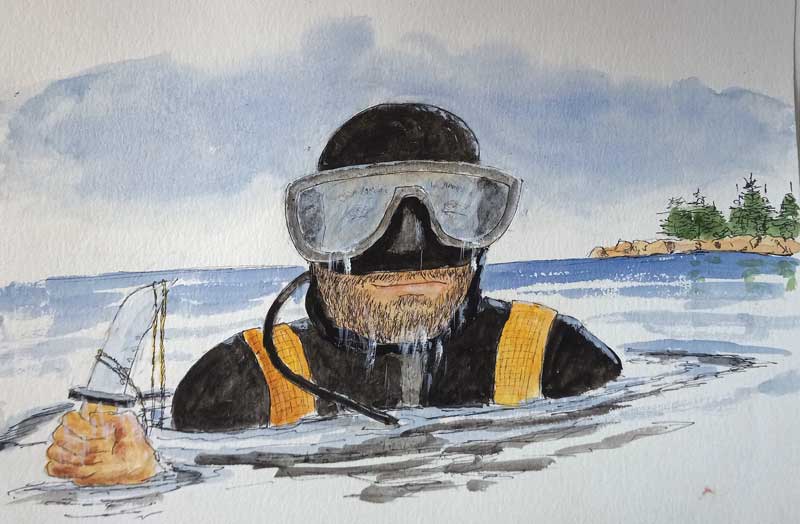 Oriana was designed and built by Golden Era Boats of Noank, Connecticut, and had been launched two years earlier. She was a one-off, and Golden Era hoped to go into production with the design one day. It was my dream come true, having a boat essentially custom built at a production boat price. Oriana had a full keel with a cut-away forefoot. She was a blend of Herreshoff designs with the bow of a Golden Eye and the stern of a Fish Class, an Airex-cored glass hull, and way too much teak everywhere else—a beauty, in a traditional, will-need-a-lot-of-varnish, sense.
With that keel, and her tiller set in a tiller comb, Oriana could sail as if on rails with the wind on her beam or forward. However, that evening, running in lumpy seas, she needed guidance. Without anything on the horizon, it required constant attention to the bouncing, spinning numbers in the glowing compass mounted on the cabin bulkhead to keep her on course.
As the night wore on, my world shrank to a dark and misty cocoon, defined by the dim glow of navigation lights. It was impossible to tell if the visibility was 10 feet or 10 miles. I was spooked by sharp-beaked skuas that would eerily flit in and out of the halo cast by the stern light. After a few hours I began to see weird shapes just beyond the range of Oriana's lights and could relate to the hallucinations reported by solo night-watch keepers in the many cruising books I had read over the years.
Sometime in the wee hours my brother managed to regroup and spell me for a bit. I crawled into the V-berth only barely aware of a small wren that landed on a nearby shelf. After waking from my power nap I discovered that it had died where it landed, adding to the weary strangeness of that night.
The inky blackness gradually turned to lightening shades of gray as dawn approached. Daylight revealed that we had the ocean, and its lumpy seas, to ourselves. Throughout all of this, the winds held and Oriana continued to happily run before them, averaging well over 5 knots, not far off her hull speed.
By early afternoon we were abeam Matinicus Rock. By 5 p.m., just outside of Criehaven Harbor, I managed to mess up the simple task of dropping anchor—blame it on fatigue. While backing down to set the anchor, I fouled the prop on the "floating" poly line to my dinghy. I unenthusiastically went over the side and attempted to cut it free, but it had fused to the shaft. I was now very cold in addition to being very tired so decided we would remain there for the evening. It wasn't a great anchorage but the winds had died and I was too tired to sail into the small and unfamiliar Criehaven Harbor just off our bow.
Sometime during the night we managed to find a rock with our lead keel, but after a couple of bumps, it turned out to not be an issue. We woke to a typical downeast summer day—dense fog and not a breath of air. And, of course, still no engine. Before we had finished our second cup of coffee, the Artful Dodger, a lobsterboat out of Cushing, motored up. "Whatcha doing out here? That's a fine harbor over there," the lobsterman hollered. We told him about our predicament, and he said no worries, he'd be back.   
A short time later he did return and in full scuba gear. He must have spent a good 15 minutes under Oriana, hacking away little pieces of yellow poly. When he was done we offered to pay him, give him beer, something, anything, for his efforts. His response was "don't go acting like city folk, just come on in and enjoy our island." Which we did.
We spent the next few days as planned, cruising, and enjoying the Maine coast, accompanied by the occasional pods of dolphins, pilot whales, and—no surprise—lots of fog. It is a remarkable place, not only for its beauty but also for its friendly, and helpful, people. That could be why, many years later, and happily retired from a career with the airlines, my wife and I now call downeast Maine home.  
---
Steve Brookman, a retired pilot, builds boats and sometime uses them. He lives in Blue Hill with Susan, two great dogs, and several tanks of fish.
Share this article:
2023 Maine Boat & Home Show

Join Us for the Maine Boat & Home Show!
Art, Artisans, Food, Fun & Boats, Boats, Boats
August 11 - 13, 2023 | On the waterfront, Rockland, Maine
Click here to pre-order your tickets.
Show is produced by Maine Boats, Homes & Harbors magazine.