Carrying on a Family Tradition
By Polly Saltonstall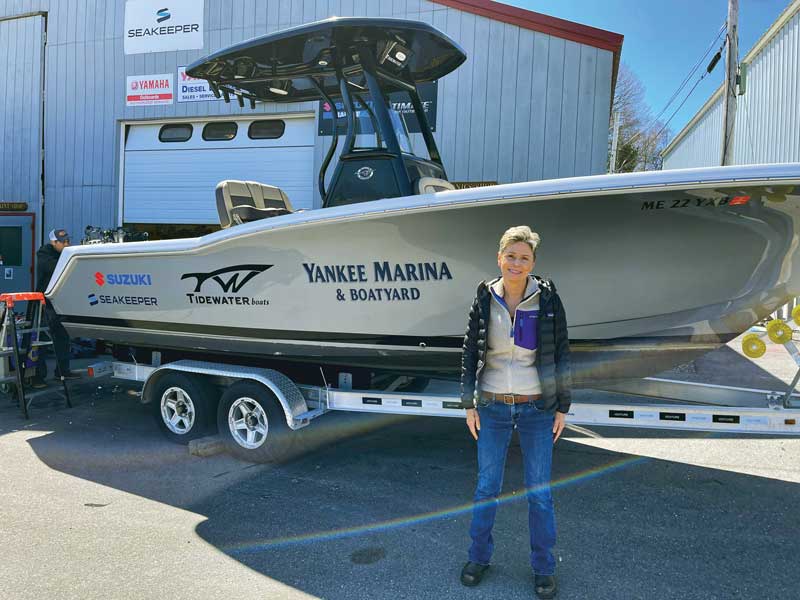 Deborah Delp took over running Yankee Marina on the Royal River in Yarmouth, when her father Ralph Stevens became ill.
Outside the door to the small building housing the offices at Yankee Marina, a wooden plaque shaped like a doghouse holds a small metal dog bowl. Alongside a photo of a fuzzy white dog are the words: "T-Bone, incomparable companion and beloved member of the Yankee Marina Family."
T-Bone belonged to a yard employee, and when the dog died recently, an anonymous marina customer bought a puppy for the employee. That small shrine and the customer's generosity are examples of what Yankee Marina President Deborah Delp cites as the family company's focus on people, employees, and customers. Even dogs are treated like family.
"What I say to people is that we take care of people who own boats," she said, adding, "to take care of the people, we take care of their boats." Delp, who was trained as a nurse and spent time working in a hospital emergency room, has a similar philosophy for her employees. "I learned in nursing that the most important people in the hospital are the nurses. Here the most important people are the crew because they make it all possible."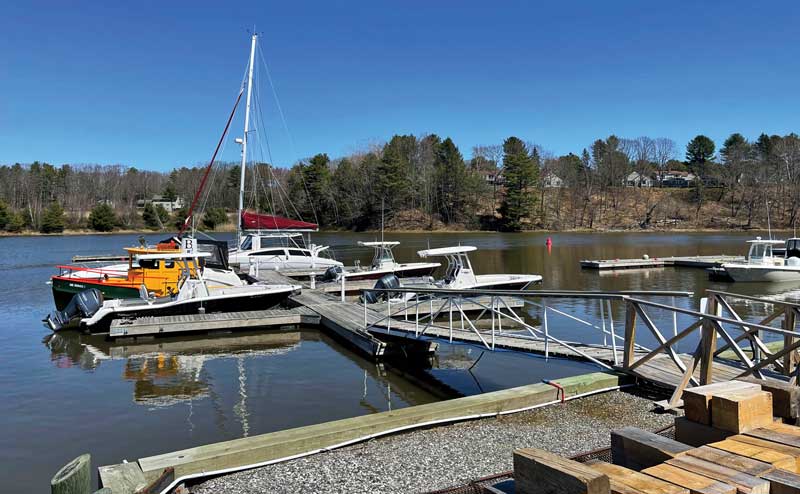 On a spring day the crew at Yankee Marina was launching boats and getting ready for the busy summer season. The marina has about 100 slips.
Perched on six acres along the Royal River in Yarmouth, Yankee Marina has about 100 marina slips, and also stores and services about 200 boats outside and inside its 20,000 square feet of heated storage in four buildings. With a 50 metric ton Travelift, the yard can haul boats up to about 72 feet.
On a recent sunny spring day, the yard bustled with activity. Mechanic Sam Mason, who worked in a cheese plant before joining the Yankee crew and being trained as an outboard technician, had taken the top off a 300-hp Suzuki engine and was tinkering with its complex innards. Delp's brother, Matt Stevens, was working with a crew installing a new dock ramp. Inside one of the big two-story sheds, a power sander hummed. In the back of another building, the yard's woodworking specialist, Damek Burch, was organizing bits and pieces of railings, hatches, and other wood parts.
Several of the yard's 25 employees have been with the yard for decades, as have many of the customers. Service manager Adam White has worked there for 24 years, office manager Rae Webster for 19 years, and rigger Jeff Reinfelder for 10, among other long-time employees. General Manager Curt Mildrum, who has been with the company for 35 years, said Delp has streamlined operations and increased efficiency. Since she took over, she has added structure and more management support systems, he said. "It's a wonderful place to work. We are a team."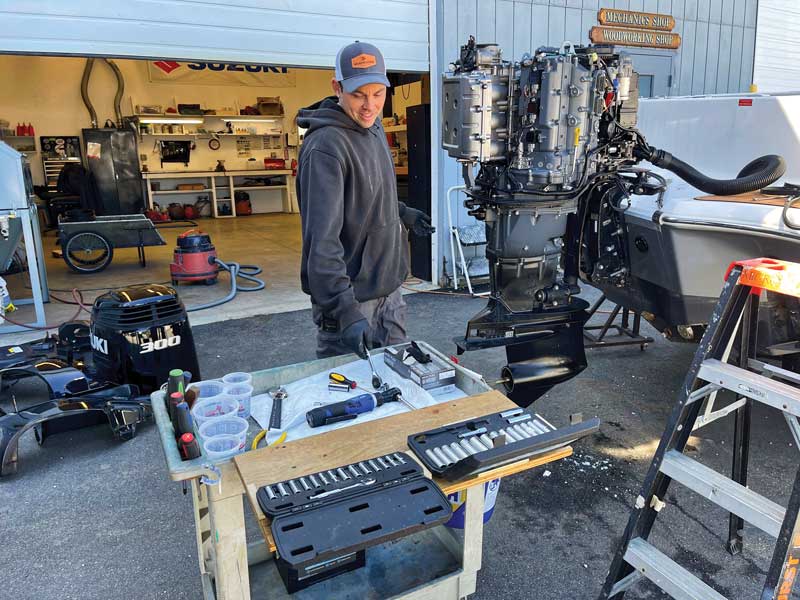 Yankee Marina mechanic Sam Mason works on a big Suzuki engine.
Part of that organization includes big computer screens in every building with a Google Board showing weekly and daily schedules. The Google Board even includes notes about when a customer will be on site so the crew knows to say hello and make them feel comfortable. Morning meetings also are key. "We know who's here, who's sick, who needs help, and we can plan the day," Delp said. "It's an important coming together."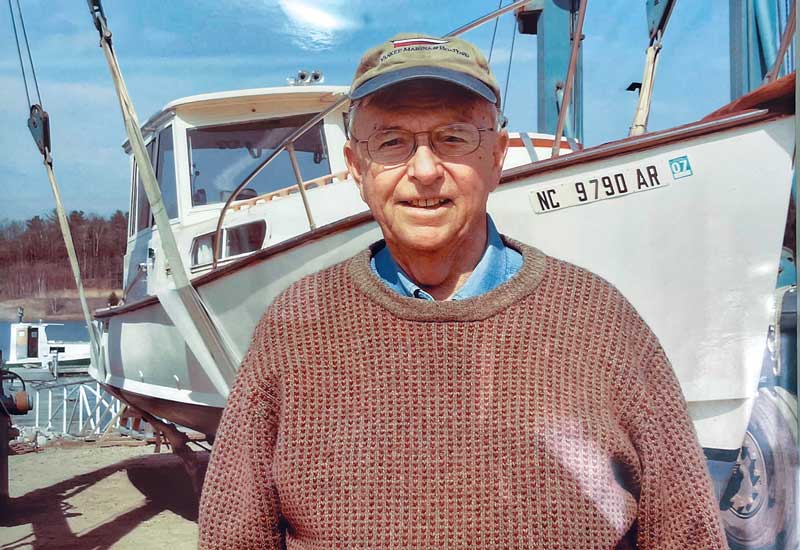 Yankee Marina founder Ralph R. Stevens.
Delp's father Ralph Stevens started Yankee Marina in 1964 as a side business while he was working full-time at a sardine-packing plant upriver. The cannery had belonged to his father until it was sold in 1956. Stevens, who had begun working there under his father, stayed on as manager under several other owners, but his heart wasn't in the fish business. He'd look out his window and dream about doing something else on the hilly land just downstream.
"Dad loved building things. He didn't do this because he was a boater, but because he loved heavy equipment and he loved the idea of building a business," Delp said. "As kids we'd come down here and watch him operate a big crane."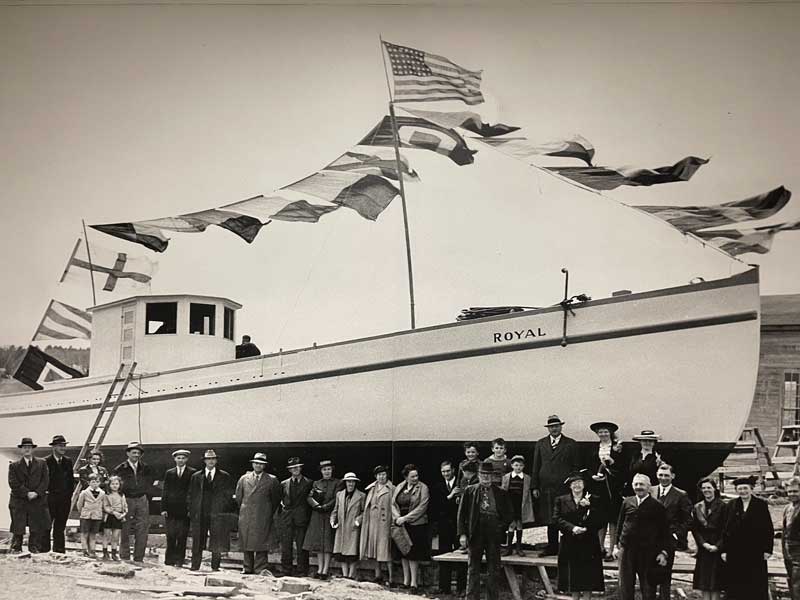 The Royal was commissioned by Ralph B. Stevens in 1940 to haul sardines to the family's Royal River Packing Corp., which was upriver from the yard that his descendants run today. Yankee Marina founder Ralph Stevens is one of the young boys in front on the left. This photo is on display today in one of the company bathrooms.
Stevens first bought four acres in 1964, and set to work building slips for boats; his plan was to provide a dozen or so slips and limited storage and service work. He added three more acres in 1967, building up the facilities during his free time on nights and weekends. When the cannery closed for good in 1981, he bought it and the surrounding land, later forming a partnership that developed the cannery into what is today's Lower Falls Landing complex, housing a restaurant and various other businesses, including East Coast Yacht Sales. The Stevens family is no longer part of the partnership, which sold the the facility several years ago.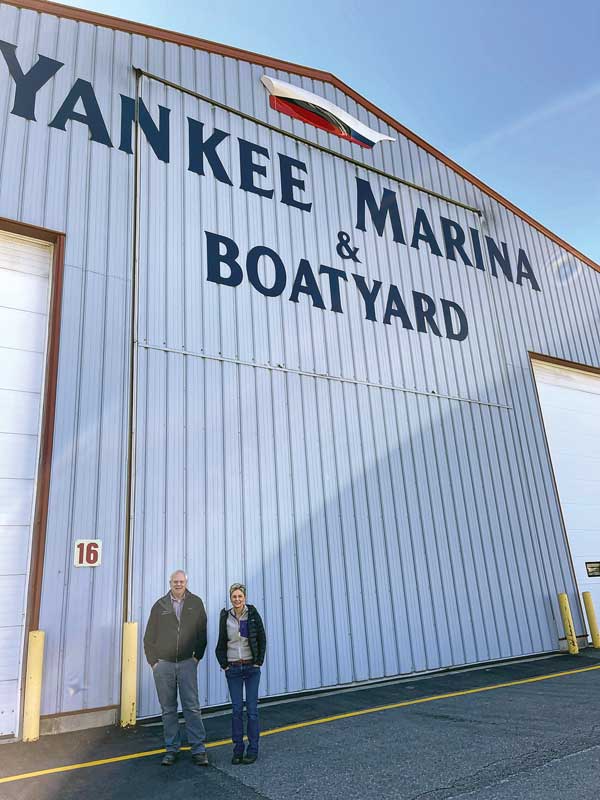 Yankee Marina General Manager Curt Mildrum and marina president Deborah Delp stand in front of one of the yard's huge sheds. "We try to this day to honor my mom and dad," said Delp, although she admits that sometimes that means doing things differently. "Sometimes we say Dad would do it this way, but we can't afford to do that."
Delp was a stay-at-home mom in Pennsylvania when her father became ill with cancer. She came home and took over running the company in 2006. Carrying on their father's business has been important for the Stevens siblings.
"When he was dying, Dad wanted the family to run the marina and take care of the crew," Delp said. Two of her five siblings work with her at the yard; Ben Stevens is the billing and customer service specialist, Matt Stevens is yard foreman, and her son, Will, recently joined the crew. But Delp is the boss. None of her siblings wanted the job, she explained.
"She's very good at what she does," said Ben Stevens. "We couldn't ask for a better boss."  
---
Polly Saltonstall is editor of this magazine.
Yankee Marina & Boatyard
142 Lafayette St., Yarmouth ME
207-846-4326
Share this article:
2023 Maine Boat & Home Show

Join Us for the Maine Boat & Home Show!
Art, Artisans, Food, Fun & Boats, Boats, Boats
August 11 - 13, 2023 | On the waterfront, Rockland, Maine
Click here to pre-order your tickets.
Show is produced by Maine Boats, Homes & Harbors magazine.