Mainely Gourmet-Cleonice-Issue95
Cleonice Mediterranean Bistro, Ellsworth
By Letitia Baldwin
MANY MAINERS break up winter and escape for a week or two to Florida or a more exotic clime, such as Mexico, Jamaica, or Spain. None of these journeys would be complete without a taste of the local food and drink: Key lime pie made from scratch in the Florida Keys, Red Stripe beer quaffed on a beach in Jamaica, marinated anchovies served up in Barcelona. But marinated anchovies can be found right in downtown Ellsworth in the thick of a Maine winter.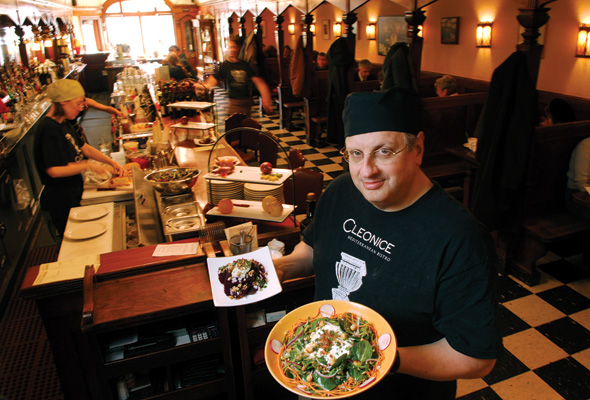 Grilled octopus, calamari salad, marinated anchovies, ice cream-topped tart tatin? You'll find them in this downeast bistro.
Finding Cleonice, with its ornate bar, ceiling fans, and black-and-white-checked floor, is like discovering an unspoiled neighborhood bistro in Barcelona or Marseilles. With a glass of chilled dry sherry in hand, you can dine on delicately marinated white anchovies with a salad composed of candy-striped beets, gorgonzola, and walnuts. Or create a meal from any of the two dozen other tapas (small plates) on offer, among them grilled octopus with piri piri sauce, smoked shad roe spread, artichoke pesto bruschetta, and razor clam salad with olives and fennel. These run $3 to $9.50 each. Celebrating a birthday? Settle into a booth and spend the evening over a multiple-course dinner. Sample the calamari salad or the whipped feta with pita crisps as appetizers. For the main course ($20.50 to $24.50), split a bottle of Rioja and order the grilled yellowfin tuna steak or the marinated pork ribs and sausage. Cap the meal with a glass of calvados and a warmed slice of tart tatin topped with homemade vanilla ice cream. Cleonice (pronounced Cleo-niece), named for Chef Rich Hanson's Italian- American mother, is also the type of place where a person can come for a drink at day's end—even read a book or the newspaper— or eat alone at the bar. Hanson gained an appreciation for good food in his boyhood home in the Bronx—meals created with meaty tomatoes, homemade prosciutto, fresh mozzarella, fragrant oregano, and other elements from the borough's Arthur Avenue Market. His mother's family came to New York from Italy's Abruzzo region. They brought with them the ritual of having a big family Sunday dinner that stretched on for hours in their three-room walkup. (Mainely Gourmet: Cleonice page 2) "You'd eat from noon until you couldn't take it any more," he says. "We'd always try to figure out what everyone else was eating in the building by the smells in the stairwell." As a boy, Hanson learned to make meatballs, pasta sauce, antipasto, and other basics of Italian cuisine from his mother. Back then, though, the kitchen was the domain of women. "Growing up, all the important stuff happened in the kitchen," the 51-year-old chef says. "The kitchen at my grandmother's house was a mystery because men weren't allowed in there." Hanson gave up post-college plans to become a stockbroker and refined his culinary skills at the Newbury College School of Hotel & Restaurant Management in Brookline, Massachusetts. He cooked for several noted Boston chefs before moving to Maine in 1995. He served as chef at Jonathan's in Blue Hill before he and his wife Cary opened their own restaurant in 2002. Fittingly, Cleonice occupies the Main Street building that housed Luchini's Luncheonette decades ago. The proprietors, an Italian family with deep roots in Ellsworth, went to great expense to fit out their eating establishment, and the Hansons have taken full advantage of that. The bar, topped in cherry and paneled in walnut and mahogany, runs the length of the dining room. Hand-carved grape leaves rim the ceiling. Polished wall mirrors and glass display cases make the bistro sparkle. From the start, the Hansons have sought to use only the finest and freshest local ingredients to create authentic dishes from Italy, France, Spain, Greece, and Turkey. For instance, Orland clam-digger Joe Porada provides the littleneck clams for the Paella Cleonice, while the chevre comes from Sunset Acres Farm in Brooksville. The ginger gimlets are made with Cold River Vodka produced in Freeport. The Hansons' farm in Bucksport, Artisana, supplies eggs, pork, and produce (including heirloom vegetable varieties). Whatever the dish—fresh sea scallops or porcini mushrooms—Hanson strives to highlight the ingredients and therefore keeps the preparation simple. Restaurants that do this well, such as a hole-in-the wall place he visited in Venice, have made a lasting impression on him. "It took three days to find," Hanson says. "Outside there was just a door. No menu. Each course was really simple. It wasn't about the sauce or technique. It was about the food itself."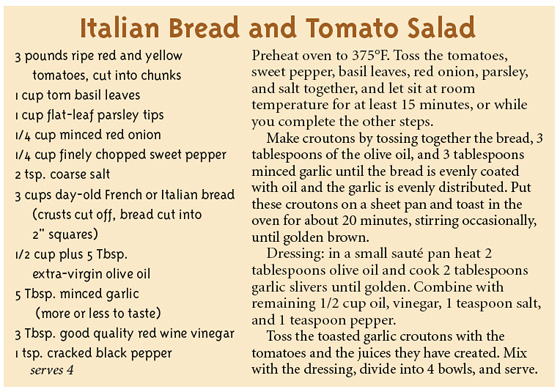 Share this article:
2023 Maine Boat & Home Show

Join Us for the Maine Boat & Home Show!
Art, Artisans, Food, Fun & Boats, Boats, Boats
August 11 - 13, 2023 | On the waterfront, Rockland, Maine
Click here to pre-order your tickets.
Show is produced by Maine Boats, Homes & Harbors magazine.