Mainely Gourmet - Wildflour Bakery by Letitia Baldwin
Wildflour Bakery, Steuben
By Letitia Baldwin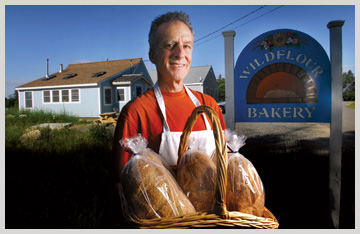 Rich Chevalier in front of his Wildflour Bakery.
Photo by Fred Field
In coastal Maine east of Bar Harbor, places to sit down and have a good cup of coffee and catch up with a friend or read the newspaper are scarce. Leisure time doesn't figure much into the way of life in these parts where most households are up and their lobsterboats steaming out of harbors before dawn. Folks grab a Styrofoam cup of whatever coffee is brewing at their local convenience store and maybe exchange a word or two while stirring their brew or waiting to pay before darting out the door. That's more the social norm. In the southern Washington County town of Steuben, however, a growing number of local residents and people from nearby towns have gotten in the habit on Saturdays of lingering over finely brewed, dark-roast coffee and cinnamon donut muffins and other treats at the Wildflour Bakery on the Village Road. In this remote coffee shop, where the cream and marigold-orange walls glow in the sunlight, people of all ages steadily stream through the door. Many take a seat, exchange news with friends and neighbors, and often make new acquaintances. A stash of crayons and drawing paper and a herd of plastic animals keep children occupied. In fair weather, young ones play outdoors along a shallow creek bordered by daisies, day lilies, primroses, black-eyed Susans, and other wild flowers. Rich Chevalier and Jessie Costello are the founders of Wildflour Bakery. Behind the scenes, Chevalier is the baker, turning out fresh baguettes, sesame ($3.50), sourdough rye, cinnamon raisin, cranberry walnut ($4.50) and other breads; English muffins, pizza crust. Blueberry, raspberry, chocolate, and lemon-glazed cranberry apple are among the muffins to choose from. They start at $1. Blueberry date squares and chocolate chocolate chip walnut cookies are also popular. Meanwhile, Costello fills the orders. A gentle, attentive woman, she also takes the time to inquire after a family member or engage children in conversation. Usually, she's assisted by equally gracious Mary Wilson and Dede Ragot. Together, they wait on the torrent of customers that flows through the doors from 8 a.m. until noon. Before moving to Steuben, Chevalier and Costello lived in Wellfleet, Massachusetts. He fixed cars and she ran a bed and breakfast. Together, they ran a one-room café, The Magic Pie, at a local health-food store. He did all the cooking from pizza to soup on a low-grade kitchen range. They both frequented a popular coffee shop. "It was the most important place in town, where everybody congregated," Chevalier said. "It was like many people's second office. Especially mine. At one time, I was a handyman, carpenter, mechanic, and property watcher. When I needed to talk to an electrician, I'd post a note on the bulletin board. If someone owed you money, they could leave a check for you on the board and vice versa."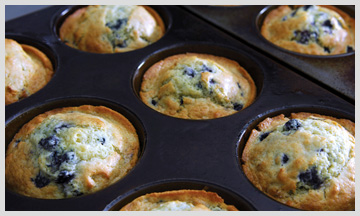 Warm blueberry muffins, fresh out of the oven
at the Wildflour Bakery. Photo by Fred Field
Seeking a change from Cape Cod, the couple bought some land in Steuben in 1999. On New Year's Day of the new millennium, they arrived in Steuben and spied a weathered 1840 Cape house and old shed for sale on the Village Road. She had a B&B in mind while he envisioned creating a bakery and gathering spot similar to the one they frequented on the Cape. "I thought if there wasn't something like that here already, I would create it," Chevalier said. Unlike Cape Cod, where you practically have to kill someone to get a restaurant license, the process was a piece of cake in the far-flung Maine town. The selectmen said, "sure," Chevalier said. All they wanted to know was "when are you going to open and are you going to make doughnuts?" The renovation of the old Cape and dirt-floored horse shed took much longer. The coffee shop actually got started on Saturdays at the Milbridge Farmers Market before the work on the Cape was completed. Chevalier and Costello started peddling baked goods and organic coffee there every Saturday during the summer and early fall. Their heavily coated cinnamon doughnut muffins and other goodies—always sprinkled with kind words and good conversation—spurred a large, loyal following. Locals made a weekly ritual of gathering there to get their caffeine fix, eat, and buy fresh produce. During the summer of 2006, Chevalier and Costello took a break from the farmers market to focus on finishing the work on the bakery and their home. Their absence sparked a near-revolt among customers who sorely missed the weekly ritual. The bakery wound up opening much earlier than anticipated. "They made us open when there were still tools in here," Costello said, looking back."People kept saying, 'You have to open. Where's the bread?'"
Letitia Baldwin, a freelance writer, lives in Gouldsboro, Maine. For more information: Wildflour Bakery, 314 Village Road, Steuben (26 miles east of Ellsworth). Take Route 1 through eastern Hancock County and cross the Washington County line. The bakery, less than a quarter-mile from Route 1, is open on Saturdays year-round. To check the hours, call 207-546-0978.
Sunflower Banana Cookies 1/2 cup sunflower or pumpkin seeds 1/4 cup sesame seeds 1/4 cup rolled oats 1 large banana 1 egg beaten 1 Tbsp. oil 2 Tbsp. honey 1/3 cup whole wheat flour 1/4 tsp. baking powder (makes them lighter) Currants and/or walnuts (optional) Place seeds and oats in a blender and grind into meal. Mash the banana in a medium bowl and mix in seeds and the rest of ingredients. If you substitute an alternative flour, the flavor can be enhanced with zest of lemon or orange. Place teaspoons of batter on greased or parchment-lined cookie sheet. Bake at 350° for 20 minutes. Makes 12-15 cookies
Share this article:
2023 Maine Boat & Home Show

Join Us for the Maine Boat & Home Show!
Art, Artisans, Food, Fun & Boats, Boats, Boats
August 11 - 13, 2023 | On the waterfront, Rockland, Maine
Click here to pre-order your tickets.
Show is produced by Maine Boats, Homes & Harbors magazine.