2017 Monhegan Residencies Open to Maine Artists and Teachers
2017 Monhegan Residencies Open to Maine Artists and Teachers
Thursday, February 9th 2017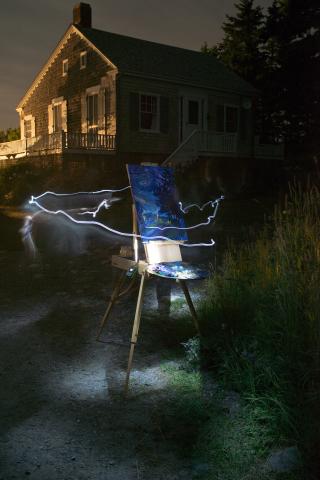 The Monhegan Artists' Residency is accepting applications for its 2017 residency programs. Residencies are available to Maine-based visual artists during the weeks of May 27 to June 30, and September 2 to October 7. Also, a two-week residency is available to a Maine art teacher from July 2 to 14. Applications are now being accepted online at monheganartistsresidency.org through March 17.
For well over 150 years, Monhegan Island has inspired countless artists, and continues to attract artists to its unique coastal island landscape. The Monhegan Island Residency seeks to keep this tradition alive and well for Maine artists by providing housing, studio space, and a stipend to its residents. Not just for landscape painters, the residency is open to artists working in new media, photography, sculpture, drawing, painting, and multi-media.
This year's jurors include Chris Stiegler, curator, art historian, and chair of the MFA in Studio Art at the Maine College of Art, Portland; Hilary Irons, artist, and co-founder/curator of Able Baker Contemporary, Portland; and Kelly Finlay, a Monhegan Artists' Residency board member and museum educator at the Farnsworth Museum of Art, Rockland.
Founded in 1989, the Monhegan Artists' Residency program is a volunteer-run 501(c)(3) nonprofit supported by donors, art galleries, corporate sponsors, and foundation grants. Photo by Bradley Beukema; 2016 resident and art teacher Krisanne Baker night painting on Monhegan.