Just Launched: Sabre 48 Salon Express

Scroll down to view more images by Jamie Bloomquist
Launch Details:
Model:

Sabre 48 Salon Express

Boat Name:

Rooster's Tale

Specs:

LWL 47'6", Beam 15'4", Draft 3'9"

Power:

Twin Cummins QSC 8.3 550 hp

 

Twin CMD Zeus 3800 pod drives

Built by:

Sabre Yachts, South Casco, Maine
Particulars:
After a long cold winter, when Chris Dimillo called and said "come on down I want you to go for a ride on a boat," the answer was, of course, yes. And since the boat in question was the brand-new Sabre 48 Salon Express, the answer was also "how soon?" As we arrived at Dimillo's, it was a bright spring day on Portland Harbor, not too many boats out yet, many still wearing their winter covers. The designers and builders from Sabre Yachts as well as some of their dealers from different parts of the country had gathered on the docks. We all wanted to see what the new 48 could do. The execution of the design was flawless. "What will they think of next?" was matched with "Wow-- look how they did that." I sat in the aft cockpit talking with a dealer from Florida and a family from the Midwest. We were cruising around the harbor at around 20 knots, and the only complaint was how cold it was. And we could say so in a near-whisper, so quietly was the boat running.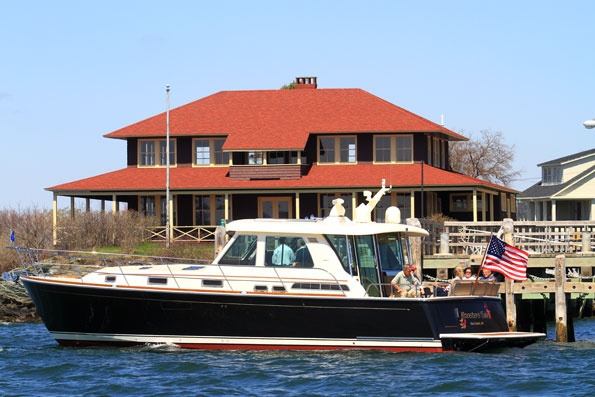 Scroll down to view more images by Jamie Bloomquist
Check out the Boat Show Issue (#116) of
Maine Boats, Homes & Harbors
magazine (on newsstands at the end of July 2011) for a detailed look at the new Sabre 48 Salon Express and to learn more about how Sabre's chief designer, Kevin Burns, and his team created this latest design.

Information and specifications supplied by the builder. Every effort has been made to ensure accuracy. However, Maine Boats, Homes & Harbors, Inc. accepts no liability in the event of any errors of fact or omission.