Biddeford Pool
A summer harbor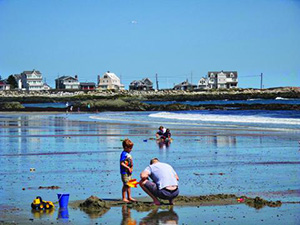 This traditional summer colony offers much variety in a small area: wide, protected beach and rocky outcroppings, plus shorebird-filled saltmarshes. Photo by Rick and Mimi Steadman
By Mimi Bigelow Steadman It's high season in Biddeford Pool, a cloistered community of shingle-style cottages at the rocky tip of a sand- and saltmarsh-bordered isthmus in Saco Bay. Summer residents and renters are doing what they've done for generations: racing Rhodes18s at the Biddeford Pool Yacht Club, playing tennis and golf at the Abenakee Club, and socializing with other families who've been coming here forever. "Sometimes we'd do everything in the same day: golf, sailing, tennis, beach. We still call that a Pool Day," said my friend Ann Souder, whose father served as rector of the Episcopal chapel every August for 19 years. "There was usually a gang of about 20 of us. After dinner, we'd play capture the flag on the golf course, or go to South Point and sit on the rocks. If there was a full moon, we'd go sailing." The summer set in those days had a busy social schedule, Souder remembered. "My parents went to a cocktail party almost every night except Wednesday, which was Little Beach family picnic night, and Sunday, which was Little Beach adult picnic night. You can't imagine the wardrobe Mother brought with her!"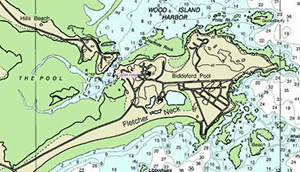 A "tied island" at the southwestern edge of Saco Bay, Biddeford Pool is attached only by a narrow land strip, or tombolo. The Pool itself is a saltwater lagoon; much of it dries out at low tide.
In 1616, Europeans who settled here christened the community Winter Harbor. Had they been able to foresee the future, they might have chosen to call it Summer Harbor, instead. It's mighty quiet in winter, with only about 150 residents, plus some 60 University of New England students who rent. Seven snowy owls did liven things up a bit when they visited last winter. Recently, I joined a clutch of Poolers (both year-round and summer residents) and tourists enjoying chowder and other take-out seafood at waterfront picnic tables behind F. O. Goldthwaite's, a seasonal general store. Fortified, I explored the broad, sandy beach (limited paid parking) and the Audubon trail that rims East Point. This timeless village draws visitors like me throughout the season, and some stay at the local B&B or sign up for a retreat at the Marie Joseph Spiritual Center, a former summer hotel. Cruisers may pick up one of two yacht club moorings in Wood Island Harbor-open to the east, northeast, and northwest-or venture into the nearly landlocked pool to a third guest mooring. The four- to five-knot tidal rip at the entrance can be challenging, even by dinghy, but it's worth the effort: the yacht club is considered one of the friendliest on the coast.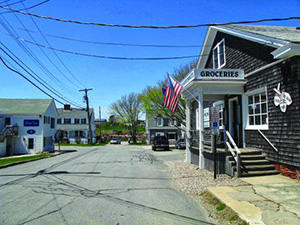 F. O. Goldthwaite's, a seasonal general store in "downtown" Biddeford Pool, is the place for provisions, lobsters, the latest gossip, and casual dining starring fresh seafood. Photo by Rick and Mimi Steadman
Its small clubhouse stands next to the fishermen's co-op, whose members moor their boats just off the dock. These days, they all commute to work. With escalating property taxes, "The last fisherman moved away 15 years ago," said local Realtor Peter McPheeters. McPheeters, who originally summered here with his parents, recalls being told as a child about the good old days gone by. Now a parent himself, he sometimes finds himself repeating the same old lament. "But even though I occasionally see kids staring at their iPhones," he said, "I think they still enjoy the simple things the Pool has to offer." Hiking the Audubon Trail on a summer afternoon is one of those simple pleasures. From its cliff-edge path, I looked across the water at Wood Island Lighthouse, said to be haunted. One day, I'd like to take the tour boat over to search for a paranormal vibe (tours leave from Vine's Landing during July and August; reservations are required). For now, I'll ponder the ghosts of summers past in Biddeford Pool. I imagine young love unfolding amid dinghy races, and first kisses stolen on seaside porches. "Yes, romances and crushes galore," Ann Souder said. Of all the infatuations, though, surely the most enduring is the one Poolers have with this summer harbor, where memories are made, and held dear. Mimi Bigelow Steadman lives on the Damariscotta River in Edgecomb and spends as much time as possible exploring Maine by land and sea.