Lake Effect
One family, one boatyard, almost 100 years
By Laurie Schreiber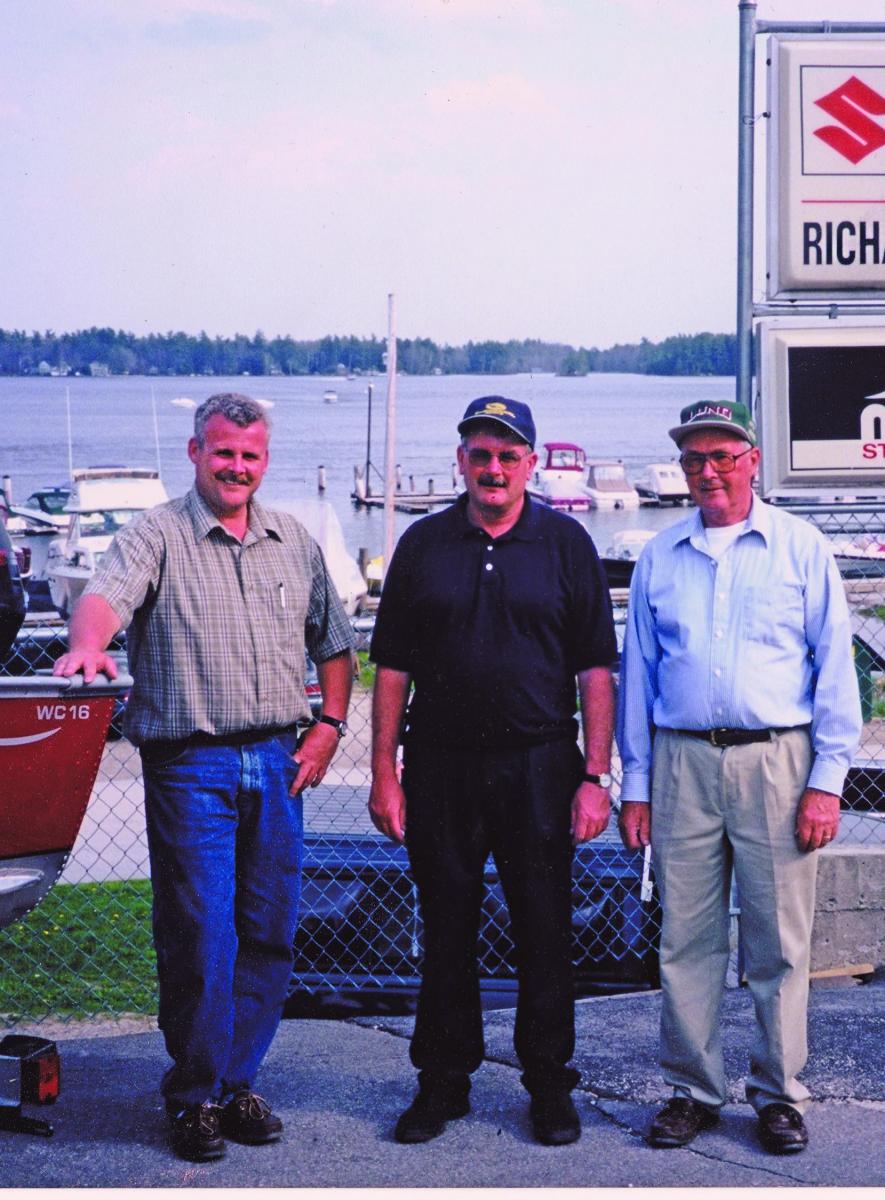 Two generations of boatyard owners, from the left, Rick and Jeff Richardson and their father, Dick Richardson, in 2000. All photos courtesy Richardson's Boat Yard Four generations of Richardsons have been offering marina and boatyard services on Sebago Lake for nearly a century. The company has grown considerably in that time, becoming a fixture in this popular recreational area, where many customers go back several generations, as well.
"Some of our customers have had boats here a long time," said Richardson's Boat Yard co-owner Jeff Richardson. "They're like family. You see them, then you see their kids, and then their kids have kids. And they're seeing your kids."
The boatyard got its start under the helm of a third-generation farmer, of all things. Jeff Richardson's great-grandfather, Arthur, had a dairy farm in Gorham and nothing boat-related in his heritage. Then around 1920, Arthur bought 300 waterfront acres on Sebago, Maine's deepest and second-largest lake, which even back then was a popular summer retreat for boating and fishing. He built rental camps along the shore and started a marina in 1921. Summers were spent cutting wood, and fixing and docking boats. Winters were spent cutting ice and storing boats. 
Arthur's son Everett took over the boatyard 25 years later. Having come up through the yard, he took to the maritime trade naturally. 
"He was a great guy," Jeff said of his grandfather Everett. "I worked with him some. He was always busy. He had an ice-cutting business in the winter; he ran the boatyard in the summer; and he moved boats all over New England."
Richardson's Boat Yard in Standish as it looked in 1952 with its dockhouse and lineup of classic wooden cruisers. Everett's son Richard started helping out at the marina when he was just a kid. One of his duties was pumping gas—back in those days six gallons cost just $1. Richard took over the business in 1975. By then, his own sons, Jeff and Rick, were involved, starting out like their father when they were kids. Jeff was 10 when he started pumping gas and selling soda. Rick was in high school when he got a job at the yard. In 1993, Richard handed off the business to his sons, who are both passionate about the area, enjoying local sports such as hunting, fishing, and snowmobiling.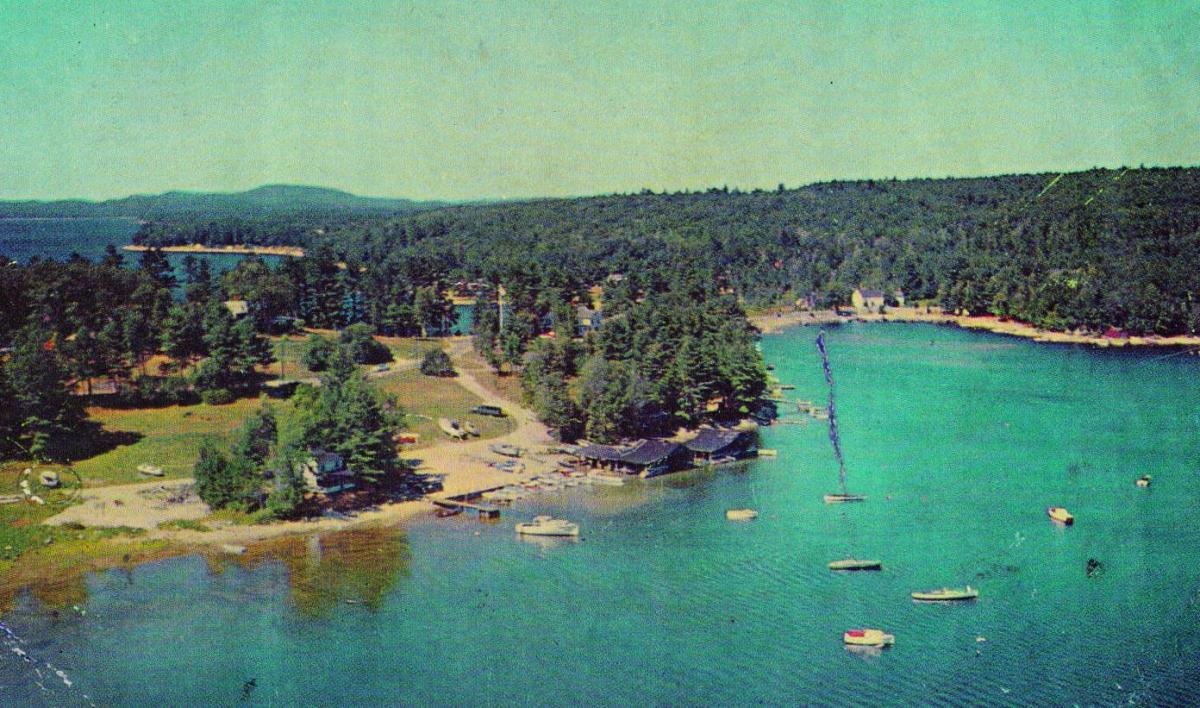 This aerial view shows the yard in 1955, just after a fire had burned the dockhouse. Today the family-owned business maintains 280 dockage slips in this cove on Sebago Lake. The business and area have changed a lot over the years. For one thing, six gallons of gas today costs a lot more than $1. Located just 20 miles from Portland, the Sebago Lake region used to be much quieter. Jeff recalls a country store in nearby Windham, where there are now two malls. The boatyard grew, partly in response to visitor demand, and partly because it created that demand through marketing. A big change occurred in the 1980s, when the yard started selling fiberglass Chaparral pleasure cruisers and aluminum Lund fishing boats. Around the same time, the Richardsons began to see fewer wood and more fiberglass boats coming in for storage and repairs. "In 1980, say, we were 90 percent wood, and in 2000, we were 99 percent fiberglass," said Jeff. "There's been a big flip-flop."
Today, the marina has more than 280 dockage slips, and the business has two locations (Windham and Standish), two showrooms, two retail stores, two full-service departments, and stores 700 boats each winter. They even sell snowmobiles. They've gone from just a few seasonal employees 50 years ago to 25 year-round staff today. Now a member of the fifth generation is working for the company. Rick's daughter, Jackie Richardson-Smith, grew up as part of a pack of cousins running around the yard; today she works in sales.
For Jeff and Rick, it's important to carry on the yard as a family enterprise. "My dad was very careful to make sure it passed on to another generation, and Rick and I are trying to figure out how to continue it forward, what we should be doing next, if we should make any changes," Jeff said. "Boat sales, for example: We went through a period of time when we sold a lot of cruisers. Now we're selling a lot of pontoon boats. You have to try to figure out what people want next."
As far as Jeff is concerned, there could be no better place to figure all that out than Sebago Lake, with its view of the distant White Mountains, the lonely sound of loons in the evening, the resurging population of eagles flying overhead. 
"When I get up in the morning, there's nothing I look forward to more than going to work," he said. "Sebago Lake is absolutely beautiful. I've got million-dollar views at my front door."
---
Laurie Schreiber has written for newspapers and magazines on the coast of Maine for more than 20 years.
For more information:
Richardson's Boat Yard marina is located at 633 White's Bridge Road, Standish, ME 04084;
207-892-4913; www.richardsonsby.com. 
Share this article:
2023 Maine Boat & Home Show

Join Us for the Maine Boat & Home Show!
Art, Artisans, Food, Fun & Boats, Boats, Boats
August 11 - 13, 2023 | On the waterfront, Rockland, Maine
Click here to pre-order your tickets.
Show is produced by Maine Boats, Homes & Harbors magazine.