Home at Last
The transformation of a kit house into a dream home
By Regina Cole
Photographs by Jeff Scher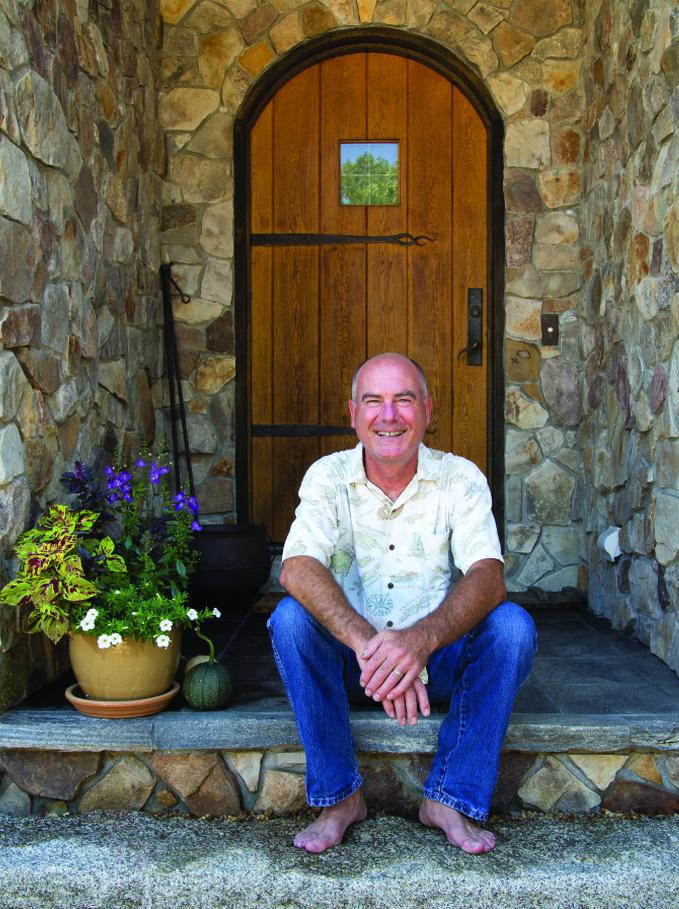 Geoffrey sits before the massive, arched white oak door he made for the front entry. The hinges were hand hammered by Parsonsfield blacksmith Tim Green. The house is L-shaped, with the entry at the center. Geoffrey and Andrea Bove were living near Boston when the terrible events of September 11, 2001, took place. They had lived in a number of different countries and states, but the attacks prompted yet another discussion about moving, this time to Maine.
They asked themselves, What are we doing? Why don't we live where we want to live? "For both of us, that has always been this part of the Maine coast," Geoffrey explained.
Andrea, a high school science teacher, and Geoffrey, a professor of neurobiology, had deep roots in the area and had talked about moving to Maine some day. Some day became now, and, in 2003, they found a beautiful piece of land on the Cape Porpoise end of Kennebunkport. The land included a house, an unfinished 22- x 36-foot log cabin that had very little going for it.
"It was rough, built from a kit," said Geoffrey. "On the inside, it was completely unfinished. And all of the land around the house was a garbage dump."
Despite its appearance, he and his wife were sure they could transform it. They wanted to grow things, keep animals, and have a place to store their boat in winter. They wanted a cozy, warm house to come home to, where they could entertain friends and family.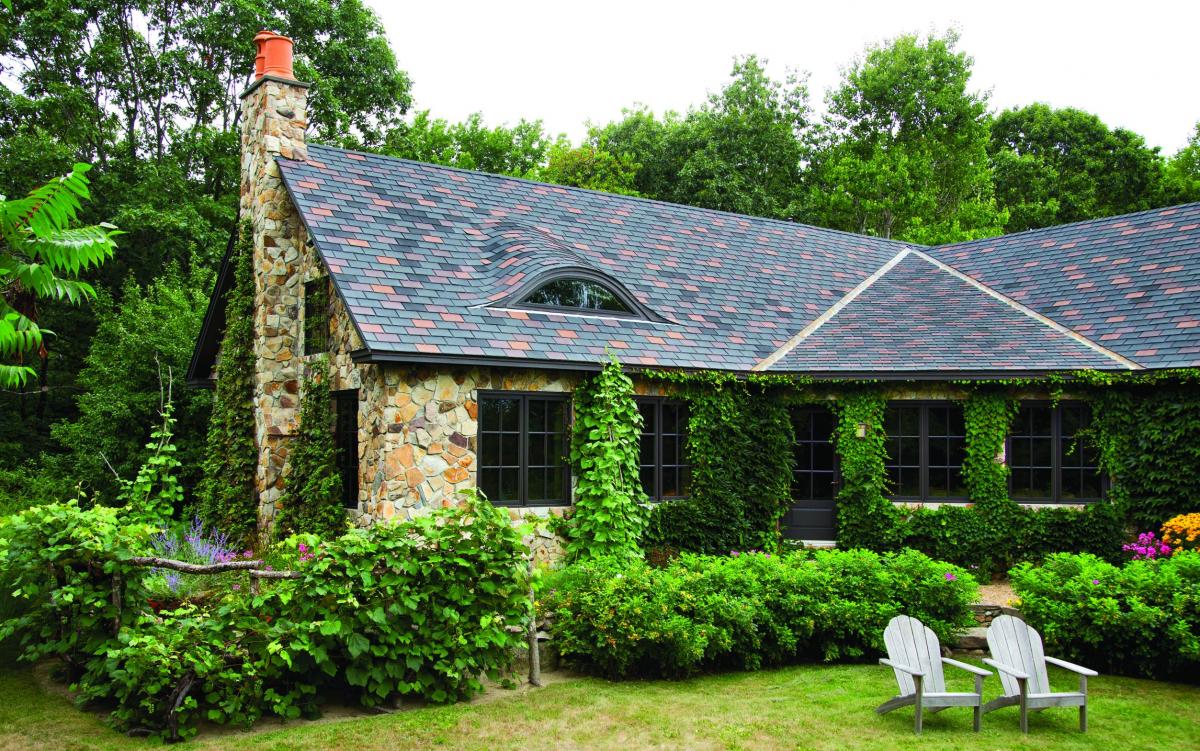 It took seven years to transform the original building on the site into the lovely home shown here.
The original building. Photo courtesy Geoffrey Bove "The log house didn't look promising, but we knew that we could make it into something special," Andrea said.
"We have good vision," her husband agreed. An inveterate craftsman and tinkerer, he is a skilled builder and fix-it man. "We have a good way of working: Andrea tells me what to do, and I do it."
Over the next seven years, the couple transformed the unlovely log structure into their dream home. With design help from architect Cynthia Howard of Biddeford, they expanded and finished it, using mostly Geoffrey's labor. The result is a 2,300-square-foot, two-bedroom, L-shaped stone house surrounded by lush flower and vegetable gardens. Across the driveway, a barn houses two mules (Clayton and Mabel), goats (Cedric and Sophie), rabbits (Opal and Vernon), and assorted chickens. The barn also provides winter storage for Marion Rose, their 1991 Bridges Point 24.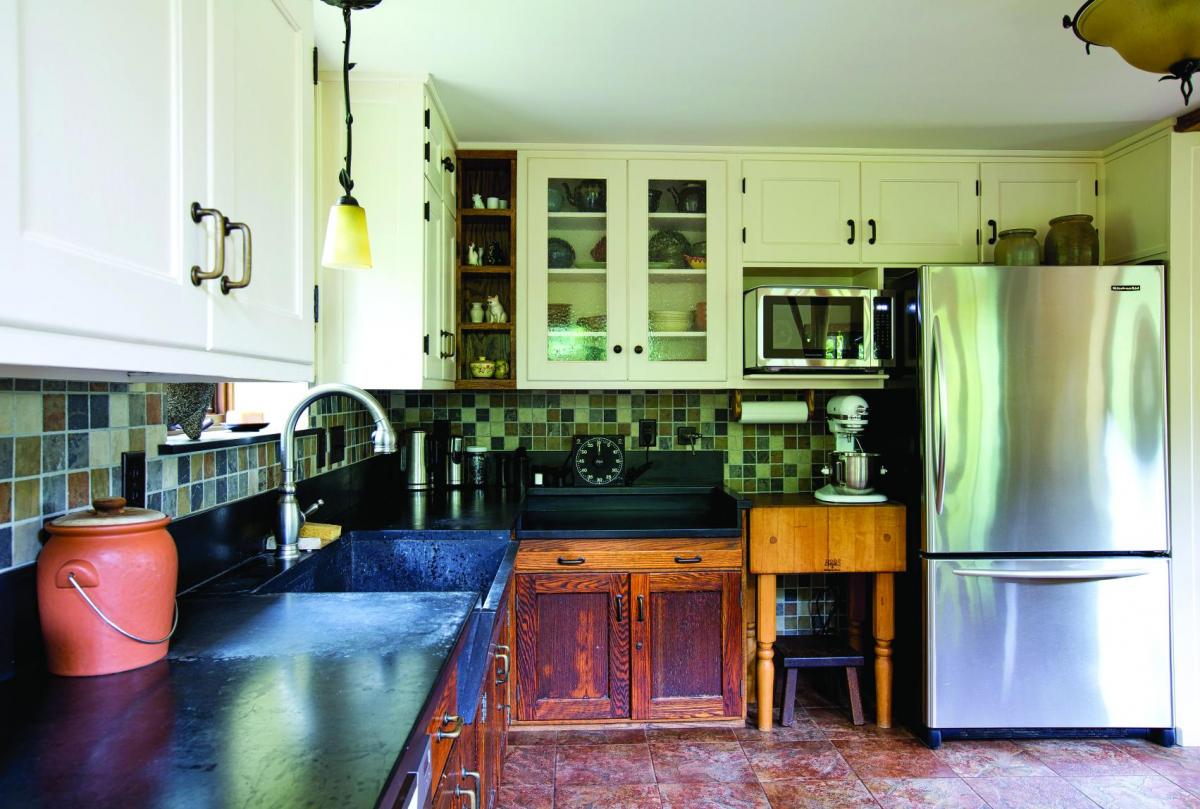 The kitchen, which is located at the center of the house, has upper cabinets made by Geoffrey, bases salvaged from the University of New England, and fire slate counters originally in laboratories at Boston's Beth Israel Hospital. The stone tile backsplash was designed and installed by Andrea.
During their years of living abroad, Geoffrey and Andrea kept lists of design inspirations, things they loved about vernacular houses in far-flung locales. On the list: picturesque stone-clad cottages, eyebrow windows, chimney pots, steeply pitched roofs, saturated colors in the living rooms, limestone fireplace surrounds, multi-paned casement windows, and massive entry doors and window lintels. They introduced each of these elements to create a charming one-and-a-half-story cottage that appears to grow up out of the ground. 
"We had been in the Lakes District in England, and had fallen for the area's stone cottages," Andrea said. "My own personal style is very much English country cottage."
She is neat and organized, Geoffrey added. "I'm the other way," he said, "but she wins."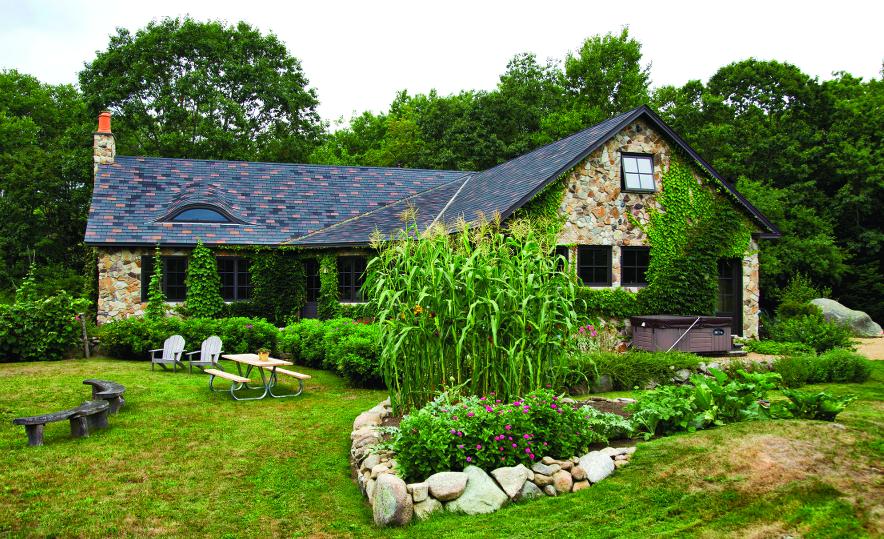 Andrea is responsible for the vegetables and perennials overflowing from raised beds that Geoffrey constructed from granite boulders. 
Things grow really well in donkey and chicken poop, they noted.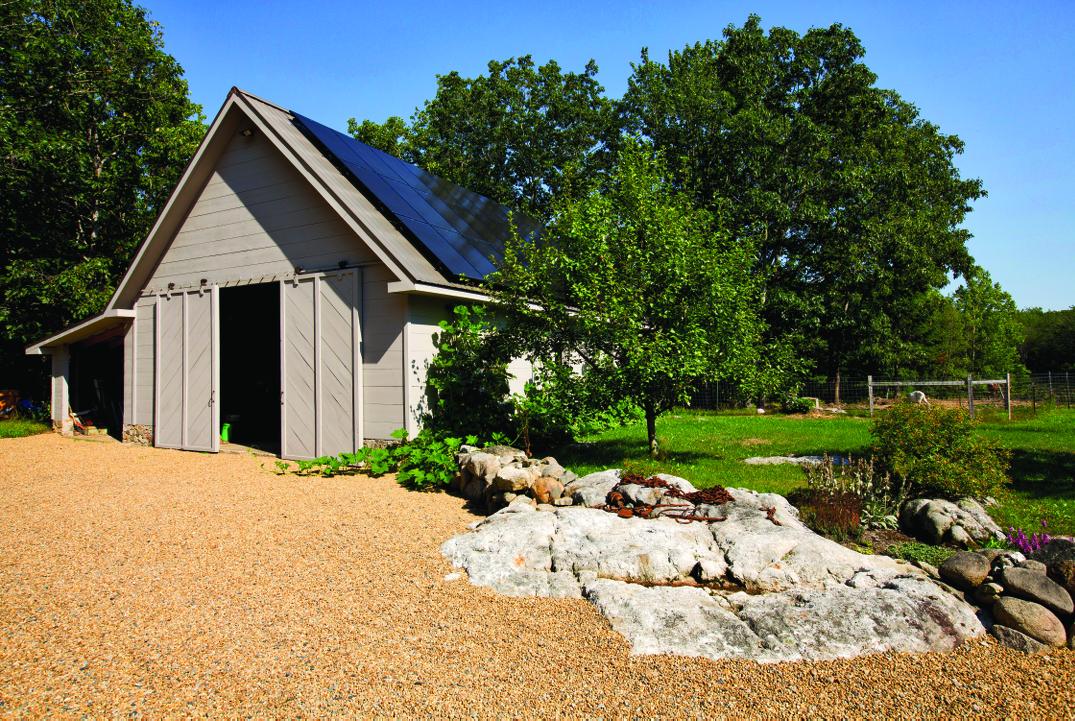 The barn houses a boat during winter months and a family of barnyard animals all year 'round.
Geoffrey created the exterior with Pennsylvania fieldstone, pouring a ledge around the house, installing copper flashing, and sandwiching drainage cloth between the stone veneer and the original log exterior walls.  
"When we go sailing, Andrea brings home rocks. I incorporated each of them; they're all in the walls," he said with a smile, as he pointed to pieces of quartz and pink granite among the earth-toned stones.
They plastered the interior walls, intentionally leaving the plaster uneven as evidence of their handwork. The kitchen is at the center of the house, flanked by the dining room and a living room that soars to a peaked ceiling. Light floods into this dramatic room from the surrounding windows, including an eyebrow high on one slanting wall. The limestone fireplace mantel, like the exterior, was inspired by English originals.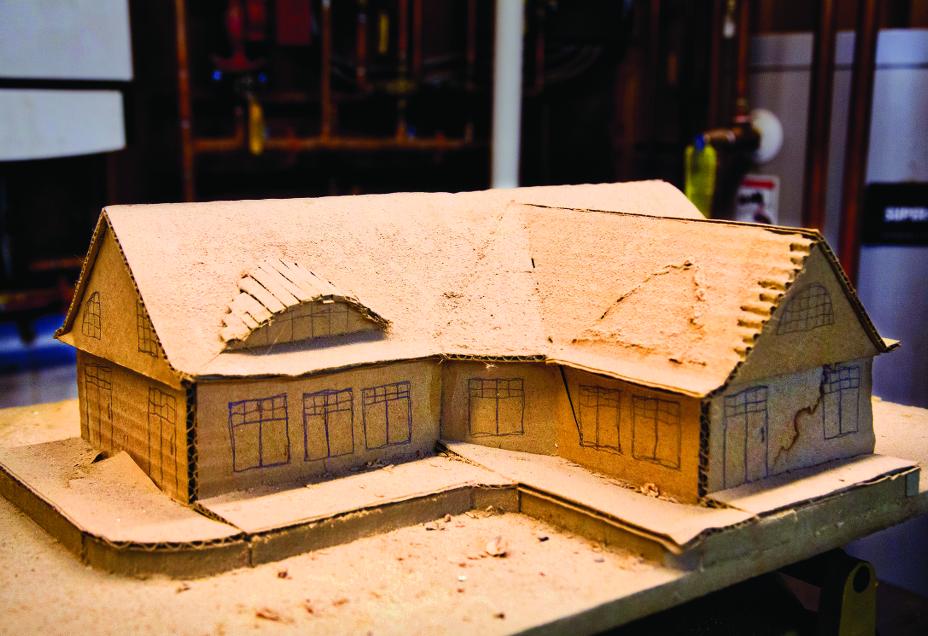 A true craftsman, Geoffrey makes cardboard models of projects, whether of the whole house, or the English-inspired limestone fireplace in the living room. "Andrea told me what she wanted, so I made a model to make sure we got the scale right," said Geoffrey, who also made a cardboard model of the house itself. "At first, it [the mantel] was too small; it's good we made it in cardboard and put it up against the wall."
They utilized recycled materials whenever possible. Geoffrey salvaged the lower kitchen cabinets, discarded when the University of New England remodeled. The countertops in the kitchen and in the bathrooms, as well as all the windowsills, are fashioned from fire slate that was originally on laboratory counters at Boston's Beth Israel Hospital, where Geoffrey worked before he found a faculty position at the University of New England's Biddeford campus. 
He has done carpentry all his life and built the upper cabinets, fitting seeded glass into several doors for pretty display. Andrea designed and installed the backsplash of variously colored stone tile.
Andrea chose saturated, lively colors for the main living rooms because they bring warmth and cheer during cold, dark months.
For each of the house's 19 windows, Geoffrey built a massive lintel out of four-by-four pieces of red oak. The walls are thick, crafted from insulation, logs, and stone. The couple installed radiant heat under the floors and solar panels on the roof for energy generation and physical comfort. Geoffrey built an imposing, arched front door of white oak; its hinges were hand-hammered by Parsonsfield blacksmith Tim Green. 
The master bedroom suite, off the living room, includes a spa bath and a luxuriously outfitted walk-in closet, all manufactured by the man of the house in his basement workshop. It is furnished with several bun-footed chests that Geoffrey built. In the corners of the bathroom mirror, which he also made, are several sweetly carved hearts, a motif that recurs throughout the house in stone, wood, and metal. 
"I give Andrea a handmade heart each year for Valentine's Day," Geoffrey said. "We have been together forever. This is a house built on our relationship and our love for each other."      
---
Regina Cole is a freelance writer who lives in Gloucester, Massachusetts. She writes about architecture, interior design, and the history of the American decorative arts for many national and regional magazines.
Share this article:
2023 Maine Boat & Home Show

Join Us for the Maine Boat & Home Show!
Art, Artisans, Food, Fun & Boats, Boats, Boats
August 11 - 13, 2023 | On the waterfront, Rockland, Maine
Click here to pre-order your tickets.
Show is produced by Maine Boats, Homes & Harbors magazine.