Touring Boothbay Harbor
Way Back When: Photographs From Maine's Past
By The Editors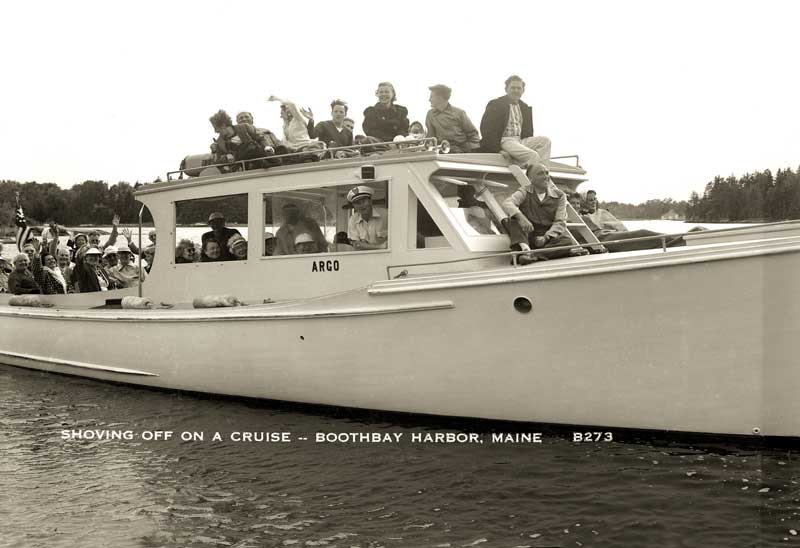 Captain Eliot Winslow, leaning out the window, is at the helm of Argo, a member of a motley Boothbay Harbor tour boat fleet that included old familiar floating antiquities, a war surplus crash boat masquerading as a PT boat, and a salty seagoing Monhegan Island packet, all competing fiercely for tourist dollars.
Before World War II, Winslow had been a paint salesman. During the war he found his true calling as the very able commander of the Coast Guard cutter Argo. In the early 1950s he had the boat pictured here built at Friendship. A natural raconteur, his business flourished, and in the late 1950s he converted a 65-foot ex-Army T-boat into a larger tour boat, also named Argo. In the winter Winslow picked up some odd work towing, which he enjoyed, and eventually a tugboat business replaced the tour boat business.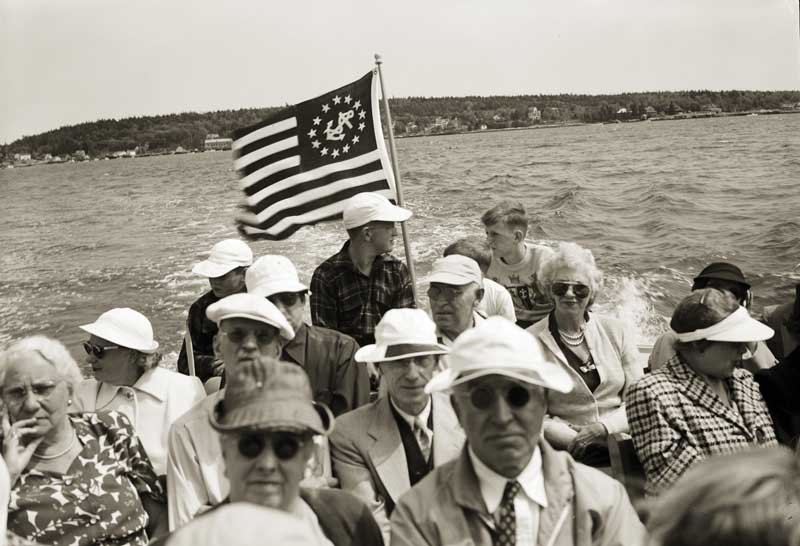 "Are we having fun yet?" Perhaps some of this grim-faced group of Argo passengers—walk-on freight—are worried about the efficacy of Dramamine, what with having to sit in the back of the boat smelling exhaust fumes. The summer trade had long been important to the Boothbay region, but the lavish Hollywood spending during filming of the scenes for the movie Carousel in 1955 is often cited as the tipping point in local attitudes regarding the separation of summer visitors from their money. That said, Eliot Winslow's reputation for giving his passengers a full measure of pleasure for their money—this load of crosspatches notwithstanding—was never questioned.      
---
Excerpted and reprinted with permission from Maine on Glass: The Early Twentieth Century in Glass Plate Photography, by W. H. Bunting, Kevin Johnson, and Earle G. Shettleworth, Jr., Tilbury House Publishers, 2016.
Share this article:
2023 Maine Boat & Home Show

Join Us for the Maine Boat & Home Show!
Art, Artisans, Food, Fun & Boats, Boats, Boats
August 11 - 13, 2023 | On the waterfront, Rockland, Maine
Click here to pre-order your tickets.
Show is produced by Maine Boats, Homes & Harbors magazine.