Finding New Niches
Lyman-Morse diversifies and thrives
By Ted Hugger
Photographs by Polly Saltonstall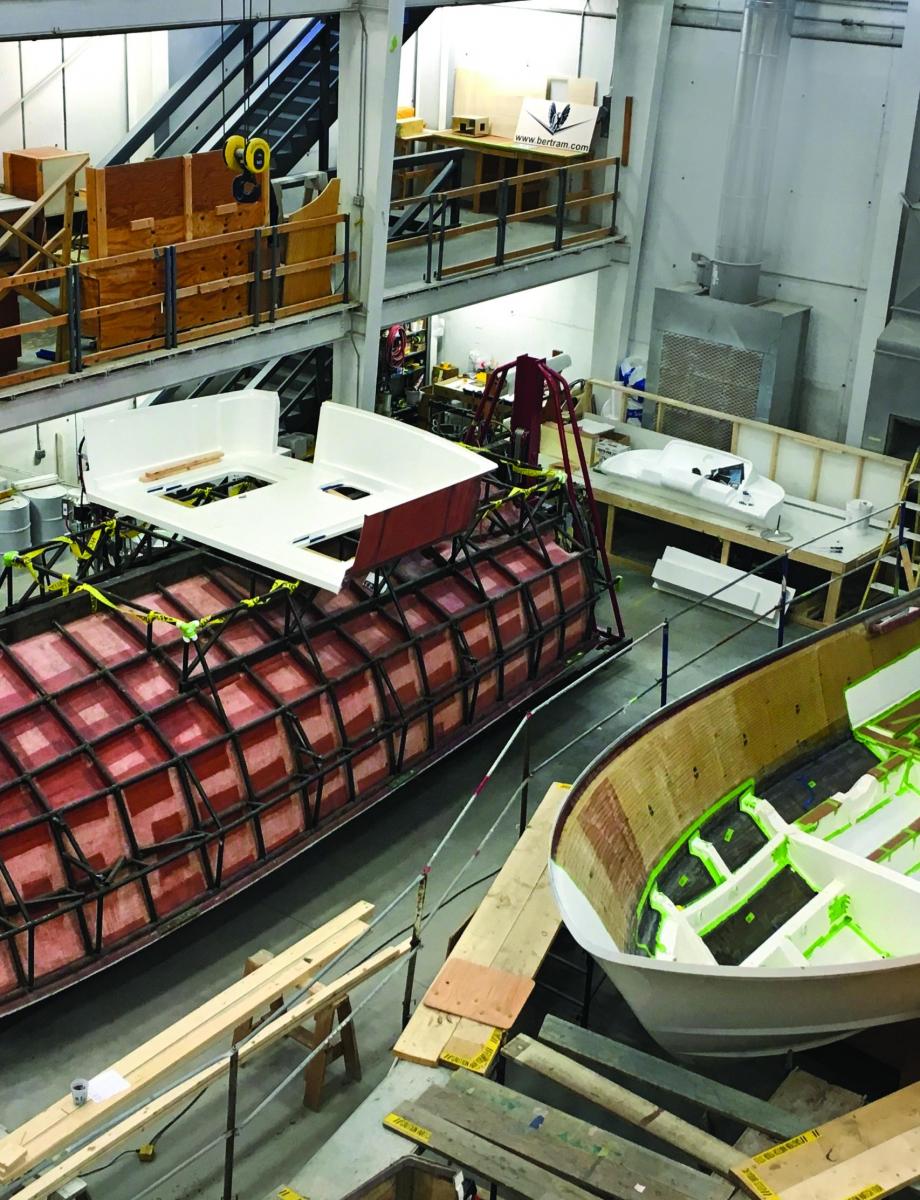 Lyman-Morse has been building two prototype Bertram 35s. Here the upside-down mold for the fiberglass hull sits next to one of the hulls under construction. An unusual meeting led to an unusual partnership between two legendary names in the marine industry. The story began at the 2015 Palm Beach International Boat Show in West Palm Beach, Florida, when Drew Lyman, president of Thomaston, Maine-based Lyman-Morse, was introduced to Bertram General Manager Susan Davids, by an acquaintance.
Bertram had recently been acquired by a division of the Gavio Group, a family-owned Italian industrial company. Planning to introduce a new 35' model based on the venerable Bertram 31, the new owners were looking for someone to build the first prototypes. "We just hit it off at the show," Drew Lyman said. "They happened to be putting feelers out to see who they liked for a new project." 
The Florida meeting was soon followed by site visits at the Lyman-Morse facility in Maine. The result was a contract to build the first two prototypes of the Bertram 35.
It's no accident that Lyman-Morse finds itself in the prototype business. Sensible diversification has become the company's mantra. Bertram is a big piece in the diversification puzzle, but other pieces also are dropping into place. The 120-employee company has seen growth in its fabrication work, canvas shop, and yard services. It has also acquired a marina, delved into real estate development, and taken on a new cold-molded yacht project.
"In this industry, it is ups and downs, ups and downs, ups and downs," said Lyman during an interview in the company's third-floor conference room. He leaned back in his chair, raising his arms over his head on every exaggerated "up," and lowering them below the table on each exaggerated "down." The company has weathered the often-crazy business cycles of the industry, and grown all the wiser for the lean years in the process. "Right now, we're on an up. And it'll come down at some point. It always does," Lyman said. "When there isn't a boat to build, you get really creative to keep your talented work crews employed."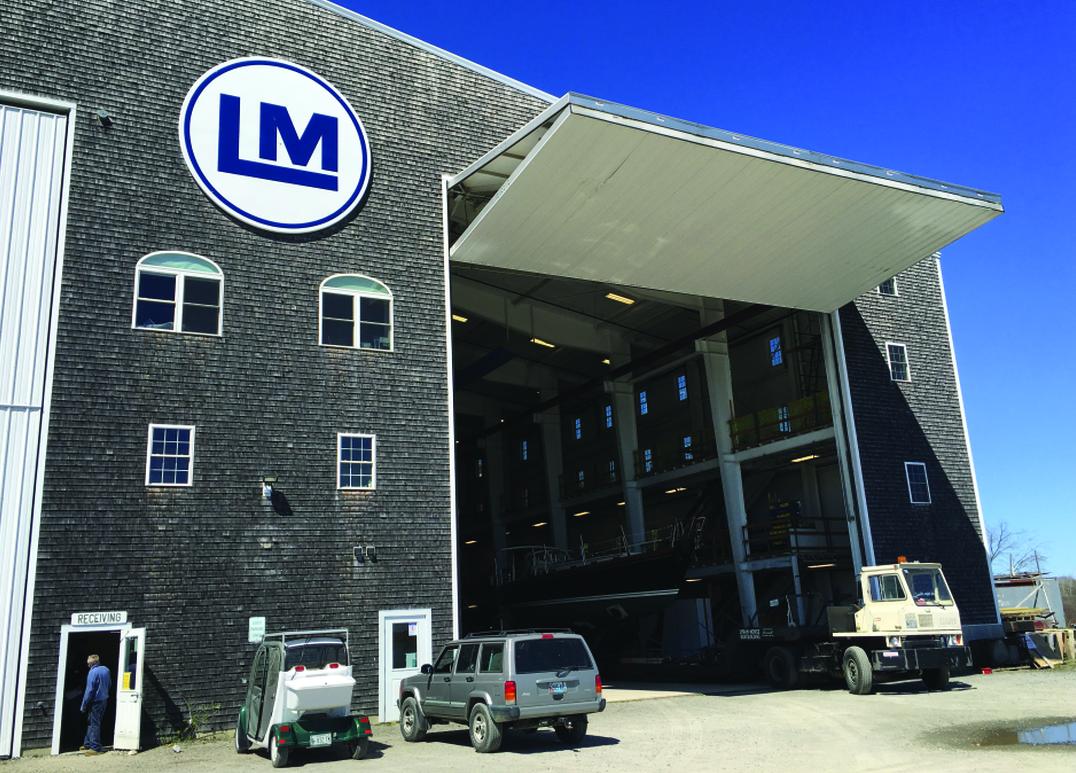 When Lyman-Morse built this new building in Thomaston in 2007, the company made sure the structure was as "green" as possible. Features include solar heating, efficient lighting, and water-saving plumbing.
As Lyman spoke, crews down below on the enormous production floor were building the two Bertram prototypes—the engines were in hull no. 1, and the decks and cockpit were being installed in hull no. 2.  
The Maine company's involvement has included guiding the Bertram team along an efficient path, from the drawing board ultimately to the full production run in Bertram's own facility. This unique collaboration with a reputable custom one-off builder essentially put Bertram a year ahead of schedule, said Bertram's Davids.
Bringing the iconic brand back to life required careful planning, she said. While Lyman-Morse has been building the two boats in Maine, Bertram has been talking to customers and working out the details of a new production facility. 
"We could have built the boats on our own but by working with Lyman-Morse, we knew quality would not be an issue," Davids said. The new boats will have been vetted, and all of the necessary tooling, production process, and technology will be ready to launch the project into full production. An added benefit was the company's location in Maine, far from curious onlookers in Bertram's home state of Florida. Bertram production managers remained involved throughout the process, making regular visits to Lyman-Morse all winter. 
While it may seem odd for a one-off builder to design the manufacturing process and build the first prototypes for a production-run boat, "It's really not that different than our existing business," said Lyman. "It's really what we do because our one-off custom boats are essentially prototypes anyway; our boats just never make it to the production floor."
The transition from custom one-off builder to prototype builder was an easy one for the Lyman team. "It's just what we do every day," Lyman said.
One challenge that the Lyman-Morse team does face, according to Lyman, is translating the process and procedure from prototype construction to the production line, to make sure that everything gets documented and incorporated into the final production plan.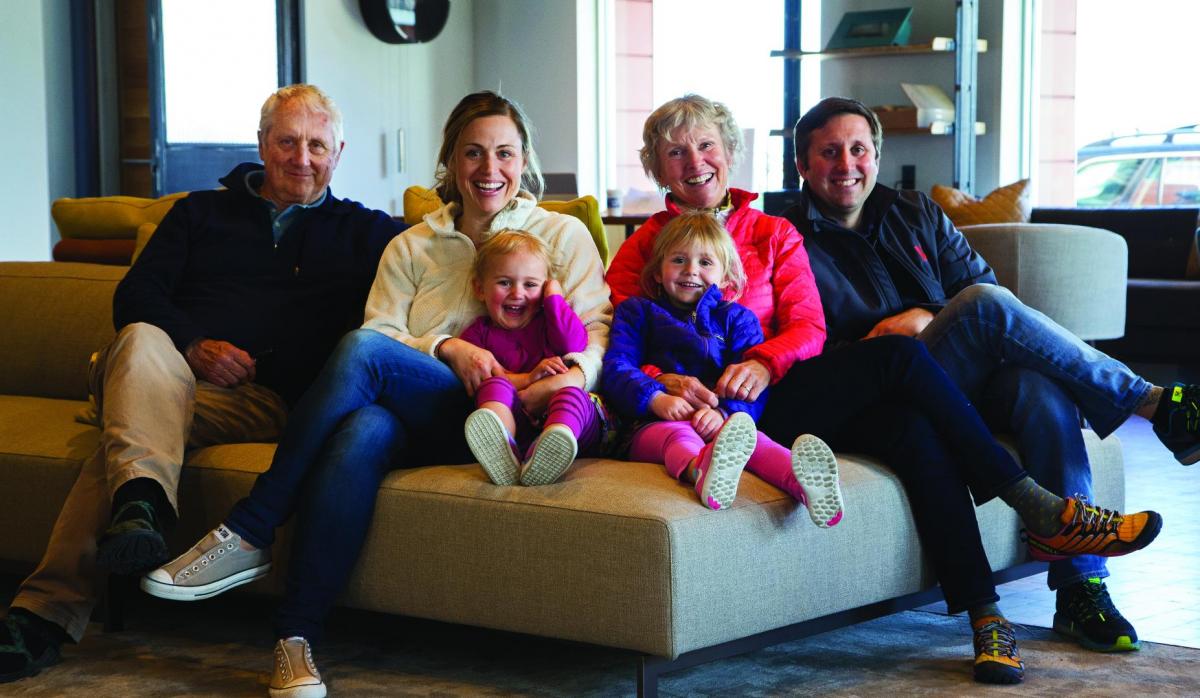 The whole Lyman family is involved in the company's various business ventures, which include the recently opened 250 Main Hotel (below). Sitting in the hotel's modern lobby are, from the left, Cabot, Mackenzie, Heidi and Drew Lyman, with Drew and Mackenzie's daughters, Emery and Hayden. Photograph by Alison Langley
Lyman-Morse was started by Cabot and Heidi Lyman in 1978 on the site of the former Morse Boatbuilding Company. Their son, Drew Lyman, became president in 2014 after several years as vice president, although his parents remain very much a part of the company.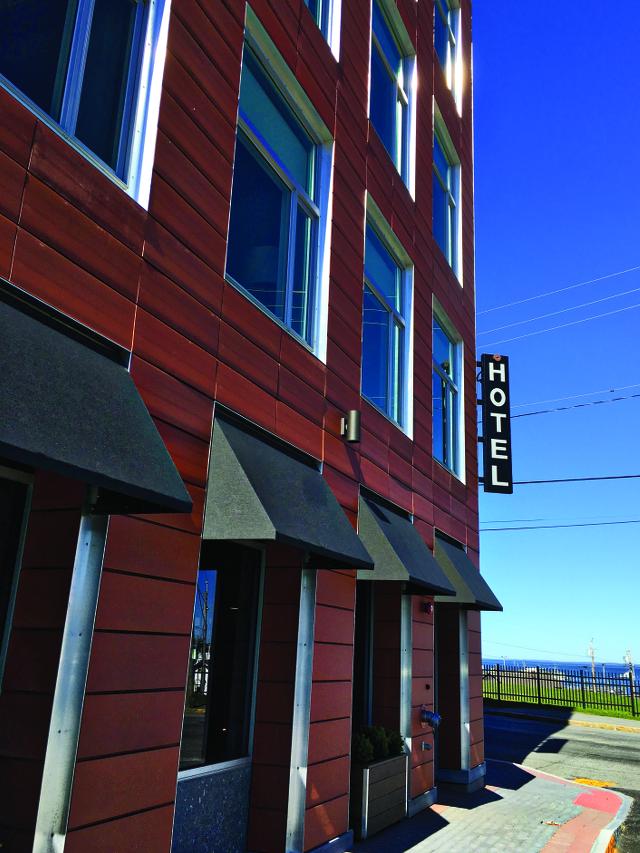 The new hotel, called 250 Main, offers luxury rooms overlooking the Rockland waterfront. It opened in May. To counteract the effects of the industry's notorious cyclical nature, the company took steps that may look organic, but are in fact, the result of significant risk-taking. In 2014, instead of putting resources into a spec boat, the Lymans bought an old building overlooking Rockland Harbor and began planning what eventually became a five-story 26-room boutique hotel called 250 Main. The hotel, which is managed by the Migis Hotel Group, opened in May 2016. "The biggest reason for building the hotel was to keep the boatyard crew cracking," Lyman said, "although soon after the work began another boat project came along.  Yet another cycle of the up and down." 
Another key component of the company's diversification was work for the Department of Defense. Using advanced composites technology developed building boats, Lyman-Morse built solar power cubes that were sold to the Army. "That, in turn, introduced us to a whole different world of Defense Department composite work," Lyman said.
Then there's the fabrication side of the business. The company won a bid on an architectural canopy structure for Baruch College in Midtown Manhattan. Fabricated out of aluminum honeycomb with stainless steel panels with an integrated stainless steel gutter system, the canopy is intended to shield the building's entrance from snow and rain. That nearly year-long project spun Lyman-Morse into the center of the architectural production world. The Lyman-Morse fabrication shop, under manager Jonathan Eagan, has also completed custom home installations, including a brass entryway canopy, staircases, tensioned railings, and artistic titanium installations for a music conservatory. 
"Obviously, we push out a lot of marine stuff, because that's our bread-and-butter, but 90 to 95 percent of our fabrication work is not marine related," Lyman noted.
Interestingly enough, the diversification projects are spinning off other opportunities. The Bertram prototypes, for example, have led to additional prototype work from other companies. "We're working with two separate customers on setting their facilities up for production runs, and we may even be doing some low-level production runs as well. These other projects have the potential to not only keep the crew cranking, but may even require additional hiring," Lyman said.
Growth has come across the company's marine business categories as well. Lyman-Morse has opened a brokerage office in Newport, Rhode Island.
In another bold move, Lyman-Morse purchased Wayfarer Marine in Camden in 2015 to enter the marina side of the business, and to obtain more waterfront access. The acquisition of the famous boatyard gave the company a more public face than it had before. It also nearly doubled the size of the Lyman-Morse team, and has allowed Lyman to move skilled tradespeople as needed between the service centers.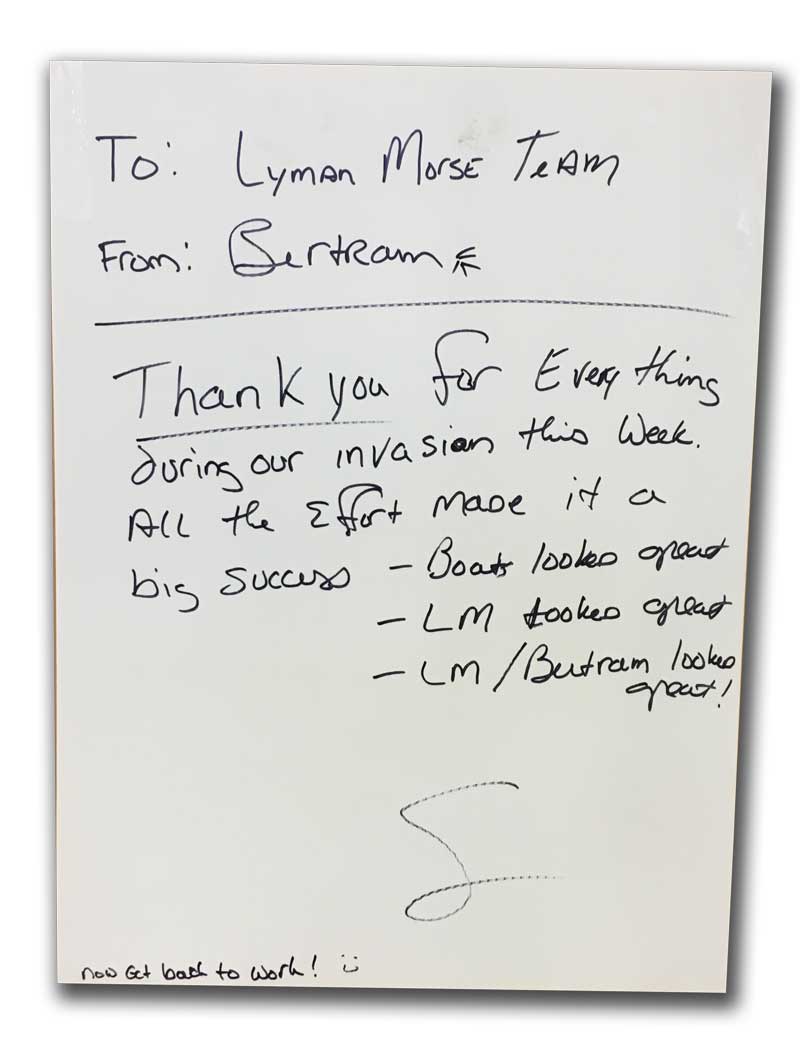 The Bertram team left this nice note on a door at Lyman-Morse after a recent visit. For example, after the spring launch season, when the yard side of the Thomaston operation slows down, Wayfarer's marina business is just kicking into high gear. Lyman can move skilled, experienced staff from Thomaston up to Camden to meet his customers' service demands, leveling out another of those seasonal up-and-down cycles, while keeping his staff steadily employed.
Along with the Wayfarer marina and service operations, the acquisition gave the company a second brokerage office in Camden, arguably the yachting mecca of the East Coast. 
"It's nice because now, once we've built or brokered a yacht, we can offer ongoing maintenance, refitting, and a great marina, too," Lyman said. "My theory is to be as all-encompassing as we can. It's important to provide full service for the owner, because that's what they're looking for today. It all boils down to relationships. My father believes that you develop a relationship with a customer, and then you keep that relationship going."
Lyman is convinced that the solid, long-term relationships that he and his family have cultivated—and that he is now steward of—generate trust. That's key, he insists, "because the only way to earn a customer's business, no matter what market you're working in, is through trust. It gets you through the inevitable ups and downs."
---
Ted Hugger owns and operates the Cod Cove Inn in Edgecomb, Maine, with his wife Jill.
For More Information:
Lyman-Morse
Thomaston, ME 
207-354-6904; www.lymanmorse.com
---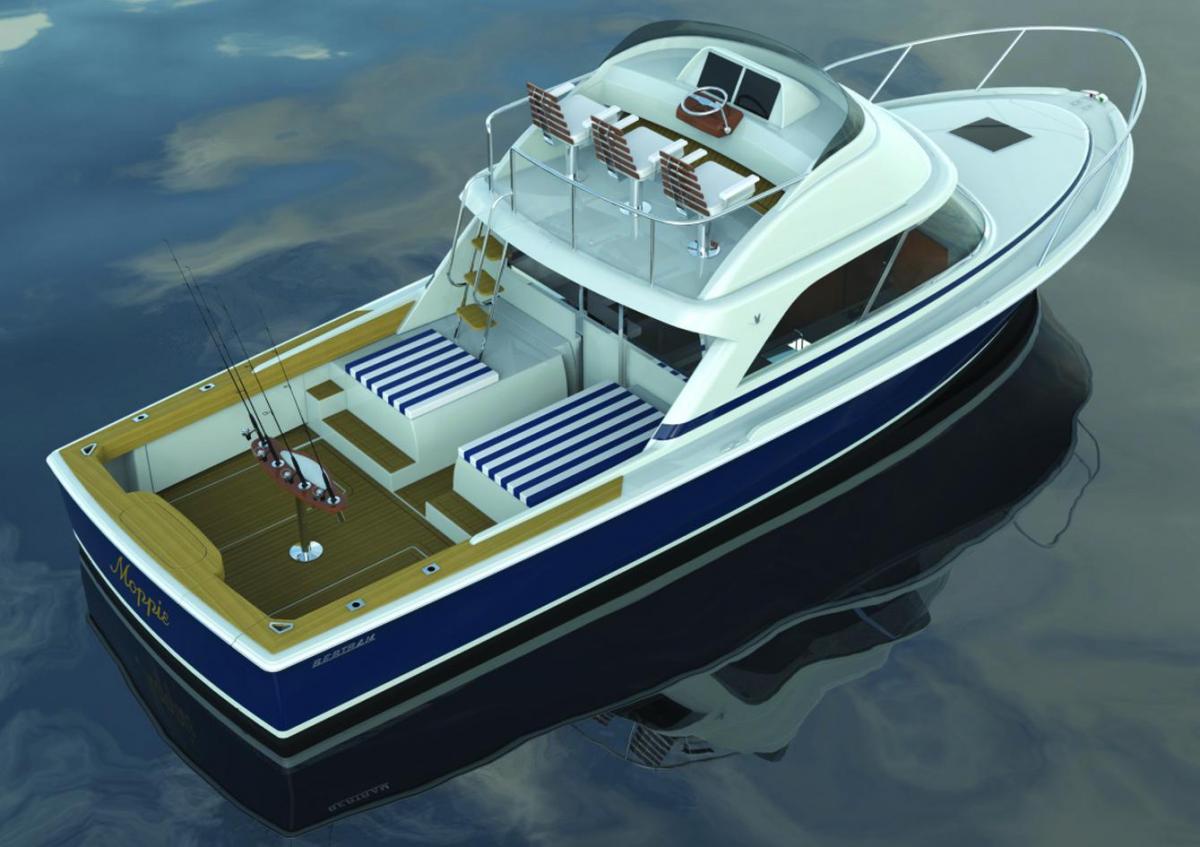 Bertram 35: Innovation Shaped by Tradition
Bertram's new 35-foot sportfisherman is designed to capture the legendary speed, fabled performance, and unparalleled sea-keeping ability that allowed company founder Richard Bertram to smash records in Moppie, the first Bertram 31, starting with the 1960 Miami-to-Nassau Ocean Power Boat Race.
Two prototypes of the new sportfisherman are being built by Lyman-Morse this year. Those boats (both of which have already been sold) are due to launch by latesummer, said Bertram General Manager Susan Davids. 
Bertram officials gave a sneak preview of the new model in May at Lyman-Morse's production facility in Thomaston, Maine. On hand were Davids, the company's newly appointed CEO, Peter Truslow, Tommy Thompson, head of product development, Vice President of Production Earl Blackwell, and Richard Bertram's son, Morgan, who is working with the company on product development. 
Thompson described the new hull, which was designed by Michael Peters, as a "35-foot Bertram 31." Interest in the new model has been very high, he said.
Construction features an infused vinylester solid fiberglass hull with Kevlar centerline and strake reinforcements accompanied by a structural grid. At half load, the projected displacement is 20,800 pounds. The 35 will draw just 2'6", thanks to deep propeller pockets within the hull. 
The new 35 will initially be available in two configurations—one for fishing and another for cruising. The substantial cockpit will provide room for anglers to work and cruisers to relax. Interior highlights include a private forward stateroom, enclosed head, and a large salon and galley area.
Powered by twin 460-hp Caterpillar diesels, the 35 is expected to hit 40 knots with the throttle full forward. Engine access will be through two engine boxes in the cockpit that will also serve as mezzanine seating.
The company plans to begin production of the line at a new facility "somewhere in the south" by fall. Two or three more Bertram 35s will be built in 2016 and the company hopes to ramp up to 12 in 2017, Davids said. As of early May, orders had been placed for six boats.
Also on the drawing board is a 58-foot model. 
Bertram was purchased in 2015 by Argo Finanziaria, a division of The Gavio Group, a family-owned Italian industrial company headed by Beniamino Gavio. Gavio has said he was inspired by a Bertram 54 that he bought in 1999. 
Bertram 35
    LOA  35'1"
    LWL  31'5"
    Beam  12'5"
    Draft  2'6"
    Displ. (at about half load ) 20,800 lbs.
    Power  2 Caterpillar C7.1 diesels
    Top Speed  40 knots
    Builder  
    Bertram Yachts
    Fort Lauderdale, FL
    954-401-1070; www.bertram.com    
Share this article:
2023 Maine Boat & Home Show

Join Us for the Maine Boat & Home Show!
Art, Artisans, Food, Fun & Boats, Boats, Boats
August 11 - 13, 2023 | On the waterfront, Rockland, Maine
Click here to pre-order your tickets.
Show is produced by Maine Boats, Homes & Harbors magazine.