Bears, Boats, and Boules
Artist Cynthia Stroud connects to nature, community, and the universe
By Carl Little
A few years ago, artist Cynthia Stroud heard that the Kisma Preserve in Trenton, Maine, had taken in two orphan yearling bear cubs. She spent hours at the wildlife sanctuary watching them and delighting in their amazing flexibility. She then captured the bears' playful nature in a series of small bronzes in which they romp, roll, and tumble—and even perform high kicks: Can-Can features a chorus line of three small bears in a Rockettes-like pose.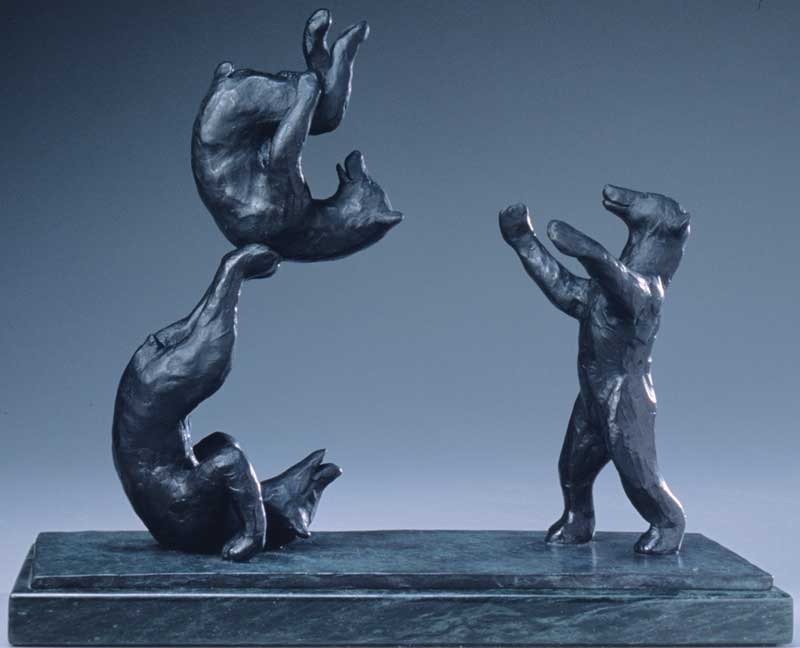 Bear Trio, a bronze from 2001, offers ursine acrobatics. Image courtesy the artist. Photo by Ken Woisard Photography
Bears are just one of many creatures in Stroud's menagerie. Over the years she has sculpted foxes, seals, bobcats, dolphins, otters, and penguins. Her animals are graceful and winsome, dynamic and endearing. Nose in air, an otter paddles by; a fox tucks its head in its tail; a contented alligator lounges. "I choose subjects in order to capture the nuances of gesture and energy in motion, to document the intricate dance of beings in nature," she said.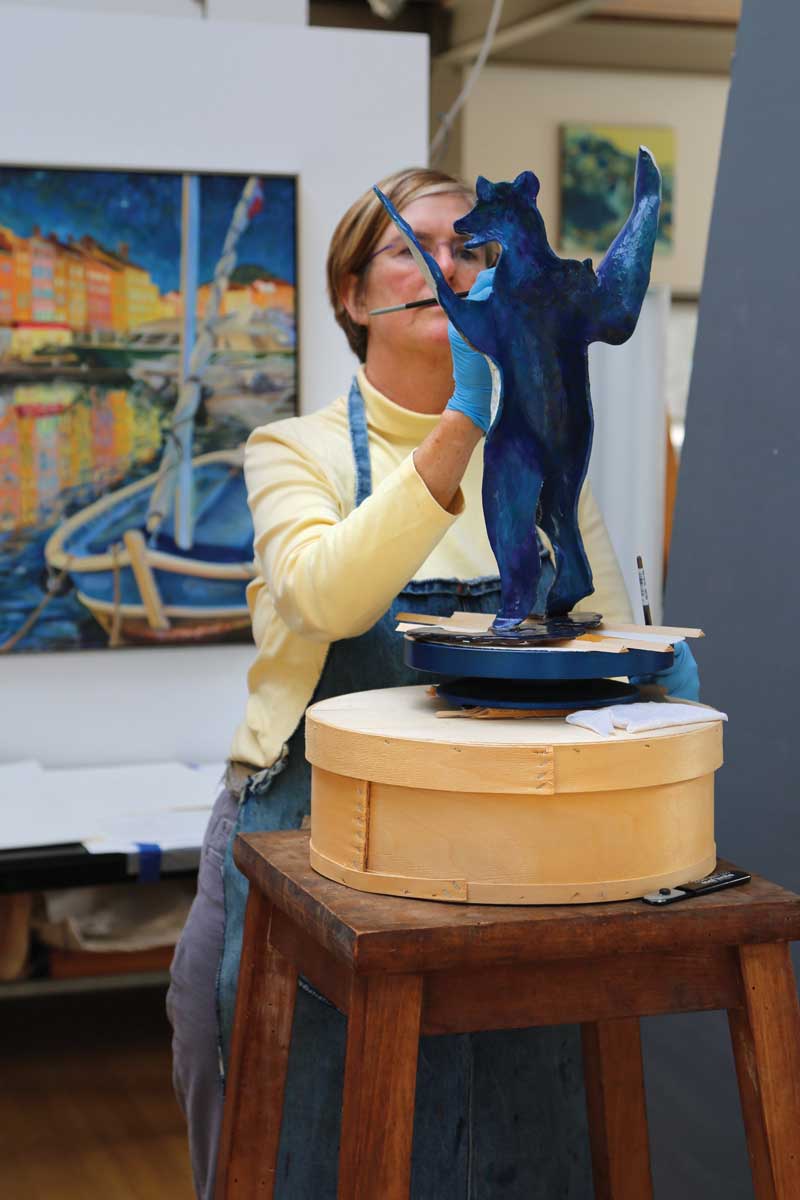 Cynthia Stroud applies paint to Night & Day Bear, 2016, unique bronze, in her studio in Brooklin, Maine. Photo by Susan Shaw. The patina of each sculpture matches its subject: a reddish cast for the fox, aqua for a pod of dolphin, a rich black for a panther. The surface of the bronzes often reveals the marks of their maker, adding to the animated quality of the work. 
Stroud's most recent work includes flocks of birds in flight. Inspired by the murmurations of blackbirds that used to fly over her family's Pennsylvania farm, she wanted to simulate motion in space while creating larger, but not heavier, sculptural works. The birds are welded onto thin stands cast from lengths of rattan and bittersweet vine. 
Stroud's bronzes are cast at the Somerset Foundry in West Bath, which is run by Digby Veevers-Carter. Born in the Seychelles and raised in England, Veevers-Carter studied sculpture in New York City before launching a foundry in Truro, Massachusetts, in 1998; he moved the operation to Maine in 2002. He invites Stroud to be directly involved in the casting of her work, something that would not be possible in a larger foundry. In assembling one of her flock-of-bird pieces, for example, she holds the pieces in place while he welds.
Born in 1957, Stroud grew up on her family's dairy farm in Chester County, Pennsylvania. She remembers the cows in the pasture, and watching calves being born. She would wander off across the fields, on foot or pony, "to the consternation," she said, "of anyone who was watching over me." The farm was only a few miles from the New Bolton Center at the University of Pennsylvania's School of Veterinary Science. Stroud interned there and fully expected to become a large-animal veterinarian later in life. This ambition continued until the end of her first year at Trinity College in Hartford, when she transferred to the Maryland Institute College of Art to pursue her creative passions.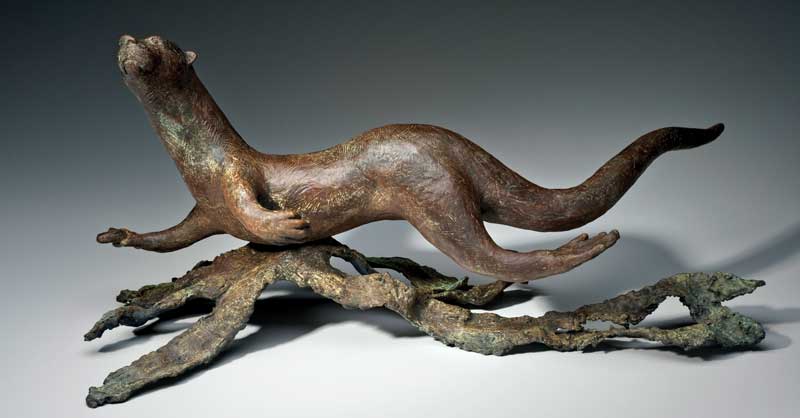 Cynthia Stroud's menagerie includes this slim mammal, Swimming Otter, bronze, 2010. Image courtesy the artist. Photo by Ken Woisard Photography
Art had been a part of her life from the beginning. Part of a large family—she was the sixth of seven children—she remembers with distinct pleasure the times alone she had with her mother, Joan, who passed away in 1985. One such moment involved going to the shore in Northeast Harbor, Maine, at low tide one summer day when she was three. Mother and daughter created "Lady Lucy" out of rocks, seaweed, and shells. 
Another formative art experience involved rug designer (and Stroud's namesake) Cynthia McAdoo, whose husband had been a college classmate of Stroud's father. McAdoo (1920-2015) was commissioned to paint a mural in the Strouds' home depicting scenes of family activities. Stroud, aged five at the time, was invited, along with her brother Morris, to paint a small section behind a swinging door. While critical of her contribution, she recalls wanting to be a painter after watching McAdoo work on the mural. When Stroud was eight, her father arranged to have her pose for the well-known figurative sculptor Richard Miller at his studio in SoHo. Although somewhat embarrassed by the experience, she was excited by this glimpse into the life of an artist. She also visited a foundry for the first time.
Stroud's family had close connections to the art world. Her grandmother on her mother's side had been a friend of the landscape architect Beatrix Farrand, as well as the sculptor and author Malvina Hoffmann. Both of her parents collected art. Her father would spend his lunch hour with the painter Leonid Berman visiting New York City galleries. An early Picasso, a Gauguin monotype, paintings by Rothko and Miró—these and other treasures hung in their homes. 
In 1977, Stroud accompanied Berman's widow, the world-renowned harpsichordist Sylvia Marlowe, on a trip to Paris. Staying in an apartment near Notre Dame where James Joyce had lived, they made the rounds, meeting Sonia Orwell, widow of George Orwell (and said to have been the model for Julia, the heroine of Nineteen Eighty-Four), the surrealist artist and writer Dorothea Tanning, and other of Marlowe's art and literary acquaintances. The trip reinforced Stroud's desire to become an artist. 
A number of teachers and mentors provided guidance and inspiration along the way, including sculptors Arthur Benson, Roger Majorowicz, and Doug Baldwin, and painters Barry Nemett and Ray Allen (who became the first dean at the Maine College of Art). After receiving her BFA from MICA in 1978, Stroud pursued further studies at the Philadelphia College of Art, the Pennsylvania Academy of Fine Arts, New York University, Parsons School of Design, and The New School for Social Research. She continued to expand her repertoire of mediums while focusing on sculpture.
In 2000-2001, she had a studio built in Brooklin, Maine, that would accommodate her many artistic interests. Elliott + Elliot Architecture in Blue Hill designed the spacious building, with Bruce Norelius serving as lead architect. Both floors of the modern structure are divided into workstations, allowing Stroud to move freely among mediums: clay, stone, collage, oil painting, and photography.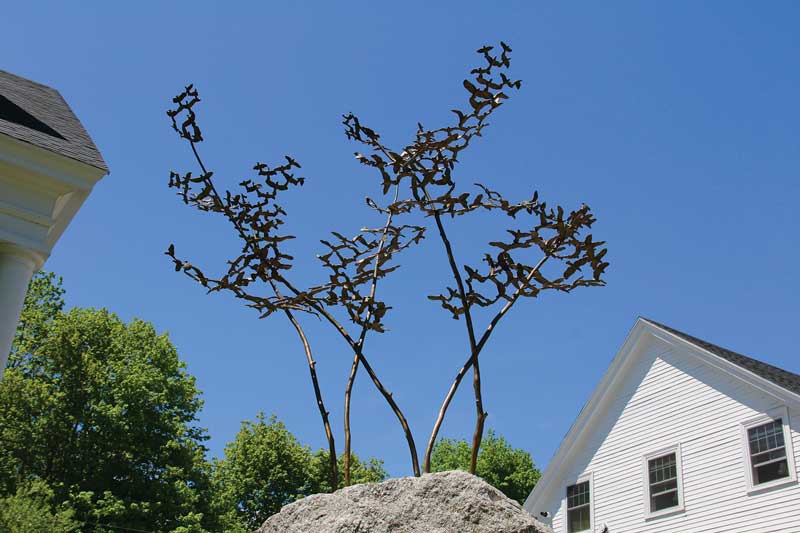 Stroud's recent work includes flocks of birds, such as Isle of Skye, 2015, unique bronze on granite. Photo by Stephanie Desmond
Stroud plays no favorites when it comes to materials. She loves wax for modeling because it's light, but clay she finds is a "more elegant, more immediate material." She also works in terracotta, to which she sometimes adds a glaze. She actually started out carving in wood, inspired by Charles Savage, who designed and carved the gates to the Thuya Garden in Northeast Harbor. She grows impatient with stone, but still loves it, while the monotone of bronze will send her back to painting.
The studio doubles as a showcase for Stroud's work. Along with a number of animal sculptures, including a dramatic rendering of two bustards fighting for a perch and several decorated terracotta bears, there is Cecile, a dazzling painting of the waterfront in St. Tropez. Stroud showed a group of these waterfront paintings at the Judith Leighton Gallery in Blue Hill, her dealer from 1990 to 2008. Inspired by photographs of various harbor views along the coast of southern France, the paintings often feature a sloop or two anchored in shimmering water.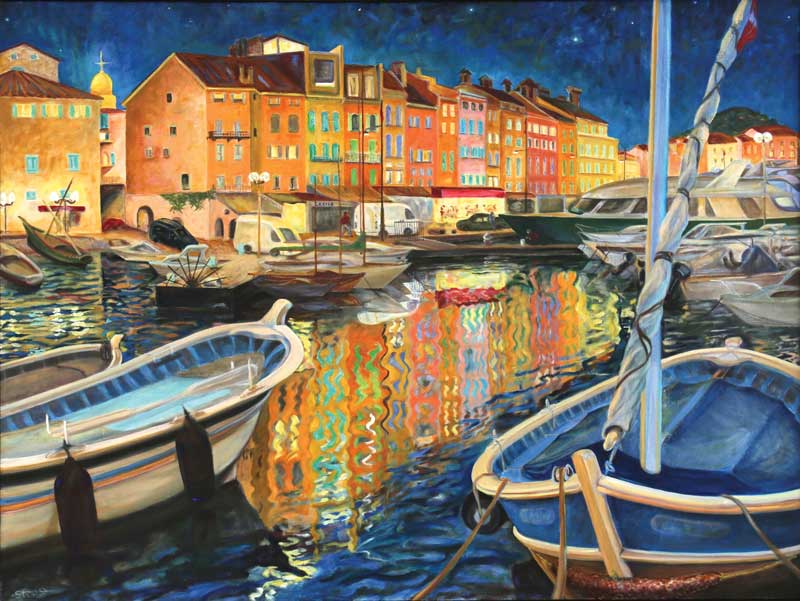 Cecile, Stroud's 2004 oil painting of the St. Tropez waterfront, inspired pianist Paul Sullivan to compose a piece for a traveling art, performance, and poetry program that was organized by musician/songwriter Con Fullam in 2011. Image courtesy the artist. Photo by Stephanie Desmond
Various boats also appear in Stroud's palette knife paintings. Friendship sloops and schooners, dories and dinghies, float on small wood panels. Stroud painted a number of these in 2005-2009 when she was focusing on patterns of light on water. She was interested in how the smooth wood surface "both distorted and defined the structure and buoyancy of the wooden boats."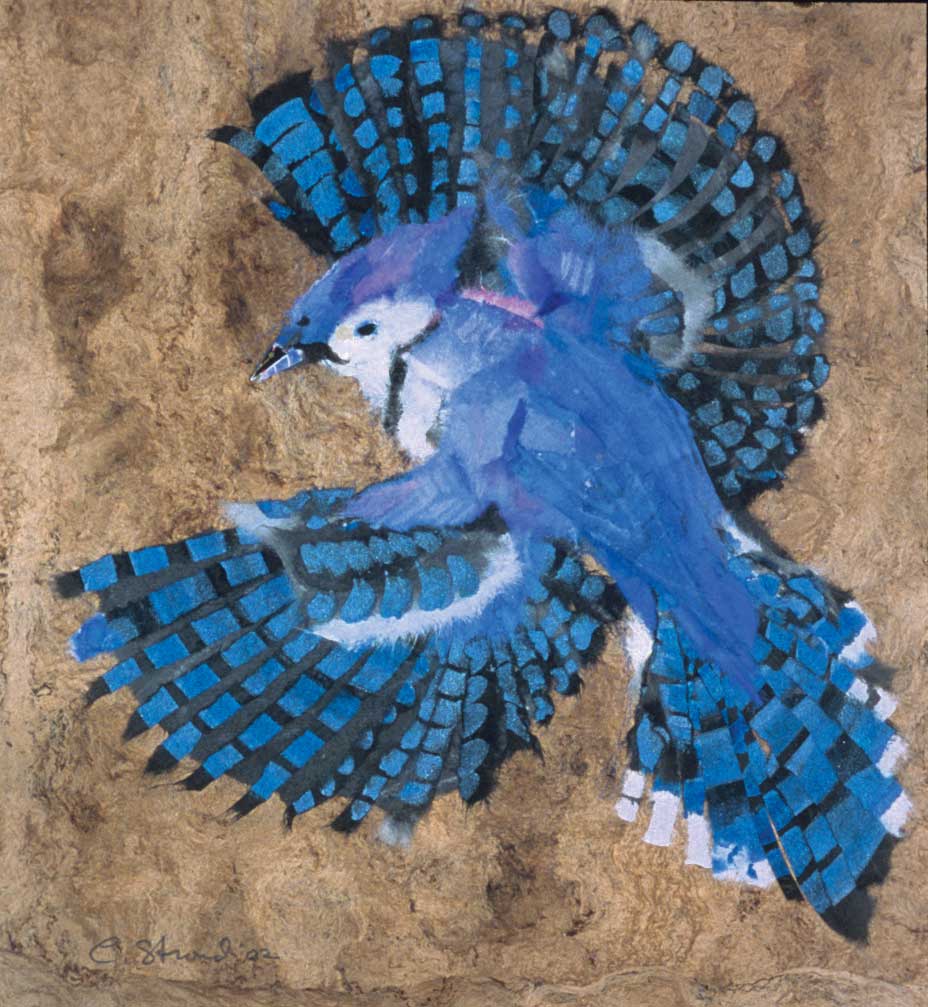 Stroud's collages, including Blue Jay, 2002, feature colorful layers of fine art paper and textiles. Photo by Ken Woisard Photography Stroud's collages reflect her love of materials and textures—and a family background in textiles. On rigid supports she affixes fine art paper purchased from several sources, including Virginia Sarsfield's Handmade Papers Gallery in Brooklin. She often paints the paper herself, in watercolor and acrylic, adding a variety of fabrics, including French lace ribbons and kimono scraps found in New York City's garment district, as well as in Japan and in specialty shops. Her subjects come from the animal world: owls, bears, puffins, sea dragons, and a blue jay with feathers spread in a lovely fan-like shape.
Stroud began coming to Maine in the summer as an infant. She has fond memories of bicycling around Mount Desert Island or spending a foggy day making model boats in her family's living room. As she and her six siblings grew, the home in Northeast Harbor could not accommodate everyone's schedules and families.    
Wanting to spend more time in Maine, Stroud and her partner, Dr. Susan Shaw, whom she met in New York City in 1980, bought an island in Jericho Bay where harbor seals pupped. They also purchased a wooden boat named Little Bear, a launch designed by Murray Peterson and built by Norman Hodgdon in Boothbay Harbor in 1965. Eventually, Little Bear carried the pair to Brooklin. They rented in the area for awhile before deciding to build a home. "The more we were here, the more we dreaded going back to New York," the artist explained. 
In 1990, Shaw, a pioneering ocean conservationist, founded the Marine Environmental Research Institute in Blue Hill, a nonprofit dedicated to seal research and human and environmental health studies. 
Stroud loves her Maine community, which boasts a number of writers and artists—and pétanque players. In 2002, she took up this bowling game, also known as boules, when neighbors invited her to play at their house, with a potluck supper afterwards. Under the auspices of the Maine Boules Club, whose home court is located at the Boatyard Grill in Brooklin, Stroud has competed across the country and around the world, and has won a number of championships.
Brooklin has become Stroud's true north, a place for work and play—and contemplation. With beauty as a driving force, the artist has found a sense of peace and calm in a part of Maine where the moon overhead draws her "to the night, the tides, the earth" and where she can see space and "our place in the vast universe."      
---
Carl Little's most recent book is Art of Acadia, co-written with his brother David Little and published by Down East Books (2016).
Stroud is represented by Courthouse Fine Art in Ellsworth, Star Gallery in Northeast Harbor,
Turtle Gallery in Deer Isle, and June LaCombe in Pownal.
Share this article:
2023 Maine Boat & Home Show

Join Us for the Maine Boat & Home Show!
Art, Artisans, Food, Fun & Boats, Boats, Boats
August 11 - 13, 2023 | On the waterfront, Rockland, Maine
Click here to pre-order your tickets.
Show is produced by Maine Boats, Homes & Harbors magazine.