Peaks Island
Spirit of Tradition
By Mimi Bigelow Steadman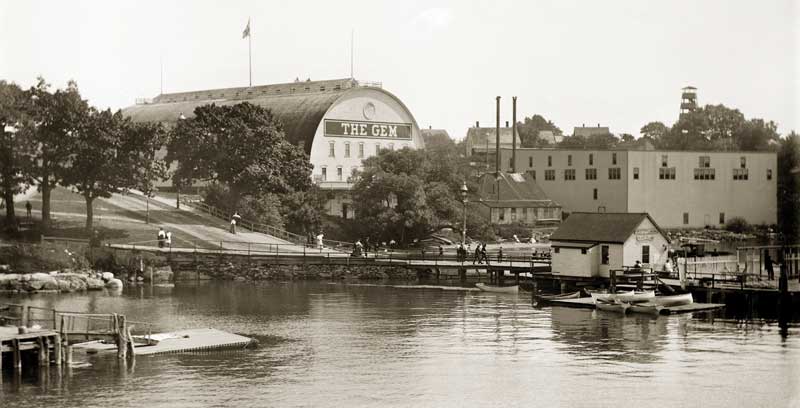 Once a landmark overlooking Peaks Island's harbor, The Gem was one of Maine's first summer-stock theaters. The imposing structure was built in 1884 as a roller-skating rink and converted to a theater in 1898; it burned down in 1934. Photo courtesy Penobscot Marine Museum
All summer long, waves of visitors flow onto Peaks Island with every arrival of the ferry from Portland. Year-round residents—about 900—and summer folk sometimes say it's a bit much. Yet it's far from a new phenomenon for this 1-by-2-mile, Casco Bay island just 3 miles and a 20-minute ferry ride from the Portland waterfront. Things used to be even busier.
"In the 1870s, a dozen ferries brought several thousand visitors here every day throughout the summer," Kim MacIsaac told me as I climbed into her golf cart. A fourth-generation Peaks Islander, Casco Bay historian, and owner of Peaks Island Tours, MacIsaac said Peaks was called "The Coney Island of Maine," and described a boardwalk that once stretched for a mile and a half along the shore.
Nearby, I pictured families in Gay Nineties garb enjoying Greenwood Garden's Ferris wheel, carousel, live-animal exhibits, bandstand, merry-go-round, midway, and beerhaus. By the 1920s, MacIsaac explained, Americans' changing travel habits, as well as several fires, shut the old amusement park down. All that remains is the Greenwood Garden Playhouse, built as a roller-skating rink in the 1880s, transformed to a theater in the 1890s, and still putting on shows and concerts today. 
Unlike some other resorts along the Maine coast, Peaks was never a destination for the wealthy. Instead, blue-collar workers and their families came to feast on shore dinners and dance at old-fashioned "casinos" (no gambling involved). Those who stayed a while found accommodation in 16 hotels, several large tent campgrounds, and clusters of modest cottages, more than 600 of which were built between 1880 and 1915.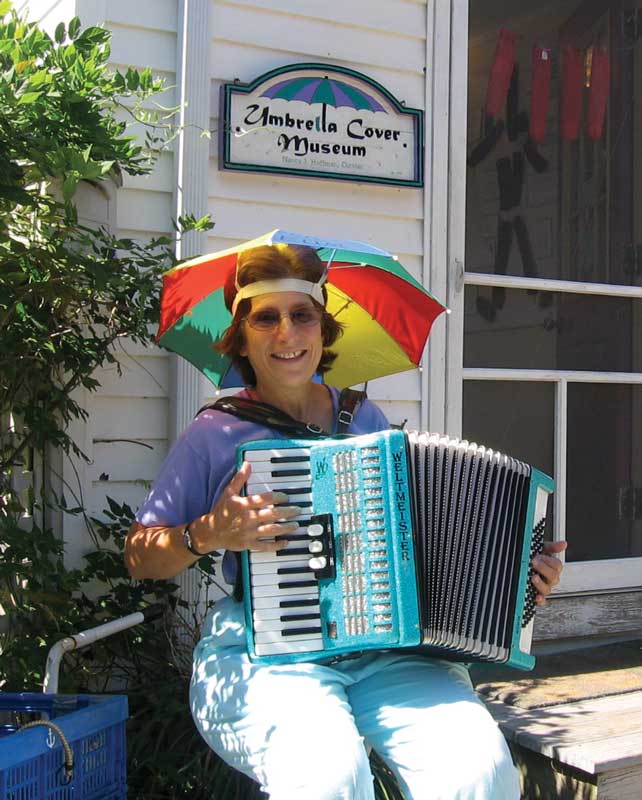 Curator Nancy 3. Hoffman serenades visitors to her Umbrella Cover Museum on the accordian. Photo courtesy Nancy 3. Hoffman Today, Peaks Island offers quieter pursuits to daytrippers and to vacationers who rent one of the vintage cottages or book a handful of other lodging choices. The village has half a dozen or so eateries, an ice-cream shop, and a few boutiques and galleries. There's also the wacky little Umbrella Cover Museum, containing the Guinness World Record collection—more than 2,000—of umbrella sleeves (yes, really); and the 5th Maine Regiment Veterans Reunion Museum, built in 1888 as a Civil War veterans' summer retreat and now home to displays on that war and the island's history. 
Most visitors venture beyond the village on foot, bike, or rental golf cart (there are few cars) to small beaches and rocky shores. A four-mile loop road also leads to reminders of the island's strategic role during World War II. With some 900 soldiers stationed at the Peaks Island Military Reservation, it served as operation central for the protection of South Portland's shipyards, where more than 200 Liberty ships were built, as well as Portland harbor and the coastline from Kennebunk to Popham.
Some 50 structures included barracks, lookout towers, and a range-finding station. Among the few that remain is one that controlled mines laid throughout the bay, and the 300-foot-long Battery Steele, whose 18-inch-thick, steel-reinforced concrete walls sheltered two 16-inch guns capable of firing shells weighing more than 2,000 pounds a distance of nearly 30 miles. While the huge guns were never discharged in combat, test firings created tremors that broke windows on the other side of the island and, MacIsaac said, "once spattered my aunt's spaghetti sauce all over her kitchen." Now covered with graffiti and obscured by dense tangles of bittersweet, the battery is an intriguing place to explore by flashlight. 
Prowling around in an abandoned World War II fortification is a far cry from riding a Ferris wheel or promenading along a bustling boardwalk. Yet the island's simple charms—its sweet cottage neighborhoods and sea-washed shoreline—endure, continuing to draw delighted visitors just as they have for nearly 200 years.  
---
Contributing Editor Mimi Bigelow Steadman lives on the Damariscotta River in Edgecomb.
---
If You Go to Peaks Island
Casco Bay Lines
56 Commercial Street, Portland
207-774-7871
cascobaylines.com
Multiple daily trips between Portland harbor and Peaks Island.
Portland Sea Taxi
72 Commercial St., Portland
207-879-2562
portlandseataxi.com
Fogg's Charter Tours & Taxi
207-232-9609
www.foggsboatwork.com
Peaks Island Marina
207-766-5783
peaksislandmarina.com
Close to the ferry landing, the marina provides moorings and dockage by the hour, day, week, and season.
Peaks Island Tours
207-766-5514
peaksislandtours.com
Daily tours from May 1 through October 31.
Brad's and Wyatt's Island Bike Rental 
207-766-5631
Bikes by the hour or day.
Mike's Carts
207-239-1777
mikescarts.com
Peaks Island Golf Carts
401-871-9627
peaksislandgolfcarts.com
Both Peaks Island Golf Carts and Mike's Carts rent carts by the hour, day, or week.
Richard Boyd Art Gallery
207-712-1097
richardboydartgallery.com
Exhibitions of works by Maine-connected artists change monthly throughout the year.
Maine Island Kayak Co.
207-232-6733
www.maineislandkayak.com
Tours, classes, and sales.
Umbrella Cover Museum
207-939-0301
umbrellacovermuseum.org
Nancy 3. Hoffman (yes, that's her middle name) offers 20-minute tours of her quirky collection and serenades visitors with her theme song, "Let a Smile be Your Umbrella."
5th Maine Regiment Museum
207-766-3330
fifthmainemuseum.org
This small museum focuses on Peaks' history and the story of the Civil War's Fifth Regiment Maine Volunteer Infantry.
Lodging:
Peaks Island accommodations are limited. Choices include 14 simple rooms with shared baths and shared cooking facilities at the post-Civil War-era 8th Maine Oceanfront Lodge and Museum (207-749-1705; 8thmaineregimentpeaksisland.com); five country-style rooms at the Peaks Island House (207-766-4406; thepeaksislandhouse.com); and seven well-appointed suites at the Inn on Peaks Island (207-766-5100; innonpeaks.com).
Food:
Restaurants include the Cockeyed Gull (207-766-2800; see Facebook page) and the pub at the Inn on Peaks. There's a good food truck called Milly's Skillet, a hotdog cart, and a deli counter in Hannigan's Island Market. The place for ice cream is called Down Front. 
Music:
The weekly reggae bashes at Jones Landing, next to the ferry dock, can get a little crazy. Held Sunday afternoons from Memorial Day  through Labor Day.
Share this article:
2023 Maine Boat & Home Show

Join Us for the Maine Boat & Home Show!
Art, Artisans, Food, Fun & Boats, Boats, Boats
August 11 - 13, 2023 | On the waterfront, Rockland, Maine
Click here to pre-order your tickets.
Show is produced by Maine Boats, Homes & Harbors magazine.