Fish landings, sea art & new boats
By Polly Saltonstall
Outboard umbilical cords
I've been telling my teens for years to please use the engine cut-off switch when they take off in the Whaler. Well now it's not just mom's law, it's federal law. As of April 1, 2021, operators of recreational vessels less than 26 feet in length will be required to use an engine cut-off switch and a connecting cord or lanyard, as the U.S. Coast Guard implements a law passed by Congress.
Each year the Coast Guard receives reports of recreational vessel operators who fall or are suddenly thrown out of their boat. These events have led to injuries and deaths when the boat continues to operate with no one in control. A cut-off switch and cord attach a vessel operator to a switch that shuts off the engine if the operator is displaced from the helm, i.e., falls overboard. It's a safety measure to help prevent runaway vessels and the threats they pose. When enough tension is applied, the cord disengages from the cut-off switch and the motor is automatically shut down. Wireless cut-off switches have recently been developed and are also approved for use. These devices use an electronic "fob" that is carried by the operator and senses when it is submerged in water.
---
Lobster still king of Maine fisheries
Despite unprecedented market losses, Maine fishermen earned over a half billion dollars for their catch in 2020. Valued at $516.8 million, the ex-vessel value of Maine's commercially harvested marine resources was the ninth highest on record, according to a news release from the Maine Department of Marine Resources. Maine's lobster fishery once again accounted for most of Maine's overall landed value at $405.9 million. At 96 million pounds, the catch declined by approximately five percent from 2019 landings, but the volume remained high and at $4.20 per pound, the boat price was significantly better than the $3.76 average boat price over the past 10 years.
Softshell clam harvesters earned the second highest value of all Maine fishermen in 2020 on the strength of a six-cent per pound increase in value. Despite 1.2 million fewer pounds landed, harvesters were paid $15.7 million.
Maine scallop fishermen landed an additional 224,874 pounds compared to 2019, ranking the fishery as the third most valuable ($6.8 million), despite a 19-cent per pound decrease in value.
Other leading Maine fisheries included: blood worms (used as bait) at $6.6 million, an increase over the previous year as a result of a $1.34 per pound jump in price; menhaden $6.4 million; oysters, $5.9 million; and elvers, at $5 million.
---
Boat projects on the ways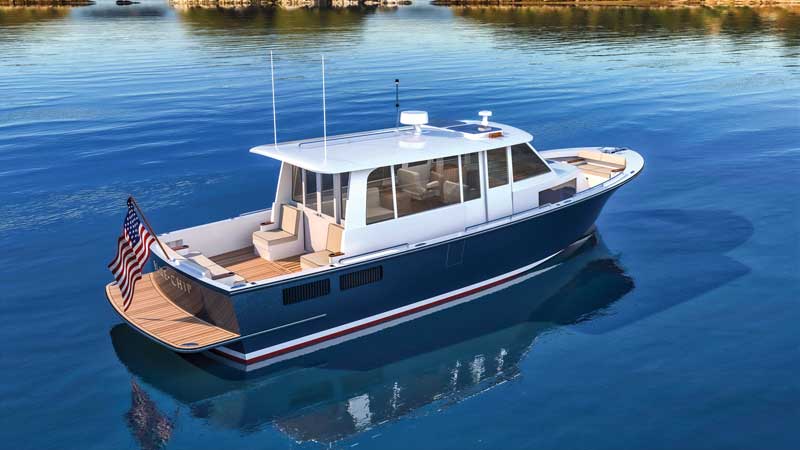 The Hunt 41
At Front Street Shipyard of Belfast, Maine, construction has begun on a custom 41-foot powerboat that will be completed and launched in 2022. Designed by Ray Hunt Design of New Bedford, Massachusetts, the composite-built dayboat will feature conservative styling and the renowned Hunt deep-V hull. The aft open cockpit will have seating for socializing as well as a hidden fish box and recessed fishing rod holders. The dayboat will have a cabin and head with enclosed shower for occasional overnights. Powered by two Volvo Penta D6-IPS 650 engines, the vessel is expected to cruise at 32 knots with a top speed of 38 knots. The hull topsides and deck of cored fiberglass with Vinylester marine resin will ensure a light weight and top performance speeds.
At Back Cove Yachts, the company is updating its popular Back Cove 37 inboard downeast cruising yacht, and re-launching the revamped and upgraded model as the new Back Cove 372.
Launched in 2009, the Back Cove 37 has enjoyed an 11-plus-year uninterrupted run resulting in more than 200 hulls. When the production molds finally gave out in 2020, the Back Cove Design team seized the opportunity to reexamine the 37. The Back Cove 372 will feature several large-scale redesigns and upgrades, along with many smaller options and improvements. The highlights include: a more efficient 24V DC electrical system with less copper weight and optional stern thrusters; a Cummins QSC 8.3 600-hp diesel engine as standard and a Volvo Penta D8 diesel as an option; black windshield liner and an upholstered helm pod; fixed-glazed pilothouse windows, with a center-opening windshield; a new aft-facing cockpit seat to starboard, paired with a new salon door to port with a bi-fold window; a reconfigured head with expanded medicine cabinet, over-sink mirror, and redesigned shower stall; and an upgraded SidePower SE 100 bow thruster.
The new Back Cove 372 is expected to splash late in the summer of 2021.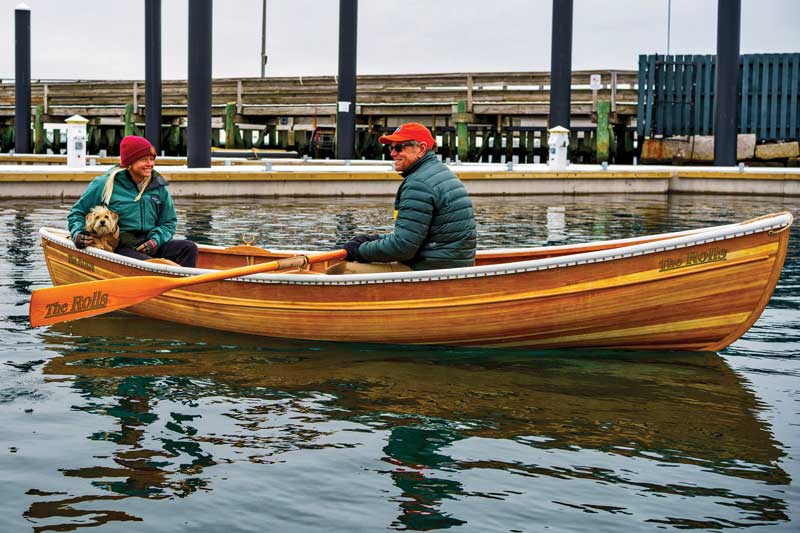 The "Rolls" version of the Downeast Peapod
A classic downeast peapod design has been revived and revamped as the result of a collaboration between the Sparkman & Stephens design firm and the Downeast Peapod company, a subsidiary of the Newport, Rhode-Island-based W-Class Yacht Company.
To stay true to the design and heritage of these historic wooden boats, S&S (also located in Newport) scanned the original lines of a Jimmy Steele Downeast Peapod, which was built with plank-on-frame construction over 20 years ago. The company then used 3D modeling to re-engineer the hull (13' 8" length, 4' 8" beam) for strip-planked construction, using western red cedar and WEST SYSTEM epoxy.
Peapods were built on islands in Maine's Penobscot Bay during the 1800s for lobster fishing. Their shallow draft and easy maneuverability allowed them to travel in rocky inshore waters where larger boats could not go.
Steele, who died in 2008, was the last of the great Maine Downeast Peapod builders. A wooden boat enthusiast who also owns W-Class Yacht Company, Donald Tofias acquired Steele's Downeast Peapod company in 2007 and moved it from Maine to Newport—Tofias also owns Sparkman & Stephens. 
Downeast Peapods are available in three models including: the Chevy, which has all painted surfaces; the Cadillac with varnished seats and sheer strakes; and the Rolls, which is varnished inside and out.
---
Bye bye paper, hello digital
NOAA has begun to implement its sunset plan for paper nautical charts, but it's phasing in the plan, starting with Lake Tahoe. After August, NOAA's electronic navigational chart will be the only NOAA nautical chart of the lake.
This is the first traditional paper chart to be fully supplanted by an electronic chart as part of NOAA's Office of Coast Survey Raster Sunset Plan, which includes a new process to notify mariners of the transition of individual paper charts to electronic charts. These charts are easier to update and maintain, keeping mariners safer with up-to-date information on marine hazards, according to NOAA.
As part of the sunset plan, which was announced in 2019, NOAA will announce the cancellation of specific paper charts, initially based on volume of sales or downloads, and in regions with improved NOAA electronic navigational chart coverage. Cancellation of all traditional paper and associated raster chart products will be completed by January 2025.
Meanwhile, the agency is undertaking a major effort to improve the data consistency and provide larger scale coverage within its electronic navigational chart product suite.
Rest assured, those who prefer to navigate from a paper product will still have that option; but the charts will look different. Over the next four years, NOAA will work to ease the transition to electronic products by providing access to paper chart products based on electronic data. The online NOAA Custom Chart tool enables users to create their own paper and PDF charts from the latest NOAA ENC data.
---

Plan for Lyman-Morse's Camden site
Camden waterfront getting an upgrade
Lyman-Morse has begun a major upgrade of its boatyard in Camden's inner harbor, converting an unfortunate fire last summer into an investment in working waterfront infrastructure.
Plans call for replacing a hodge-podge of rambling, inefficient buildings with 33,000 square feet of state-of-the art structures, according to a news release. The company's rigging, mechanics, electronics, and carpentry workshops will be housed in the new structure. All buildings are being raised above the flood plain to make them resilient to climate change and sea level rise.
On-site amenities, including a restaurant and an expanded Blue Barren Distillery, will be accommodated in the new buildings, which are scheduled to be completed in 2022. "We are proud to be the stewards of working waterfronts, both in Camden and in Thomaston," said Lyman-Morse President Drew Lyman. "This area is steeped in maritime tradition, and Lyman-Morse is proud to continue that history."
At press time, the yard also was working with the town of Camden on plans for partnering on new docks and a waterfront walkway.
---
Lobster shell skin cream
We know they are good to eat, but a pair of UMaine graduates has discovered that lobsters also have the ingredients for a healing skin lotion.
Amber Boutiette and Patrick Breeding met on the first day of their first year as biomedical engineering undergraduate students at the University of Maine. Nearly eight years later, the pair has relocated to Portland, launched a specialty skincare product made with lobster glycoprotein, and is now teaming with Luke's Lobster to scale their supply chain and meet strong demand for their first product.
Boutiette and Breeding were introduced to Luke's founder Luke Holden by Robert Bayer, former director of the UMaine Lobster Institute. It was Bayer who discovered that lobster glycoprotein might have beneficial properties that could help treat Boutiette's stubborn and painful eczema—and it did.
"I had eczema for most of my adult life and it progressively got worse over the years," says Boutiette. "I tried every type of eczema cream, oils, diet changes, lifestyle changes, everything. Nothing helped." Nothing, that is, until Bayer, Boutiette, and Breeding collaborated in 2017 on a prototype of the product that would later become Marin's Soothing Hydration Cream. "Within a day or two, I noticed a difference," says Boutiette. Lobster glycoprotein is a component of lobster circulatory fluid, a previously wasted byproduct of processing.
Last summer, Boutiette and Breeding spent hundreds of hours at Luke's Lobster Seafood Co.'s processing facility in Saco collecting the glycoprotein for Marin's first batch of cream. After launching in early October 2020, Marin quickly sold out of the initial inventory. Going forward, Luke's Lobster employees will collect the glycoprotein as part of their processing operation, and Marin will purchase the raw material.
---
Yacht designers buy a boat
After years of sailing as guests on boats that they have designed for other people, yacht design partners Rob Stephens and Paul Waring have acquired a boat for themselves. They have bought a sleek double-ender named Zingara, according to a news release.
Designed by Bill Peterson to participate in the 1990 BOC-British Oxygen Company Challenge, a solo 'round-the-world yacht race, the yacht was still unfinished when Stephens and Waring first saw her in 2000. An impractical rotating wing mast had been removed and a new owner wanted to remodel the boat. It was a total gut-rehab project, according to the pair's news release. Zingara was launched in 2001 as a seaworthy cruising boat with moderately high performance. The yacht went through several owners before coming up for sale recently.
"We've been talking about building one of our own designs, or buying a pre-owned boat for a number of years. Recently, it was the seriousness of COVID that gave us the time to reflect and refocus our priorities," Stephens and Waring said in their news release. "Each of us has an interest in taking our families cruising, and as partners we also want the ability to do events with a boat we own…. We will always have time sailing with our clients and friends, but this decision gives us additional resources and flexibility to get on the water on our agenda."
The designers plan to compete in Maine's series of classic yacht races, starting with the Camden Classics Cup July 29-31, which Stephens Waring sponsors.
---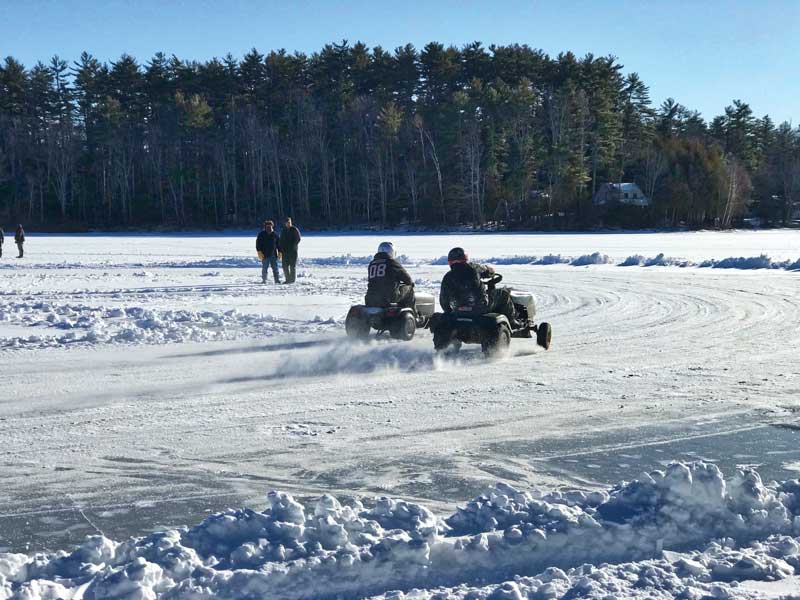 Lawn mowers on ice
In the summer, lobstermen rev up for lobsterboat racing. But come wintertime, it's a bit cold to be racing on the ocean. So, some enterprising engine-lovers in Maine found an alternative: lawn-mower racing. A group calling themselves the Thunder Valley Lawn Mower Drag Racers fired up their engines to race last winter on frozen Norton Pond, in Lincolnville.
An oval track was plowed in the several inches of snow covering the ice, and racers competed in heats. The rules stipulated that racers ride on machines that had been used to cut grass at some point. But it was clear these engines had been souped-up, as racers spun around the curves and occasionally spun out on the snowy lake surface. None of the machines still carried a mower deck and the engines popped and purred with pent up power, as helmeted drivers leaned off their seats and into the curves and hunched over their steering wheels on the straightaway.
The Thunder Valley racers usually compete during warmer months, at venues like the Union Fair. This was their first time on the ice, said Briar Lyons, one of the organizers of the event. "It was fun. The guys were trying to decide what size tires to use, whether to use studs or spikes, and which machines would be best."
---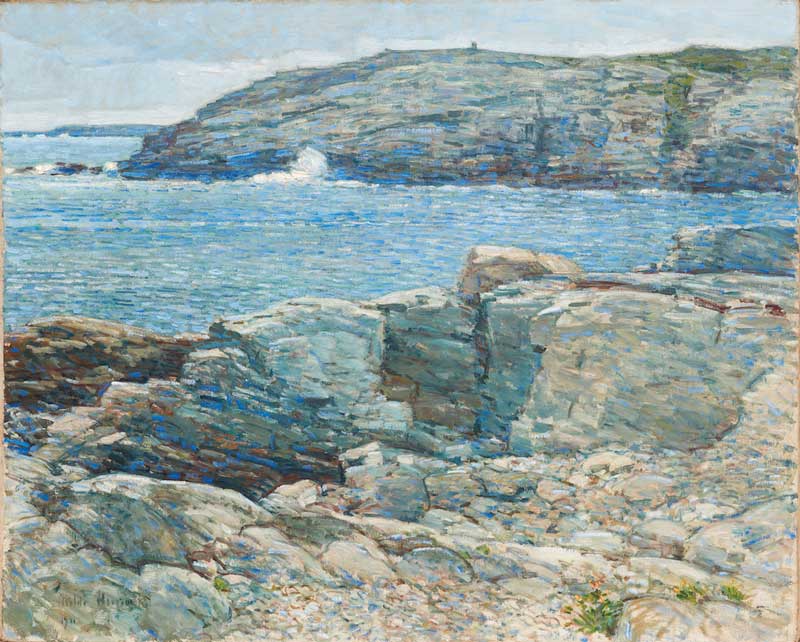 Childe Hassam (1859–1935) East Headland, Appledore, Isles of Shoals, 1911. Oil on canvas (30" × 36") Gift of Peter S. Lynch in memory of Carolyn A. Lynch
Art of the ocean
For over 200 years, artists have been inspired to capture the beauty, violence, poetry, and transformative power of the sea in American life. The exhibit "In American Waters," on view at the Peabody Essex Museum in Salem, MA, May 29 through October 3, explores how coastal and maritime symbols moved inland across the U.S., and questions what it means to be "in American waters." Be transported across time and water on the wave of a diverse range of modern and historical artists including Georgia O'Keeffe, Amy Sherald, Kay WalkingStick, Norman Rockwell, Winslow Homer, Paul Cadmus, Thomas Hart Benton, Jacob Lawrence, Valerie Hegarty, Stuart Davis, and many others. "In American Waters" is co-organized by Peabody Essex Museum and Crystal Bridges Museum of American Art, where it will be on view in the fall of 2021. A major multi-author illustrated publication published by the University of Arkansas Press will accompany the show.
---
Turning old canoes into cement
Temperatures were in the single digits and snow blanketed the wilderness around the Mount Katahdin region as six volunteers representing the Maine Marine Trades Association climbed on snowmobiles and headed for a remote pond at the Debsconeag Lakes Wilderness Area to retrieve a handful of derelict canoes. The volunteer work day was a partnership between MMTA and the Nature Conservancy in Maine, and part of MMTA's work with the Rhode Island Marine Trades to look at sources of unwanted fiberglass boats, identify interested partners, and help develop a recycling network.
The workgroup included MMTA Board President Jill Jacobs from New Meadows Marina, Chris Richmond from Allen Insurance and Financial (a past board member), MMTA Director Stacey Keefer, and their family members.
Thanks to support from the New England Outdoor Center near Millinocket, the volunteers started out on a 20-mile snowmobile ride, then proceeded on snowshoe for over two miles to a pond, where at least 75 canoes were stashed, many of them abandoned. The volunteers were successful in hauling out just two canoes (one of which came out in two halves) plus two contractor bags full of other debris such as foam, old flotation cushions, and plastic trash.
The canoes joined a few larger fiberglass boats headed south to Massachusetts where the fiberglass will be ground up at a recycling center, then shipped to a processing kiln in South Carolina, and eventually repurposed in cement aggregate.
The Maine Marine Trades Association plans to engage with other industries in Maine about the potential to recycle more fiberglass.
---
Tilting at windmills
A firm hired to survey the ocean floor as part of an offshore wind development project met with opposition from lobster fishermen who have been skeptical about offshore windmills and the potential for negative impacts on their fishing grounds.
As a month-long survey for the New England Aqua Ventus project off Monhegan got underway in March, a parade of dozens of lobster boats lined up along the proposed 23-mile route between the offshore site and Boothbay carrying protest signs.
At some point, several fishing boats and the surveying vessel came into a sort of faceoff. Accounts differ on who was at fault. The surveyors contended that the fishermen were setting traps in their way. The fishermen said they were trying to remove traps. Eventually, the surveyors returned to shore, and the Maine Marine Patrol and lobstermen set about removing more than 100 traps from the survey route. Work on the offshore windmills comes as a new report found that New England has enough offshore wind to generate more than five times its projected electricity needs by 2050, with Maine having especially high potential to generate the clean power.
The study by Environment America Research & Policy Center and Frontier Group found that Maine has the highest ratio among states of potential wind power for both current and future electricity needs for buildings, industry, and vehicles that eventually will be powered by electricity rather than fossil fuels.
---
Bigfoot in Maine?
As you plan your summer in Maine, here is a last tidbit to ponder: Does Bigfoot exist, and if so, is he lurking somewhere in Maine's north country?
A new book due out in May by author and Portland bookstore owner Michelle Souliere, Bigfoot in Maine, explores the question, as does a documentary, Eyes from the Pines: The Pine Ape Project, that is slated for release this summer. 
Both book and film trace the lengthy history of local Bigfoot tales, from traditional Native American stories, to contemporary run-ins. They also examine likely explanations and why such tales abide, despite a complete lack of photographic evidence, according to a report in the Bangor Daily News. "The majority were people who simply encountered something they couldn't explain," Souliere said. "They know they saw something. It wasn't misidentified, it wasn't somebody dressed in a suit. It was something else, something inexplicable."
Souliere told the newspaper that she believes her subjects, even if she's not quite sure about Bigfoot.
Personally, we're not convinced that Bigfoot exists. As far as we're concerned, all those Lyme-carrying ticks are much more real reason to step carefully into the brush. People in search of Bigfoot might want to head to Oklahoma instead, where a lawmaker last winter proposed legislation to create a Bigfoot hunting season and offer a bounty for the big guy. The bill did not pass. 
Share this article:
2023 Maine Boat & Home Show

Join Us for the Maine Boat & Home Show!
Art, Artisans, Food, Fun & Boats, Boats, Boats
August 11 - 13, 2023 | On the waterfront, Rockland, Maine
Click here to pre-order your tickets.
Show is produced by Maine Boats, Homes & Harbors magazine.