Museum Tells the Story of Western Maine
By Robert J. Romano, Jr.
All photos by Trish Romano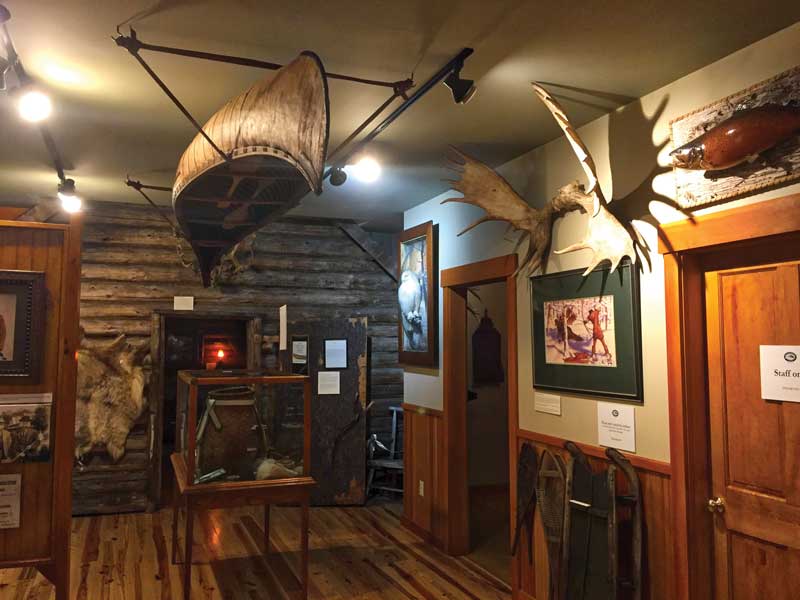 Collections and exhibits detail the region's human experience and its sporting history.
The Rangeley Lakes Region of western Maine is perhaps best known for its native brook trout, and for its landlocked salmon. The latter were introduced in the late 1800s. Anglers first began traveling to this region after the Civil War.
But the history of the Rangeley Lakes does not begin there. Fossils found at the bottom of Aziscohos Lake confirm that more than 10,000 years ago, ancestors of the Abenaki tribes hunted caribou in the valley along the Magalloway River. There is also a rich oral history surrounding Metallak, said to be the son of a chief, who befriended settlers living in the New Hampshire border towns. At the time, the Rangeley Lakes were largely wilderness inhabited by wolves, mountain lions, and caribou in addition to moose and black bear. It is said that Parmachenee Lake is named after Metallak's daughter, while Moll's Rock (located on Umbagog Lake) is named after his second wife, Molly Oozalluc, better known as Molly Molasses, a name she received as a result of her fondness for the region's maple syrup. Legend has it that Metallak tamed a moose he'd proudly ride into town with his family walking by his side.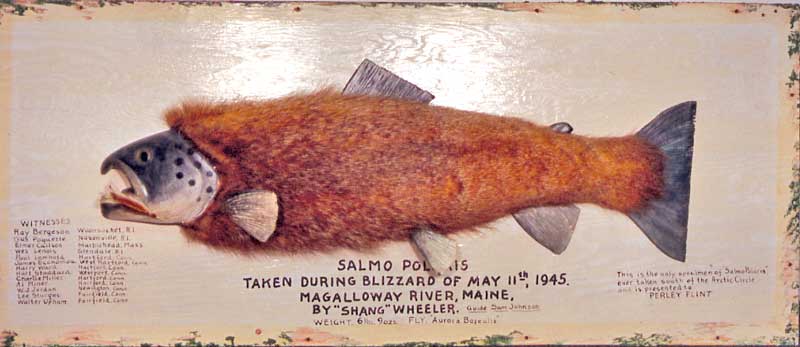 Salmo Polaris was created by a man named Shang Wheeler, who said he caught this 6 lb. 9 oz. brook trout with red fox fur using a fly pattern called Aurora Borealis.
Three years before the end of the Civil War, two young men, John Danforth and Fred Barker, spent a winter trapping and hunting in the forest above the lake named after Metallak's daughter. Danforth later established Camp Caribou, a sporting lodge that eventually became the Parmachenee Club, frequented at the time by wealthy lawyers, doctors, and financiers who found an abundance of wildlife and fish of unimaginable size.   
Now the caribou and mountain lions are long gone, but the brook trout and landlocked salmon remain as wild as the moose that still lumber down to the river's shore to dine on water lilies and the black bear grazing on low growth blueberries and raspberry brambles.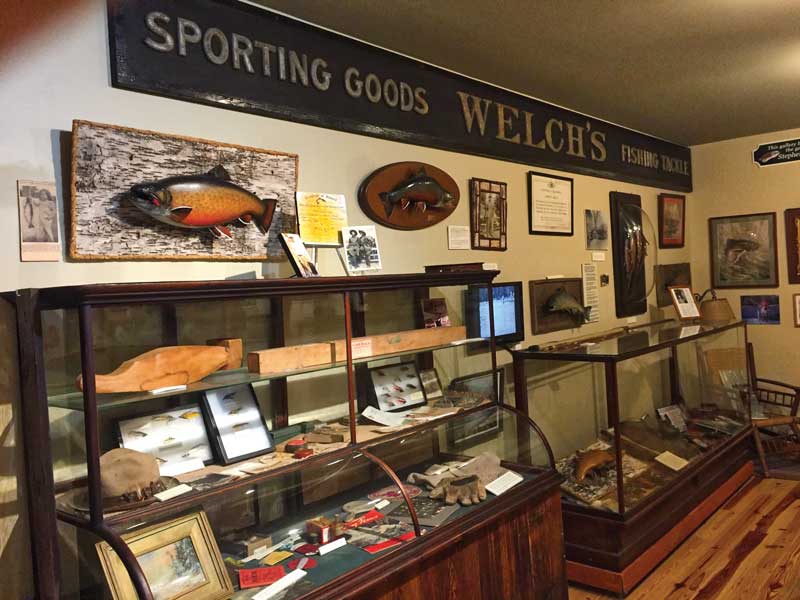 Artist, sculptor, guide, expert caster and creator of fly patterns, fly-fishing's Renaissance man, Herb Welch, also operated a sporting goods store. His legacy is honored in the Rangeley museum.
Not only did anglers and hunters find the region to their liking, but, as they do today, many folks traveled to the northwest corner of the Pine Tree State seeking solace from the hustle and bustle of their day-to-day lives. With the help of local guides, these visitors "from away" found adventure on the pristine lakes and fast-running rivers, climbing the conifer-studded hills, and sitting cross-legged around a blazing campfire while above them an infinitude of stars brightened the night sky. It is these men and women, locals and visitors, who formed a long and distinguished sporting tradition that earned the Rangeley Lakes Region the nickname Land of Sporting Legends.
Noted outdoorsman and world-renowned carver of duck decoys, Don Palmer, had envisioned a place where the public could learn about the men and women who contributed to the Rangeley region's rich sporting history. In 2009, with the help of the local community and through the passion and tireless efforts of Palmer and his wife, Stephanie, the Outdoor Sporting Heritage Museum opened to the public in the village of Oquossoc.
The Palmers achieved their goal. A visitor to the museum will find an exhibit dedicated to the first registered Maine Guide, Cornelia "Fly Rod" Crosby. Others feature the famed artist, taxidermist, entrepreneur, and fly caster, Herbert Welch as well as the renowned fly tyer, Carrie Stevens. They can also walk into a 100-year-old trapper's cabin.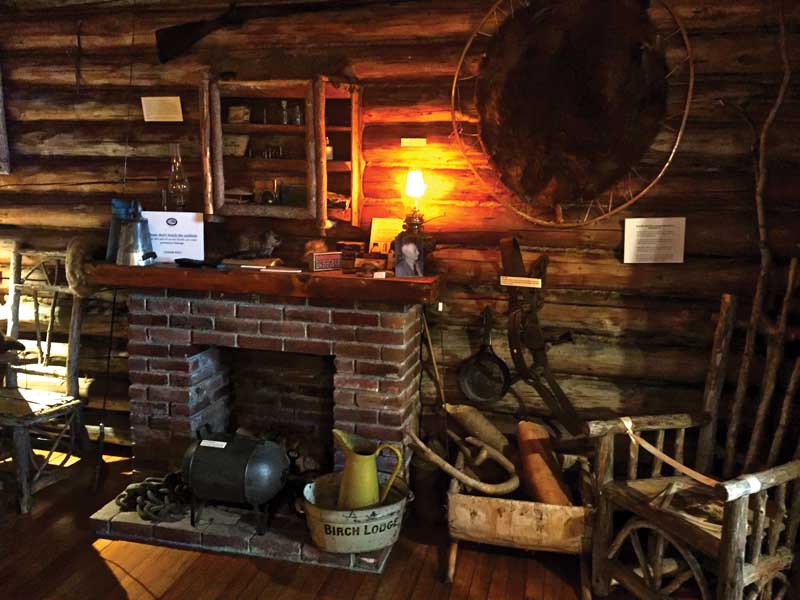 Vintage items in a reconstructed cabin that might have been found deep in the woods of western Maine during the late 1800s.
Since opening its doors to the public, the museum has added exhibits such as those highlighting famed writer, Louise Dickinson Rich, and artist, John Swan. A visitor can learn about the wit and humor of Ed "Ned" Grant as well as Shang Wheeler's Ode to White Nose Pete—a poem of a brook trout, who some say has haunted Upper Dam for more than 100 years. They can see the mount of Shang's "Salmo Polaris." This 6 lb. 9 oz. brook trout was mounted using red fox fur instead of scales. It was caught with a fly pattern called Aurora Borealis, a feat that was witnessed by a number of Rangeley regulars who could be called "the usual suspects" of that time.
Although the region's brook trout and the men and women who search them out remain an important highlight of the museum, more recently, its name has changed to the Outdoor Heritage Museum in keeping with its expanded focus on the contributions made by indigenous people, including those who subsisted and lived off the land as far back as 13,000 years ago. Recent exhibits include the museum's natural history collections, archaeological artifacts, nature collections, and works of art and crafts.
Looking to the future, Michelle Landry, the museum's Executive Director, promises family-friendly programming that will be of interest to those of all ages and for audiences with diverse interests.
One doesn't have to be an angler or even an outdoorsperson to enjoy a tour of this unique collection.
✮
---
Robert Romano and his wife, Trish, have owned a camp in the Rangeley Lakes Region for nearly 40 years. His latest book, River Flowers: Tall Tales About Wild Fish, the Places They're Found and the Men and Women Who Seek Them Out can be ordered at his website: forgottentrout.com.
For More Information:
The Outdoor Heritage Museum is located at 8 Rumford Road in Oquossoc, Maine, and is open mid-May through mid-October each year. More information can be found online at outdoorheritagemuseum.org. 
Share this article:
2023 Maine Boat & Home Show

Join Us for the Maine Boat & Home Show!
Art, Artisans, Food, Fun & Boats, Boats, Boats
August 11 - 13, 2023 | On the waterfront, Rockland, Maine
Click here to pre-order your tickets.
Show is produced by Maine Boats, Homes & Harbors magazine.