A Great Poet and His Beloved Boat
Richard Ghormley Eberhart found inspiration on Maine's waters
By Norman Alt
All images courtesy McMillen Yachts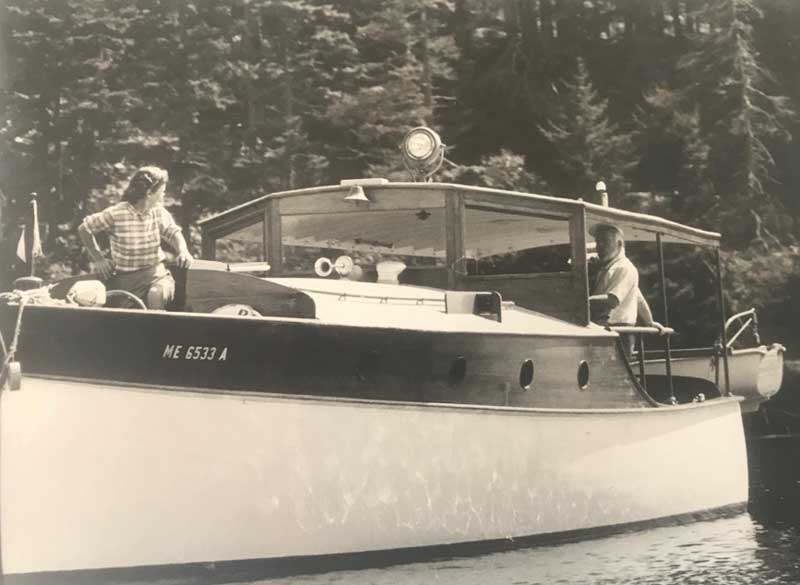 The Playboat's foredeck included a forward cockpit, which you can see based on the position of the woman about to pick up the mooring while Eberhart drives.
If you are fortunate enough to own a recreational boat, you almost certainly value time spent on that boat with friends and family. Few of life's joys can surpass a cruise on a lovely summer's day with lively conversation and relaxed contemplation of the seascape. Given the chance, one might even wax "poetic" about the experience.
Many scholars and ordinary mortals believe that the 1950s and 1960s were the golden age of American poetry. Certainly, many great works were produced in that period. One of the greats was Richard Ghormley Eberhart (1904-2005), who spent summers all his adult life at a cottage on Maine's Cape Rosier, and whose work was certainly inspired by his boating adventures on a classic Playboat named Reve.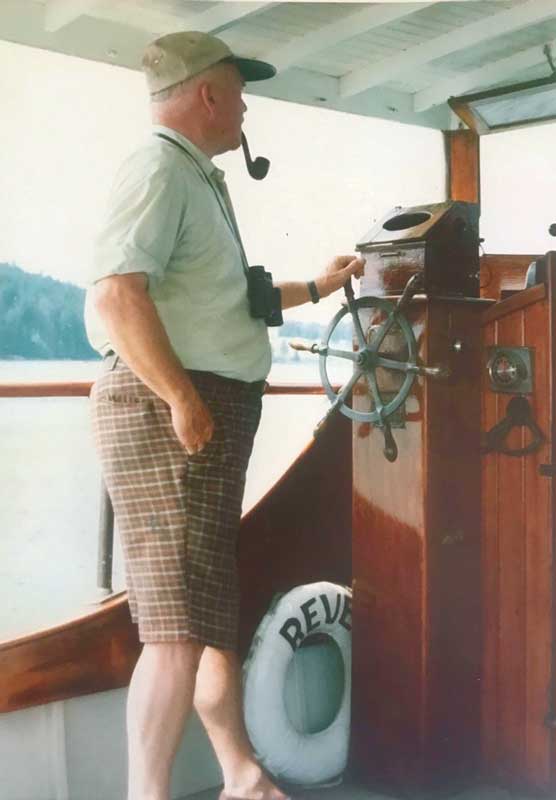 The poet Richard Eberhart at the helm of Reve. Born in 1904, Eberhart was a poet's poet. He wrote more than 2,000 poems and maintained correspondence with such literary lions as W.H. Auden, Robert Frost, Archibald McLeish, and Wallace Stevens, as well as with those aspiring to be great. Some, but not all, of the more than 55,000 letters written during his 101 years of life now fill more than 75 boxes in the archives at Dartmouth College where he was Professor of English and Poet in Residence from 1956 to 1977. He won the Pulitzer Prize in 1966 and a National Book Award in 1967, and he used his platform as Poet Laureate at the Library of Congress under the Eisenhower and Kennedy administrations to advocate for the muse and for the works of fellow poets less famous than himself, including Alan Ginsburg and the other Beat poets who were often scorned by those paddling in the mainstream. His supportive and gregarious nature is confirmed by all who knew him.   
Eberhart had a lifelong fascination with the sea and its vicissitudes. Some of this was fashioned from his experience as a deckhand on freighters crossing the Pacific before he jumped ship at Cairo, going on to matriculate at Cambridge and later, Harvard. Much more of was a direct result of his summer sojourns at his cottage on Cape Rosier.
There is widespread agreement among locals that "the joint was always jumping" with literary stars. If you were truly fortunate, you might be invited to his annual reading of new works at the neighboring Robinson Farmhouse and sit elbow to elbow with the likes of Mary McCarthy, Phillip Booth, Robert Lowell, and Elizabeth Hardwick; each of whom summered in nearby Castine. The gatherings were not limited to poets, of course, and often included E.B. White, the author of Charlotte's Web, polymath Buckminster Fuller, the creator and proponent of geodesic domes, and Hal Vaughan, proprietor of Seal Cove Boatyard.
Eberhart's finely honed regard for the sea may also be fairly attributed to his ownership of Reve, which was built by the Consolidated Shipbuilding Company in 1928. The 34' hull no. 2941 was designed by marine architect John H. Wells, constructed of carvel planking on sawn frames, and powered by a 180-HP Consolidated Model MR Speedway engine.
It is clear from his poems (especially those collected in Maine Poems, published by Oxford University Press in 1989) that Eberhart enjoyed many adventures on his boat. He reveled in seeking new islands, especially those with a small spit of sand.
He picnicked on the many accessible islands in Penobscot Bay, including on Scott Island, which was owned by Robert McCloskey, the author of One Morning in Maine, and likely on Little Spruce, where the brothers Elliot and Fairfield Porter summered. He also enjoyed cruising and would overnight in such places as Northeast Harbor and Isle au Haut, where, following the advice of a local, he took great care not to venture too far into the cove at Duck Harbor.
Even though he was a member of the Bucks Harbor Yacht Club, he kept Reve off the rocky coast outside of his cottage on Weir Cove rather than in the more sheltered mooring area in Bucks Harbor.
Not all of his poems are about the joy of exploration, however. One talks about spreading the ashes of a loved one between Blake Point and Western Island, another about snagging a lobster pot off Dog Island in total fog with 10 people aboard, and still another is about braving a storm to find the son of a friend whose small boat was last seen off the coast of Beech Island only to find that when his engine had died, the boy ingeniously used his shirt as a sail to run before the wind into the safety of Bucks Harbor. There is also an intriguing poem in which he tells the story of setting fire, Viking style, to an old wooden boat named the Ghormley III and consigning its ashes to the tide. He later told a friend that he had sold that poem for $500, which was more than he had paid for the boat.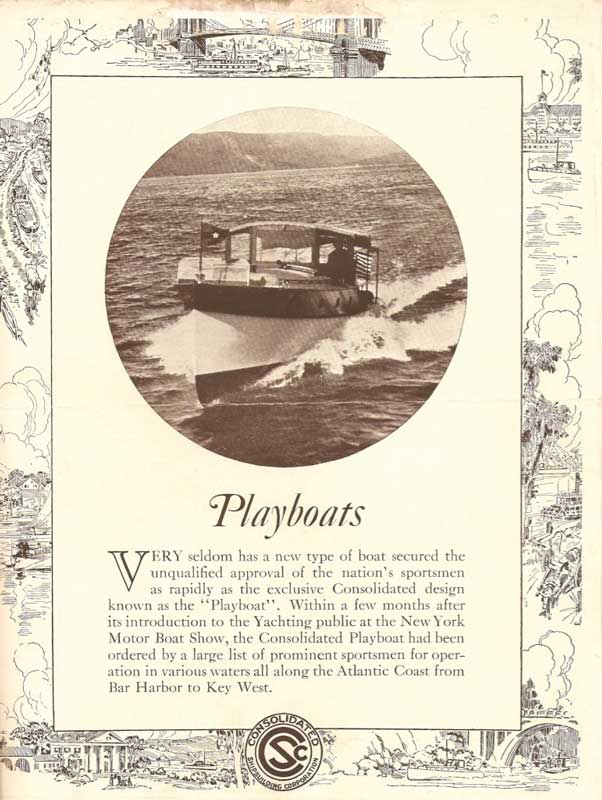 Built by Consolidated Shipbuilding Corp. in New York City, the 34' Playboat was described in an early ad as having the informality of a runabout with the usefulness of a cruiser. Speed was described as up to 23 mph. Eberhart was a keen observer of the ocean, its immortality, its rhythms. In one poem he described several boats sitting at their moorings as greyhounds straining at their leashes—wishing to go but having no will of their own to do so; in another he notices boats at rest facing every which way and wonders what are the currents that shape our direction.
He does not regard nature as wholly benevolent, but rather as a force that is indifferent to the nature of man. The sea is not interested in the pleasures of summer folk, he wrote.
Eberhart often would invite fellow poets to join him on his adventures. The great poet Robert Lowell and his wife, Elizabeth Hardwick, were frequent guests. It is not hard to imagine that in these seminars at sea there might have been spirited critiques of each other's most recent verses, punctuated, perhaps, with a libation or two.
Following his death, when his son and daughter donated Reve to the International Yacht Restoration School in Newport, they noted that many of his poems were written on board. It is doubtful that the builders and designer of the boat ever imagined that they would be making a significant contribution to the arts and literature of America. And so it goes.
Since then, Reve has been restored, renamed Bjami, and is now in private ownership.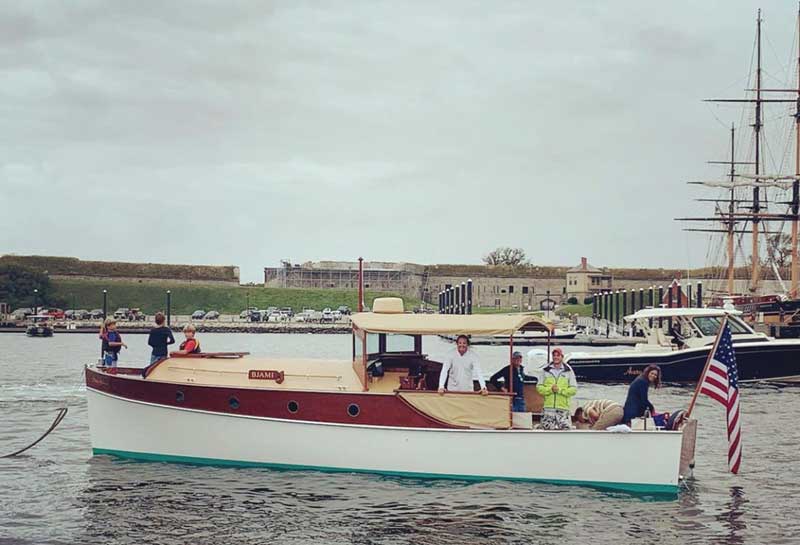 Reve was restored at McMillen Yachts in Newport, Rhode Island, and was renamed Bjami.  
---
Norman Alt is a retired attorney who lives in NYC and summers in Maine. He is an avid sailor and an advocate for land conservation.
MOMENT OF EQUILIBRIUM AMONG THE ISLANDS
The sea repeats itself in light flourishes,
The southwest breeze-up of the midday
Is a lavish presentiment of possible danger,
Coves beckon as waves attack the prow
And slip past in stubby frenzies of loss.
Then we dare the open ocean; the green swells
We ride over with thorough, lordly motion,
Lovers of wind, sun, and the world-turn horizon,
And seek a new island, with a small spit of sand.
The anchor holds; we climb through contorted woods
Up boulders to an old granite quarry, whose
Dark, green, still, fresh water refutes the ocean.
It is the moment of looking down to still water
From massed granite blocks pleases the soul
With the hardness and fantasy of the world,
Before we must try again the gripping buoyancy
Of the salt sea, whose profound depths
Appear only to the imagination, while eyes
Survey the fresh roads the vessel walks
In triumph of buoyancy, delicacy, and strength,
As a philosopher continuing in the essential.
Then standing to the westward-closing sun
As the wind dies and waves grovel to stillness,
We reach at nightfall the landfall buoy of home.
—Richard Ghormley Eberhart
Share this article:
2023 Maine Boat & Home Show

Join Us for the Maine Boat & Home Show!
Art, Artisans, Food, Fun & Boats, Boats, Boats
August 11 - 13, 2023 | On the waterfront, Rockland, Maine
Click here to pre-order your tickets.
Show is produced by Maine Boats, Homes & Harbors magazine.