Cambridge Racer
A Fast Wood Rowing Shell
By Polly Saltonstall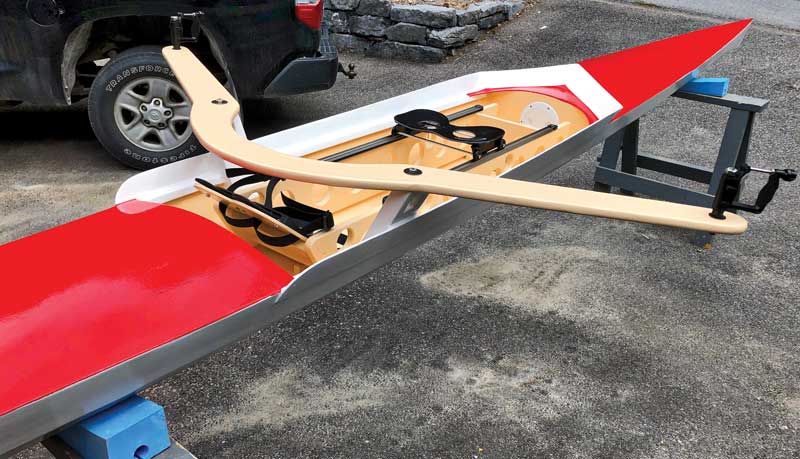 Paul Gill Jr. bought the plans for the Cambridge Racer from Angus Rowboats in Victoria, Canada, and built it over the course of several months. Photo by Paul Gill Jr.
Maggie Gill knew she had found her passion the first time she went out in a rowing shell. Since then, the 16-year-old has honed her skills as a member of the junior team at Megunticook Rowing in Camden and become a fierce competitor.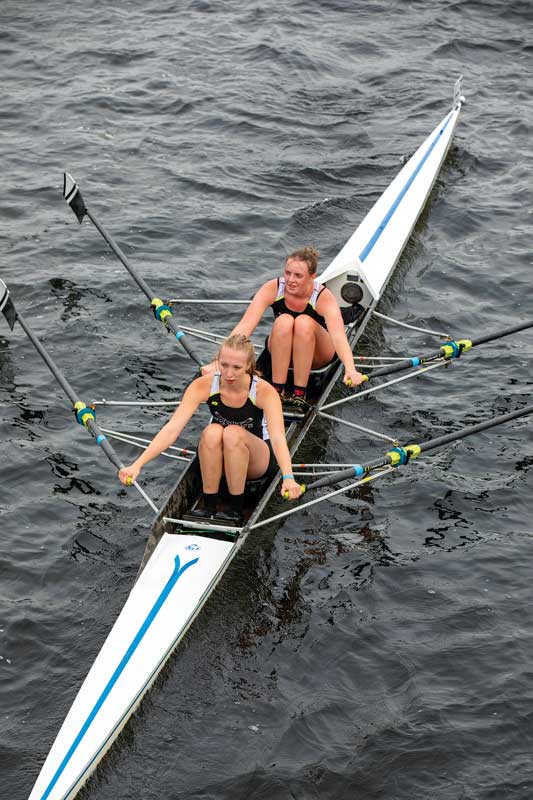 Maggie Gill (top) rowed in in several races last fall in a double with fellow Megunticook rower Iselin Bratz (front). Photo by Alison Langley But a year ago she became sick with an eating disorder and could no longer participate in any sports, confined instead to her bed. That was a dark time for Maggie and her family. The spark of light and a key ingredient in the healing process came in the form of a boat: a racing rowing shell, to be precise. This was not just any boat, it was one built with love by Maggie's grandfather, Paul Gill Jr. in his workshop in Middlebury, Vermont, where he lives. As he worked on the lightweight wooden hull and sent Maggie weekly photos and updates, she resolved to get better.
"When I was at my low point, rowing and the boat became my motivation to recover," Maggie said. "When it was done I wanted to be healthy enough to row it."
A retired emergency room physician, Gill has built many boats over the years, including a 19-foot Iain Oughtred Caledonia Yawl that he sails on Lake Champlain. He looked up plans for several different rowing shells, and Maggie chose the Cambridge Racer, a high-performance single scull designed by Julie and Colin Angus of Angus Rowboats in Victoria, Canada.
Gill ordered detailed plans and got to work early last spring. He cut panels from Okoume plywood—two for the bottom, two for the sides, and two for the deck—and put them together using stitch-and-glue construction, combined with fiberglass to stiffen the hull. The rigger is reinforced Douglas fir. Gill ordered a carbon-fiber seat, aluminum slides, plastic footpads, and plastic oarlocks from Angus Rowboats. He worked on the boat most days from May until midsummer—the most arduous part of the process was smoothing out the epoxy and prepping the hull for paint, he said—all the while sending Maggie regular updates.
"I think she was just in awe that what started out as four sheets of plywood and several cans of epoxy could turn into a boat that she can climb into and row," he said. "It really did seem to give her a spark."
As the new shell took shape, Maggie slowly recovered. And by late May, when Megunticook rowers were back on the water, so was Maggie, rowing one of the club's single shells, as well as in a double and a quad with other rowers. Her coach at the Megunticook Lake-based rowing club, Anna Goodale, was not surprised by the healing power of rowing and the new boat.
"When rowing takes hold of a person they find new strengths, new confidence, and the relationship they have with themselves expands," said Goodale, who won a gold medal as part of the US women's eight rowing team in the 2008 Olympics. "When Maggie hits the water she emerges at a whole different level. You can see her strength and her power. It's such a beautiful thing to watch, because rowing rewards hard work; and Maggie is one of the hardest workers I've seen come through Megunticook Rowing."
Maggie, who is a junior at Camden Hills High School, competed in several races last summer, both in a single and in a double, winning a bronze medal at the New Hampshire State Championships with her partner Iselin Bratz. She hopes one day to row in college—right now, she's focused on her grandfather's alma mater, Notre Dame.
Gill finished the boat last fall and painted it white and red. And he and Maggie agreed to name it Resilient. "Boats are often named for a quality," said Gill, "and Maggie has great resolve." He had hoped to deliver the boat in October, but that did not happen, so the christening ceremony and maiden row have been postponed until next spring. The Gills are ready. The senior Gill already has made T-shirts with the word "Resilient" on them.
"Rowing makes me feel powerful and happy," Maggie said. "I'm so excited. I really love rowing and I want to keep doing it."  
---
Polly Saltonstall is a member of Megunticook Rowing.
Learn more about Megunticook Rowing at www.megunticookrowing.org.
---
Cambridge Racer Rowing Shell
LOA: 23' 3"
LWL: 22' 9"
Waterline Beam: 16"
Weight: 38 lbs.
Hull construction: Soft chine, six panel
Draft: 3.5" (8.89 cm )
Design:
Angus Rowboats
Builder:
Paul Gill Jr.
Share this article:
2023 Maine Boat & Home Show

Join Us for the Maine Boat & Home Show!
Art, Artisans, Food, Fun & Boats, Boats, Boats
August 11 - 13, 2023 | On the waterfront, Rockland, Maine
Click here to pre-order your tickets.
Show is produced by Maine Boats, Homes & Harbors magazine.