Gunkholing with Gizmo: Northern Islesboro
Gunkholing with Gizmo: Northern Islesboro
By Ben Ellison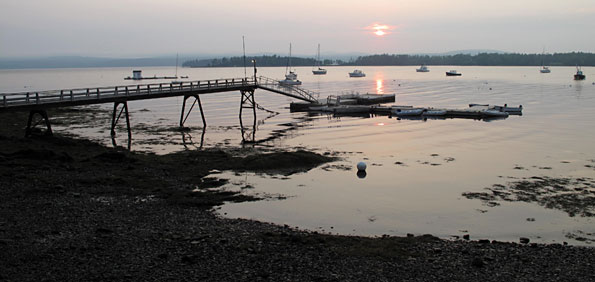 The public landing, Seal Harbor. The Camden Hills can be seen in the distance. By Ben Ellison
Click on image to expand.
Even 35 years ago the northern part of Islesboro felt more like rural inland Maine than the glamorous Dark Harbor "cottage" community to the south. Seventy years ago—as shown on the antique topographic map below—there was hardly a home on the water. Certainly that situation has changed, a lot. One of the pleasures of cruising the long shore today is the chance to ogle some very fine summer homes. Another modern phenomenon on this historic island is the well-supported Islesboro Islands Trust (IIT), which makes it possible to visit at least four anchorages where you can go ashore and walk on preserved land. No trails cut through the spruce blow-downs on Hutchins Island (1), though glimpses of open grassy spots suggest the farm that was probably here in the 1700s. A shore circumnavigation (in good shoes) makes a pleasant hike, however, and if the tide is right you can even cross the bar and circle the marsh that is also a trust property. Strong's Landing (2) was given to the town by the IIT and now serves as a large picnic area with access to a small mooring field. You'll see the stony remains of Pripet Wharf, which purportedly was the island's first steamboat facility in 1847. Turtle Head (3) struck me as exactly how an island should terminate. The interior is a lovely mix of hardwoods and fern fields, though the loop trail also winds through a mossy fringe of evergreens. Then at the very tip you break out onto a high vista of upper Penobscot Bay with views from Northport to Cape Rosier. This is a spot you will not forget. But while it is possible to anchor next to this preserve and scramble up the bank to the trail, it's not recommended until such time as the IIT designs access that will be easier both on visitors and on the preserve itself. An alternative is to anchor off Spragues Beach (4), where you can step right up to the shore road and then walk out to the Turtle Head.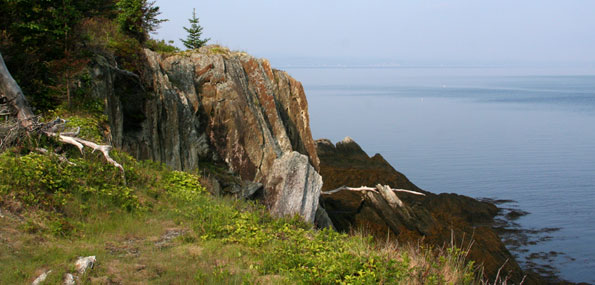 Turtle Head with Belfast in the distance. By Ben Ellison
Click on image to expand.
Continuing down the western shore, the shallows inside Ram and Seal Islands (5) seem well charted, according to my sonar scans. You'll find that Seal Harbor offers the convenience of a public landing (6). It's large enough to host a mid-sized vessel for a couple of hours when space is available, and there's room for dinghies most any time. Attractions are a small swimming beach, a chance to watch the local community sailing program in action, and a walk south to the small but sweet Narrows Preserve (7). Note the roadside plaque along the way. It commemorates the first recorded observation of a total solar eclipse in North America—way back in 1780—which I took as a sign that I must return to visit the Islesboro Historical Society (8) in July or August when it's open.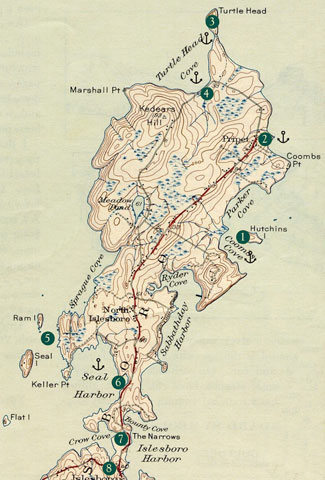 A section of the 1943 Castine Quadrangle topo map. courtesy mytopo.com
CLICK TO ENLARGE MAP
Charlet Key: 1. Hutchins I Preserve, Islesboro Islands Trust (
http://www.islesboroislandstrust.org
) 2. Warren's Landing Public Park, also known as Pripet Wharf 3. Turtle Head Preserve, IIT 4. Spragues Beach 5. Passage inside Ram and Seal islands, depths seem to be as charted 6. Seal Harbor Public Landing, dinghy tie-up and limited 2 hour tie-up space for vessels up to 45 feet. Islesboro Harbor Master: David Sleeper, 207-734-9738 7. The Narrows Preserve, IIT 8. Islesboro Historical Society (
http://www.islesborohistorical.org
)

E-mail Ben (
gizmo@panbo.com
) or leave him a note via the form below to tell him about restaurants, parks, and the like that he can visit aboard the M/V
Gizmo
.
Click here
to travel with Ben Ellison and
Gizmo
on other
coastal adventures
on the Maine coast.
Share this article:
2023 Maine Boat & Home Show

Join Us for the Maine Boat & Home Show!
Art, Artisans, Food, Fun & Boats, Boats, Boats
August 11 - 13, 2023 | On the waterfront, Rockland, Maine
Click here to pre-order your tickets.
Show is produced by Maine Boats, Homes & Harbors magazine.