Gunkholing with Gizmo: Seguin Island
Gunkholing with Gizmo: Seguin Island
By Ben Ellison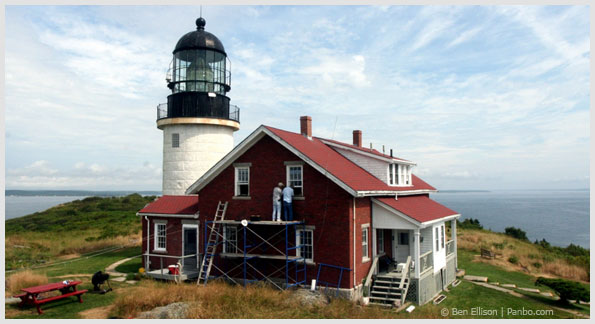 Volunteers at work on the Sequin Island light-keeper's house.
Popham Beach, Reid State Park and the mouth of the Sheepscot River
are visible in the background. All Photos by Ben Ellison
Click on image to expand.
Seguin would be one of the most dramatic islands on the coast of Maine even if it wasn't rich in human and technological history. That's why it's wonderful that all the island's assets are now in the loving care of an aptly named local non-profit: the Friends of Seguin Island Light Station (FOSILS for short). FOSILS enthusiastically welcomes visitors to Seguin—it maintains a museum in the keeper's house and grooms the several awesome trails—but actually getting ashore from your own boat is a hit-or-miss affair. The high ridge of Seguin sits just a few miles off the mouths of the Kennebec and Sheepscot rivers and is accessible from a small cove (1) that's well protected from the wide swath of open ocean it overlooks, all good reasons why George Washington commissioned the original lighthouse and lifeboat station here in 1795. Today, underwater cables preclude anchoring in the cove. A boater who has endured the sloppy conditions that the river currents often kick up in this area may find that the guest moorings are fully occupied. There's no dock, just a rough haul-out beach. That warning given, I can also note that we found a mooring free on a sunny Saturday morning in late July and had a terrific visit. While we hiked to the top—each vista more spectacular than the last—cheerful FOSILS volunteers were using the donkey engine and 750-foot tramway (2) to haul repair materials up to the current facilities (3), which were built in 1857 to state-of-the-art and artful standards. Other volunteers showed us the light itself, a rare first order Fresnel lens that's 12 feet tall and visible for 20 miles, and answered questions in the museum. A shelf of research materials, one binder marked "ghosts," led to a story about a keeper's wife who played the same tune on the piano over and over again until some very bad events occurred....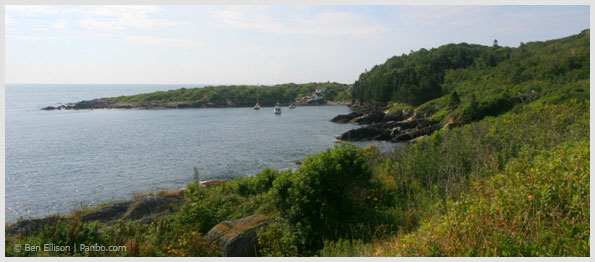 The cove as viewed from the Island's north end.
Click on image to expand.
But no one had cause for depression on the day we visited; even the prodigious mix of land and sea birds we encountered along the North Loop (4) seemed joyful. We took a dip down the South Trail (5), and found ourselves among flocks of swallows playing in the sea breeze updrafts, but it will take another visit to experience the south end itself and the Cobble Beach trail (6). Which brings me around to those mooring worries. It should be noted that FOSILS had divers looking for lost moorings last summer, and also that several charter boats offer rides to the island as an alternative to taking your own boat. You can find out about these opportunities and get more information at
www.seguinisland.org
. I also have another suggestion: I've become a friend of this fine island myself, and I have requested that at least part of my donation go to moorings so there's room for more cruisers. Please join me.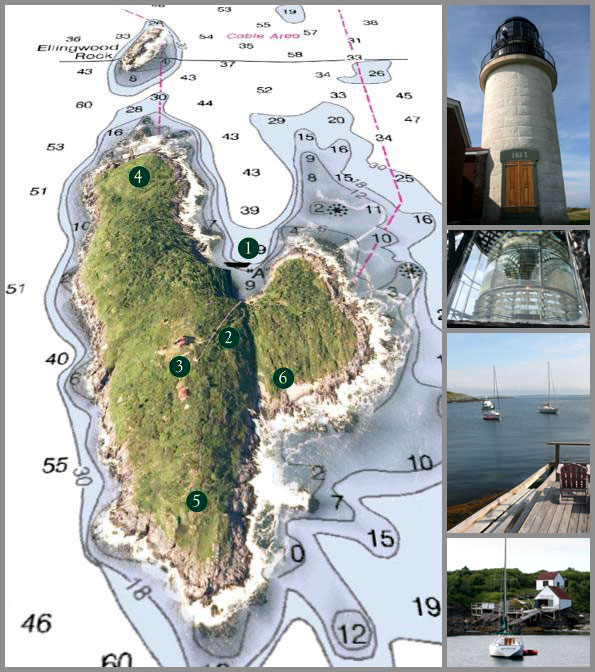 Click on image to enlarge chart.
Charlet Key: 1. The Cove 2. 750-foot tramway 3. Current facilities 4. North Loop 5. South Trail 6. Cobble Beach trail

E-mail Ben (
gizmo@panbo.com
) or leave him a note via the form below to tell him about restaurants, parks, and the like that he can visit aboard the M/V
Gizmo
.
Click here
to travel with Ben Ellison and
Gizmo
on other
coastal adventures
on the Maine coast.
Share this article:
2023 Maine Boat & Home Show

Join Us for the Maine Boat & Home Show!
Art, Artisans, Food, Fun & Boats, Boats, Boats
August 11 - 13, 2023 | On the waterfront, Rockland, Maine
Click here to pre-order your tickets.
Show is produced by Maine Boats, Homes & Harbors magazine.