Ted Fontaine's Friendship Series
Two Ted Fontaine yachts feature artistic lines
By Art Paine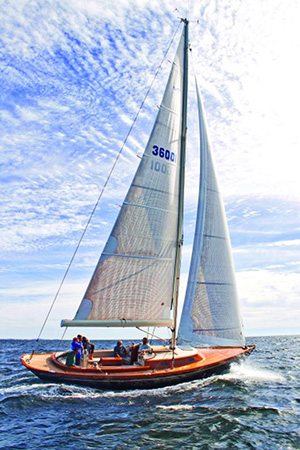 This Friendship 36,
Cari Ali
, launched last fall by Rockport Marine, was designed for daysailing as well as cruising. Hydraulics that simplify sail handling mean the boat can be sailed by fewer people. Courtesy Rockport Marine, photo by Nicole Jacques
By Art Paine There are so many interesting projects going on in boatshops up and down our coast that it's hard to choose which to feature. On the sailboat side, there are some extraordinary new boats under construction: a hundred-footer at Hodgdon Yachts in Boothbay that is designed to break speed records; a uniquely styled 74-foot cold-molded Frers racer-cruiser at Brooklin Boat Yard; a Bermuda 50 at Hinckley Yachts designed by the son of the man behind the boatbuilder's classic Bermuda 40; and then there's an especially pretty pair of cold-molded boats at Rockport Marine both designed by the same person: Ted Fontaine.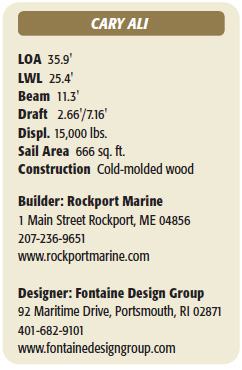 I've been waiting for years for the right boat, or boats, to use as an opportunity to properly credit Fontaine as a designer and artist. Both the boats at Rockport are variations of Fontaine's Friendship series of long-ended "cruising daysailers." This is not an oxymoron. I define this as a cruising boat for one or two couples that is easy to get under way, easy to sail by virtue of special technologies (like hydraulics), and with an unusually large and comfortable cockpit.
The Friendship 36's commodious cockpit has room for a crowd. Courtesy Rockport Marine, photo by Nicole Jacques
Cari Ali
, which was launched last fall but came back to the yard for the winter, is a Friendship 36. The new boat, nearing completion, is a Friendship 50.
Cari Ali
and the Friendship 50 are near sisterships above the waterline. Like all the yachts in Fontaine's Friendship series, they share low, round-front cabins, oval windows on each side, a strongly swept sheerline, longish overhangs, and elliptical transoms. Fontaine doesn't stray far from two or three "styles" that are nearly impossible to improve upon, at least aesthetically.

Cruising daysailer is not an oxymoron. I define this as a cruising boat for one or two couples that is easy to get under way, easy to sail by virtue of special technologies (like hydraulics), and with a large and comfortable cockpit.
He worked for years alongside Ted Hood, who was famous for designing heavy ocean racers, often with tiny shallow keels and airfoil centerboards. Hood's designs excelled in both very light and very heavy airs. Some of this rubbed off on Fontaine. Both
Cari Ali
and the Friendship 50 could be considered heavy displacement, according to current practice. Their similarities end below the waterline, however.
Cari Ali
draws just under three feet of water with the centerboard up, and seven feet with it down. The hull is V-shaped from stem to stern, creating a wedge-like form less prone to side-slipping. In sailing trials last summer the boat pointed to windward in such a way that you'd never suspect she had only an airfoil shaped centerboard. Thanks to the twin side-by-side rudders (which were much smaller than I'd have expected), Ted Fontaine said she steered "as if on rails." The Friendship 50 is a much more conventional boat, with a deep bulbed fin keel and a normal, high-aspect balanced rudder. Every boat designer knows you can't have great sailboats without great "foils." This boat's keel looks particularly efficient. It has the structural advantage of a fillet at the top-this means there is a curve where the keel meets the hull, not a sharp angle. Heavy displacement boats are inherently more stable than light ones, but when you add a deep-draft keel and bulb, the result is great sail-carrying power. This yacht has ample sail area in keeping with a competitive sail area/displacement ratio. Because it is built of wood, it qualifies to take part in classic yacht regattas, including the popular ones in Maine. I'd place money on this one.

The forward cabin in the Friendship 50 features an unusual island berth instead of the usual V-berth. Courtesy Fontaine Design Group
The hull shape is intriguing. The topsides are ever so slightly bulbous in the midsection-that is, there is "tumblehome." I have sufficient faith in Fontaine as an artist to suspect that this modeling might be contrived as much for its effect on an incredibly shiny paint job as for any small input into the stability curve.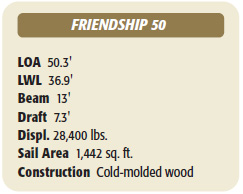 During an interview in his Portsmouth, Rhode Island, office, Fontaine related to me the origin of the Friendship monicker. For a long time he has been fascinated with Maine boatbuilding and design, particularly Friendship sloops-he first learned to draft at the Washington County Vocational Technical Institute's boatbuilding school in Lubec, Maine. Certainly the elliptical transom on the new Friendships is a complement to those historic fishing vessels. Most Friendship sloops built in the Muscongus Bay area, and many from downeast, feature elliptical transoms. Yacht designer L. Francis Herreshoff once said something along these lines about clipper bows: "It's an artful thing done right and an abomination done poorly." The same holds true for elliptical transoms. Fontaine is artist enough to carry it off. His sterns fair in exquisitely.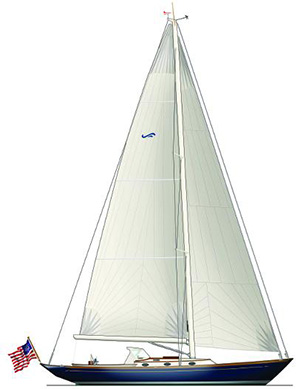 The Friendship 50 features a classically elegant sheerline. Courtesy of Fontaine Design Group
Moderate to heavy sailboats such as these create large bow and stern waves. For practical and aesthetic reasons, that wave-trough is a pretty complement to a gracefully dipping sheerline. Sheerlines have been getting flatter over time, especially recently. Call me hidebound, but I absolutely love a proper sheer like this. It remains lovely even when the yacht is not in motion. Boats intended for daysailing usually have extra-large sail plans and the Friendship 50 is no exception. Fontaine has placed two rolled jibs right behind each other. This is the topic of debate in yacht design offices for several reasons, including the slight interference for the inner jib and the need to roll the outer one when tacking. A multiple function hydraulics system that makes it easy to tighten whichever headstay is in use helps get around this problem in the Friendship 50. Both these boats also use a system in which a hydraulic ram effortlessly hauls and eases the mainsheet. The Friendship 50's owner previously had a fiberglass Friendship 40. He considered that boat's cockpit nearly perfect. As a result few dimensions were changed this time around. A great feature is a cockpit table that can be left in place while under way-nice for afternoon sailing. Two notable elements in the otherwise standard accommodations are the island berth in the forward cabin, and the head, which is larger than most and has a king-sized shower stall. There's nothing prettier than a boat built out of wood that doesn't hide that fact. This cabin offers views of the incredibly staunch bones of the vessel, to the extent that I would sleep soundly off-watch, no matter the size of the seas. It is not happenstance that so many offshore-capable boats these days are being built out of epoxy-bonded wood. Nothing sounds or feels quite so reliable as cold-molded.

Call me hidebound, but I absolutely love a sheer like this. It remains lovely even when the yacht is not in motion.
Fontaine has designed other boats built in Maine. It is to his credit that he doesn't overmanage a project, at least when he deals with Maine. I was surprised at how much leeway he granted Rockport Marine. In fact I noticed the builders were working from detailed four-color prints prepared by Brendan Riordan, Rockport Marine's own naval architect. I discussed this with Fontaine, knowing that on his 100-foot and larger boats he produces whole books of detailed plans. "You're not going to tell a Maine guy how to build a boat," he replied. Judging by the lovely joinerwork and finish of
Cari Ali
, only a couple of sheds away from the newer project, I could see what he meant. When it is launched the new Friendship 50's name will be Arabesque. The reference to balance and movement is appropriate. Like its Fontaine sistership
Cari Ali
,
Arabesque
is sure to be an elegant and nimble ocean dancer. Contributing Author Art Paine is a boat designer, fine artist, freelance writer, aesthete, and photographer who lives in Bernard, Maine.
Share this article:
2023 Maine Boat & Home Show

Join Us for the Maine Boat & Home Show!
Art, Artisans, Food, Fun & Boats, Boats, Boats
August 11 - 13, 2023 | On the waterfront, Rockland, Maine
Click here to pre-order your tickets.
Show is produced by Maine Boats, Homes & Harbors magazine.