MJM: Mary Johnstone's Motorboat
A powerboat designed and built by sailors
By Peter Bass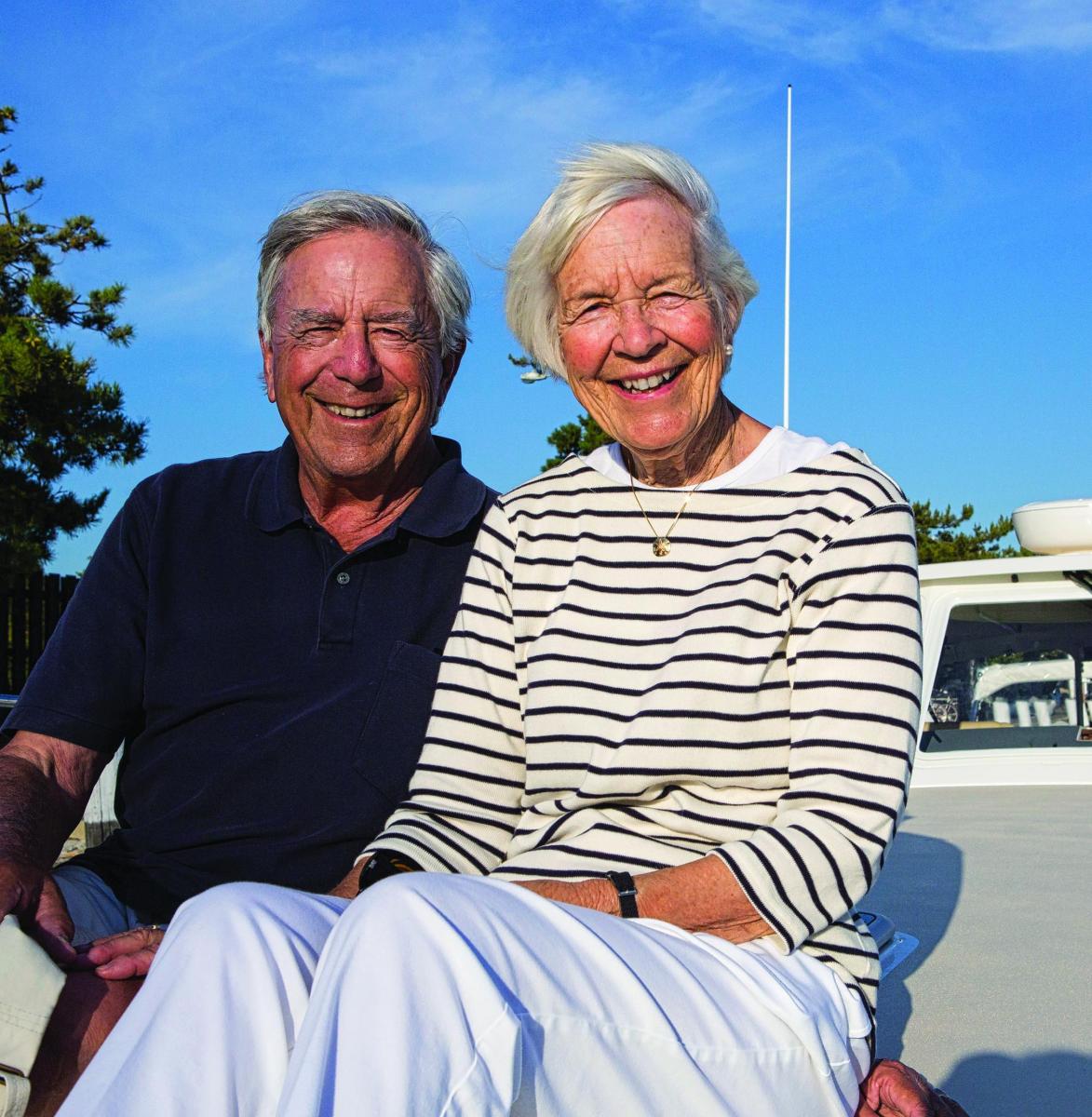 MJM stands for Mary Johnstone's Motorboat. Here she sits with her husband, Bob Johnstone, a founder of J/Boats who also started MJM. The idea for the first MJM came from Mary, who wanted a powerboat big and strong enough for cruising and offshore outings, as well as one that was light and easy to handle.
Photos by Billy Black
When J/Boats' Bob Johnstone set out to build a powerboat for his wife, Mary, he turned to fellow sailors to make it a reality. The result was a fresh take on what makes a good powerboat.
As a founder of J/Boats with his brother Rod, Johnstone's sailing, marketing, and boatbuilding credentials are huge. Founded in 1977, J/Boats, which has launched 14,000 sailboats since then, is a world leader in performance sailing craft. 
As with many accomplished sailors, Johnstone started early. He began boating with his parents when he was two and his family life since then has revolved around boats, many of them in Maine, where he served as commodore of the Northeast Harbor Fleet and helped run Downeast Race week.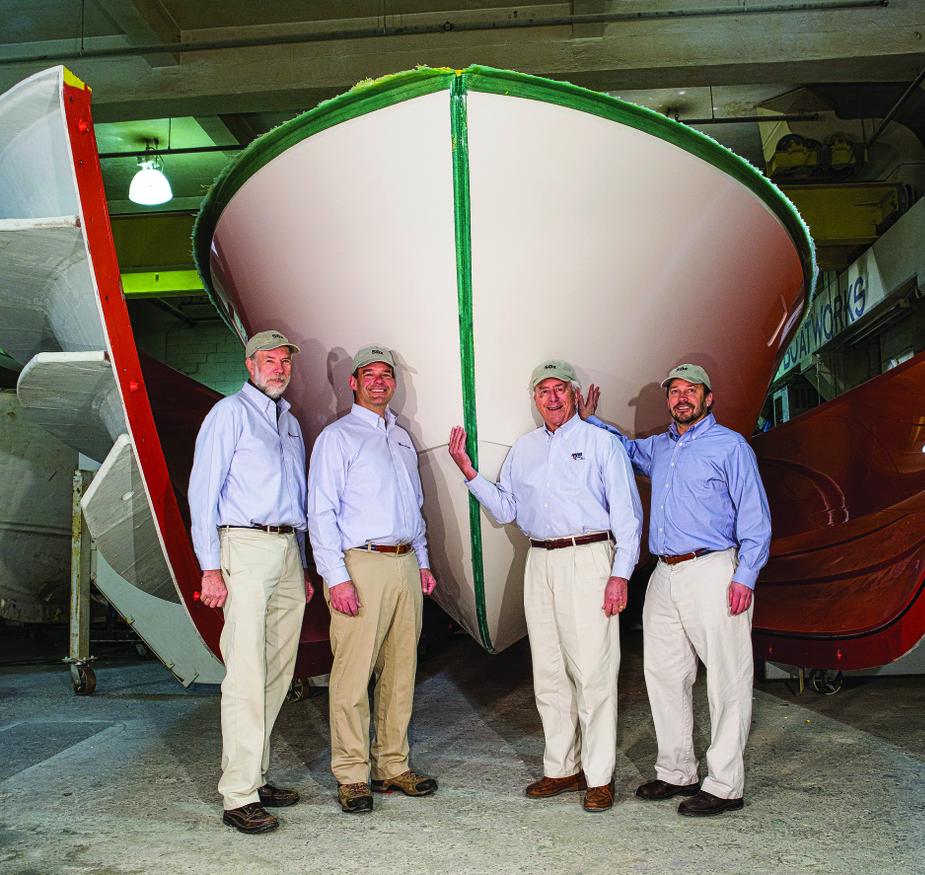 The team of sailors who helped make the MJM powerboats a reality includes, from left to right, builders Mark Lindsay and Scott Smith of Boston Boatworks, MJM founder Bob Johnstone, and yacht designer Doug Zurn. They are standing in front of the hull of the newest MJM, a 50z, just out of the mold.
By the mid 1990s he and Mary found that their boating time together was more often in powerboats, in particular a 1993 soft top Dyer 29 named Grace, a 40th anniversary present to Mary. But Mary wanted something a little bigger. Johnstone knew that to come up with a boat that she could handle solo, it would have to be lighter, stronger, and narrower than any in the marketplace. The couple planned to use the new boat for cruising as well as day trips with friends.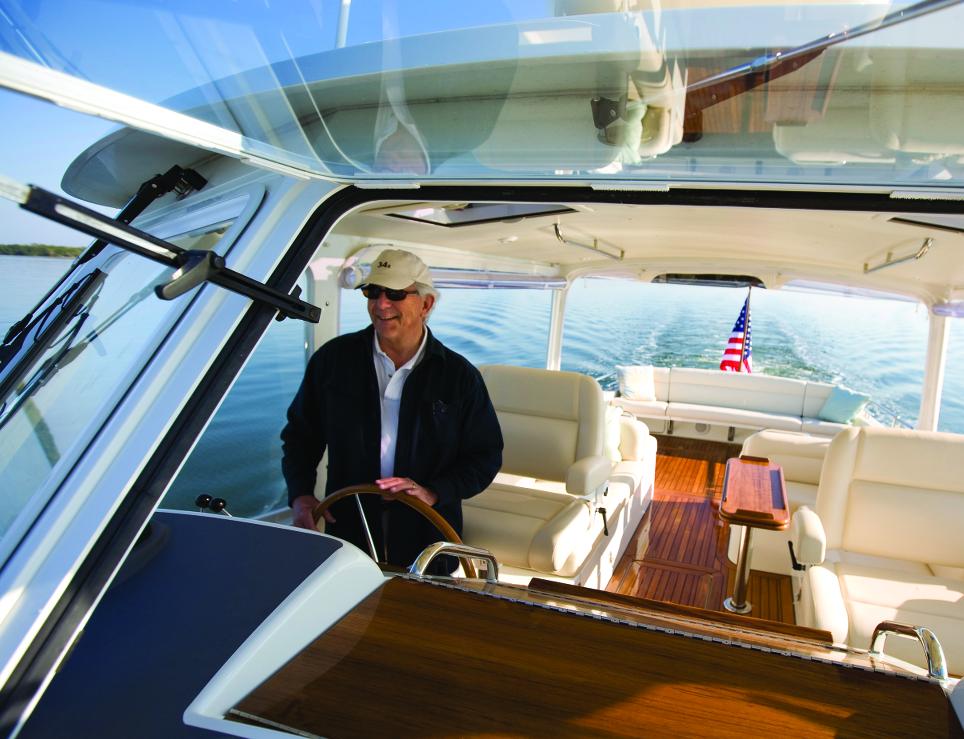 Bob Johnstone puts the MJM 40z through its paces; (below) he shows off the MJM 34z. All the MJM models are known for their sea-handling ability as well as for being extremely fuel-efficient.
The first challenge was to find the designer with the best eye, because a good-looking boat was priority number one. 
Johnstone's search eventually zeroed in on a young designer, Doug Zurn, who had drawn what was regarded as one of the prettiest powerboats of the time for singer Billy Joel, the Shelter Island 38. Like Johnstone, Zurn had grown up in a sailing family; blueprints of his father's ocean-racing yacht Kahili II were framed on his childhood bedroom wall. He immersed himself by enrolling in the Westlawn School of Yacht Design and then worked as draftsman/designer with the likes of Dieter Empacher, Chuck Paine, and Tim Jackett of Tartan. 
At this point, Johnstone had the concept of a more open, 34-foot-long, high-tech boat and he had a designer to pull off a signature look. Now he needed to find a boatbuilder who could make it a reality. Many builders in the early 2000s were making fine fiberglass boats using hand- or infused-layup construction with polyester or vinylester resin. That was strong enough, but was heavier than what Johnstone and Zurn wanted. 
Since no powerboat companies had the technology they needed, they went back to sailing friends, specifically to Mark Lindsay, a sailor who had been pushing the composite-construction envelope for 35 years. Lindsay's background in sailing, racing, and boatbuilding is vast. His obsession started early with a Sailfish he built with his father, and sailed to victory in the season series at his local club. 
As a student in architectural engineering at University of Pennsylvania and the Massachusetts Institute of Technology, he polished the technical side of his craft. "The classes opened my mind to the distinctions between stiffness and strength; testing labs provided a fascinating opportunity to load structures and watch how they failed," Lindsay said. "I also found myself drawn to the MIT Sailing Pavilion where the Charles River was a test tank for all our ideas on what makes boats go faster."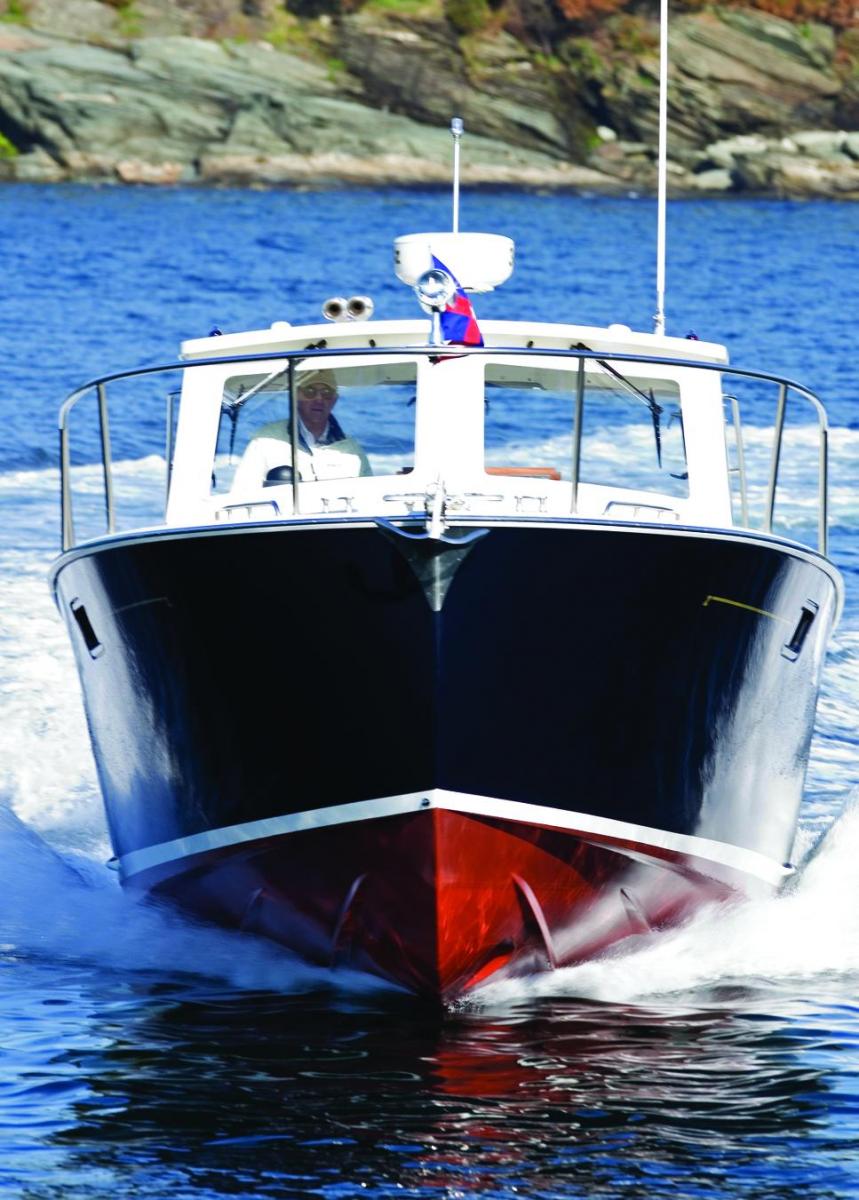 On the racing side, Lindsay-built boats have won a variety of international championships, including one he sailed to victory in the North American 505 Championships. Lindsay had built world championship dinghies and America's Cup boats, utilizing the materials and techniques that were destined to go into an MJM: epoxy, Kevlar, Corecell, and e-glass—vacuum-infused and then post-cured at 150 degrees.
Lindsay had joined forces with Scott Smith, an intensely curious, multifaceted engineer, banker, manager, and entrepreneur, to form Boston Boatworks in 1996. Smith also brought to the table a lifetime of sailing and racing. 
Concept, designer, and builders well in hand,  maybe the most important player in this story is the "M" in MJM: Mary Johnstone, the inspiration for Bob Johnstone's "ultimate powerboat." She is a sailor, too, having spent her early youth on Islesford, sailing a Cape Cod dinghy. Later Bob and Mary Johnstone raced together on their many J/Boats.
"Mary's input is frequent and invaluable; there is not much that goes on at MJM without her blessing," confessed Johnstone about his first mate, who also happens to be an Episcopal priest.
The first MJM was the 34z, launched in 2002. Currently the company builds four models from 29 to 50 feet long in a new facility at the Charleston (Massachusetts) Maritime Center.
So what is it about being a sailor that helps make a better motorboat?
Racing sailboats need to be controllable in the most challenging conditions, Johnstone said. 
"That's why all MJMs can cruise at 25 knots and respond instantly to the wheel. You need that speed to overtake waves down sea. When waves overtake you, the rolling and yawing can be much more frightening than heeling in a sailboat," he said.
All the MJM models are very fuel-efficient. In addition, the 40z is the only downeast-style boat of any size that is ISO certified for extended ocean voyages in challenging conditions.
"The idea of an efficient design, overcoming resistance with the least amount of energy expended as a component of performance, is foreign to the powerboat world," Johnstone said. "In that sense, creating better performing sailboats translates directly into creating better powerboats." 
All those happy MJM owners are proof that the concept's sea legs are rock solid. Thank you, Mary.
---
Peter Bass lives in Virginia and works as a yacht broker. MJM is one of the lines he represents.
---
MJM Yachts
Mobile 401-862-4367
Share this article:
2023 Maine Boat & Home Show

Join Us for the Maine Boat & Home Show!
Art, Artisans, Food, Fun & Boats, Boats, Boats
August 11 - 13, 2023 | On the waterfront, Rockland, Maine
Click here to pre-order your tickets.
Show is produced by Maine Boats, Homes & Harbors magazine.