Winterport Boat Yard: Trans Cat 26
The utility infielder of workboats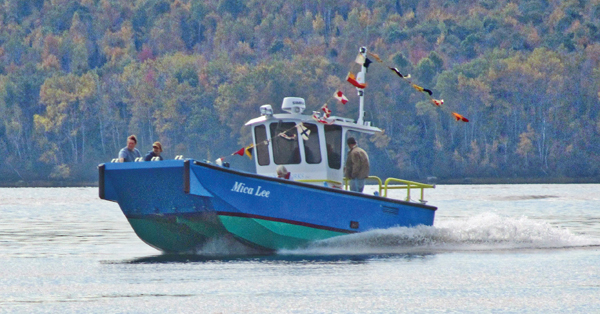 The versatile Trans Cat 26 can handle many tasks ranging from towing to hauling heavy duty cargoes.
By Dave Getchell Jr. SOMETIMES—wait, make that almost always—if a boat looks right for the job, it IS right. The Trans Cat 26 is an aluminum utility cata- maran bred to handle all manner of tasks tossed its way. When shipwright Henri Gignoux and the welders at Winterport Boat Yard got to thinking about a tough, capable and multi-purpose work vessel, here's what transpired. They started with a classic Higgins boat-style landing craft, and all the usefulness that might entail. Then they added seaworthy twin hulls, twin engines, twin outdrives, shallow- water capability, a flat 11'x16' working deck, a seven-foot flip-down bow door, loading boom, and a winch. Whatever job you choose, this boat can do them all: Tow a broken-down motoryacht; rescue a damaged sailboat; barge big floats around, maybe with a 40-foot ramp balanced up over the bow; deliver lumber to rebuild that waterfront cabin where roads don't go; serve as a do-it-all utility boat for an island owners' association or government agency; hoist, set, and maintain moorings; support kayakers, paddleboarders and/or divers; or maybe just go chase some stripers.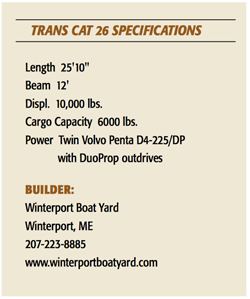 Core to the boat's utility is its weld- ed-aluminum construction. With 1⁄4" plate hulls and 1⁄2" armor on the beach skids, the Trans Cat need not be babied when it's time to drop stuff ashore. Twin 225-hp Volvo diesels offer a 20-knot cruising speed when lightly laden, and lots of shoving power at slower speeds. Outdrives set at the far corners of the wide, short hull, help make the vessel highly capable in close-quarter maneuvering. It can spin with one drive digging forward, the other in reverse. Tilt the drives up, and the boat can be run into shallow water and be loaded or unloaded on your own schedule, not the tide chart's. Last summer in Northeast Harbor, I saw the the Trans Cat 26 Mica Lee nosed up to the public landing, where the crew was hucking a brimming boatload of rotted dock timbers into trucks. A few days later the boat was all spiffed up and on public display at the Maine Boats, Homes & Harbors Show in Rockland, where all manner of folks saw its potential. Dave Getchell, Jr. is Associate Publisher of this magazine.