Lost birds, kelp farms, and more!
By Polly Saltonstall
Build a better life jacket
The Northeast Center for Occupational Health and Safety is asking New England lobstermen to help design a life jacket that they might actually wear.
Researchers visited Maine docks this winter to recruit fishermen to try out different kinds of personal flotation devices, or PFDs, for a month to determine which designs work best for daily use aboard a lobsterboat, according to a story in the Portland Press Herald.
In a recent study, the center found that only 16 percent of lobstermen reported using a personal flotation device on the job, even though they know the risk of drowning. Falls overboard are the leading cause of workplace fatalities for New England lobstermen, according to the National Institute for Occupational Safety and Health, and no lobstermen who died from a fall overboard was wearing a life jacket.
One fisherman told interviewers he had been dragged overboard by a trawl line just a few months earlier. "I died," he said. Another fisherman pulled him back aboard and revived him on deck, according to the newspaper report.
Almost all of the 73 people interviewed by the Northeast Center for its PFD attitude survey either had a close call on the water themselves or knew someone who had gone overboard, usually dragged into the water when a foot got tangled in the rope. Even those drownings have not been enough to convince fishermen to wear PFDs. The hope is to change that with a new wearable design. Bring on the ideas.
---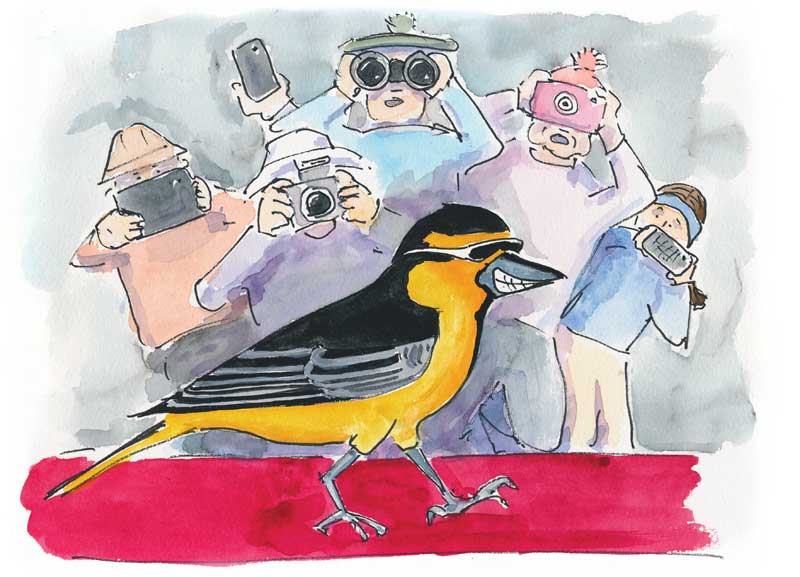 Illustration by Ted Walsh
Western bird tourist lands in Camden
As soon as she saw the little orange-yellow bird at the feeder outside her kitchen window in mid-November, Melinda Sortwell knew it was something unusual. When she looked in her bird books, though, she was perplexed. The bird, with its black chin and lores and white wing patches, looked like a Bullocks Oriole, which lives out west. Only two sightings have ever been confirmed in Maine since the 1960s—in addition to one that was shot in the Bangor area in 1889. Sortwell posted an image on the Internet and got in touch with folks at Maine Audubon. Could this really be a Bullocks Oriole?
Baltimore Orioles, while not common, have been spotted in the Pine Tree State, mostly during the late spring and summer. Bullocks Orioles, on the other hand, range from the U.S. west coast to the Great Plains. They winter in Mexico and South America, not Maine. 
As soon as they saw Sortwell's photo, an Audubon bird expert and two colleagues drove up from southern Maine to Camden and confirmed that yes, this was indeed a very confused young male Bullocks Oriole. Then the bird-watching frenzy began. 
By late January, over 100 bird watchers had converged on Sortwell's yard from as far away as Connecticut. On especially cold days, she invited visitors into her cozy kitchen with its front-row view of the feeder preferred by the robin-sized bird. Sortwell kept a visitor's guest book and documented when the bird arrived and left each day.
"This couldn't have happened to a better person," she said happily, explaining her love of nurturing and tracking her bird visitors. 
Despite freezing temperatures and snow storms, Sortwell's western avian visitor was still hanging around in late January, and birders were still trekking to her yard to see him. An online birdwatcher's message board with instructions about where and when to see the bird contained dozens of postings. 
It turns out that Maine is a major birding destination. We knew about the Maine art and maritime history trails, but word of the Maine Bird Trail was news to us. The state even hosts a handful of birding festivals. Some say bird watching is one of Maine's fastest-growing outdoor "sports," second only to gardening.
A 2006 survey by the U.S. Fish and Wildlife Service counted 48 million U.S. birders, who spent $12 billion on trip expenses, and $24 billion on bird-watching equipment. 
Sortwell is part of the movement. She's buying live mealworms for the bird and even invested in a heated bird bath to make sure her guest could get fresh water when Maine's lakes and streams froze over.
No one seems to know whether the bird will move on, or not. Maybe the next step is to find him a girlfriend. 
---
"Girl Power" at Hinckley
Hinckley has a new general manager for its Southwest Harbor and Northeast Harbor Yard and her name is Tara Regan.
"We are delighted to appoint the first woman to head up our Maine yards," said Hinckley COO Mike Arieta, "a woman who is exceedingly qualified and who has our complete confidence." Regan will work closely with the two yards' 85 employees and oversee the service and storage this season of 300 yachts.
She has 16 years of marine industry experience, and has worked in many capacities from delivery captain to yacht broker to yard manager. A graduate of Curry College in Milton, Massachusetts, Regan holds a 100-Ton U.S. Coast Guard Captain's License. She grew up on Cape Cod and is an avid J/24 sailor, ice climber, and boater.
---
Hello, operator?  We need a tow
The Bath-built USS Zumwalt, the first-in-class "stealth" destroyer that left the shipyard at Bath Iron Works last fall, broke down while passing through the Panama Canal and had to be towed by tugs through the locks toward the Pacific Ocean. The DDG 1000, the first of a class of three destroyers that cost an estimated $22 billion combined, "suffered an engineering casualty," according to the Navy Times. The Zumwalt was towed through the locks to Rodman, a former U.S. military base.
The ship lost propulsion in its port shaft and salt water leaked into the Zumwalt's two electrical motors that are driven by its gas turbines and in turn electrically power the ship's systems, a defense official told USNI News. The ship sustained minor cosmetic damage when it made contact with the lock walls. The incident was not the first breakdown for the pricey ship. In September, the Zumwalt stayed in Norfolk, Virginia for two extra weeks while a seawater leak in the propulsion motor drive oil auxiliary system for one of the ship's shafts was repaired. 
Meanwhile, the Zumwalt's first commander, Capt. James Kirk moved on, or should we say he was beamed up, to a new post at the Pentagon. The new commander is Capt. Scott A. Tait, according to news reports.
---
Kudos for Sea Tow Portland/Midcoast 
Speaking of tows, maybe the Navy should have called captains Matt Wilder and Bruce White of Sea Tow Portland/Midcoast (Maine). Sea Tow Services International named the Maine franchise 2016 "Rookie of the Year" at the national organization's 2016 annual meeting last fall.
Maine's Sea Tow Portland/Midcoast uses four distinct yellow Sea Tow boats to provide on-water assistance to boaters in the Atlantic Ocean and inshore waters of Maine in the 45-mile stretch between Goat Island off Cape Porpoise in the south to Pemquid Point to the north. 
Captains Matt Wilder and Bruce White are fixtures in the Boothbay Harbor area. Wilder was born in Boothbay Harbor and has been a maritime professional since he was 14, receiving his Coast Guard captain's license at age 21. White took his first boat ride with his parents when he was just two weeks old and he has been on the water ever since. At age 14, he started his passenger-carrying career and obtained his captain's license at 19 years old. He currently holds a Coast Guard license for vessels up to 100 tons.
---
Kelp is the new kale
Or at least that's what they are saying down in Casco Bay where Shearwater Ventures is joining Portland-based Ocean Approved to grow seaweed. Nathan Johnson, who started Shearwater last year, signed a state lease last fall on nearly 4 acres of seabed. He intends to grow sugar kelp, his foray into the $5 billion worldwide kelp industry, according to a report in the Press Herald.
Aquaculture has been identified as one of the state's three top industries—along with agriculture and biopharmaceuticals—that have potential to grow and add value to Maine's economy.
Kelp farming is just getting off the ground, or more accurately, into the water. Johnson's $100-an-acre annual lease is one of the first handed out by the state. Initially, he plans to sell his kelp to Ocean Approved, a local kelp-producing company that provides freshly frozen kelp to customers such as Portland's Flatbread Co., which uses it in some of its salads. Kelp also can be used to make a coleslaw. Other types of kelp can be used for biofuel, pharmaceuticals, and cosmetics, the newspaper reported.
---
Waiting for the subway downeast
In what might seem welcome news to urbanites who love the subway, Washington and Hancock counties now have their own underground rapid transit system, complete with stations and stationmasters, a website, and color-coded map of the different lines. Only if you sit down at one of these stations and wait for the train, you might be there for a long time. That's because the "Downeast Rapid Transit (DRT) System is an elaborate performance art project. 
According to its website, the DRT aims to build connections and stimulate transformative conversation by imagining universally inclusive, accessible, affordable, safe, reliable, carbon-neutral, and beautiful underground rapid transit service  in coastal Washington County.
The brainchild of John T. Bullitt, the DRT began in 2014 and stations have slowly come on line since then. A map at www.downeastrapidtransit.com shows six lines with stops at places like the airport in Bangor and Acadia National Park. Stations include identifying signs ("stationmasters" are landowners who agree to host the signs); some have reserved parking signs noting that "violators will be disappointed."
The project has continued to grow, prompting many comments. One photo on the DRT's Facebook page shows a man sitting in a chair in the middle of a blueberry field next to a DRT sign.  He's looking at his watch. "Waiting for a train has never been more beautiful," says the caption. Another "rider" posted a photo of her father next to the McClellan Park station. "My dad waiting for the subway…Oh no, he's still waiting."
The news section of the site notes when various stations came on line, including the water line, served by the M/V Eider D., an old wooden lobsterboat. On March 20, 2015, a press release noted the return of Persephone from the underworld—the first day of spring perhaps?
---
Eastport building gets out of the can
The way-downeast city of Eastport got a huge boost in the arm with the news that a Kansas City developer has agreed to partner on an $18 million plan to renovate the former 30,000 square foot American Can Building on the waterfront.
The brick structure was built in 1908 to make cans for the sardine industry and more recently was used by salmon farmers. It has been vacant since 2004.
Dirigamus LLC, which has owned the building since 2003, has partnered with the Arnold Development Group of Kansas City, to turn the building into a boutique hotel with residential and retail space with a 2018 completion date.
---
Fishing deaths lead to charges
A Cushing lobsterman has been charged with manslaughter in the deaths of two crewmen who were lost at sea when his boat capsized and sank near Matinicus Island during a storm in 2014.
Federal prosecutors have accused Christopher A. Hutchinson of taking oxycodone, using marijuana, and drinking alcohol before taking out his boat, No Limits, early on Nov. 1, 2014, with two crewmen aboard, according to the Portland Press Herald. Tomas Hammond, 26, and Tyler Sawyer, 15, were never found after the boat flipped in heavy seas and sank several miles west of Matinicus as it was headed back to its home port in Tenants Harbor. 
Hutchinson, 28, pleaded not guilty to the charges at a hearing in U.S. District Court. He was charged under the Seaman's Manslaughter Statute, which used in cases of misconduct or negligence by anyone responsible for managing a vessel, including a captain, pilot, or owner.
In an interview a few days after the sinking, Hutchinson said No Limits was on the way back to the mainland when the seas and winds quickly intensified, causing the 45-foot lobsterboat to flip. He was not wearing a survival suit or PFD,  but was able to get into his life raft and was rescued by the Coast Guard. Blood tests conducted that night revealed he had oxycodone and marijuana in his system, according to the Press Herald.
---
Maritime lending library
The nearly 200-year-old Maine Charitable Mechanic Association has created a new marine book collection within its library of trade and professional books. 
Seeded with a gift of 1,500 books from Portland-based Navigator Publishing, the collection aligns MCMA with its original mission to help local tradesmen pool their resources and knowledge, further their education, and improve the quality of their work. Amassed over the last 25 years, the Navigator Publishing collection is a trove of technical works—including many hard-to-find works—for mariners studying for officer and rating endorsement exams, as well as specialist volumes on navigation, electronics, boatbuilding, fisheries and yachting for both professional improvement and personal edification.
One of the last remaining membership libraries in the United States, MCMA members ($25/year) can check books out from the marine collection or use them in the library. The private, non-profit organization, founded in 1815, has been headquartered at Mechanics Hall in Portland, Maine, since 1859. 
---
Over the bar
The coastal community lost two valued friends this winter, builder of birchbark canoes David Moses Bridges and Bigelow Laboratory's Executive Director Graham Shimmield.
Bridges, a proud Wabanaki and member of the Passamaquoddy tribe, died in January at age 54 after a tough battle against cancer. He attended The Boat School in Eastport, and later worked at Benjamin River Marine and Brooklin Boat Yard, both in Brooklin, Maine. While taking a class on Traditional Birch Bark Canoe Making at the WoodenBoat School in Brooklin, he became friends with instructor Steve Cayard, and went on to apprentice and teach with Steve. As his skill grew, he shared the craft in the Native communities, museums, schools and institutions, becoming a widely recognized master.
Shimmield passed away December 24, also after a hard-fought battle with cancer. An accomplished scientist and a visionary leader, he had been at Bigelow since 2008. Under his leadership, Bigelow nearly doubled in size, developed significant education programs, and increased the reach and impact of its science through expanded outreach and the new Centers for Venture Research. 
---
New owner for Islesford eatery
Good news for food lovers and boaters around Cranberry Island.
Mt. Desert Island restaurateur Michael Boland, owner of Havana and Choco-Latte in Bar Harbor, and billionaire and part-time Northeast Harbor resident Mitchell Rales have together purchased the Islesford Dock Restaurant on  Little Cranberry Island from longtime owners Dan and Cynthia Lief, who have retired.
In a press release, Boland said the popular eatery will remain largely the same as it has been since the Liefs began operating the restaurant in 1993. Both he and Rales said they look forward to providing jobs and maintaining a sense of community.
"We certainly hope to run as great a restaurant as Dan and Cynthia did for the last 24 years," Rales said in the release.
The Islesford Dock restaurant has been in operation for decades, initially as a snack shack, and then expanding in the 1980s. A favorite stop for both Islesford residents and for boaters, it is also home to an art gallery.            
Share this article:
2023 Maine Boat & Home Show

Join Us for the Maine Boat & Home Show!
Art, Artisans, Food, Fun & Boats, Boats, Boats
August 11 - 13, 2023 | On the waterfront, Rockland, Maine
Click here to pre-order your tickets.
Show is produced by Maine Boats, Homes & Harbors magazine.