Way Back When — Issue 150
Back before bridges, there were ferries
By The Editors
Photo courtesy Penobscot Marine Museum
The Rumford Center ferry (above), one of a number of ferries once crossing the Androscoggin, here serves, in effect, as a prototype landing craft transporting members of the 5th Infantry Regiment.
We know that the river is flowing from right to left, because the trolleys on the cable had to be rigged on the ferry's upstream side. Chains from the trolleys ran through a pulley on the deck and up to cranked winches. At the outset of a passage the chains were adjusted so that the "bow" was angled upstream, causing the current to propel the scow forward. Two leeboards lowered on the upstream side increased the water pressure. The cable was adjusted to the river height by a capstan.
As vital public conveyances, ferries were closely regulated, particularly when running between towns or counties. They were also protected from competition. Traditionally a ferry was summoned by the would-be customer blowing on a communal tin horn.
The 5th Infantry Regiment had been active in the Indian wars but did not see combat in the Spanish American War or World War I. At some point, possibly right after WWI, the 5th was attached to the inactive 9th Division and relegated to garrison duty at Fort Williams, at Cape Elizabeth. Here, they appear to have captured the Eastern Illustrating Company's Model T.
The last ferry to operate on the Androscoggin, at Rumford Point (upstream from Rumford Center), was replaced by a bridge in 1955.
The East Peru Ferry (below) crossed the Androscoggin between East Peru (foreground) and Dixfield. The owner and ferryman, William Paul, is shown here paddling a river driver's bateau—perhaps it had been damaged during a drive, abandoned, and was then repaired by Paul. Paul's scow, used for his team and wagon, may be glimpsed across the river—the steel cable, which tethers the scow on its crossings, is on the left. Paul owned a sawmill in Dixfield that produced spool stock, which he ferried across the river to the East Peru station of the Portland & Rumford Falls Railroad.
Excerpted and reprinted with permission from Maine on Glass: The Early Twentieth Century in Glass Plate Photography, by W.H. Bunting, Kevin Johnson, and Earle Shettleworth, Jr., Tilbury House Publishers, with the Penobscot Marine Museum, 2016.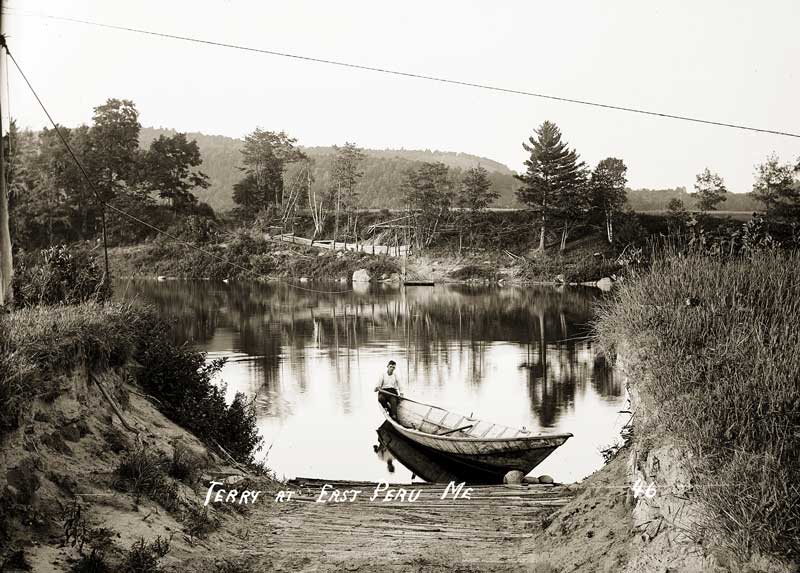 Share this article:
2023 Maine Boat & Home Show

Join Us for the Maine Boat & Home Show!
Art, Artisans, Food, Fun & Boats, Boats, Boats
August 11 - 13, 2023 | On the waterfront, Rockland, Maine
Click here to pre-order your tickets.
Show is produced by Maine Boats, Homes & Harbors magazine.