Umiak
Students build a boat and learn confidence
By Polly Saltonstall
Photos by Chris Pinchbeck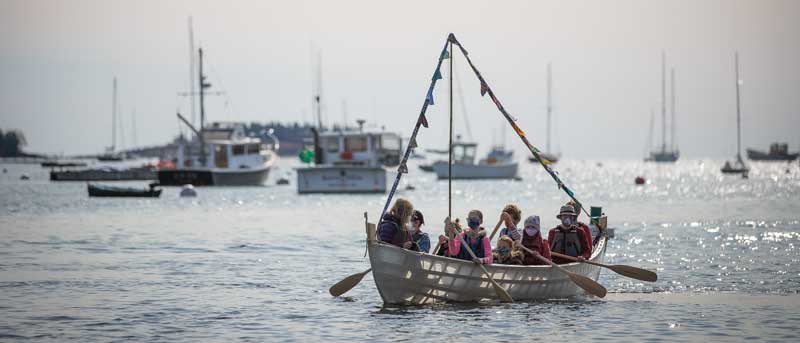 Building a boat can teach so many life lessons, as well as technical skills. Students at the Sweetland School, a small K-8 private school in Hope, Maine, found out that the process also can bring great joy and inspiration. They spent a year building a modified version of an 18-foot skin-on-frame Inuit umiak, and launched the boat last October.
Each of the students fashioned their own paddle from local spruce planks and used them to propel the boat, which they named Dental Floss, around Rockport Harbor. As they paddled triumphantly, their bodies were silhouetted by the light shining through the boat's translucent hull.
"We all put our hearts and souls into Dental Floss," said student Raya Luehman in one of several pre-launch speeches. "Now we are ready to launch, to let go of our earthly bonds and take to the water."
The project was led by instructor Paul Cartwright of Camden, an experienced boatbuilder and self-described tinkerer. The boat was made using only hand- and pedal-powered tools built by Cartwright, including a pedal-powered band saw and jigsaw.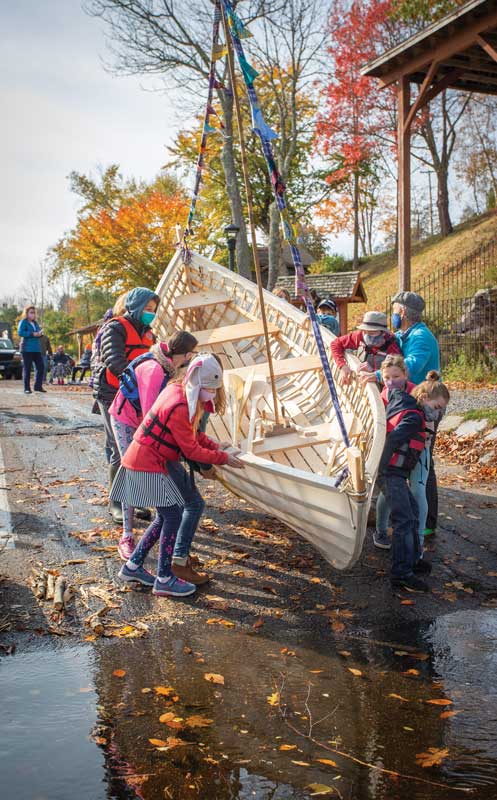 The students at Sweetland School launched their umiak on a sunny October day in Rockport Harbor. They each carved their own paddle to propel the boat. The design of the boat lent itself to beginning boatbuilders; the wood frames were lashed together with synthetic twine, which the students thought looked like dental floss, hence the boat's name. Then the students stretched a nylon fabric over the whole hull.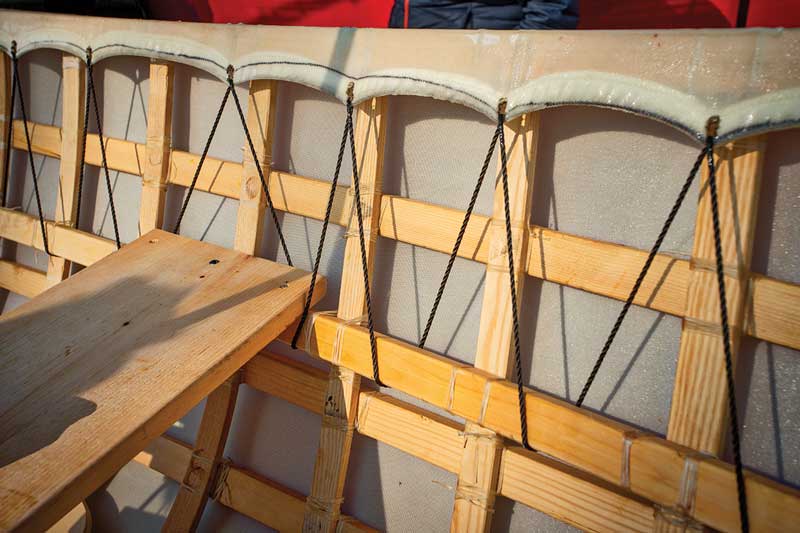 The keel and stringers are of local spruce. The white ash frames, which the students bent themselves in a steam box, came from a tree that grew near the school—a friend of Cartwright's felled it for the students. The stems and thwarts are of local pine. Synthetic twine was used to lash the stringers and frames together, and woven ballistic nylon was used as a skin. The fabric was then coated with a two-part urethane to make it waterproof. The students named their boat Dental Floss in honor of the twine lacing used in its construction. Student Cameron Pinchbeck paid tribute to the twine in his pre-launch speech, noting its similarity to floss. He said, "It's three times thicker and waxed. I will admit that on multiple occasions I did actually floss my teeth with it, but hey, wouldn't you?"
The choice of building a boat goes back to the students' choice of water as a theme for their classroom studies during 2020-2021, said Sweetland principal and founder Lindsey Pinchbeck. Cartwright suggested the umiak, as the techniques required to build the light, double-ended boat lend themselves to inexperienced builders. About 20 students worked on the project, but a core group of 12 did most of the work, Cartwright said. The COVID-19 shutdowns last spring set the project back, but the youngsters were able to start back up and finish the boat when school began again this fall.
Some of them were so inspired by the project, Pinchbeck said, that they have already started building another boat; Cameron Pinchbeck was so excited he contacted Rockland's Apprenticeshop, which teaches boatbuilding skills, about working on one of that school's projects.
Traditionally umiaks feature a light wooden frame lashed together with a walrus-hide covering laced on at the gunwales. Cartwright designed Dental Floss to be 18' long and 4'10" wide, a little bigger and wider than a traditional umiak but able to hold more students. It weighs about 150 pounds and can carry 10-12 people, he said.
Once they started work, the students did not use written plans. "We laid out the shape of the stem and the keel, and one cross section and did it by eye from there," Cartwright said. "We didn't even use a tape measure. We did it by eye, and what looked right."
The process of learning how to use traditional woodworking tools and building a boat was transformational for the students, he added. "The biggest thing they learned was self-confidence. To watch them gain proficiency with the tools and create and launch this thing was just so wonderful," he said.
Cartwright noted the project was cost-effective as well, costing "only a few hundred dollars." He said he would love to see more schools embark on similar projects and offered to advise anyone who wants to take on building an umiak as a summer project.
"Aside from the fact that some of us like homemade boats, it's great for the broader context of learning," he said.
---
Polly Saltonstall is editor of this magazine.
---
Umiak
LOA: 18'
Beam: 4' 3"
Weight: 150 lbs.
5 thwarts, 6 paddlers, 4 passengers (more if children)
Share this article:
2023 Maine Boat & Home Show

Join Us for the Maine Boat & Home Show!
Art, Artisans, Food, Fun & Boats, Boats, Boats
August 11 - 13, 2023 | On the waterfront, Rockland, Maine
Click here to pre-order your tickets.
Show is produced by Maine Boats, Homes & Harbors magazine.