Farewell and hello
By John K. Hanson, Jr.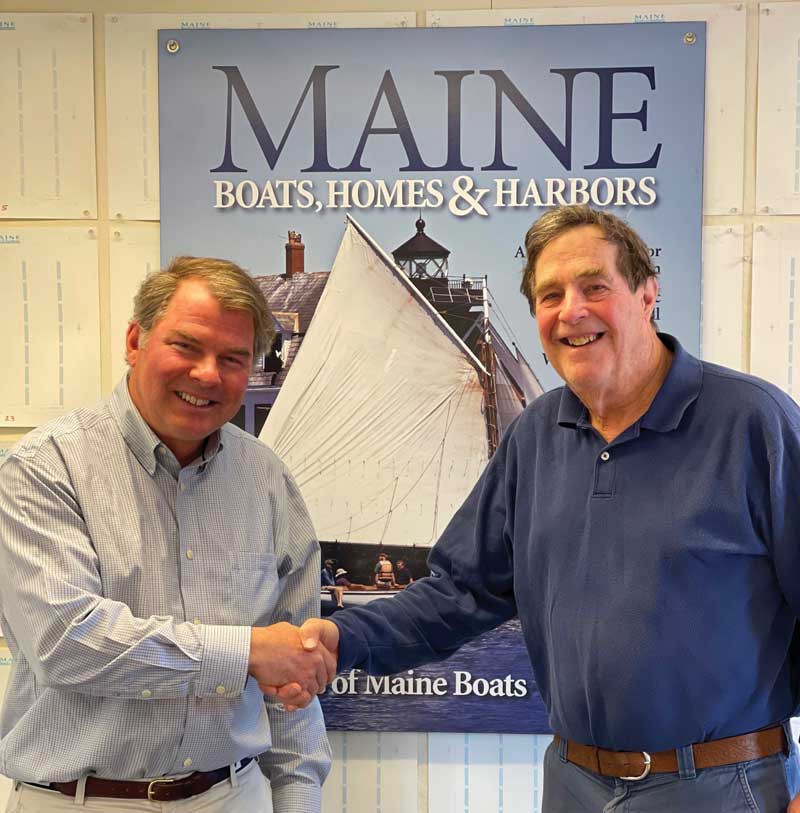 Ted Ruegg, left, and John K. Hanson Jr., right. It was just about 35 years ago that I sat down to write the first of these little epistles. I was more than a little freaked by the amount of room I was told to fill—two thirds of a page! Not for the first time, my golden retriever, Fagin, came to my rescue. I decided to fill half of my space with his story as a "Boatyard Dog," starting one of our most loved columns, and minimizing my pontificating.
This current column will be my last as owner and publisher of Maine Boats, Homes & Harbors magazine. On May 1, Ted Ruegg took over the helm. Ted is a lifelong summer resident of the Maine coast, a top-flight sailor, and he has been involved in the marine publishing business most of his adult life. I can not think of a finer successor—and maybe he will let me visit in this space occasionally as I will stay on for a year as publisher emeritus.
We are celebrating the transition, as well as the magazine's 35 years of publishing, on August 12-13 in Rockland with the Maine Boat & Home Symposium and Birthday Bash (details on page 62). The weekend will begin Friday night with a sneak preview of a movie showcasing the indomitable spirit displayed by shipwreck survivor Steve Callahan, a Maine boatbuilder and designer, during his 76 days in a life raft. I'm really looking forward to seeing this film.
On Saturday, several area boatyards will host tours in the morning. The afternoon will feature presentations by nine speakers whose subjects will range from antique outboards to electric hydrofoils. Then it's party time! Food, drink, music, and good times celebrating our 35 years of Maine Boats, Homes & Harbors. Let's share a glass, tell some tales, and have some laughs. You can meet our new owner/publisher, Ted, as well. So begins the next generation of stories.
✮
Share this article:
2023 Maine Boat & Home Show

Join Us for the Maine Boat & Home Show!
Art, Artisans, Food, Fun & Boats, Boats, Boats
August 11 - 13, 2023 | On the waterfront, Rockland, Maine
Click here to pre-order your tickets.
Show is produced by Maine Boats, Homes & Harbors magazine.